Envía Iniciativa LIBRE tarjetas por correo destacando posiciones de Congresista Amodei en materia de inmigración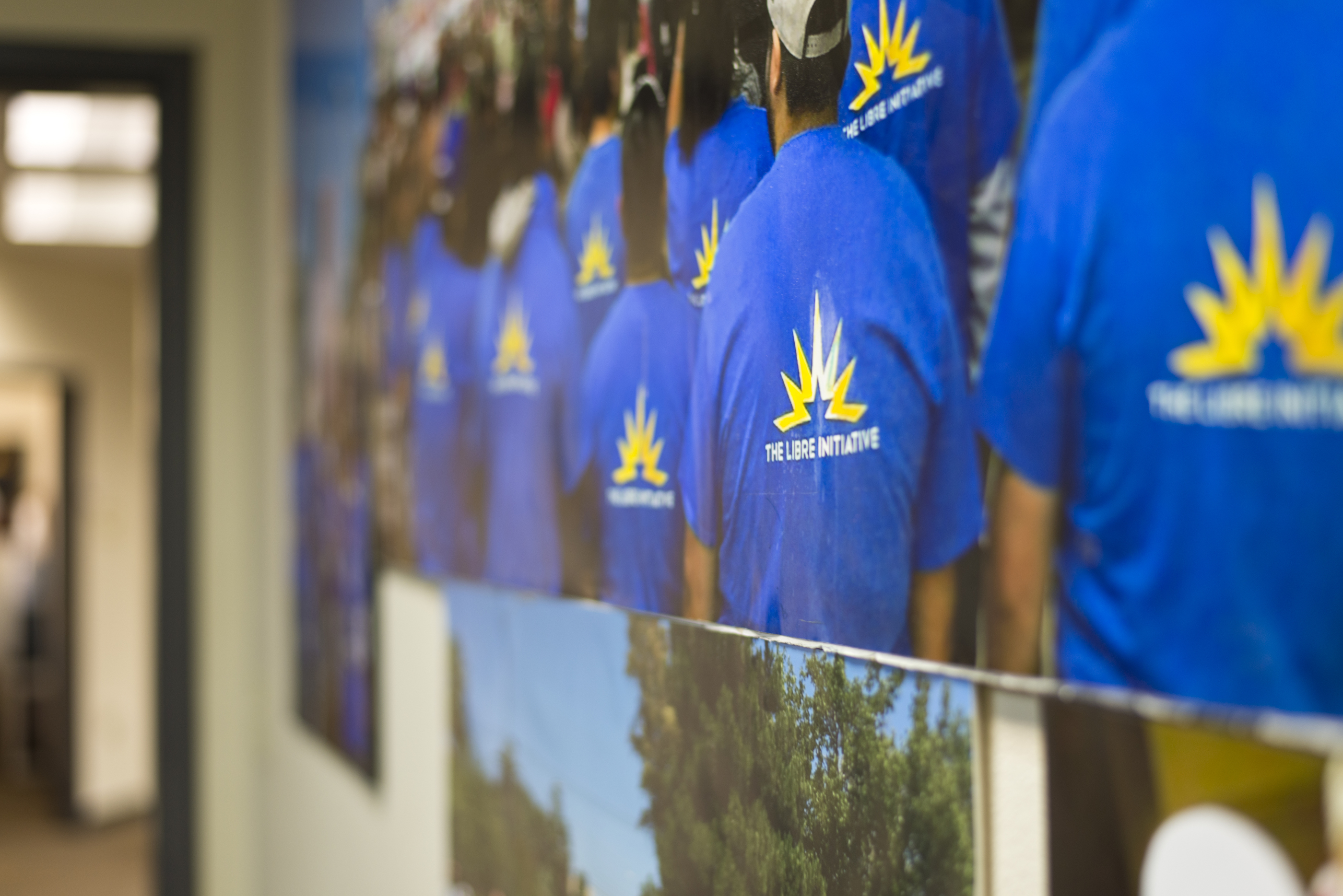 Este miércoles, un grupo conservador empezará a mandar por correo tradicional una serie de tarjetas no solo para agradecer al menos a 14 legisladores Republicanos y Demócratas — incluyendo al Congresista Republicano por Nevada Mark Amodei— su apoyo a una solución permanente para los DREAMers, sino para pedirles que sigan trabajando en pasar una legislación bipartidista que también contemple la seguridad fronteriza.  
El envío de las piezas de correo es parte de una campaña millonaria que lanzó la Iniciativa LIBRE a mediados de abril, y que incluye anuncios televisivos, digitales y movilizaciones de sus bases de voluntarios a nivel nacional.
Las tarjetas contribuyen a llamar la atención hacia las decisiones políticas de Amodei que pudieron haber pasado desapercibidas para los votantes, y que podrían ayudarlo en su intento por la reelección o a resaltar los esfuerzos de Republicanos que están tomando posturas más moderadas acerca de las políticas de inmigración.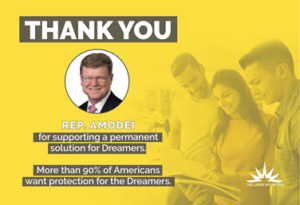 La Iniciativa LIBRE es un grupo fundado por los billonarios hermanos Koch y que expone a las comunidades hispanas a puntos de vista fiscalmente conservadores y socialmente libertarios.
En un boletín informativo dado a conocer el pasado 25 de febrero, Amodei abordó a detalle su postura ante la llamada Acción Diferida para los Llegados en la Infancia (DACA, por sus siglas en inglés) señalando que no se llegaría a una solución para DACA hasta que se someta a votación un proyecto de ley.
El pasado 29 de noviembre, junto con otro grupo de Republicanos de la Cámara de Representantes, Amodei firmó una petición de descarga para mover la legislación de DACA al piso de votaciones antes de que concluyera el 2017.
El legislador destacó que copatrocinó provisiones incluidas en la propuesta de inmigración Securing America's Future Act of 2018, y Encouraging New Legalized Immigrants to Start Training (ENLIST) Act, que permitiría que inmigrantes indocumentados que fueron traídos a los Estados Unidos cuando eran niños, pudieran obtener estatus legal a través de servicio militar.
El futuro de cientos de miles de DREAMers se encuentra en el limbo migratorio luego de que el Presidente Donald Trump cancelara DACA en septiembre pasado, y aunque fijó como plazo el pasado 5 de marzo para que el Congreso diera a conocer un plan definitivo, eso aún no ha sucedido.
A mediados de marzo de este año, Trump firmó un paquete de gasto de $1.3 billones de dólares que dejó fuera una solución para los DREAMers, incluyendo a unos 13,000 beneficiarios del programa en el Estado de Plata.
Daniel Garza, Presidente de LIBRE, resaltó en un comunicado la importancia de actuar para acabar con la incertidumbre que enfrentan los DREAMers y llamó a que Trump y el Congreso actúen ahora.
"Nuestra nación merece líderes que estén dispuestos a enfrentar los grandes problemas que enfrentan nuestras comunidades", dijo Garza. "Es por eso que estamos destacando el trabajo del Congresista Amodei, por lo que los latinos y otros entienden que está trabajando para lograr una solución permanente y bipartidista para los DREAMers y mejoras en la seguridad fronteriza".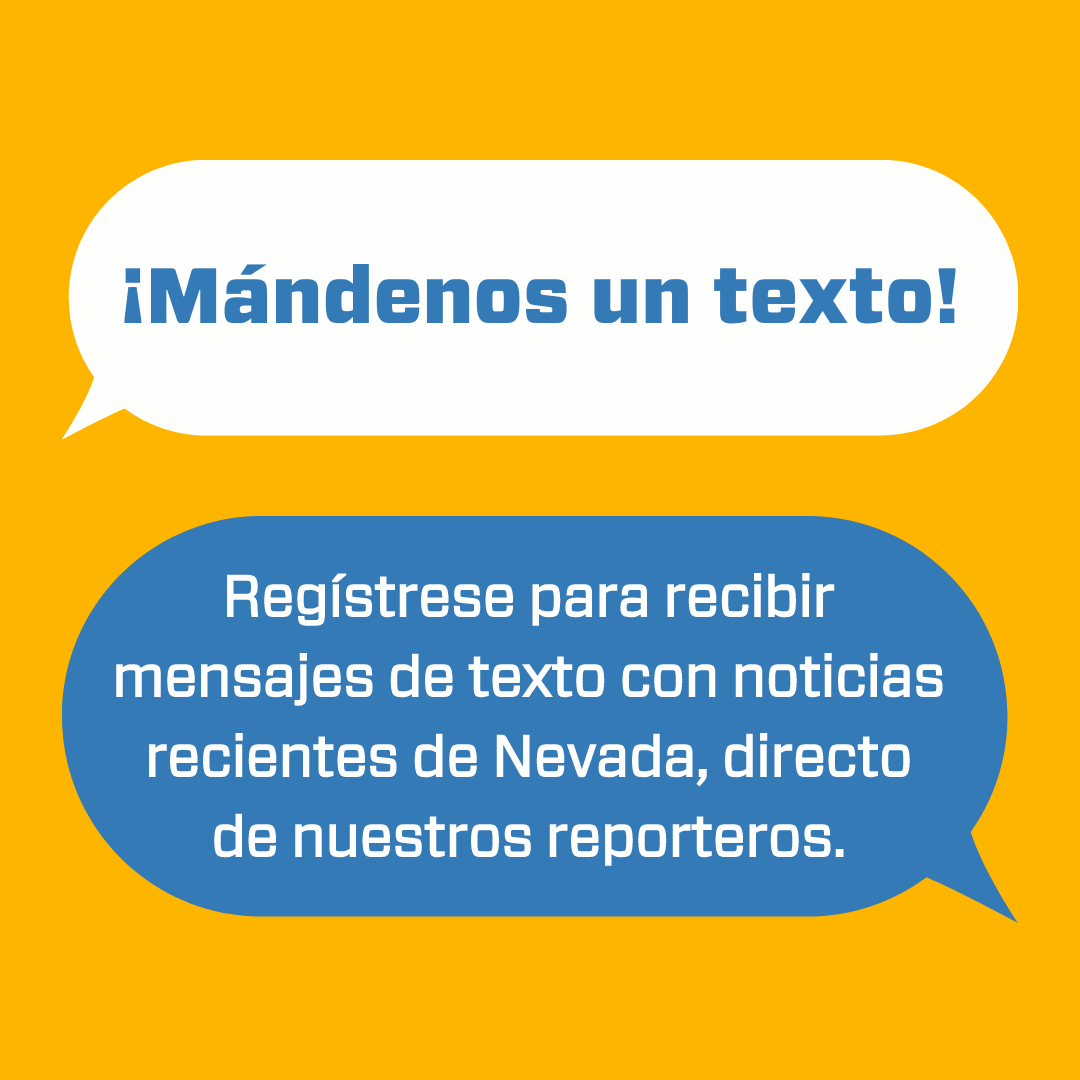 Featured Videos
Comment Policy (updated 4/20/2021): Please keep your comments civil. We reserve the right to delete comments or ban users who engage in personal attacks, use an excess of profanity, make verifiably false statements or are otherwise nasty. Comments that contain links must be approved by admin.