Shoppers enter Cardenas Market during the first day of early voting on Saturday, May 26, 2018. (Jeff Scheid/The Nevada Independent)
Perceived hostility toward Latinos in U.S. is motivating many to vote
November 6th, 2018 - 2:05am
This story has been translated and edited for clarity from its original Spanish version.
Nevada's Latino voters could play a pivotal role in the outcome of Tuesday's election, and underlying much of their engagement is anxiety that their situation in the U.S. has deteriorated over the past year.
Latino voters have expressed having more interest in the 2018 elections compared to past midterms, and a record 29.1 million Hispanics are eligible to vote nationwide — an increase of 4 million since 2014.
A report from the Pew Research Center said 47 percent of Latinos think their situation is worse than it was a year ago. That's almost on par with the Great Recession in 2008, when 50 percent of Latinos said their situation had worsened year-over-year — and a big jump from the recent low of 15 percent in 2013.
Among the factors causing the pessimism is lack of satisfaction with their personal finances, concern about their place in American society and worries (among more than half of Latinos surveyed) that a family member or an acquaintance will be deported.
Latino Democrats are twice as likely as Latino Republicans to say that it has become more difficult to be Latino in this country in recent years.
The Nevada Independent en Español talked with some Latinos in Las Vegas to learn about the issues that concern them ahead of the general election, and how current events in the weeks and months leading up to Nov. 6 are shaping their vote.
Votes and Latino voices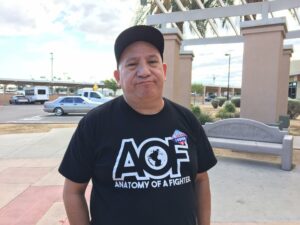 On Nevada's first day of early voting, progressive groups focused on Latino voters organized a "fiesta" event at a community center in East Las Vegas to encourage voters to exercise their rights.
Alberto Muñoz, a native of Peru who has lived in the US for 25 years, cast his ballot that day in the company of traditional dancers and mariachi music. He said he thinks that voting is the best way to contribute to change at both state and national levels.
"I've always felt that us Latinos have to educate ourselves more in the sense of learning about the candidates," said Muñoz, 52. "Being aware of what is happening today, especially on the political side. Personally, I have been gathering information so I can get a better perspective."
Muñoz, who is an Uber driver, cast his vote for Democrats Jacky Rosen and Steve Sisolak because, he said, their platform matches his ideals and they know best what the needs of the Latino community are.
"Unfortunately, the Republican Party in recent years has become a little more radical. President Trump makes us look like criminals and rapists, like we are bad people," Muñoz said. "Unfortunately, we have been demonized with this way of talking about the immigrant community."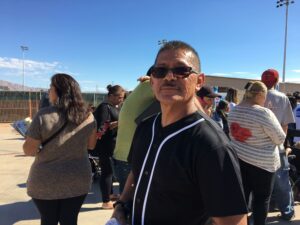 That's an image that Jacinto Rodriguez, a 55-year-old resident of Las Vegas, chafes against.
Interviewed during the early voting event in East Las Vegas, Rodriguez, a native of Mexico who became a naturalized American citizen 13 years ago, said he perceived discriminatory or indifferent attitudes toward Latinos in the U.S.
"Unfortunately, many Latinos are viewed as something that is very low by certain groups. You feel a lot of discrimination, a lot of racism, and a lot of indifference," he said. "But my recommendation is to go out and vote to try and eliminate that. If that isn't eliminated, at least you have to try."
Although she believes immigration issues are important, Rosa Romero is more concerned about the issue of education.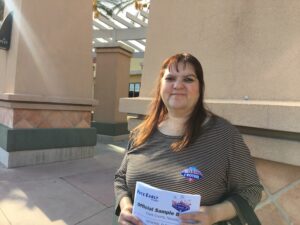 Romero, who also attended the early voting party, said she would like politicians to create more opportunities so that Latinos and seniors have better access to academic advancement programs that translate into better paying jobs.
Romero's request is based on her own experience, because although she was born in California, her parents decided to raise her in Mexico. When she returned to live in the United States at age 21, she faced the challenge of adapting to her new life.
"I've had trouble getting my GED and I know I could have a better job, but this is difficult for me because of the language and the fact that I wasn't raised here," she said.
Latino vote and immigration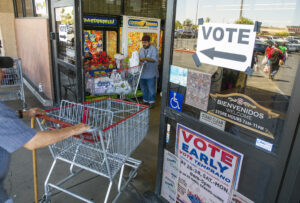 Current events involving Latinos could play a role in swaying the vote. The Trump administration has faced criticism for separating families at the border and drastic changes to programs that for years have provided relief from deportation and offered work permits to thousands of immigrants.
The president tapped into fears of immigration by talking frequently of a caravan of Central American migrants seeking asylum in the United States and announcing a plan to send thousands of active duty troops to the border with Mexico ahead of the caravan's arrival.
During his most recent visit to the Silver State, Vice President Mike Pence brought up the caravan, referring to it as a "challenge to our border, a challenge to our sovereignty." He also repeated Trump's statements that "this is an assault on our country, and we will not allow it."
Sandra Granados, who is originally from El Salvador and a beneficiary of the endangered TPS program, perceives the talk of the caravan as a strategy "to show we are wrong, that everything is being done in an illegal manner, with violence," she said in an interview just before a get out the vote rally in Las Vegas featuring former President Barack Obama: "At what time does this happen? During elections. They are using that information against us."
Granados added that while current immigration policies are awakening many Latinos to participate civically, participation may still be low in the midterm because many are not educated about their rights or eligible to vote.
"They taught us to work and nothing else," she said. "But through such a campaign and so much abuse and violation of our rights, the community is seeing the need to vote."
Granados also believes the tide could change with young people who are approaching voting age, like her 15-year-old daughter Alessandra, who was part of a group that recently visited Pope Francis in Rome to advocate for TPS beneficiaries.
"She is clear on the fact that she is going to vote, like many children of tepesianos (TPS beneficiaries). They are already getting organized to enter the world of politics," she said. "It won't be the young man that waits until the age of 18 and votes like Dad or Mom said. They are already aware of the situation in their community."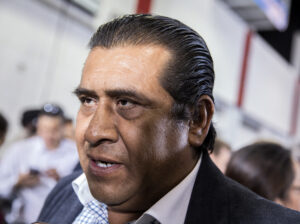 José Rosas agreed. As a representative of an organization called Poblanos in Las Vegas, he has spent 20 years in this city and is seen in the Latino community as influential in the political landscape.
Rosas, who is in the process of obtaining his residency, said even Latinos who are ineligible to vote can participate in American civic life, including by raising up more political leaders to represent them in Congress.
"I can't vote, but my community can. The most important thing is to go out and vote, no matter the preference they have," he said in an interview at the Obama rally. "We hope that Latinos use their voice because they at any given time can make a difference."
Latino vote in Nevada
Democrats suffered the consequences of staying home in 2014, when the party did not put up a viable opponent for Gov. Brian Sandoval and when national trends favoring Republicans helped turn the state "red."
Turnout among registered Latino voters in Nevada in 2014 was less than half of what it had been in 2012; a decrease of over 64,000 votes statewide. It helps explain why Democrats lost a seat in Congressional District 4, which was supposed to be secure — more than 70 percent of Latino voters side with the Democratic Party.
Democrats, unions and activists left nothing to chance in 2016. They organized strong anti-Trump campaigns and motivated people to register to vote with events where they had everything from trucks selling tacos to mariachis that offered serenades outside the polls.
Strong participation helped secure a narrow victory for Democratic Sen. Catherine Cortez Masto and win the state for Hillary Clinton in an election day that otherwise would have been bleak for Democrats.
That reversal was perhaps best encapsulated by a long line outside an early voting site inside a Hispanic supermarket, the final night of early voting in the predominantly Hispanic East ​​Las Vegas.
Groups including the Culinary Union are trying to replicate the 2016 victory this time.  The union said it has hundreds of canvassers on the streets and is transporting workers from casinos to polling places near the Strip so they could cast their vote during their lunch hour.
Then there are efforts to create new voters. The Culinary Union noted that since the last presidential election, it registered more than 10,300 members and their families to vote, and this year helped more than 650 immigrants become US citizens.
All the efforts on the ground appear to be bearing fruit in terms of turnout. This year, there were once again long lines of voters waiting to exercise their right at vote centers in Las Vegas during the final hours of early voting on Friday.
The Culinary Union has donated to The Indy. You can view a full list of our donors here.
Comment Policy (updated 3/21/19): We welcome reader comments on our stories. However, in keeping with our general policy of transparency, accuracy and accountability, we do not accept comments from anonymous accounts. Anonymous accounts are those without a valid first and last name. Any such comments will be deleted, and anonymous users will be blocked from commenting further. We also will block commenters who use offensive language, engage in personal attacks or state things that are verifiably false.
get our morning newsletter,
The Daily Indy
INDYMATTERS PODCAST
CAFECITO CON LUZ Y MICHELLE
@TheNVIndy ON TWITTER