People walk the UNLV campus on Thursday, Feb. 02, 2017. Photo by Photoprises LLC
Top Sandoval adviser, former Reno city manager hired as CFO of higher education system
December 13th, 2018 - 5:09pm
A top advisor to Gov. Brian Sandoval and former Reno city manager is taking a new role as the chief financial officer of Nevada's higher education system.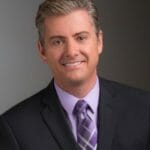 Andrew Clinger, who was hired by Sandoval prior to the 2017 legislative session after leaving his position in Reno amid sexual harassment allegations, will become the Nevada System of Higher Education's CFO on Dec. 26, according to an email sent by system Chancellor Thom Reilly earlier this week.
"He brings a wealth of knowledge and experience about budgeting, administration, and legislative process to this position," Reilly said in the email.
In an email, a spokesperson for the higher education system confirmed the hiring and lauded Clinger's financial and legislative experience.
"He understands the intricacies of the legislative process and dealing with fiscal challenges," spokesman Francis Mccabe said. "Andrew is well respected in state government and we look forward to working with him as we enter the upcoming legislative session. "
Clinger, a former state budget director, was accused of sexual harassment by three female city of Reno employees in 2016, but was cleared in separate investigations that found he did not violate the city's policy against discrimination, harassment and retaliation. Clinger left the city in September 2016 after signing a settlement agreement giving him six months of severance pay and $30,000 to cover attorney's fees. After being hired last year, Clinger told the Nevada Appeal that his areas of focus would be on the budget, economic development, workforce development and education.
Chester Burton, the system's former CFO, reported making a $197,000 base salary in 2017, according to a database of state worker salaries.
Reilly also announced that Kyle Dalpe, the Truckee Meadows Community College Dean of Technical Sciences, had accepted a temporary position as the system's top lobbyist, starting Jan. 1.
Updated at 6:09 p.m. to include a statement from NSHE.
Comment Policy (updated 3/21/19): We welcome reader comments on our stories. However, in keeping with our general policy of transparency, accuracy and accountability, we do not accept comments from anonymous accounts. Anonymous accounts are those without a valid first and last name. Any such comments will be deleted, and anonymous users will be blocked from commenting further. We also will block commenters who use offensive language, engage in personal attacks or state things that are verifiably false.
get our morning newsletter, The Daily Indy
INDYMATTERS PODCAST
CAFECITO CON LUZ Y MICHELLE
@TheNVIndy ON TWITTER