Bill would eliminate need for doctor's appointment to receive birth control pills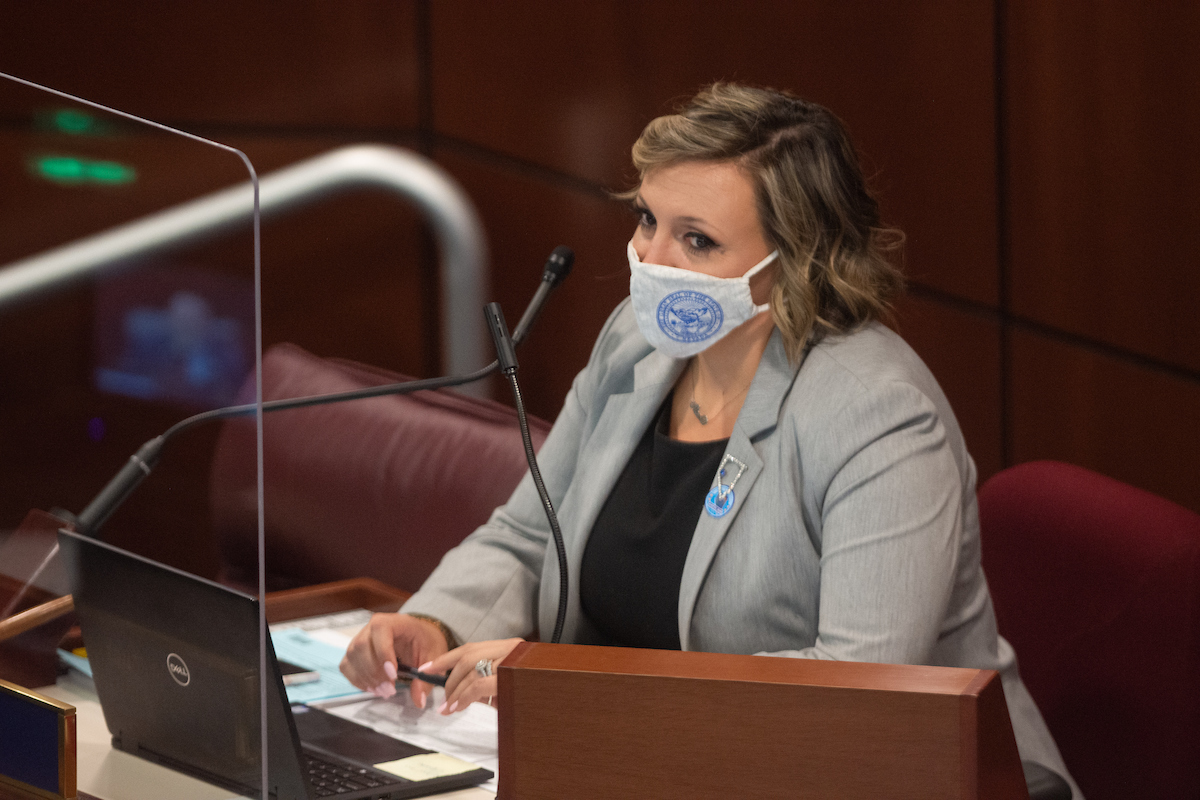 Senate Majority Leader Nicole Cannizzaro (D-Las Vegas) is seeking to lower barriers to birth control in a state ranked the third-worst for access to primary care doctors and with an above-average rate of unintended pregnancies.
SB190, discussed Wednesday in the Senate Committee on Commerce and Labor, would allow women to receive birth control through a pharmacy and bypass a doctor's visit. Cannizzaro introduced a similar bill in 2019, but that bill never made it out of its final committee.
"It is so essential that we open up access for women to get what we know to be safe forms of birth control," Cannizzaro said during the bill hearing. "Whether it be to finish our education, attain a career goal, or simply to wait to have a family for when we are ready, birth control empowers women to make decisions that are right for our own bodies."
To receive birth control, women in Nevada must make an appointment with a health care provider who can prescribe up to 12 months of birth control at a time. Patients can get up to a three month supply of a first-time contraception prescription. After that, the time period can extend to nine months or the remainder of the plan year.
Lack of access to primary care doctors, prohibitive costs related to primary care visits and insufficient time to visit a doctor's office contributes to about 30 percent of women across the country reporting barriers to obtaining birth control.
Inability to obtain birth control can lead to unplanned pregnancies when, for example, women travel and forget to bring along their birth control. Primary care "deserts" in rural parts of the state also hinder the ability of women in rural communities to access safe, usable contraceptives, Cannizzaro said.
If the bill passes, Nevada will become the 13th state to legalize pharmacist-prescribed hormonal contraceptives.
The bill requires the State Board of Health to design a risk assessment questionnaire that women could opt to take before receiving a prescription, and stipulates that pharmacists provide patients with written documents and other contraception information. The State Board of Pharmacy and Division of Public and Behavioral Health would also be required to post an online list of pharmacies offering the service.
Public and private insurance policies would be required to cover pharmacist-prescribed contraception in the same way as physician-prescribed birth control.
Though no group or individual spoke in opposition, the Nevada Osteopathic Medical Association submitted a letter recommending that the risk assessment questionnaire be made mandatory for screening purposes. The association also suggested that the bill restrict the minimum age at which someone could access pharmacist-prescribed contraception to 17 (the same age designated for emergency contraception) and suggested additional steps for someone using birth control for the first time.
"Other countries employ safeguards such as having the primary care provider conduct an initial screening," the association wrote. "Physicians, nurse practitioners, and physician assistants have the educational foundation to conduct a screening application and make a decision that is tailored to the needs of the patient, explain which contraceptive option is best based on medical or family history, or explain/answer questions that may arise."
Sen. Joe Hardy (R-Boulder City) said he hoped there was recognition that the bill would prevent unintended pregnancies and reduce the number of abortions, adding that he is optimistic that the bill would not stop women from getting pap smears or other screenings as they often do during a visit to a physician to obtain a birth control prescription.
The bill does not preclude women from obtaining a birth control prescription from a doctor or getting recommended pap smears to screen for cervical cancer, Cannizzaro said.
"If you are a woman who does go to their OB-GYN for a prescription, and that is where you would like to get your prescription, you can do that," she said. "This bill is not meant to say that we don't want people to continue to see their OB-GYN for regular checkups."
Supporters praised the bill as a necessary step to trusting women with their own health care needs, reducing unplanned pregnancies and expanding access to health care for minority and lower-income communities.
Annette Magnus, the executive director of Battle Born Progress, spoke in support of the bill in a personal capacity. She said that her prescription ran out over the weekend, leaving her without hormonal contraception that helps her control migraines and cramps and forcing her to jump through hoops to get a refill, still resulting in five days without her medicine.
"I've been doing this with my pills for years. I should have been able to walk into the pharmacy, have the pharmacist renew my prescription and have that conversation directly with the pharmacist so I didn't have to go through the things that I did," Magnus said. "There are thousands of people who take birth control in this state who are counting on you to make it easier and more accessible."
The Nevada Independent is raising $200,000 by Dec. 31 to support coverage of the 2024 election.
Tax-deductible donations from readers like you fund this critical work.
If you give today,your donation will be matched dollar-for-dollar.
Give + Get Matched
Featured Videos