Blighted, historically Black community with 'million-dollar views' seeks remedy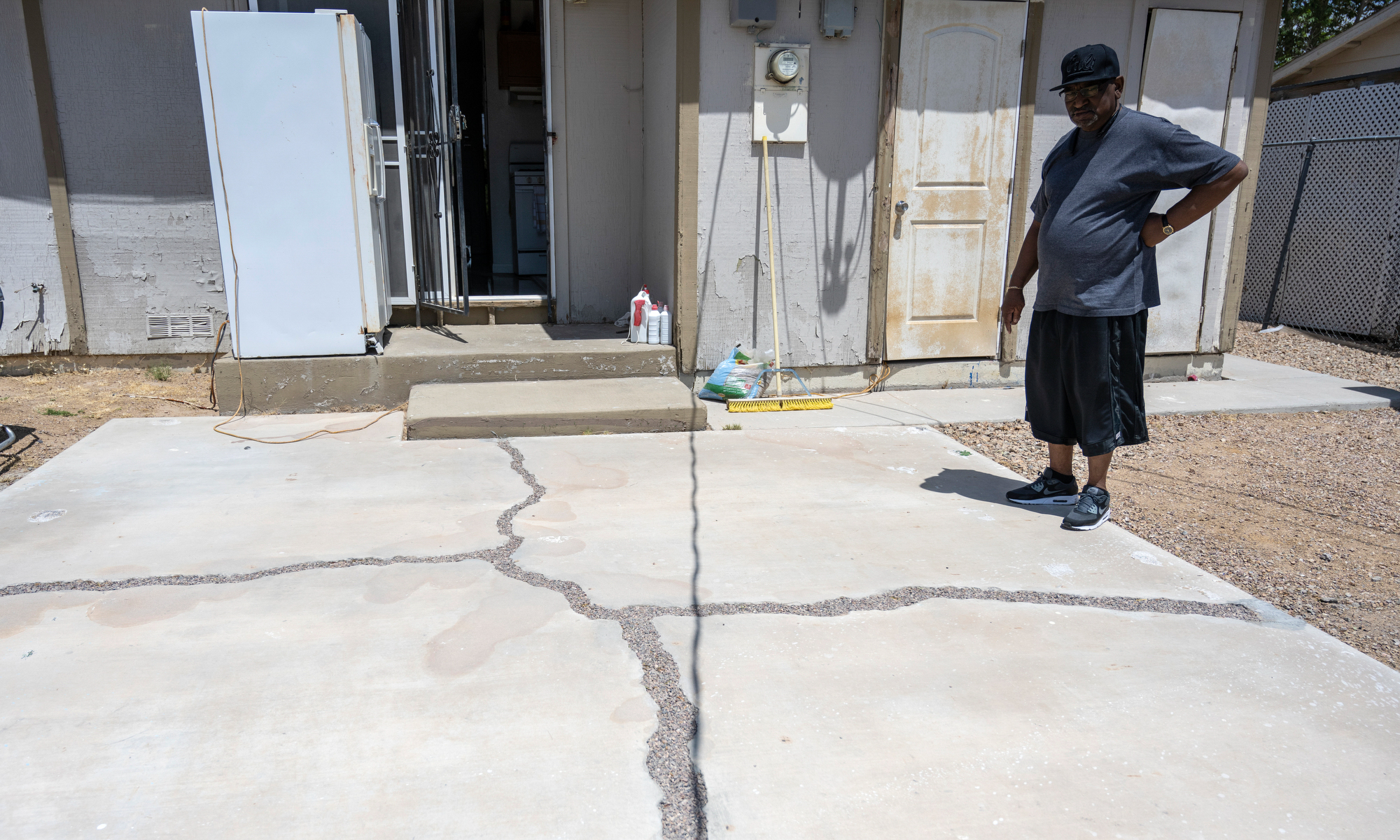 Sen. Dina Neal (D-North Las Vegas) introduced a bill this session to accomplish one thing that she set out to do when she initially chose to run for the Assembly in 2010: restore the American dream for residents still living in North Las Vegas' Windsor Park.
The neighborhood built between 1964 and 1966 has been described as a "Black Summerlin" in its heyday, but in the 1980s, the hilly community overlooking the Las Vegas Strip became unsafe and threatened from subsidence — sinking of the ground because of groundwater overuse — and has remained that way ever since.
Neal is sponsoring SB450, dubbed the "Windsor Park Environmental Justice Act," which would allocate $12 million from the state housing division and apply $25 million in coronavirus relief dollars to purchase and develop land to relocate residents.
An amendment removed language in the original bill that would have required North Las Vegas to allocate $20 million in general funds to new efforts to relocate remaining Windsor Park residents and instead, requires the city to pay back $12 million to the state out of the tax revenue that is distributed to the city.
North Las Vegas officials first testified in opposition to the policy in April and then went on record in support, but shared concerns during testimony May 12.
Even after North Las Vegas officials touted "record-breaking population growth" of the city, new businesses moving in and "investments into quality of life initiatives for residents" at the State of the City address on March 23, the Windsor Park neighborhood remains disheveled and has not benefited from the city's gains.
In the past, state and federal governments have allocated more than $14.4 million in funding for home repairs or relocations, but it has been hard to track and the efforts have never been enough to solve the issue.
With only a few days left in the session, SB450 passed out of the Senate Friday with bipartisan support in an 18-3 vote and was voted out of the Assembly Ways and Means committee with unanimous support Saturday. It was amended in the past week to call for the conversion of the lots in Windsor Park into a state-owned park that memorializes the neighborhood's past and present residents, prohibit the sale of Windsor Park homes in Nevada and provide restitution payments of $10,000 to $50,000 for original residents.
The measure comes after North Las Vegas presented (but later abandoned) a proposal to lawmakers asking for $10 million from the $500 million Home Means Nevada housing fund, introduced by former Gov. Steve Sisolak, for an $80 million land purchase where the now-demolished Texas Station Casino once stood to build an unrelated housing complex. The fund was established to assist with housing affordability, including helping seniors make home repairs.
If the city could find money for that project, Neal argued, it should first address Windsor Park.
"It is just disheartening to me, that the city that represents these individuals would find $80 million … and not consider those 90 residents who are living in poverty — potentially with lead poisoning, and every other potential hazard that is on those properties," Neal said during an Interim Finance Committee meeting in early April.
City officials and residents continue to disagree with the outcome of the "Windsor Park Project" and relations between homeowners and city leadership are strained, despite sharing the belief that more needs to be done in the area.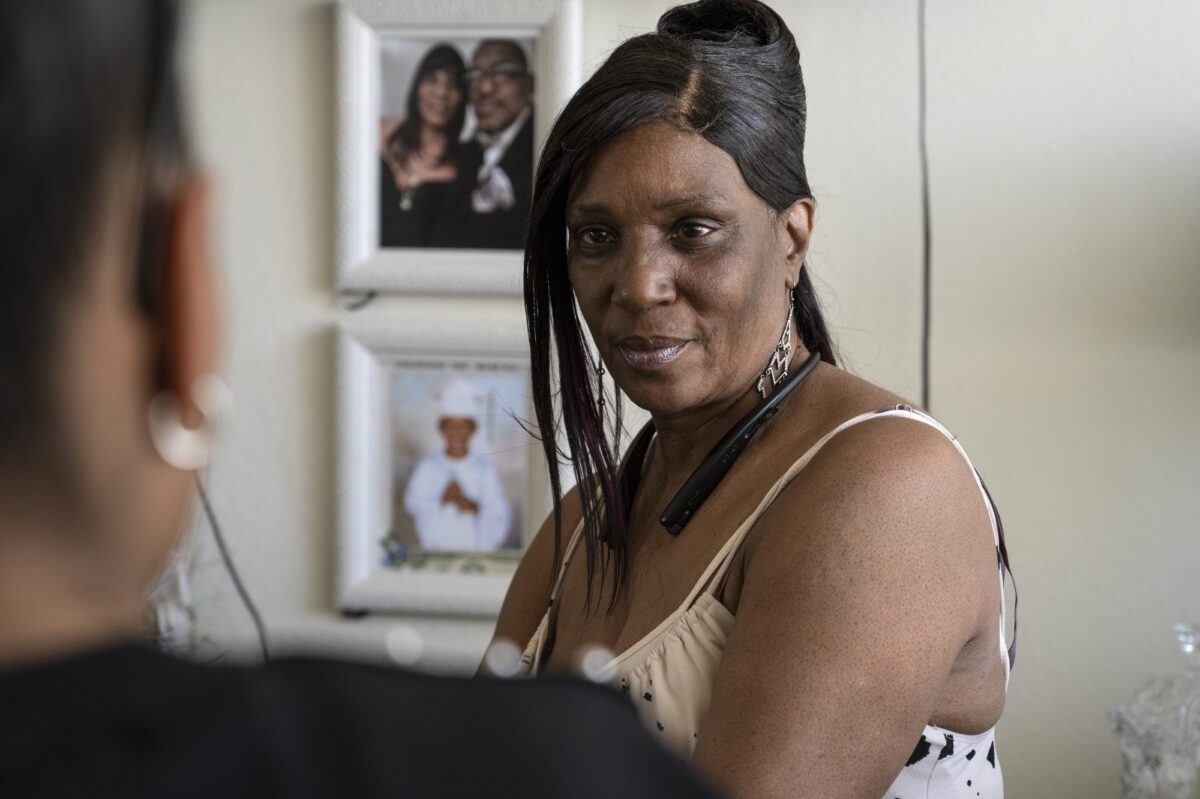 North Las Vegas Deputy Chief of Staff Delen Goldberg said officials support SB450 but believe that the funds should come from the federal government rather than the city's general fund.
"We want to right size the numbers for today's [housing] market, and then take the … [current] structure of the program, that's been proven to work, and continue it to get the remaining residents into more proper housing," she said.
Relocating Windsor Park residents
According to the Nevada Bureau of Mines and Geology, subsidence in the Las Vegas Valley has been monitored since 1935. A research paper published in 1991 by the division identified four subsidence "bowls," with land sinking between .75 cm and 1.5 m, or more than 4 feet, since 1963. The greatest subsidence was tracked in the "northwestern bowl." Subsidence occurs when groundwater is pumped out of the ground in excess, and in Windsor Park, it caused significant structural damage.
Nancy Johnson, 67, an original Windsor Park resident, said the neighborhood was where Black families moved when they had "a little bit of money" to invest in a nice area when Southern Nevada was still segregated. Johnson purchased a home in Windsor Park in 1977.
"It was beautiful up here in the beginning," she said. "This is where we were … We had a great time. Everybody was friendly."
By 1988, homes in Windsor Park began to crumble as foundations became less stable, which led residents to petition North Las Vegas officials for help. Since then, hundreds of individual homes have been plucked from the neighborhood and demolished through eminent domain, county purchases and city purchases using federal and state dollars that were acquired to rehabilitate homes and the neighborhood or relocate homeowners.
The community, located northwest of Carey Avenue and Martin Luther King Jr. Boulevard, had dwindled from 242 homes down to 90 and is now blighted with more than 100 vacant, 6,000-square-foot lots that were formerly owned by residents who have been selling their houses to North Las Vegas in exchange for grants of $50,000 to $100,000 since the 1990s.
"When they first realized that we had a problem … an attorney came in and said this is easy, this is the City of North Las Vegas' fault," Michael Richardson, 65, whose parents purchased a home in Windsor Park in 1968, said at a legislative hearing in April.
During a May 12 Senate Finance Committee hearing on the bill, Neal said that North Las Vegas officials ran afoul of the federal Housing Act of 1954, which requires a government agency to prevent the development of slum housing through federally funded inspections.
Attempts to address the issue in the Legislature have gone back decades, including a proposal in the early 1990s that the state Housing Division allocate $500,000 to the Windsor Park Fund. By 2019, North Las Vegas has been allocated more than $14.4 million to help Windsor Park residents.
During a 1993 hearing in the Assembly Ways and Means Committee, former North Las Vegas lobbyist Anita Laruy acknowledged that Windsor Park residents could sue Clark County, North Las Vegas, the state and the developers, as they potentially had liability, but had not done so because they could not afford to hire a lawyer. Laruy was at the hearing to request an additional $1 million on behalf of North Las Vegas to help relocate residents in Windsor Park.
The effort, pushed through AB329, died in the Ways and Means Committee that session.
Three decades later, Neal hopes the bill she is sponsoring provides a proper remedy for homeowners still living in Windsor Park. But not all residents are eager to leave, including Annie Walker, 87, who is an original homeowner in the neighborhood.
"My house sits on blocks," Walker said. "When the blocks was kind of leaning up under the house, my grandson went under the house and put another block there to support it."
Walker said she is torn about being uprooted at an elderly age because her bones are getting brittle and she feels comfortable where she is. She also said she has an emotional connection to her house because of the memories that it holds of those who've passed on. They include her late husband, who founded and built Greater Faith Baptist Church near Windsor Park, and her son, who was killed in jail when he was a teenager.
But she pledged not to be a hindrance if residents received aid to move together as a community, as long as where she moves is safe from floods. Walker's home, which she has paid off, sits near the top of a hill in Windsor Park that she believes is safe from mountain runoff, which has caused historically dangerous floods in the northwest valley.
"By me being in here, when that water comes down the hill … it comes right on down, in my yard, and rolls out the gate and down the street," she said. "Nothing really lingers up here."
Walker said she believes her home has minimal problems but pointed to a few flaws she found. There is a deep crack on her ceiling that her grandson patched up and her roof needs replacing. She also said tiny earthquakes that roll through the valley have worsened the crumbling condition of homes in the area.
"It's a little crack on the porch that I noticed," Walker said. "I'll get some cement and fill that in."
In the 1990s, efforts to relocate residents to nearby new homes resulted in construction problems and later subsidence at replacement homes. The remaining 90 residents decided it was better to stay put while others took grants to start a new mortgage or relocate within North Las Vegas boundaries.
Windsor Park residents who stayed said they did not want to move down the hill where the new homes were built. June Johnson, who lives with his wife Nancy Johnson in Windsor Park, said that there were too many strings attached because homeowners were barred from making any changes to the replacement houses. He said they were prevented from passing them down if an accident occurred that killed the homeowner.
"This is part of the stipulation they give us," Johnson said. "If something happens to you, that house goes back to the city — but you done took my home that I already had and if something happens to me, I could pass it on to my kids."
Unclear expenditures on Windsor Park
Special revenue funds originally set up by the city in 1991 were dedicated to residents for down payments to purchase homes outside of the neighborhood, to rebuild homes near Windsor Park or to rehabilitate the neighborhood. After two attempts to rebuild homes in the 1990s, leaders focused funds solely on voluntary relocations.
When people chose to turn their houses over to North Las Vegas to relocate during the 1990s, Walker said the process quickly led to the demolition of their original homes, which concerned residents as desolate plots of land accumulated, leaving behind only the memories of former neighbors.
"They put their stuff in storage and they tore their house down so they couldn't come back," she said. "It was an unholy mess here in this area and some people left holding a bag."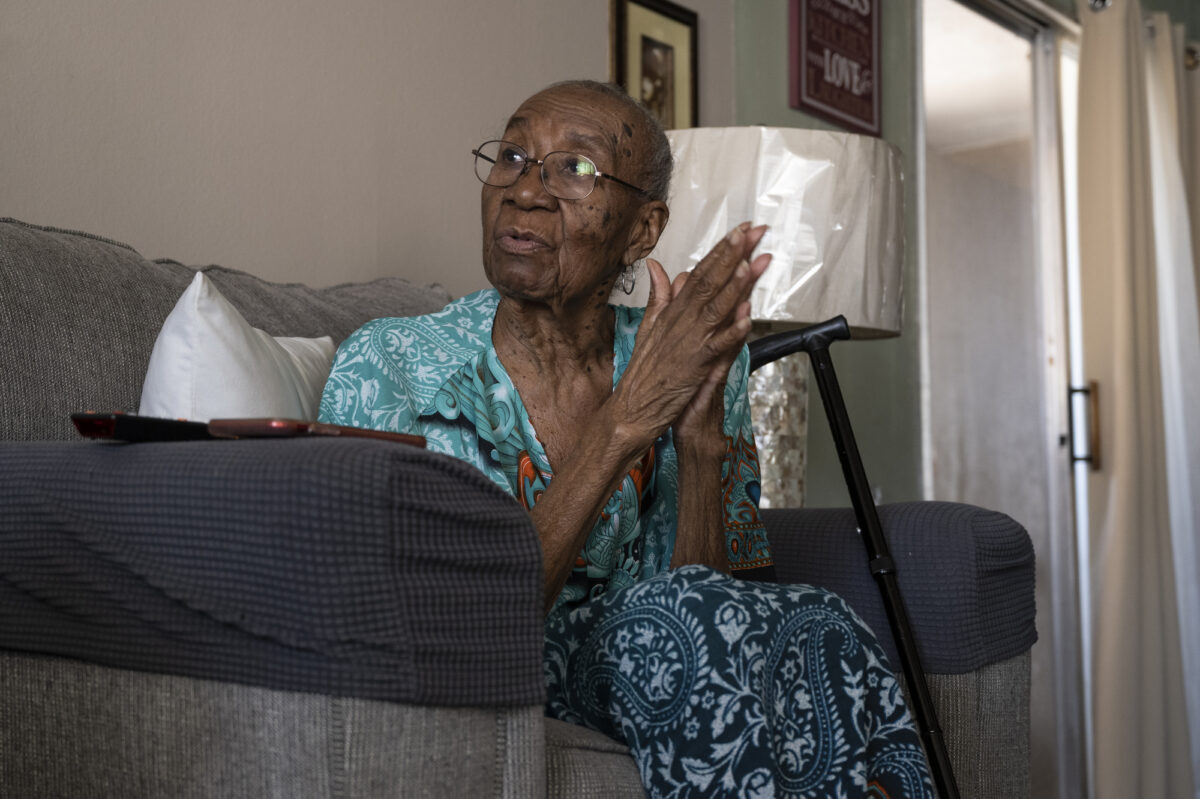 Residents, Neal and various community advocacy groups are seeking answers and details regarding the original $14 million dollar fund to help Windsor Park residents, as well as unclear expenditures allocated for Windsor Park that range from $170,000 to $2.5 million between 2013 to 2020 in North Las Vegas city budgets.
"Legally, the dollars were only supposed to be spent on the Windsor Park residents' relocation and it is showing these fluctuating balances year over year where it's not clear that this money was expended on that community," Neal said while presenting public meeting minutes dating back to 1966 during an April Senate Revenue Committee hearing.
William Hardy, finance director for the City of North Las Vegas, pushed back on some of the assertions and said Neal was looking at a budget book, which he said meant that expenditures "are budgeted and not necessarily actual."
Richardson, who helped present the Windsor Park Environmental Justice Act to the Legislature, said city leaders once told him that some of the funds were untraceable. A city spokeswoman said in an email that the city does not have "supporting documentation for funds received or spent prior to 1999."
In 1995, North Las Vegas officials told Congress they needed $14 million to help all of the residents in Windsor Park but asked for $4 million from Congress to purchase about 50 homes in the neighborhood for relocation purposes.
"If we had a total of $14 million plus, I would say that that would end it for all the residents there," then-North Las Vegas City Manager Linda Hinson said in 1995 at a congressional hearing. "But we could not do it all at once anyway. We would probably get another 50 to 55 homes."
Shared histories with a million-dollar view
Nancy Johnson and Walker said that residents still operate like a community despite the shrinking and aging population and that they check on and look out for each other daily.
They both said they like that the neighborhood is quiet and that not many cars drive through the community. But that is changing as warehouses spring up around the remaining homes, altering the neighborhood.
Leslie Kern, author of the book Gentrification is Inevitable and Other Lies, refers to these changes as physical displacement that happens before someone is actually moved, because the changes disrupt residents' sense of place. She said the process can also be referred to as unhoming, slow violence, root shock or urban wounding.
Walker said she isn't fully satisfied with the lack of cooperation from city governance.
"We have gone to the meetings about [new construction plans]," Walker said. "We voted no."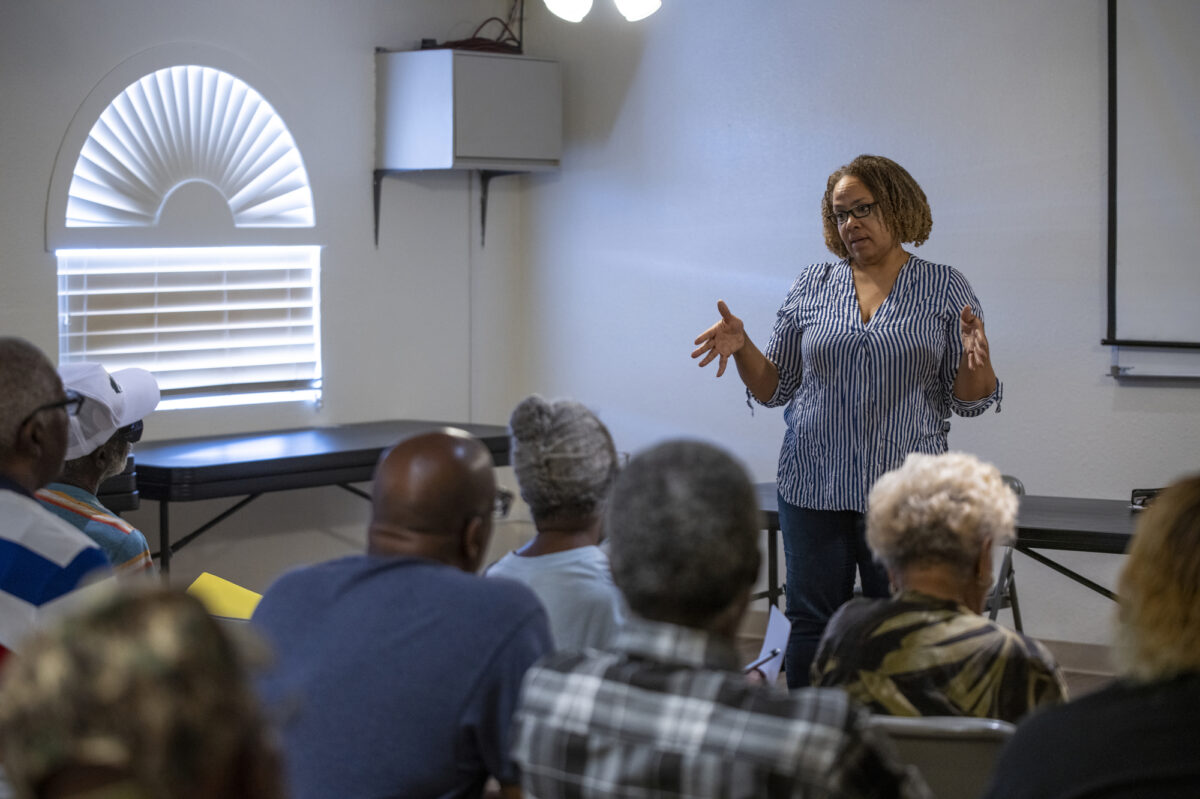 At a Windsor Park meeting on May 13 inside Macedonia Missionary Baptist Church, Richardson said he's concerned about construction trucks driving through the community because they cause the homes to shake. Walker said the new developments nearby are increasing traffic through the streets as people take shortcuts through the community.
"You go to meetings, and they say we'll get back with you," Walker said. "But then you don't get back and then, bam, here you go and make that decision."
She said reaching out to city council members to share concerns about new construction in the area has gotten her nowhere. That includes direct calls to North Las Vegas Mayor Pamela Goynes-Brown.
Nancy Johnson, who remodeled her home recently after pipes burst underneath her house, said Goynes-Brown, who was councilwoman for the ward where Windsor Park is located for the past decade, has been unresponsive towards residents for years. She said she was lucky to obtain home insurance in 2018 after it had been canceled for at least a decade.
Goldberg, the city spokeswoman, said officials have received 10 complaints from Windsor Park residents since 2004.
Walker said she loves her home, the community and the people in it.
North Las Vegas' Walker Pool on Martin Luther King Boulevard and June Avenue is named after her and the adjacent park is named after her late husband, Prentiss Walker. She said she struggles to let go of those shared memories.
"The west side was booming," Walker said (the neighborhood is commonly considered the west side, though it is in North Las Vegas). "Jackson Street was popping."
For Nancy Johnson, it's the memories she's shared overlooking the Las Vegas Strip from her backyard that makes the community so special.
She said that on every Fourth of July holiday, her relatives come to her home, which sits higher on the hill, to watch the fireworks across the Las Vegas Strip. From her backyard and living room, she has a full view of the Las Vegas skyline and can see the Strip and downtown, stretching from one end to the other.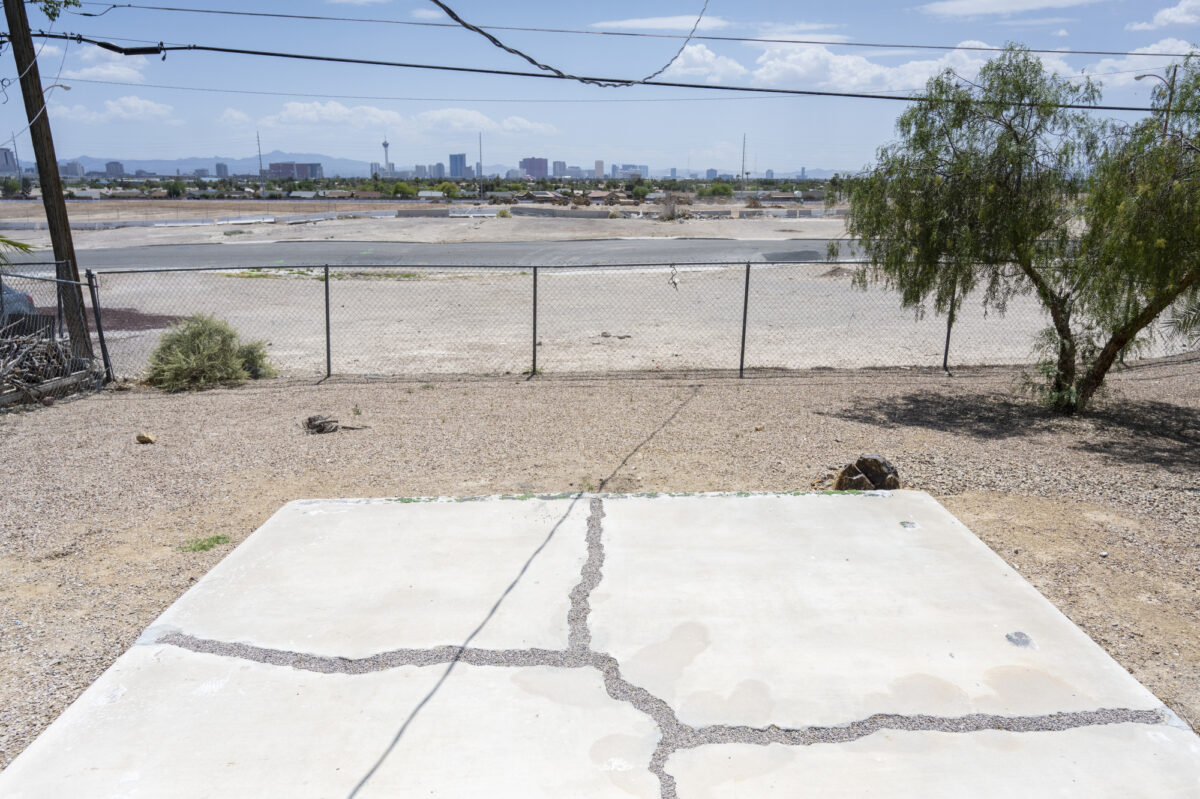 Johnson said that it was commonplace for people to travel to the neighborhood to indulge since the 1970s, especially Black families.
"I have a million-dollar view," she said. "I'm not going nowhere with $100,000 because that won't even pay for the taxes on the new property."
Residents seek a remedy
At the May meeting inside Macedonia Church, Neal told the 18 attendees that she built restitution payments into the Windsor Park Environmental Justice Act. She described a program that would award each of the 90 residents up to $55,000 each, depending on the circumstances, from the remaining $2.5 million in the North Las Vegas Windsor Park fund.
The bill would also pay off existing mortgages in exchange for a new home on 6,000 square-feet of land, along with purchasing vacant lots owned by the City of North Las Vegas. The Windsor Park subdivision would then convert into a state-owned park that commemorates the historically Black neighborhood. Leases for tenants would transfer with the new home under their current terms and conditions.
"There is still no remedy, no relief," Pamela Neil, who inherited a home in Windsor Park from family, said during an April 13 bill presentation for SB450. "We pay taxes. What happened to our taxes that we're paying for, to have our streets fixed?"
Neal said the bill would use $37 million dollars to purchase 20 acres of land in North Las Vegas and pay a developer to build 90 homes, each on 6,000 square feet of land, which is equivalent to the homeowners' current lots. Under the bill's terms, the Nevada Housing Division would use $12 million from the state general fund and $25 million in COVID relief dollars to relocate homeowners. Residents with mortgages will have their mortgages transferred to the new homes.
That would include Kennia Valdez, 27, who purchased a home in Windsor Park in 2019 for $179,000.
She said her house is slanted and everything rolls to one side of the home, her doors and windows are not secure, and the electricity and plumbing are faulty. Valdez said there is a list of problems with her home including cracked ceilings and walls and broken doors.
"I thought I was going crazy," Valdez said. "I saw our house falling apart … It breaks my heart."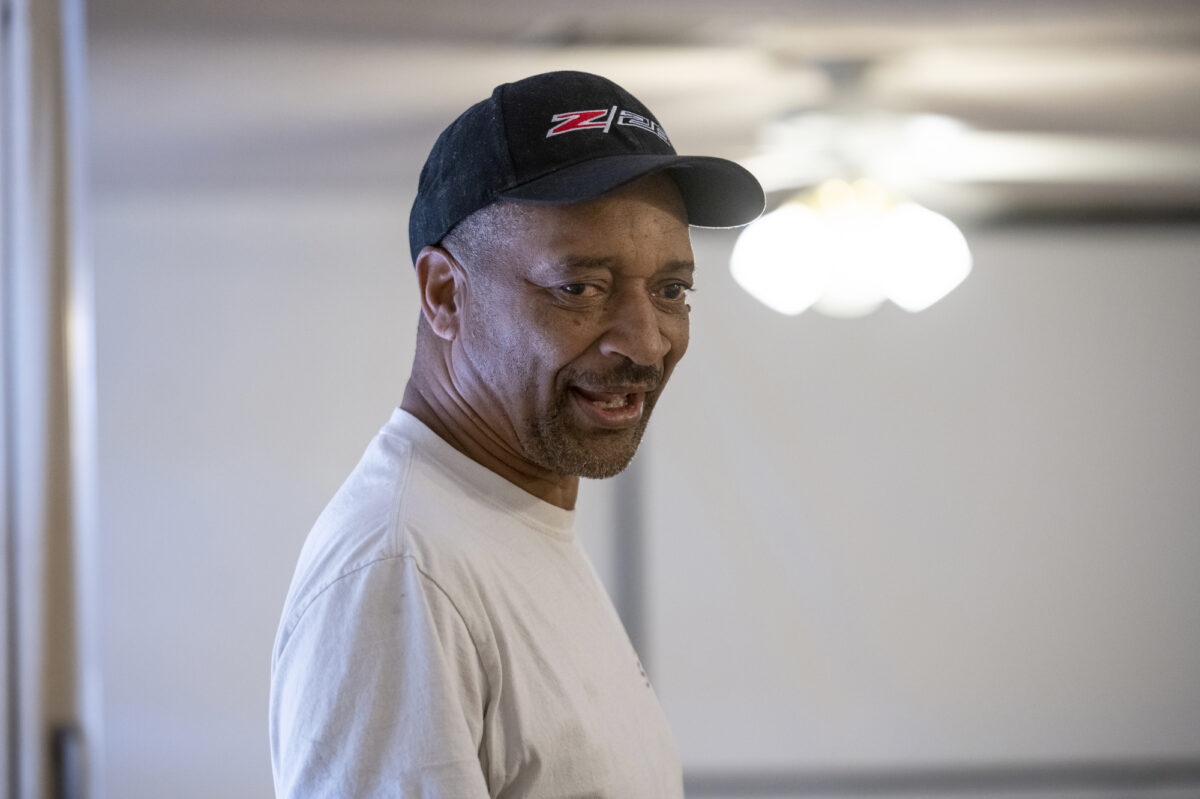 Valdez said she found out about the condition of the neighborhood when a community advocate handed her a flyer about meetings regarding the Windsor Park bill. She said before that, she figured she was simply unlucky.
Currently, homes and lots are for sale in Windsor Park ranging from $30,000 to nearly $315,000.
"Those houses in the back are so bad," Richardson said. "I saw a hole in the ground and they took the water hose [and dropped it down in the hole] and it just kept going."
Richardson moved to Windsor Park with his family when he was 10 years old. He said in the 1990s there was a whole community of people who needed help, but many have since died off or moved away — with only a few getting a "good deal" after four homes were rebuilt nearby Cibola Park.
Richardson said that living in Windsor Park makes him feel like he's less than a citizen despite being a homeowner and paying taxes, stating that North Las Vegas harasses people about cars or junk in yards, yet the lots they own remain unkempt.
"It would really hurt me to move, but I'm a realist," Richardson said. "I've come to realize they will never do anything to help us."
The Nevada Independent is raising $200,000 by Dec. 31 to support coverage of the 2024 election.
Tax-deductible donations from readers like you fund this critical work.
If you give today,your donation will be matched dollar-for-dollar.
Give + Get Matched
Featured Videos