Extra federal funds left over after state officials cancel two public health projects
Lawmakers voted Wednesday to withdraw more than $43 million in American Rescue Plan allocations for jail-based mental health care and women's health programs.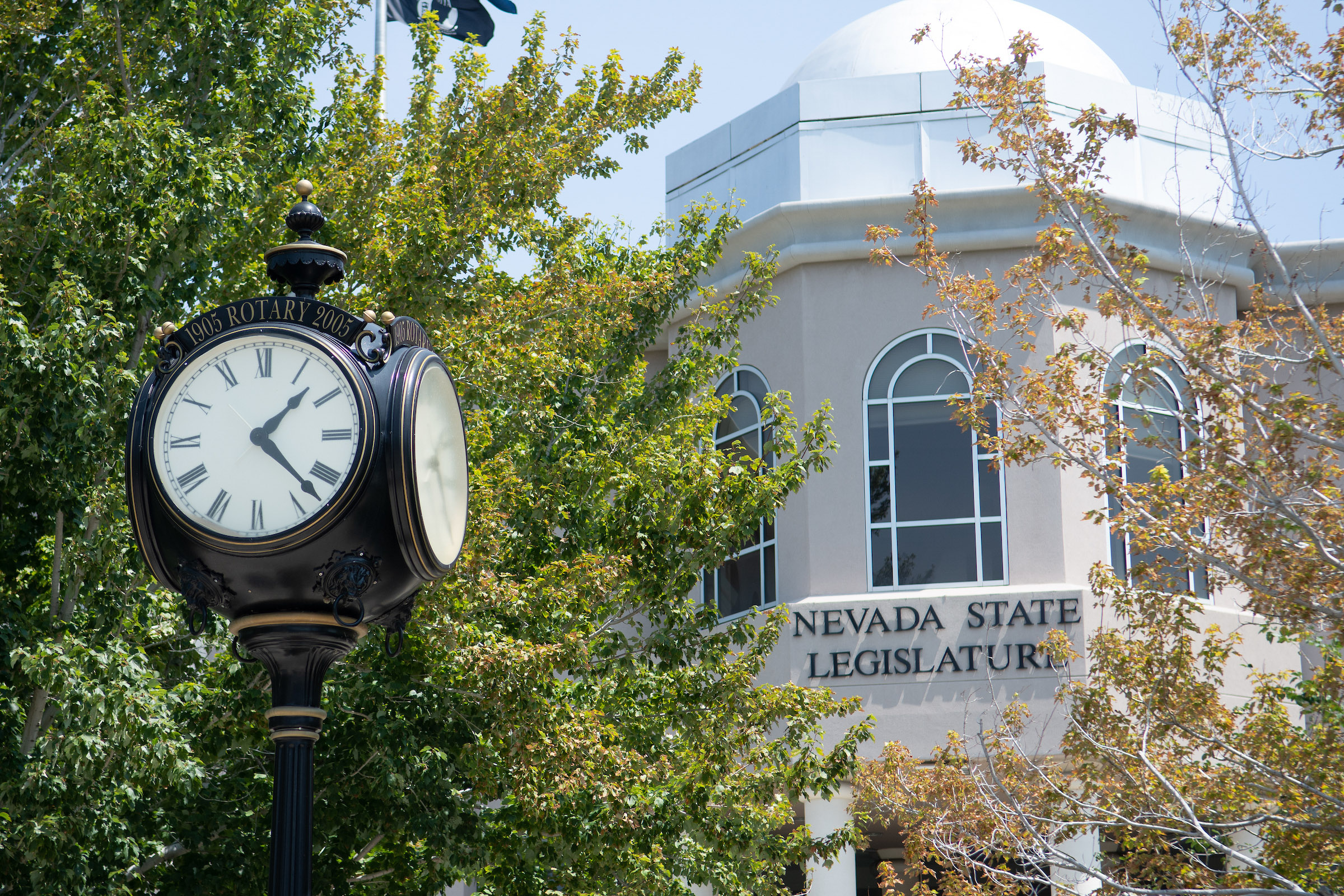 More than two and a half years after President Joe Biden signed the American Rescue Plan (ARP) into law, Nevada lawmakers are still working to allocate the remaining relief funding from the state's original $2.7 billion pot of flexible state aid, after voting Wednesday to deobligate $43 million from a pair of public health projects.
The withdrawn projects include a renovation of the Las Vegas Detention Center to expand forensic bed capacity, and with it the state's ability to treat patients with mental health needs who are incarcerated. Lawmakers on the Interim Finance Committee had originally approved $55 million for the project nearly a year ago.
In its place, lawmakers considered — but did not approve — a $14.9 million allocation for new jail-based programming meant to help forensic patients, a category that includes criminal defendants and people who are incarcerated who have mental health needs. Democratic lawmakers expressed skepticism over the $14.9 million program, and said they wanted to see a more permanent solution to issues that have plagued the state's system of care for forensic patients.
State officials also canceled a $3.9 million project to expand prenatal programs in rural areas, citing a "lack of interest." However, the president of Nevada Rural Hospital Partners, an alliance of 13 small and rural hospitals, said the state ran out of time on the grant and the organization will continue working with the state on the issue.
Along with savings from the canceled projects, myriad ARP-funded projects have come in under budget, leaving lawmakers with more than $60 million to obligate before a deadline at the end of 2024.
The remaining funds represent about 2 percent of the state's allocation. Much of the funding has been directed toward affordable housing, health care programs and improving state administrative systems primarily through modernizing outdated technology.
Lawmakers have until the end of 2026 to spend all of the $2.7 billion in flexible state aid from the American Rescue Plan, and as of August, more than $800 million has been expended.
But Senate Majority Leader Nicole Cannizzaro (D-Las Vegas) was critical of the pace of that spending, pointing to information from the Governor's Finance Office showing delays or issues facing dozens of projects funded by ARP dollars. For example, the agency reported delays in disbursing some of the $80 million allocated for child care infrastructure and subsidies.
"It is unacceptable for us to have allocated this money to not have an idea of where it's going," she said.
Mental health care for incarcerated people
As the state faces daily fines and continued scrutiny over delays in providing mental health care to mentally incompetent defendants, any new program will have to wait until December for approval after legislators tabled the state's latest proposal on Wednesday.
The state has two psychiatric facilities for criminal defendants, but they lack sufficient staff and capacity. There are 129 people awaiting transfer to a psychiatric facility in Nevada, and the average wait time is two to three months, said Drew Cross, the interim director at the Lake's Crossing Center, one of the two state facilities providing psychiatric treatment.
The Division of Public and Behavioral (DPBH) must pay $500 fines for every day an incarcerated person's psychiatric care is delayed — defined as longer than seven days after a court order for treatment is issued. The Supreme Court upheld the fines in August following a challenge from the division.
DPBH asked lawmakers to terminate the $55 million project that would have added 45 psychiatric beds and 115 staff members at the Las Vegas Detention Center project. The project has faced "delays with construction and design," according to meeting documents.
Assembly Speaker Steve Yeager (D-Las Vegas) called the cancellation of the project a "gut punch."
"We worked really hard on this proposal," Yeager said. "To see that we're abandoning that, it concerns me."
Instead, state health officials proposed a two-year pilot program providing mental health service to 60 people in the Clark County Detention Center and 30 people in the Washoe County Detention Center. The program will not provide competency restoration — which is bringing competency back to criminal defendants who were deemed unfit to stand trial — but would instead focus on social skills training, guidance on mental illness and medications and art and recreational therapy.
The proposed program followed a similar framework as other Jail-Based Mental Health Programs (JBP), which have been found to decrease recidivism rates and time spent in prisons — though other states, including Florida, have programs with more staffing and a broader scope than Nevada's proposal.
"My goal is to make sure that people are getting services as quickly as possible," DPBH Administrator Cody Phinney said at Wednesday's hearing. "And if we can start that in the jail setting where possible, it may be that some of those folks don't have to come to us [for psychiatric treatment."
However, legislators were concerned about the lack of specific written details on the proposal.
Sen. Rochelle Nguyen (D-Las Vegas) called the program "a temporary idea." Sen. Dina Neal (D-North Las Vegas) called it "a theory."
Though lawmakers voted to table the idea, two committee members — Sen. Pete Goicoechea (R-Eureka) and Assemblywoman Jill Dickman (R-Sparks) — supported it.
"Even though it's a loose plan, it talks about bringing personnel into play, and we're going to need them," Goicoechea said.
The committee will next consider the proposal at its December meeting, where they also expect to hear other proposals on a more permanent solution from DPBH.
Canceling prenatal services in rural communities
Though state officials allocated more than $3.9 million in ARP dollars for a project described as providing "access to quality women's health services," including prenatal care and gynecology programs in rural communities, documents provided to lawmakers noted that the "project is being canceled due to a lack of interest from rural hospitals."
But Nevada Rural Hospital Partners President Blayne Osborn said rural hospitals are interested but weren't given enough time to implement the program, which was designed in part to help cover the cost of long-acting reversible contraception (LARC) for rural health clinics. 
Osborn said that state officials reached out to the Nevada Rural Hospital Partners on Feb. 15, 2023, and called the grant a "rush project."
"I had several calls and emails with them as [state officials] were under pressure to expend the dollars or to deobligate the funds back to the GFO (within a month)," Osborn said. "Which of course is what happened. They simply ran out of time."
The cancellation comes as the state works to expand LARC access among patients who are already in a hospital to give birth via SB280, which passed during the 2023 legislative session and went into effect on Oct. 1.
In documentation submitted on Aug. 18, state officials wrote that they lacked the resources to carry out the project.
Osborn said long-acting reversible contraceptive devices such as intrauterine devices (IUDs) cost about $1,000 each and the rural health care clinics do not get paid separately for the device.
"When a patient comes to one of our clinics, Medicaid pays us between $150 and $250 for that clinic visit," Osborn said. "It is impossible for the clinic to cover the cost of the device while only charging Medicaid the visit rate."
The high cost of long-acting reversible contraceptive devices is one reason why Nevada Rural Hospital Partners advocated for the inclusion of the word "injections" into the new contraceptive law. Osborn said long-acting, injectable contraceptives such as depo-provera are more easily supplied when births happen in rural emergency rooms instead of full-service labor and delivery units.
Osborn said state officials are committed to working with the Rural Hospital Partners to address the issue and there will likely be a bill in the next legislative session on the topic.

This story was updated on 10/12/2023 at 12:05 p.m. to correct a misspelling of Blayne Osborn's last name.
The Nevada Independent is raising $200,000 by Dec. 31 to support coverage of the 2024 election.
Tax-deductible donations from readers like you fund this critical work.
If you give today,your donation will be matched dollar-for-dollar.
Give + Get Matched
Featured Videos