Freshman Orientation: Assemblyman Cameron "C.H." Miller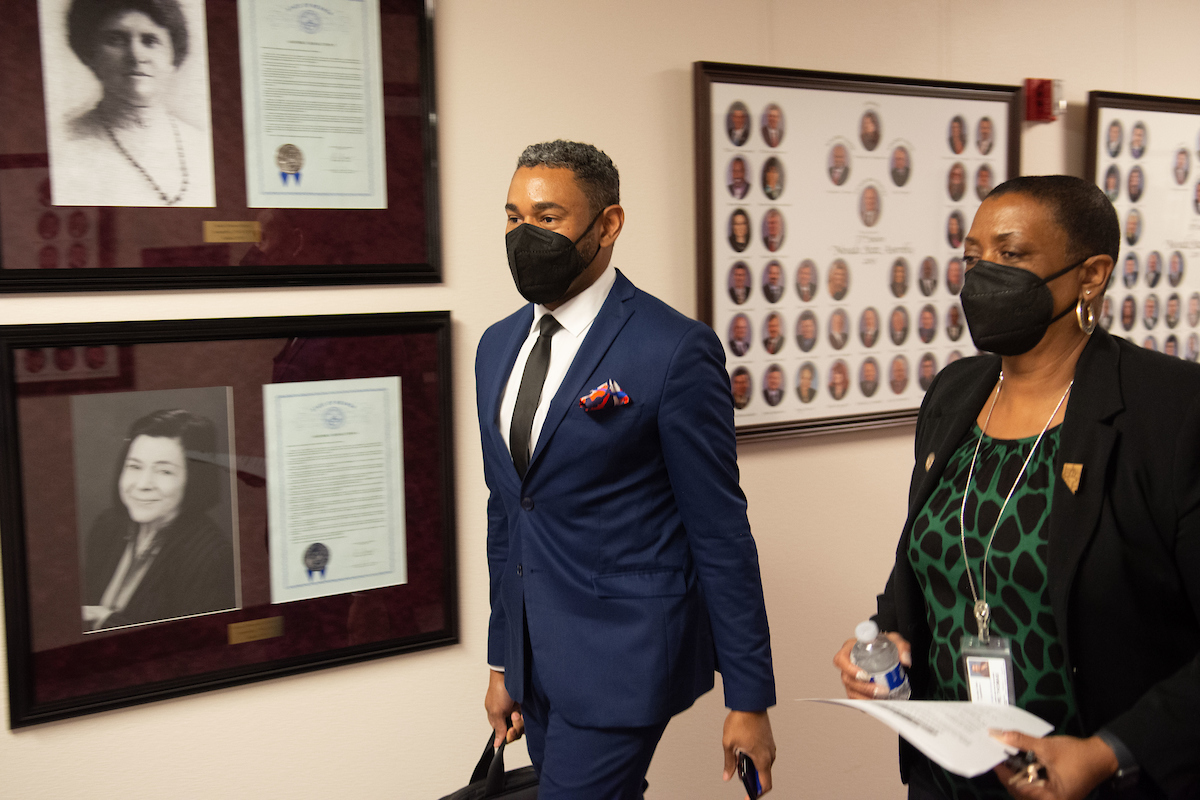 As in sessions past, The Nevada Independent is publishing a series of profiles featuring all the new lawmakers in the state. This is the eleventh installment of more than a dozen. Check back in the coming days for additional stories on new legislators' backgrounds, interests and policy positions.
Freshman Democrat who succeeds former Assemblywoman Dina Neal (D-North Las Vegas) after she was elected state senator representing District 4
Represents District 7, which includes North Las Vegas
District 7 is heavily Democratic (52 percent Democratic, 18 percent Republican and 24 percent nonpartisan in the 2020 election for active voters)
Miller defeated John Stephens III in the district's Democratic primary with 74.4 percent of the vote and then was victorious over Republican Anthony Palmer in the general election, carrying 68.7 percent of the vote.
He will sit on the Growth and Infrastructure, Judiciary and Revenue committees.
FAMILY AND EDUCATION
Cameron "C.H." Miller grew up in Las Vegas and graduated from the Southeast Career Technical Academy, the valley's first vocational high school. Though he attended the College of Southern Nevada for a short time, he earned his bachelor's degree in Ministry Leadership from Northwest University in Kirkland, Washington.
His family came West as part of the Great Migration, with his mother's family settling in Los Angeles after living in Detroit, and his father moving to Las Vegas from Louisiana. Miller's parents met in Las Vegas, and Miller has fond memories of time spent with his grandparents and extended family in the city's Historic Westside neighborhood.
Miller has two children, a son and a daughter.
CAREER
After Miller graduated high school, he received a cosmetology license and worked as a licensed stylist in Las Vegas for about 12 years. After playing Cory in CSN North Las Vegas's production of August Wilson's play Fences, Miller then launched him into a film and television industry career. He now works as an independent entertainment consultant and executive producer in Las Vegas.
***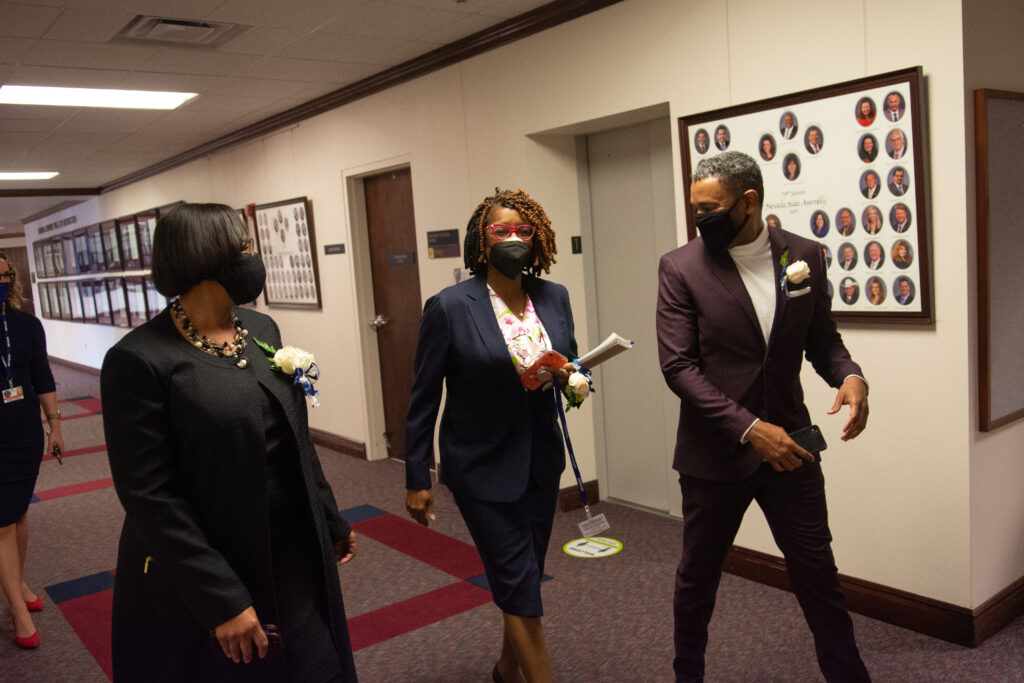 Growing up, Miller had a Granny, Grandma and Grandmother.
Miller described Granny, his father's mother, as a down-to-earth, outspoken woman who always had a seat at the table and food for anyone that walked through the door, even if they were not hungry.
Grandma, a respiratory therapist and Miller's mother's mother, was a self-sufficient divorcee who was heavily involved in the Los Angeles activist and advocate community.
Grandmother, his mother's stepmother, ran a day care facility out of her home. She also took in foster children, which meant that growing up, there were always babies and young children around, Miller said with a laugh.
Miller said that the three women left an indelible mark on life and shaped his understanding of community and what it means to show up and speak out.
"They were women who cared so much about other people that they took on responsibilities that were not theirs," Miller said.
Though his grandmothers heavily influenced him, Miller said that he did not fully reflect on the values they taught him until he was older.
Miller said that he spent most of his adult life not really paying attention to what was going on in the broader world. He was focused mostly on his film career, which took him to Los Angeles, New York and Atlanta.
But, no matter where he lived, Miller said he could never escape his love of Las Vegas and the community he was surrounded by growing up. He knew that he had to give back in a similar way to his grandmothers.
So, Miller came back to Las Vegas and introduced the 11Eleven11 project to the city, a youth mentoring and film training program that encourages civic engagement through film. The project gave him the impetus to participate in more community-oriented organizations.
He never planned on running for office until his mentor and cousin, the late Assemblyman Tyrone Thompson (D-Las Vegas), asked Miller if he had ever considered serving as a legislator.
"He planted a seed," Miller said. "I started becoming a lot more interested in understanding, how as a legislator, as the person in the seat, how you're able to make an impact at a greater level."
The ability to make generational change ultimately gave Miller the impetus to run for office.
"We can really make bold, significant changes now, because things are broken and when things are broken, you can make a decision to put them back the way that they were, or to figure out how to do something new," Miller said.
Miller's focus this session is on bills that stimulate the state's recovery, address economic and criminal injustices and help local businesses struggling in the wake of COVID-19 shutdowns.
He said his only regret is not being able to learn more from Thompson, who unexpectedly died during the 2019 legislative session at the age of 51.
"I have questions for him all the time," Miller said. "Politics to some degree requires people to be so perfect or so black and white and we're so 360 and we're so full. So it would be amazing to ask him some of the questions of how to navigate being the politician and the human being. He was really good at it."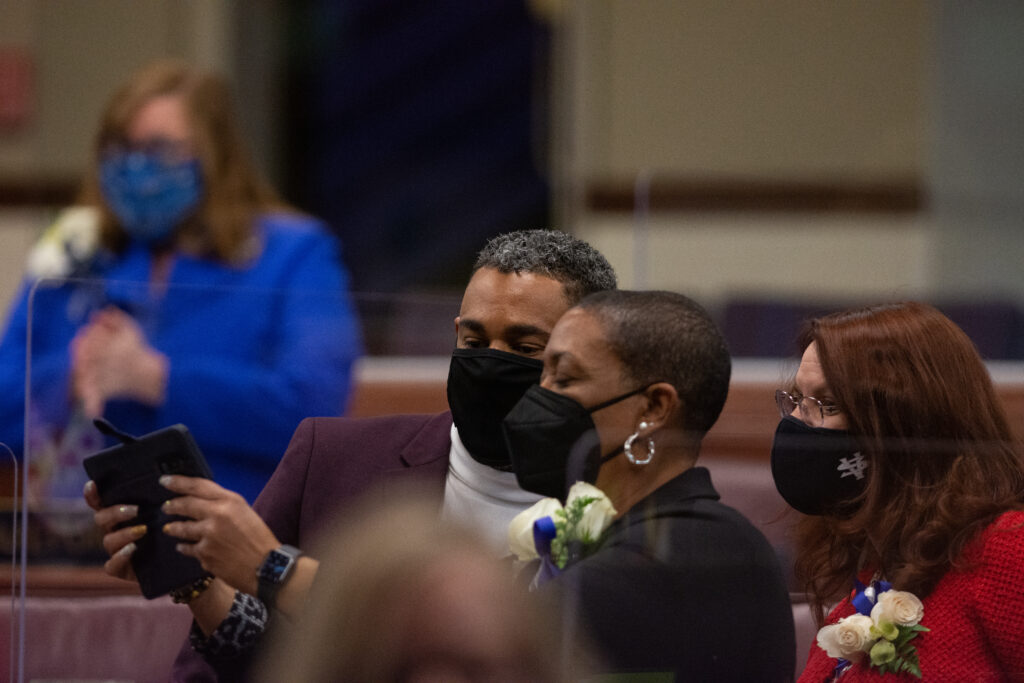 On the issues
Economic recovery
Helping small businesses and ensuring that they can survive the pandemic's economic effects is one of Miller's top goals.
Another part of the recovery effort has to include economic diversification and addressing disparities within communities of color, Miller said.
"We're the hardest-hit state. We know that we're going to take the longest to recover because if the rest of the world doesn't have money. Guess who gets it last? Travel and tourism," Miller said. "We've got to get people back to work and that may look like attracting new industries and things here. We've got to stop our small businesses from bleeding."
Criminal justice reform
Miller said he is working on a bill addressing direct filing which allows prosecutors to file charges against a juvenile in an adult criminal court. He is also looking at ways to reduce policing bias during interactions between law enforcement and other individuals.
"It's a hard pill for me to swallow, to know that someone who is not able to vote, not able to buy a drink, not able to gamble, not able to do a lot of things, not able to drive in some cases can be charged automatically as an adult," Miller said. "We are incarcerating people before they get an opportunity to actually become who they are."
Miller said people of color are disproportionately charged and jailed by the criminal justice system, which affects the entire community.
"Leveling this justice field so that justice is truly for all and it looks the same for all, despite how we look and where we come from [is vital]," Miller said.
Election reform
The 2020 elections were fair, Miller said.
However, he is not opposed to reassessing Nevada's election laws and seeing how lawmakers can improve the process.
"I am open to looking at the process and seeing how we can make it better, how we can make it more fair, how we can make it more accessible to everyone," Miller said. "Anything that's going to lead to less people voting is not something that I'm at all interested in."
Comment Policy (updated 4/20/2021): Please keep your comments civil. We reserve the right to delete comments or ban users who engage in personal attacks, use an excess of profanity, make verifiably false statements or are otherwise nasty. Comments that contain links must be approved by admin.