Freshman Orientation: Assemblywoman Shondra Summers-Armstrong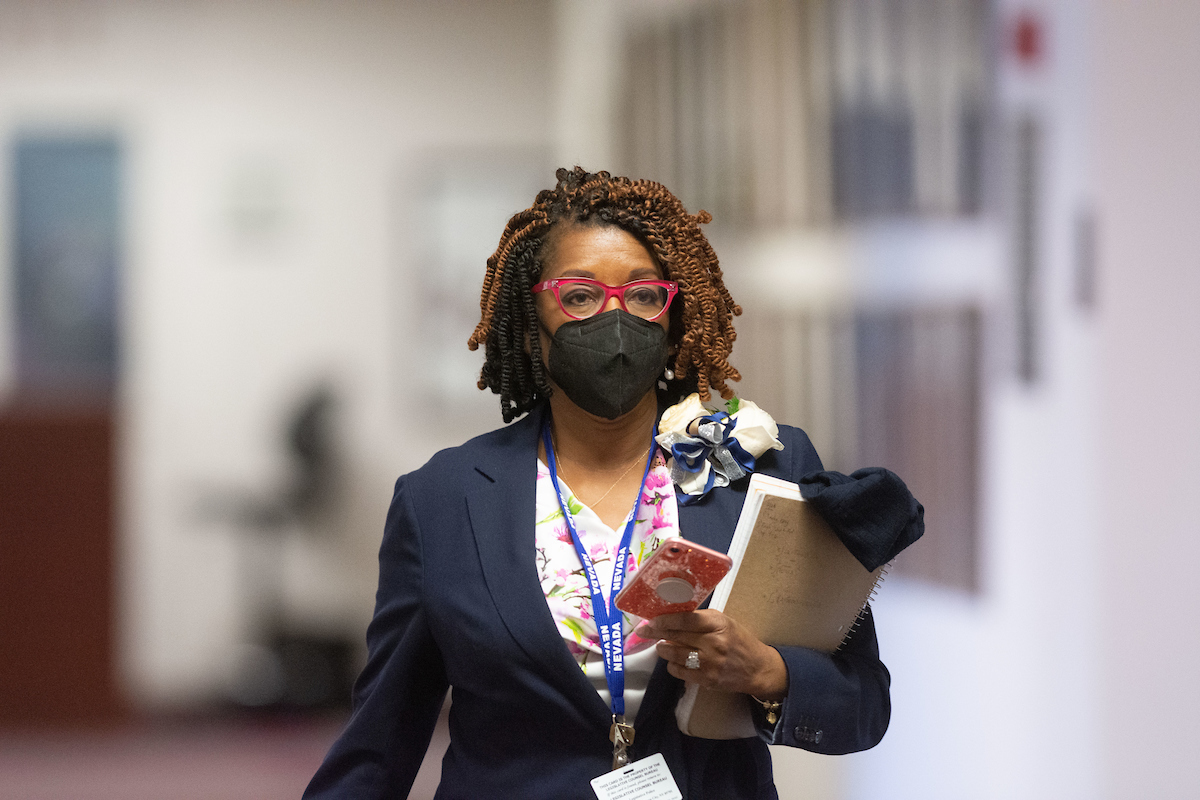 As in sessions past, The Nevada Independent is publishing a series of profiles featuring all the new lawmakers in the state. This is the first installment of more than a dozen. Check back in coming days for additional stories on new legislators' backgrounds, interests and policy positions.
ASSEMBLYWOMAN SHONDRA SUMMERS-ARMSTRONG
Freshman Democrat from Las Vegas who succeeds Democratic Assemblyman William McCurdy II, who is now a Clark County commissioner representing District D.
Represents District 6, which includes the area south and east of the North Las Vegas Airport and north of U.S. Route 95.
District 6 is Democratic (60 percent Democratic, 10 percent Republican and 24 percent nonpartisan in the 2020 election).
Summers-Armstrong defeated one other candidate in the 2020 Democratic primary with 73.6 percent of the vote.
She then defeated Republican Katie Duncan in the general election, carrying 80.4 percent of the vote.
She will sit on the Growth and Infrastructure, Health and Human Services, and Judiciary committees.
FAMILY AND EDUCATION
In 1993, Summers-Armstrong met her husband, Carl Armstrong, while she was working as a judicial assistant for Addeliar Dell Guy III, the first Black District Court judge in Nevada. She has three children, two from a previous marriage. 
Though Summers-Armstrong has taken college courses, she said her "degrees have really come from life and living."
CAREER
Summers-Armstrong works as a management analyst with the Regional Transportation Commission of Southern Nevada and is an executive board member of SEIU Nevada, a union that represents thousands of health care workers and public employees in the state.
PROFILE
As a sixth grader, Summers-Armstrong told her history teacher that she wanted to be the president of the United States. He responded that Summers-Armstrong couldn't be president because she was a female and she was too conservative and religious to hold the office.
She was crushed.
"I think we have to be really careful what we tell children," Summers-Armstrong said. "I may not be the president of the United States and under the circumstances, I would not want that job, but I can be a representative for my community."
She attributes her passion, drive and community-oriented mindset to her family, especially her grandmother, who attended college as a 17-year-old in the Jim Crow South to become a teacher. Summers-Armstrong described fond memories of her grandmother sharing stories and encouraging her to follow what was "good and fun and right, and to just enjoy and to love."
"[My grandmothers] showed us that even if you come from humble beginnings, you can do some great things and you can be smart and you can make something out of absolutely nothing and make it taste and look good and do it with class," Summers-Armstrong said. "I think about them all the time."
Summers-Armstrong grew up in the Bay Area of Northern California and remembers hearing the noise of football games from the Raider Stadium, although she never watched one live. At 18, after graduating she married a man in the Air Force and then moved to Germany for a four-year stint, during which time she had two sons.
From Germany, the family moved to Las Vegas, and though she and her husband divorced, Summers-Armstrong decided to stay.
"Nevada wouldn't let me go," she said with a smile.
While she was a judicial assistant, Summers-Armstrong met Armstrong, and the two have been married for 26 years and have another son together.
Before she became an assemblywoman, Summers-Armstrong spent her free time attending city council and planning commission meetings with her husband, working to improve her community in West Las Vegas.
Though Summers-Armstrong was focused on improving the communities she found herself in, she did not seriously consider running for public office until she started as an executive administrative assistant in the streets and highways program in Las Vegas' metropolitan planning department.
In the 25 years since joining the Regional Transportation Commission, Summers-Armstrong said she gained deeper insight and interest in public works projects and community planning and believed she could make a greater contribution to Nevada working as a legislator, so she ran for office.
"I'm hopeful that I will be that type of legislator that I will be able to think futuristically, help come up with ideas that can help my community," she said, "so that as money comes, opportunity comes, we can be ready to implement, and make our community better."
Summers-Armstrong likened the beginning of legislative session to the first day of high school, and noted that though she's nervous, she's excited to learn and participate in the legislative process on behalf of her constituents.
Some of her main priorities this upcoming session include improving access to health care and education, as well as increasing job opportunities, are necessitated in part by the global pandemic. But she is also hoping to see bail reform pass this legislative cycle and is working on legislation surrounding summary evictions and doulas — people who support women through childbirth.
Regardless of what may happen this coming session, Summers-Armstrong said she is keeping an open mind heading into the session and remembering the lessons she learned from her grandmother.
"I may not be Barack Obama, but I can be the best Shondra I can be," Summers-Armstrong said.
ON THE ISSUES
Election integrity
Summers-Armstrong rejects the idea pushed by Donald Trump that there was widespread voting fraud, noting Nevada's high turnout in the 2020 election.
"We have people who were previously incarcerated, who had done their time, now with an opportunity to vote," she said. "That's not voter fraud. That's freedom. That is participating in their civic duty."
Criminal justice reform
Before the 2019 session, Summers-Armstrong worked on bail reform legislation that did not make it out of Legislature. But it's the end result that matters, she said, adding that there is an interim committee on criminal justice and she knows the lawmakers who are part of the committee are "on it."
"It is of the least amount of concern who gets it done. The most important thing is that it gets done," she said. "So my job is to learn, hear, listen, and then support legislation. That's going to move the things that I believe are important forward."
Changes around bail, how long people wait without a hearing and alternatives to cash bail are critical to the community, Summers-Armstrong said.
"People don't have $5,000, $10,000, $15,000 to just peel off and pay cash bail," Summers-Armstrong said. "If there are alternatives for these minor non-violent infractions for people to be able to get to work, so they're not losing their cars and their apartments, that's more equitable."
Climate change
Climate change disproportionately affects lower-income communities of color, the assemblywoman said, adding that many of her constituents live in the central part of Las Vegas, are not wealthy and are most vulnerable to pollution and other hazards posed by climate change.
Though she supports the state's goal to reach net-zero carbon emissions by 2050, Summers-Armstrong said that addressing climate change has to include voices that are often unrepresented.
"You gotta listen to everybody. What works in one community may not work in others and we gotta figure out how we can get some participation that is equitable for everybody," she said. "Everybody can contribute to getting to net zero in the best way they can."
Comment Policy (updated 4/20/2021): Please keep your comments civil. We reserve the right to delete comments or ban users who engage in personal attacks, use an excess of profanity, make verifiably false statements or are otherwise nasty. Comments that contain links must be approved by admin.