Freshman Orientation: Democratic Sen. Nicole Cannizzaro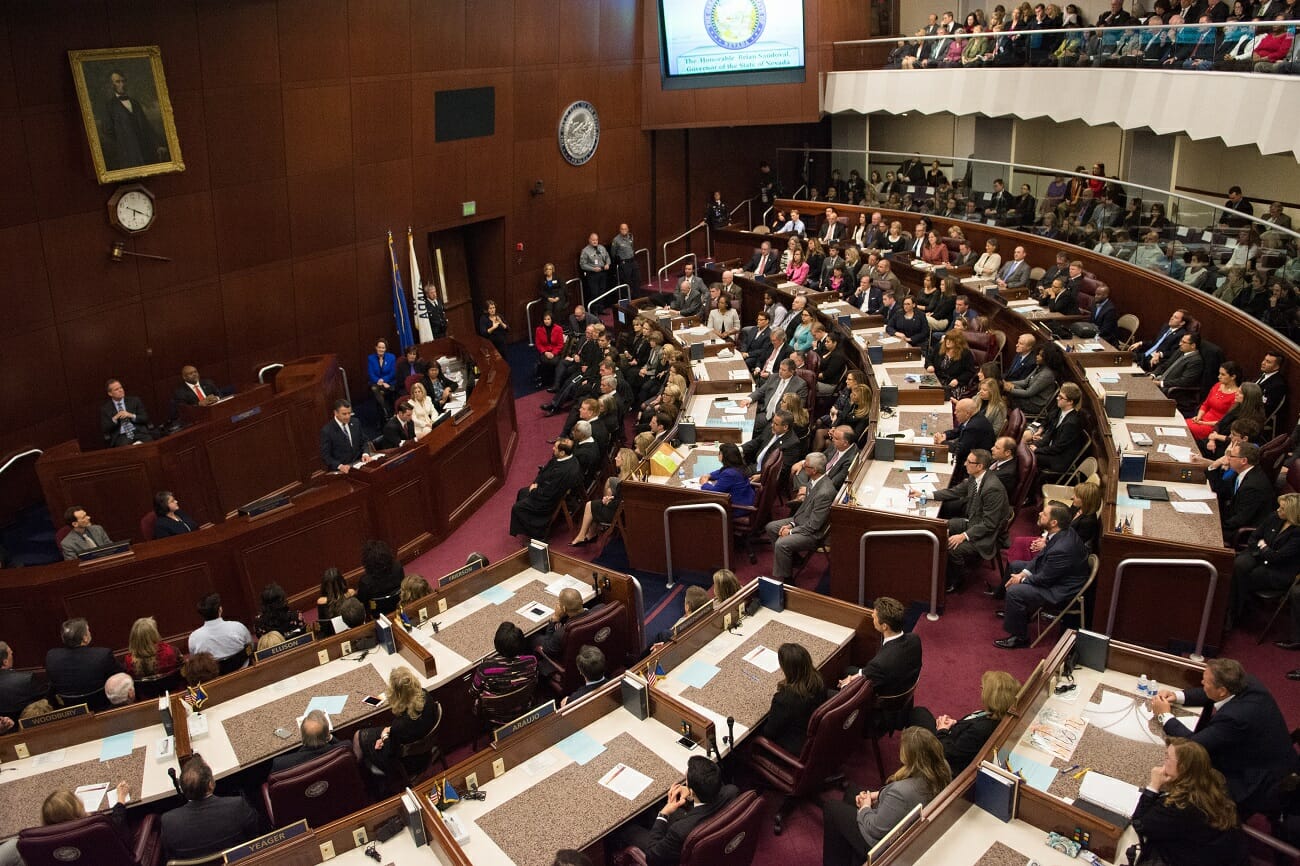 Democratic Sen. Nicole Cannizzaro

Freshman Democrat who fills the seat of Republican Mark Lipparelli, who was appointed to the seat ahead of the 2015 Legislature and decided not to run for the seat.

Represents Senate District 6, which covers a northwestern chunk of Las Vegas left of the I-95 and includes parts of Sun City Summerlin.

District 6 has a slight Democratic advantage (40 percent Democrat, 36 percent Republican and 18 percent nonpartisan in the 2016 election).

Cannizzaro did not have a primary opponent.

She defeated Republican Victoria Seaman by a narrow

51 to 49 percent

margin in the 2016 general election.Cannizzaro's 1,036 vote margin of victory was the second closest state senate race of the election cycle.

Appointed chair of the Legislative Operations and Elections committee and vice chair of the Senate Committee on Judiciary, serving on the 

Commerce, Labor, and Energy committee.
FAMILY AND EDUCATION:
Cannizzaro is a Nevada native, born in Las Vegas in 1983. She attended the University of Nevada, Reno where she majored in Business Administration and was an active member of the Delta Gamma sorority. She then moved back to Las Vegas to attend the Boyd School of Law where she met her husband, Nate. The two have three dogs, and Cannizzaro says she enjoys "reading, crossfit and spending time with nieces and nephews."
CAREER:
Before graduating from law school in 2010, Cannizzaro interned for a number of legal groups including the law firm of Snell & Wilmer, the Las Vegas City Attorney's Office and spent three months as a legal clerk for the Delaware Supreme Court. After graduation, she worked as a legal clerk for Nationwide Insurance and then as a private attorney at Brooks Bauer LLP before being hired at the Clark County District Attorney's Office, where she is currently employed as a deputy district attorney.
She is a 2015 graduate of Emerge Nevada and is a member of various alumni associations.
ON NEVADA AND THE ISSUES:
What about Nevada are you most proud of? What about Nevada embarrasses you most?
As a native Nevadan, I am extremely proud of my home state. I am proud that Nevada is still a place where the opportunity for families and children to succeed exists, and where we have the chance to continue to move Nevada forward. There is still a significant amount of work to be done to improve education, and I believe this next legislative session will allow us to evaluate our public and higher education systems and find ways to improve those systems.

Please list your top three priorities for the 2017 Legislative Session and explain. (Feel free to reference specific BDRs or group BDRs together by general policy area.)
One of my top priorities is to focus on access to higher education. Nevada's affordable, quality state higher education system made it possible for me, a first-generation college student, to earn both a bachelor's and a law degree. Capping costs at public universities and community colleges, making college savings plans more accessible, and helping students get out of debt faster are all issues I would like to work on this session.

Under what circumstances should Nevada raise taxes? Would you support a tax increase this session?
Good tax policy is about achieving the right balance between funding necessary services while not unfairly burdening families and businesses. That's why I will be evaluating any proposed changes to our tax policy on case-by-case basis. It is also important to evaluate what the revenue will fund. I am in favor, for example, of an excise tax on recreational marijuana sales, so long as the funds are dedicated to public schools.

What programs/parts of the state would be best to cut? What programs/areas need more funding in 2017?
At this point, it is premature to say what we should or should not cut from the budget. We will have extensive budget hearings this session, and I believe those hearings will inform our final budget decisions.

Nearly all legislators list diversifying Nevada's economy and creating new, permanent jobs for Nevadans among their highest priorities. What specifically do you personally plan to do to help accomplish that?
I believe we should require that Nevada-based businesses, particularly those that commit to hiring Nevada workers, get a preference in bids for publicly funded projects. Policies that focus on Nevada workers will create jobs and expand our business tax base in-state.

To diversify our economy, I want to be sure we invest in both our infrastructure, and our public K-12 and higher education systems. If we do not have strong infrastructure and an educated workforce, we will not be able to attract diverse businesses to the state.

What should be Nevada's next move on solar policy?
A robust solar industry is essential, both for job creation and to protect our State's environment. We need to focus on finding a responsible way forward that allows our solar industry to grow and to create new opportunities to employ Nevadans.

In September, the Nevada Supreme Court blocked funding for the state's school choice program. What legislative changes do you think should be made to the program this session?
I committed to my constituents that I would listen to all ideas on improving our education system, and I am committed to giving parents more say in how the education system is managed. However, I think we should recognize that vouchers that drain money out of the public school system are not the only way forward. Magnet schools, a well-regulated charter school system, and public school choice programs will help parents better tailor schooling to their kids educational needs.

Should Nevada change its minimum wage? If yes, at what level should it be set?
Nevada's minimum wage needs to be increased. I plan to hear testimony before I make a decision on what number is best.

Are there any particular issues on which you see yourself working across party lines? If so, which ones? If not, why not?
I hope there will be opportunities to work across the aisle on issues related to economic development and education.
Comment Policy (updated 4/20/2021): Please keep your comments civil. We reserve the right to delete comments or ban users who engage in personal attacks, use an excess of profanity, make verifiably false statements or are otherwise nasty. Comments that contain links must be approved by admin.