Freshman Orientation: Selena La Rue Hatch bringing classroom experience to Assembly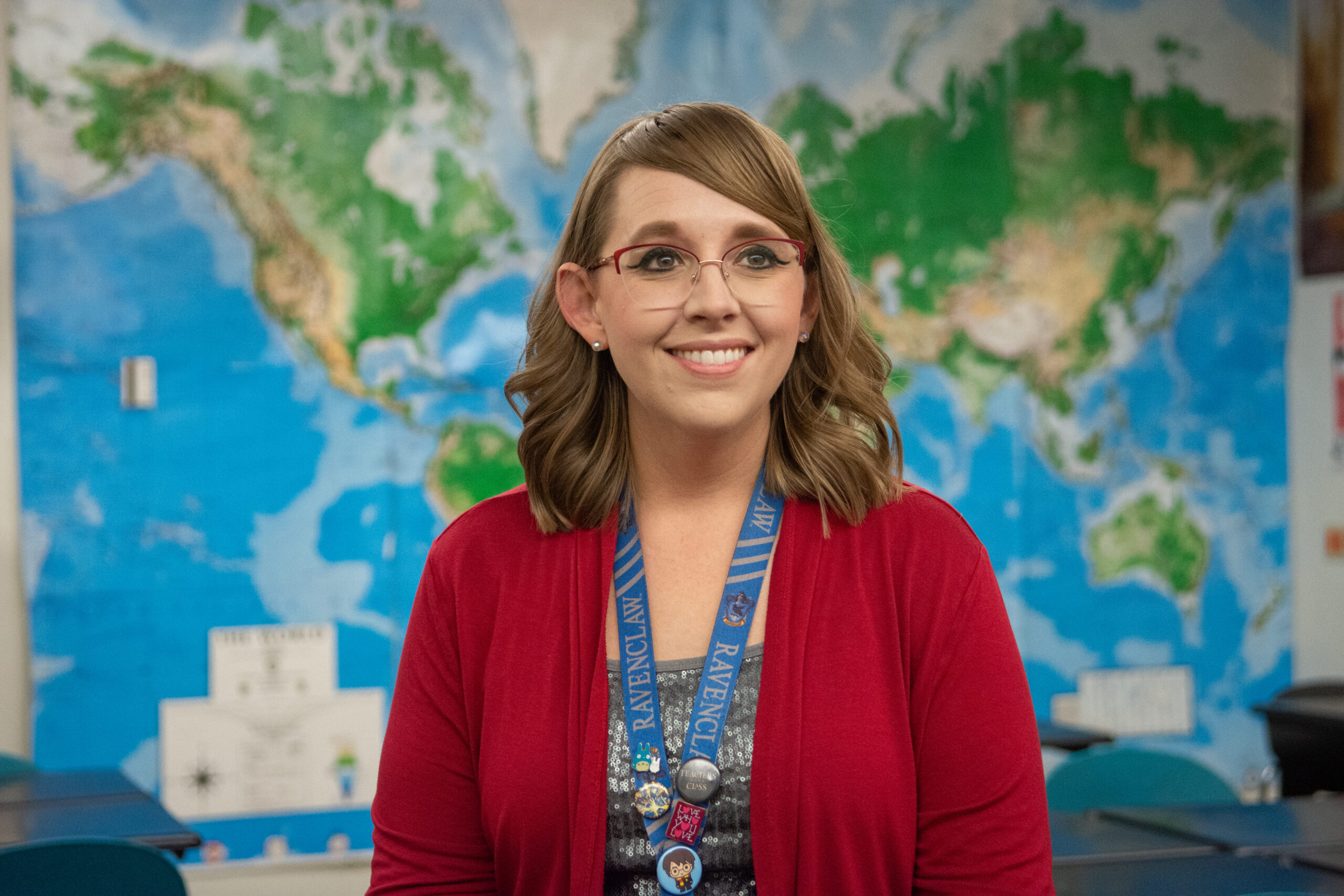 As in legislative sessions past, The Nevada Independent is publishing a series of profiles featuring the new lawmakers in the state. This is the eighth installment of more than a dozen. Check back in coming days for additional stories on new legislators' backgrounds, interests and policy positions.
ASSEMBLYWOMAN SELENA LA RUE HATCH
The freshman Democrat replaces Republican Jill Tolles.
Represents Assembly District 25 in Northwest Reno, which includes the Bartley Ranch area and near McQueen
La Rue Hatch will serve on the Education, Judiciary, and Natural Resources committees.
According to December 2022 active voter statistics, 35 percent of District 25's active voters are Democrats, 32 percent are Republicans and 25 percent are nonpartisans. The rest are registered with minor parties.
La Rue Hatch won almost 54 percent of the just over 32,000 votes cast in her district in November, beating Republican opponent Sam Kumar. In the primary, she defeated Democrat Alex Goff with nearly 65 percent of the vote.
FAMILY AND LIFE
La Rue Hatch, 33, is a fourth generation Nevadan. She grew up on a ranch near Pyramid Lake, drove an hour to school every morning and spent weekends rounding up cattle.
She was largely raised by her grandma Dorothy, who ran an in-home daycare for children of first responders. La Rue Hatch said her grandmother instilled in her the value of service, giving back, and a love of caring for children.
La Rue Hatch is an avid reader of historical fiction and fantasy, including Lord of the Rings, Harry Potter and Doctor Who. She also enjoys playing video games, which she said always surprises her students. She also bakes in her free time.
"I've spent about 10 years crafting the perfect chocolate chip cookie recipe … Reno has microclimates and we're high elevation. So recipes that come from other places don't work here the way that they're supposed to," she said. "You actually have to adjust all these different leavening agents and all these different things. And so I tried out different methods to get the perfect chocolate chip cookie. And I think we are there."
Her family includes her husband Stephen, their 5-year-old daughter, Abby, and a Boston terrier-corgi mix named Luna.
EDUCATION AND CAREER
After attending Boston University and earning a bachelor's degree in history, La Rue Hatch returned to Reno where she "wanted to give back to the community in some way." She worked for nonprofits and political organizations and said she came to realize that if she "wanted to change the world," she needed to do more than knocking on people's doors and campaigning.
She earned her master's degree in education from UNR and became a world history and geography teacher in the Washoe County School District, teaching sophomores.
Growing up in her grandma's daycare, she would teach younger children how to read and practice colors as "the big kid." Her tutoring skills followed her to college, where she helped her peers.
"I should have known that I was going to become a teacher, but I definitely did not. I initially thought I was going to be an archaeologist," she said. "Then I realized, I really loved the history, but I don't love digging in the dirt for hours and hours a day."
ROAD TO CARSON CITY
The young teacher has been involved in the Washoe Education Association teachers union, rallying for more funding for schools and helping to diversify the curriculum. But she said she felt there was another way to make a bigger change.
"I've tried through rallies and lobbying to try to make those changes for our schools that I thought we needed. And it just felt like we were kind of rearranging the deck chairs on the Titanic, but not actually getting the systemic changes that we need," she said. "I decided that if my voice and my students' voices and my colleagues' voices aren't being heard outside the building, then let's get inside the building."
La Rue Hatch said her students saw her advertisements during the campaign and thought she was running for president, which led into a lecture on the Legislature.
"They were really excited once they learned that and immediately the requests were, 'Can you make school only four days a week? Or can you ban homework?'" she recalled laughingly. "They are the best part of the job. Teaching is so challenging right now, but my kiddos are the reason I go … they are really what gets me through all of the difficulties."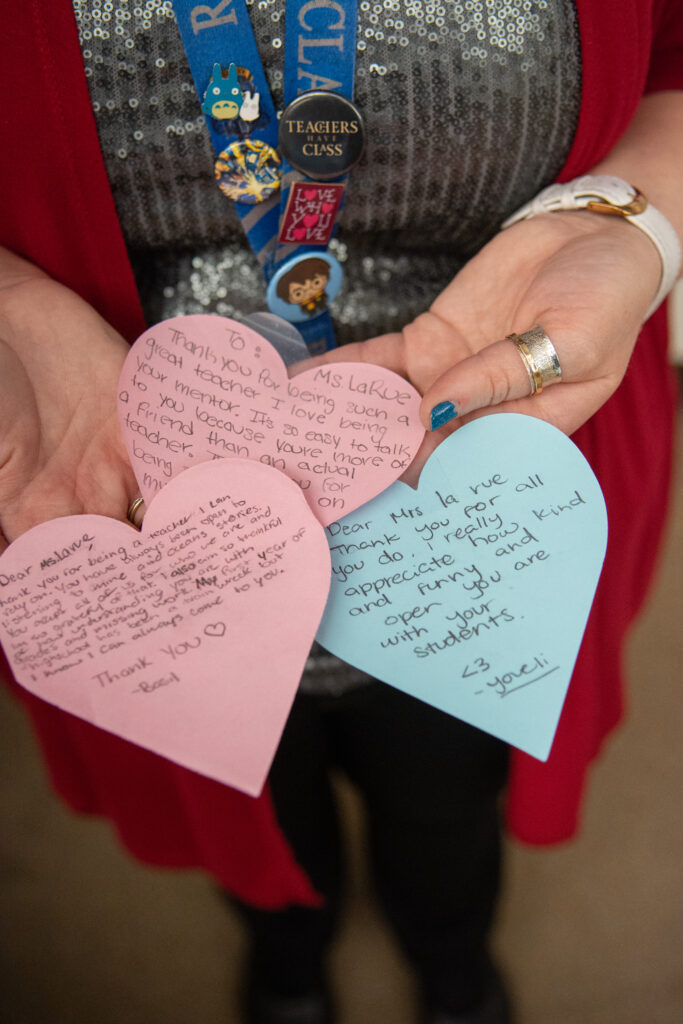 ON THE ISSUES
Education
As a teacher, La Rue Hatch said she wants the conversation to not be just about teacher pay, but also staff, custodian and bus driver pay as the state has dealt with a "chronic shortage" across all positions.
"I think that a society identifies their priorities by where they're spending their money. And if we're not spending our money on the education of our children, on literally our future, then what are we doing?" she said. "An average education staff member can make 20 percent more in the private sector than they are making in education. And that is part of why we have this chronic shortage because at some point you literally cannot afford to do this thing that you're passionate about anymore."
La Rue Hatch said the teacher shortage means many students are being taught by a substitute teacher, and not necessarily the same one every day. The lack of consistency in the material reviewed could cause students to miss out on needed instruction, La Rue Hatch said, from which those students might never recover on their academic journey.
The issue of school choice begins with fixing public schools, she said, as they have been "integral to our democracy." And while some parents may choose private schooling or homeschooling for their family, La Rue Hatch said public schools cannot be left behind.
"If we are not educating our entire society, then our society is not going to thrive," she said. "First, we need to bring our class sizes down. Our national average is 15. And we've got classes of 45 and 50. In core subjects, students just cannot get the attention and support that they need."
One of her education-related bills would end the use of "Student Learning Objectives" and "Student Learning Goals." La Rue Hatch said the initial intention was to measure student progress, but it has turned into several hours of paperwork a year for teachers. Time spent filling out reports could be used to help students, grade work, plan lectures or tutoring, she said.
She would also like to require geography as a high school graduation requirement. She argued that geography is not "just places on a map," but includes complex global relationships, supply chains and trade negotiations.
"Right now our students spend the vast majority of their school years learning about the U.S. and they get one year in high school to learn about the whole rest of the world," La Rue Hatch said. "And if our kids want to compete in a global economy, then they need to know a little bit more than one year."
Environment
As a member of the Natural Resources Committee, La Rue Hatch said she is working on a couple of bills pertaining to climate change, including phasing out the use of fluorescent light bulbs in buildings, which can leak mercury and require more energy. She is also proposing a "healthy soils initiative" with AB109 to improve Nevada's agricultural soil to require less water.
"Switching to LEDs is a good business decision in general, because it saves a lot of money for the consumer," La Rue Hatch said. "And 70 percent of our water goes to crop irrigation right now. If we improve the soil health, it increases the health of our food and it can help sequester carbon. So if we improve our soil health, we can actually reverse climate change."
New taxes?
La Rue Hatch said she is "not someone that stands up and says, 'no new taxes,'" and the conversations need to be had even as the state revenue is in surplus.
"I think that we need to look at our revenue streams. And I think we need to make sure our revenue streams are actually meeting the needs of our people," La Rue Hatch said. "I think that that surplus needs to be spent in appropriate places. The governor says that he is all about no new taxes. And I think we'll just need to negotiate this session and see what happens."
The Nevada Independent is raising $200,000 by Dec. 31 to support coverage of the 2024 election.
Tax-deductible donations from readers like you fund this critical work.
If you give today,your donation will be matched dollar-for-dollar.
Give + Get Matched
Featured Videos