Freshman Orientation: Senator Fabian Doñate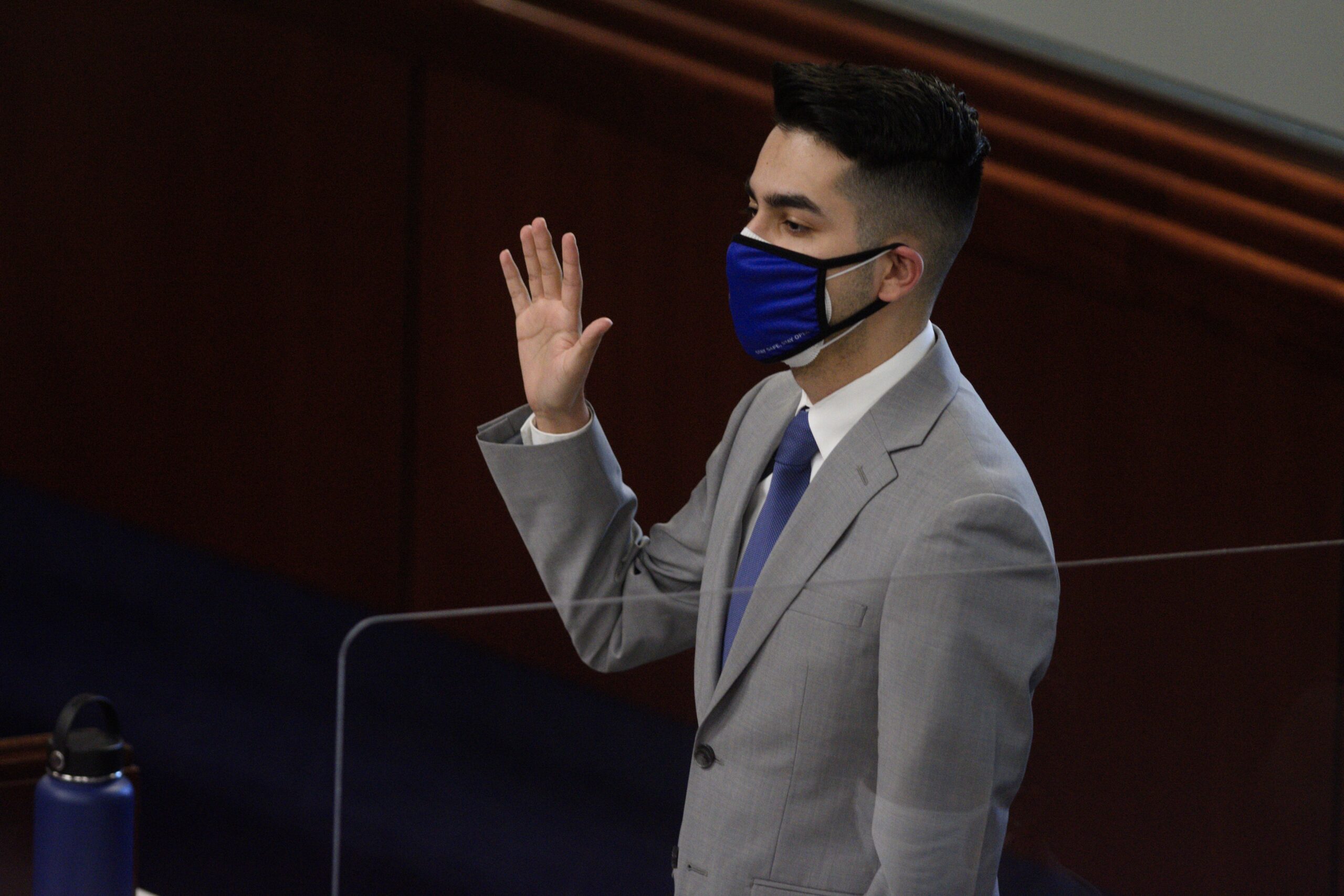 As in sessions past, The Nevada Independent is publishing a series of profiles featuring all the new lawmakers in the state. This is the fourth installment of more than a dozen. Check back in the coming days for additional stories on new legislators' backgrounds, interests and policy positions.
SENATOR FABIAN DOÑATE
Freshman senator who replaces former Democratic Sen. Yvanna Cancela, the first Latina in the Nevada Senate. Cancela was elected to a four-year term in 2018 but resigned in early January to take a position in the Biden administration.
Represents District 10 in Central-East Las Vegas
District 10 is heavily Democratic (55 percent Democratic, 19 percent Republican and 27 percent nonpartisan in the 2020 election for active voters)
Doñate will finish out Cancela's remaining term, which will end in 2022.
He will sit on the Education Committee and chair the Natural Resources Committee.
FAMILY AND EDUCATION
Doñate was the first person in his family to graduate from college and holds a bachelor's degree in public health from UNLV and a master's degree in public health from the University of Maryland, College Park. Born in Los Angeles, the senator grew up in Las Vegas and is the oldest of five children — four boys and one girl.
CAREER
For his first job, Doñate worked as an elevator attendant at the Strat Hotel, Casino and SkyPod, formerly known as the Stratosphere.
From there, he worked as a pool attendant at the hotel and then worked a number of odd jobs throughout college. He also volunteered with the immigrant advocacy organization Make the Road Nevada, served on the Biden campaign's National Health Policy Committee, worked as a regional account management coordinator for the American Cancer Society and interned for Democratic U.S. Sen. Catherine Cortez Masto.
The senator now works remotely as a health consultant for the University of Maryland School of Public Health.
PROFILE
Doñate said he was first struck by the American health care system's inequities when his father, an immigrant from Zacatecas (a state located in North-Central Mexico), was diagnosed with Type 2 diabetes.
There were no Spanish translators available and Doñate, a teenager at the time, remembers navigating unfamiliar medical jargon in two languages, acting as a middleman between his Spanish-speaking parents and an English-speaking doctor.
"Having to translate for my dad as a teenager really shocked me," Doñate said. "The physician should have known better. I feel like a lot of kids like me shouldn't have ever been put in a position like that, but because of the gaps that we have in society, it happened."
Though the experience was frustrating and not uncommon for children of immigrants, Doñate said it triggered a desire to enter the public health field and learn how to improve the health and working conditions for people such as his father and mother, who work in Las Vegas' service industry.
Doñate, who at 24 is the youngest lawmaker in the Senate, said he had initially planned to run for office when he was 30 after gaining more experience. However, with the public health crisis brought on by the pandemic, he felt his expertise in the health care field could be an asset to lawmakers, so he put forward his application to represent his district.
"I will sacrifice everything if it means being a voice and helping solve some of those gaps that are being observed," he said. "It's for my family, for my community, for those that came before me and those that will follow after. I want my legacy to cement those who will follow after from a public health perspective, from a Latino perspective."
Doñate grew up in the district he now represents, surrounded by extended family in a diverse neighborhood consisting primarily of Latino families and casino workers.
In elementary school, the senator remembers being surrounded by other kids from similar backgrounds, but that changed when he began going to the East Career and Technical Academy magnet school — a public school with a specialized curriculum that accepts students from outside zoned boundaries.
Attending the magnet school gave him a plethora of academic opportunities that he would not have had otherwise. Still, Doñate felt disconnected from his Latino heritage in a school that had a predominately white and wealthy student body.
He remembers being exposed to different music and social experiences than his Latino peers, with parties and sweet 16 celebrations replacing fiestas and quinceañeras.
"I got very lucky because I went to a magnet school, but it is a hard thing just to go back and forth," Doñate said.
Visits to Mexico with his family helped Doñate feel more connected to his roots. Still, those trips petered out by the time he reached middle school. It was not until he started attending UNLV that he began to re-immerse himself into the Latino community through various organizations such as Make the Road Nevada, an immigrant advocacy group.
A course on multicultural health also opened Doñate's eyes to how class and identity shape health care outcomes and launched him into public health advocacy and politics.
"I just learned from that one class about how your identity and who you are already predetermines what your health care outcome is going to be. And it made me realize and appreciate what my background was and how I came to be," Doñate said.
One of the benefits of growing up in a meld of cultures is the exposure to a wide range of music and food, Doñate said. He explained that his father listens to regional music from Mexico, his mother listens to R&B and his friends like pop music, which has shaped his eclectic music tastes.
For Doñate, sharing a meal or listening to music is a way to build community.
In his free time, he makes playlists capturing a mood or feeling and featuring everything from classic rock to electronic dance music. The senator even made a playlist for his trip up to Carson City that he shared via Twitter.
Though he loves trying new foods, he said his favorite meal is his aunt's homemade mole, a traditional Mexican dish similar to curry served over meat and eaten with rice.
"Music can be used to illustrate and document stories and hardships sometimes, but it's also something that connects us all together, from different perspectives kind of like food," he said. "Food brings people together and I feel like music can do the same thing."
Doñate's father is a member of the Culinary Union, and his mother is a member of the United Food and Commercial Workers Union. The senator credits the union membership for his parents' health insurance, which allowed them to receive medical care and helped reduce out-of-pocket costs that could quickly consume savings.
Though his high school, ranked as the top magnet school in the country in 2018, helped him receive an excellent education and pursue higher education, Doñate said that not everyone in his position has the same opportunities.
"I think it's just a classic example of how where you go to school really does impact your education," Doñate said. "But also, just the untapped potential that kids like me who probably don't get as much attention could have."
The desire to increase access to health care and education and address social inequities ultimately inspired Doñate to pursue politics to create social change.
"We can't just have the discussion on how to make everything equal, we have to make sure that we are providing equity and certain circumstances to achieve justice, whether that's in racial justice, health justice, all of this, all intertwines," Doñate said.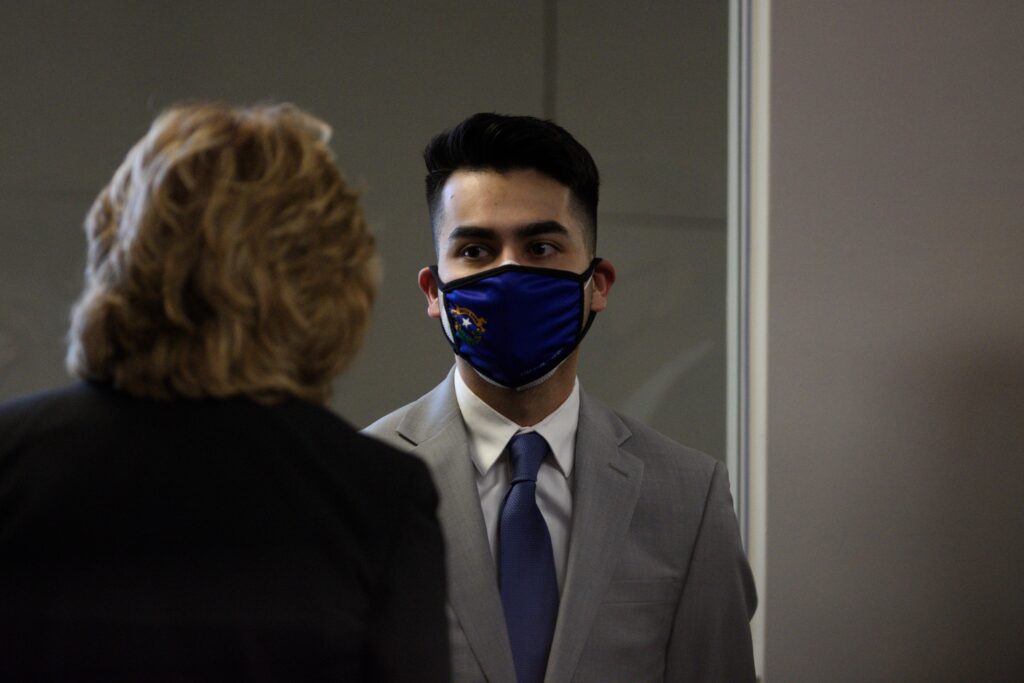 ON THE ISSUES
Public health
Many frontline and essential workers are from communities of color, Doñate said, exposing them more to the pandemic's effects. He is hoping to advance legislation that will address public health disparities.
That includes focusing on health literacy and increasing understanding of the vaccine and why it is vital to improve public health infrastructure and prioritize protections for frontline workers, Doñate said.
As the pandemic worsened, Doñate said that he knows of many people who died from COVID.
"Having that knowledge and that background, not only can I relate to that, I can be an advocate for them so that we can fix some of the inequities that are being experienced right now in the community so that the right people are getting the vaccines quickly and efficiently," Doñate said.
Health infrastructure
The senator said that he would like to find ways to expand PPE production, offer translation assistance for non-native English speakers, increase access to paid sick leave and pursue health and sexual education reform to help students and young adults develop healthy habits as they get older.
Doñate added that he would also like to increase undocumented families' access to health care services.
"My priority is that not only can we fix the things that are happening right now, but lay the foundation so that the state doesn't ever have to go through this ever again," Doñate said. "And so that we start to really improve on our entire health of the entire Nevada population."
Taxes
In an op-ed Doñate penned in July, he said that though some legislators are "afraid to use the T-word," some tax increases will be needed.
Since joining the ranks of the lawmakers, Doñate said that he stands by his words and is not afraid to discuss a topic that many lawmakers shy away from addressing.
Nevada's public health and education system are underfunded, he said, and the state needs to look at innovative ways to fund those necessities, including re-examining existing tax structures.
What tax increases look like or whether the state should pursue a new tax or property taxes is still up for discussion, Doñate said.
"I still have to do my own research as to, will they actually make a difference or do we have to start looking at other alternatives?" he said. "The unfortunate reality is that the old normal cannot continue because we've seen just how underfunded this state has been."
Doñate said that he could not remember a time when the state had a secure budget.
"I just graduated in 2014 from high school, and I still remember in middle school and high school having ripped books because the school couldn't afford to replace them," he said. "I grew up in an environment in a state that was … underfunded. So if it means taxes or some sort of other way to fix them, then let's do it; let's have that conversation, I'm not afraid of that."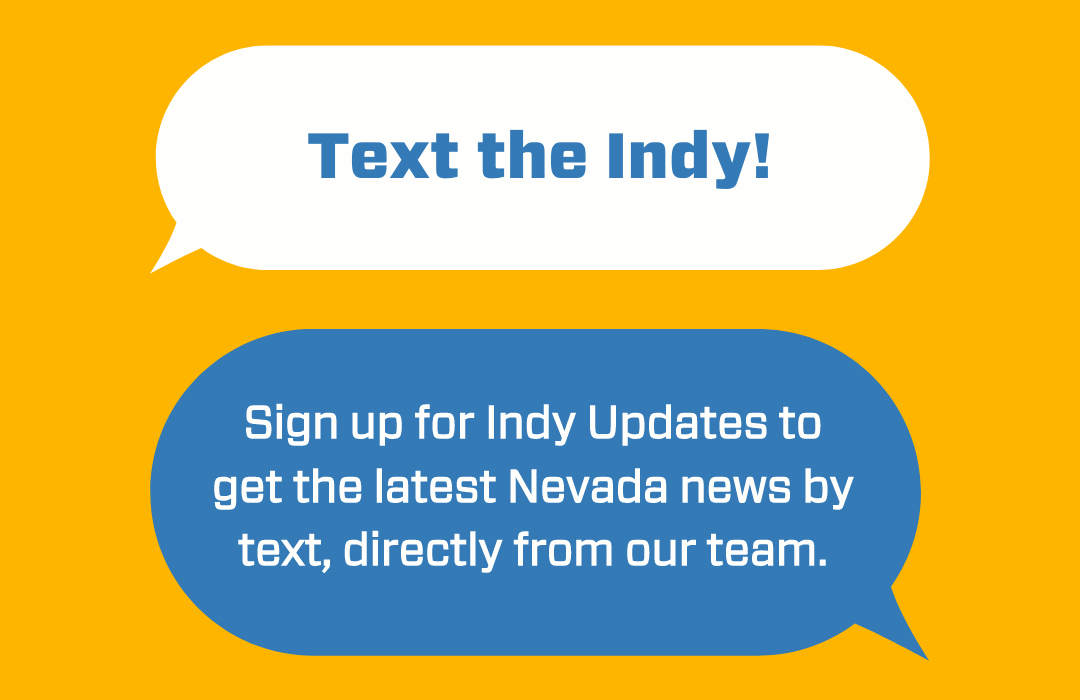 Featured Videos