Freshmen Orientation: Assemblyman Reuben D'Silva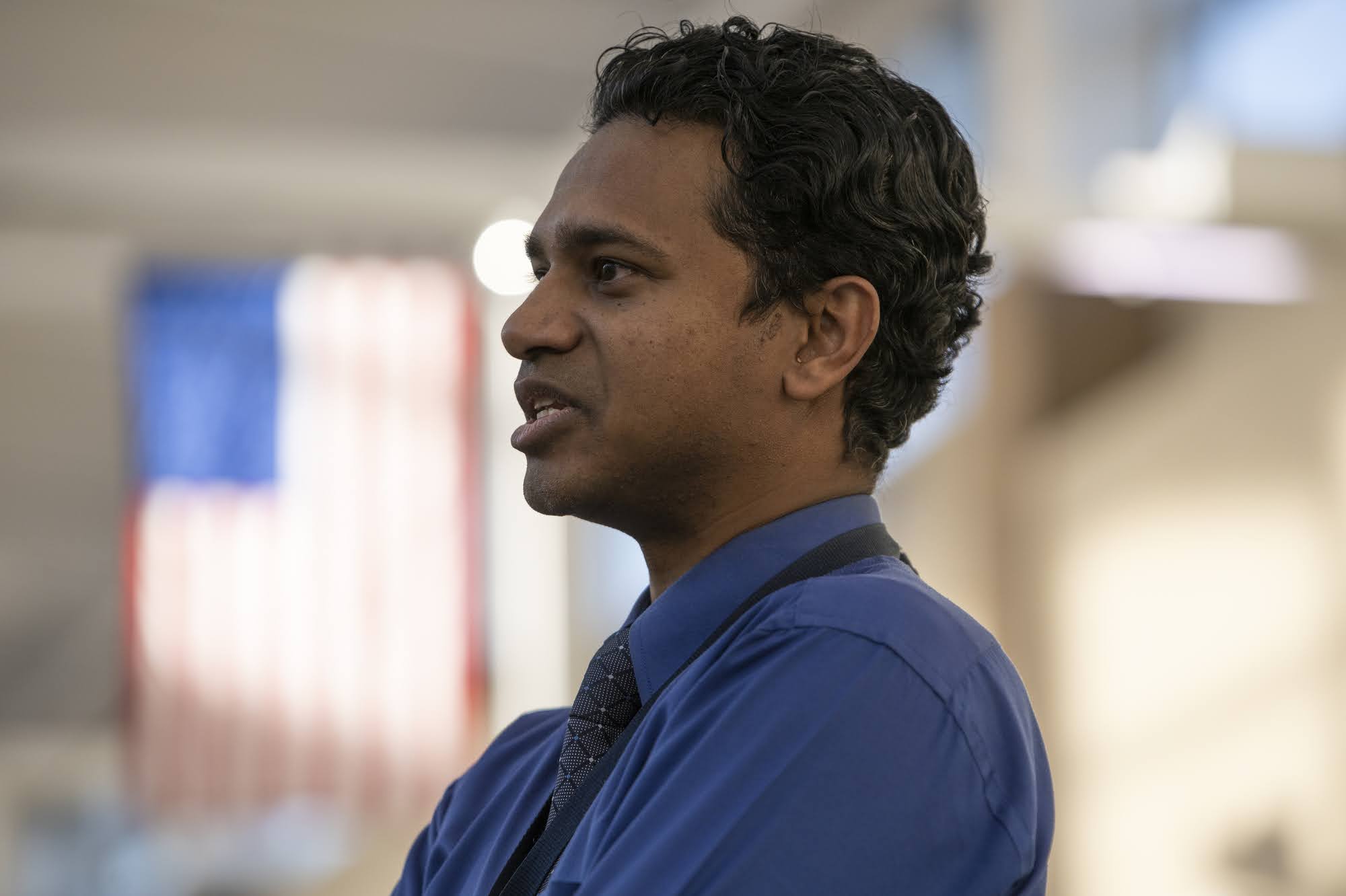 Freshman Democrat born in Mumbai, India who succeeds Democratic Assemblyman Edgar Flores, who is now a Nevada state senator representing District 2.
He is the first Indian-American assemblyman to serve in the Legislature.
Represents Las Vegas area District 28, which includes Sunrise Manor and neighborhoods between Bonanza Road and parts of Cheyenne Avenue from Pecos Road to parts of North Hollywood Boulevard
District 28 is heavily Democratic (43 percent Democratic, 13 percent Republican and 36 percent nonpartisan in the 2022 election).
D'Silva defeated three other candidates in the 2022 Democratic primary, winning 64.4 percent of the vote.
He then defeated Republican Clint Brown in the general election, carrying 66 percent of the vote.
He sits on the Education, Government Affairs and Legislative Operations and Elections committees.
Family and education
D'Silva was born in Mumbai, India and his family moved to the United States in the late 1980s seeking opportunities to improve their lives.
He grew up in northeast Las Vegas from the age of 6 with his mother, who was undocumented, his father, who passed away in 2016 and had temporary legal status, and three siblings, who had mixed immigration statuses. D'Silva said at one point, his mother received a letter about being deported.
"It was one of those desperate moments in our family's history," he said.
D'Silva said it seemed as if no one wanted to help. But then-U.S. Sen. Richard Bryan, who later became governor, stepped in to assist, and his mother was not deported.
Had she been sent back to India, D'Silva and one of his brothers would have returned with her, as they were both undocumented at the time. His younger siblings would have stayed with his father because they were both born in America.
"This story is very common with a lot of immigrant families," he said.
He and his family members later gained citizenship.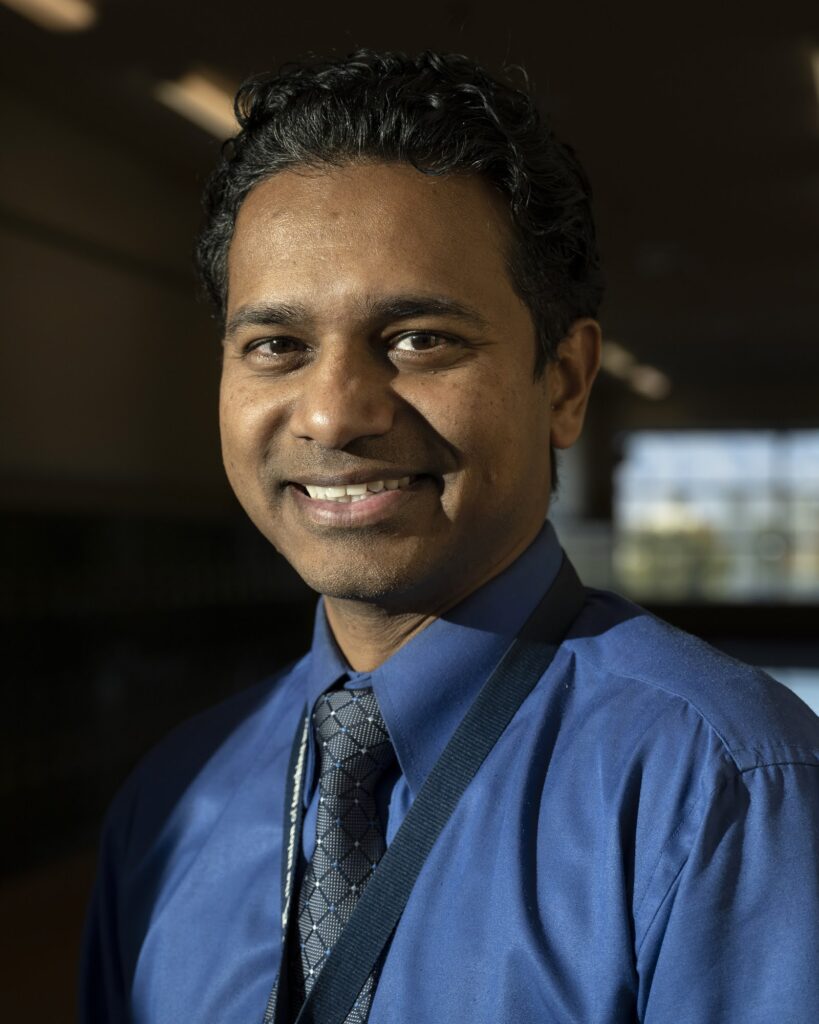 Before graduating from Rancho High School in 2003, D'Silva attended the private St. Christopher Catholic School in North Las Vegas for middle school and said the experience was "life-changing."
"There's nothing wrong with private school," he said. "I'm a product of private schools … I was around a lot of folks who were making a lot of bad decisions … and I think Catholic school may have saved my life."
He later attended the College of Southern Nevada but left during his first year to join the U.S. Marine Corps during the Iraq War. He was shot through the forearm during an attack in 2007, and was able to return fire to ward off the assailant, ensuring other troops' safety.
He received the Purple Heart award from President George W. Bush.
D'Silva returned to Nevada after a year of recovery, earned citizenship through the military and pursued a bachelor's degree in history at UNLV. He later received a master's degree in global studies from the University of Pennsylvania and a second master's degree from Yale University in comparative religion and politics. In those programs, he said he learned about the intersection of religion and lawmaking and how it shapes war and conflict, international affairs and national politics.
"[Religious doctrine] is everywhere," he said. "Even in our domestic policies, the issues around the death penalty … Should we be more about forgiving and rehabilitating people? Or should we be about an eye for an eye?"
D'Silva, a practicing Catholic, said his graduate school experience was fundamental to his personal growth, and that he learned from studying many faiths that "[different religious believers] have a lot more in common than what divides [them]."
Career
D'Silva has been a history teacher at his alma mater, Rancho High School, since 2013. He works with more than 200 students daily.
He was appointed by the late Sen. Harry Reid to the Nevada's Military Academy Selection Committee and later to the North Las Vegas Library District Board of Trustees by North Las Vegas City Councilman Isaac Barron.
Political career
D'Silva first ran for office in an attempt to unseat Democratic Rep. Dina Titus in Las Vegas' Congressional District 1 during the 2016 primary election. He lost by a wide margin but managed to pick up 21 percent of the vote.
After years of maintaining a high profile, and cultivating a following from curating student forums about various topics at UNLV as a member of Phi Beta Sigma Fraternity, Inc., it was no surprise to those who knew him to learn D'Silva would make another run for office, this time for the Assembly.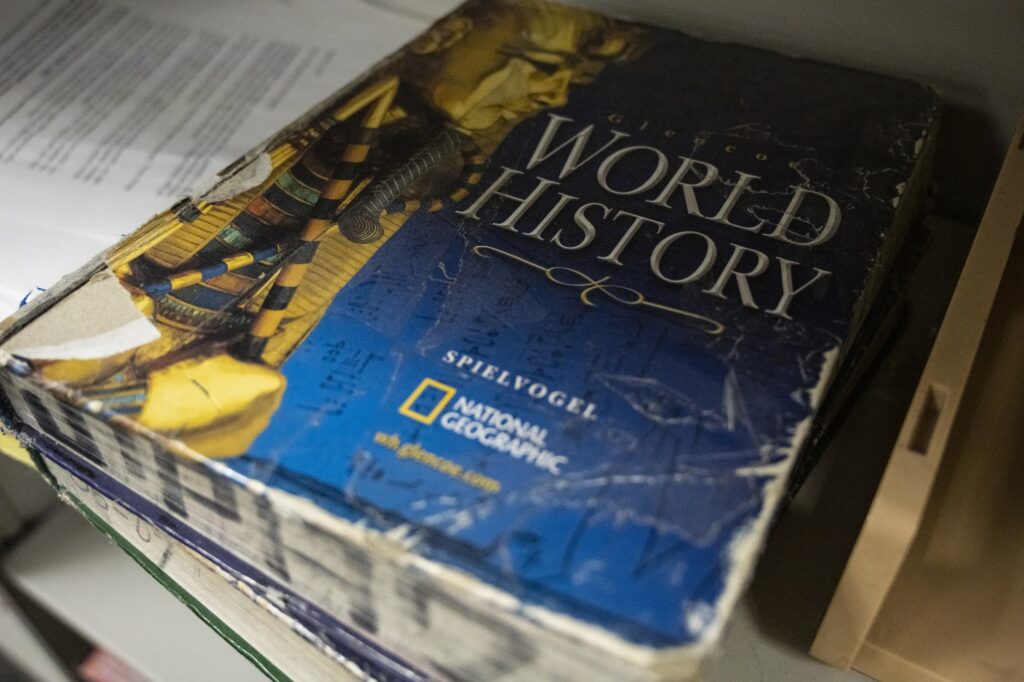 "I didn't want to run against any incumbent. That's what I did last time," he said. "And … I saw that this was the right place for me to be."
D'Silva said the opportunity appeared promising after he had gained the "support, trust and faith" from residents in the area and current and former elected officials.
In the primary election, he beat his Democratic opponents by earning more than 60 percent of the vote and went on to secure the seat in the general election, beating his Republican opponent Clint Brown by 33 percent.
"'Mr. D'Silva, now I really wish you would have lost your race," D'Silva said one of his students told him. "'You're going to be leaving us, and we don't want you to leave."'
He said about 20 students helped him knock on doors in the neighborhoods surrounding Rancho High School during his campaign.
D'Silva said he is optimistic about his first legislative session and thinks Gov. Joe Lombardo wants to get things done. Democrats hold a majority in both the state Senate and Assembly, and he said he's not worried about seeing vetoes from the Republican governor.
"The [legislative] leadership is very much results-focused," D'Silva said. "The governor, too."
He said during training for new legislators in November, his new role set in as he entered the chambers in the legislative building in Carson City. D'Silva said he was able to forge relationships with his colleagues on both sides of the aisle.
On the issues
Education
D'Silva said five bills that he's proposing are based on strengthening education in Nevada. He said his No. 1 priority is incrementally increasing the yearly education budget by at least $2 billion within the next 10 years, to match the national average per pupil dollars. 
"It won't happen overnight," he said. "It's just about how we go about it — session by session — working towards that goal."
According to the U.S. Census Bureau, the national average per-student government spending is $15,000 a year. Nevada ranks in the bottom three states, spending roughly $10,000 per pupil, compared to states with a similar or lower cost of living such as Nebraska which exceeds the national average at nearly $16,000 per student, or Michigan's $14,000 per student.
D'Silva said easing the stress that educators endure should be a part of the solution as well and that he not only wants to increase teacher pay, but all wages for all public employees, with at least a 4 percent raise each year.
"We got some big fish to fry and some big battles to fight," he said.
D'Silva wants to make teaching a more attractive and sustainable career by reducing class sizes, hiring thousands of educators and increasing instructional times by limiting non-instructional duties carried out by teachers, such as organizing students for school pictures, monitoring kids at recess or in hallways and attending school assemblies.
He said he is working on defining what instructional time "really means" in the K-12 system.
"From the vantage point of a teacher, there's all kinds of duties put on us, all kinds of stresses," D'Silva said.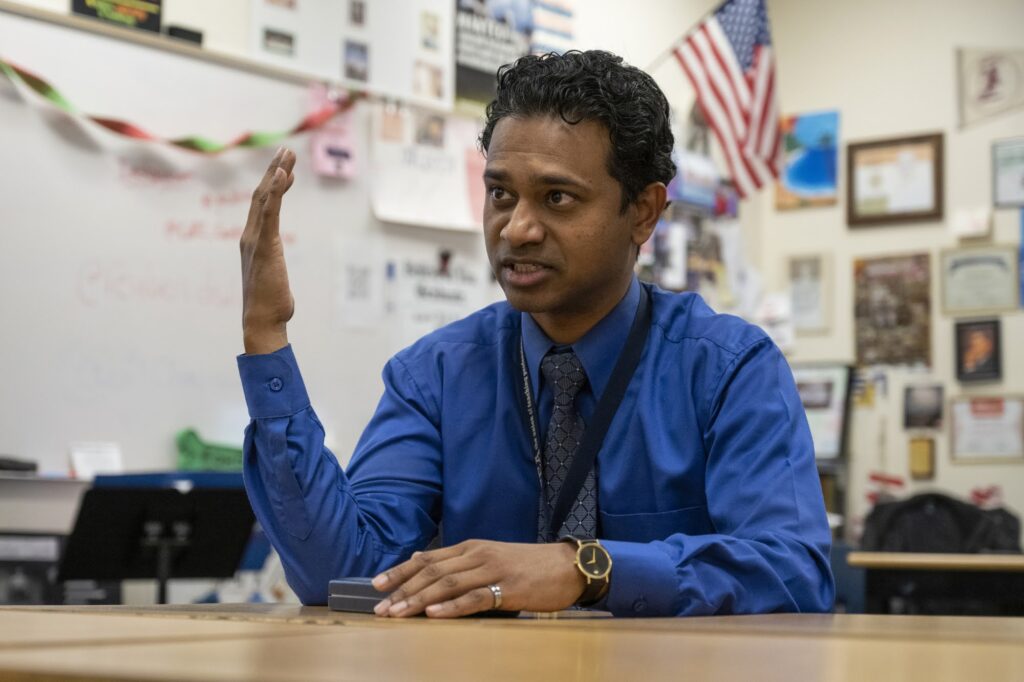 When it comes to school choice, D'Silva said he will not support the strategy until leaders "stop the bleeding."
He said there is a place for school vouchers but that it is imperative to first fully fund the public education system because it has the "apparatus" to serve the whole community.
"There's no data that shows… we even have the actual structure within the private school sector to serve every at-risk child. The school district does," D'Silva said. "They have the mechanisms and we need to support those first and foremost, if you're going to create an equitable solution to education long term."
He said school vouchers do not directly fund the Clark County School District and he fears the money will be taken away from a struggling public school system that has "big problems," if those dollars follow students to private schools.
In the 2022-2023 school budget created by CCSD, the financial officer projected a $33 million loss in revenue "as a result of projected enrollment loss."
D'Silva also wants to expand post-secondary educational benefits to the children of combat-wounded veterans with tuition waivers.
Health care
D'Silva is also interested in supporting bills that would allocate more money toward building an emergency center in the northeast valley after learning from residents that it was a concern. He said the desire to support a new "triage center" grew when he lost a former student, in September, to blood loss after he was stabbed in an altercation.
"Minutes matter," he said.
D'Silva said the student was a reformed gang member who graduated high school and wanted more out of life. But last fall during a fight, he was stabbed and bled to death as loved ones drove him from a neighborhood near Nellis Air Force Base to North Vista hospital, more than nine miles away.
Public safety
D'Silva said he would like to see more boots on the ground, literally, with police foot patrols in northeast communities. As it relates to public safety, he believes trust and respect between residents and police officers is a pressing issue.
"It's not necessarily putting more police officers out there … just getting them out in the community where people can see them and feel safe," he said. "People can see you... and personalize you as a human being, and not as some [threatening police] vehicle about to roll up and possibly cause some issues."
He credited the idea to policing strategies he said he witnessed in the Downtown Summerlin shopping complex, where he said officers get out of their vehicles to interact with individuals. D'Silva said he would like to see the same efforts in his district.
This story was updated at 3 p.m. on 1/12/23 to reflect that D'Silva said he returned fire in the 2007 attack, but did not kill the assailant.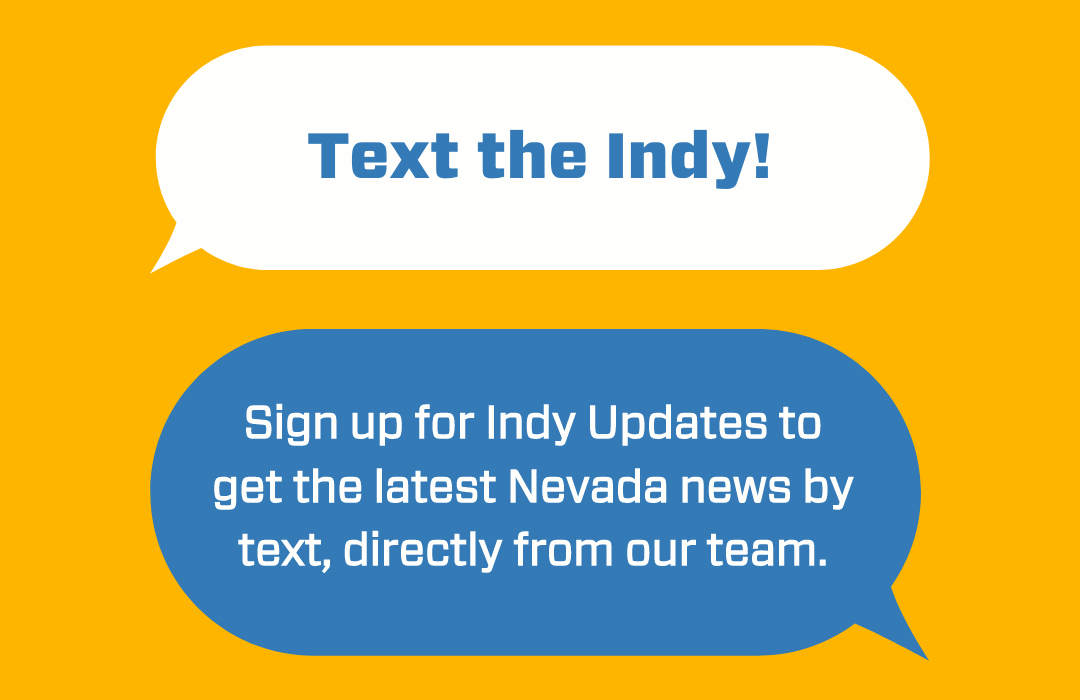 Featured Videos
Comment Policy (updated 4/20/2021): Please keep your comments civil. We reserve the right to delete comments or ban users who engage in personal attacks, use an excess of profanity, make verifiably false statements or are otherwise nasty. Comments that contain links must be approved by admin.