Indy Primer: Unpacking the Nevada Legislature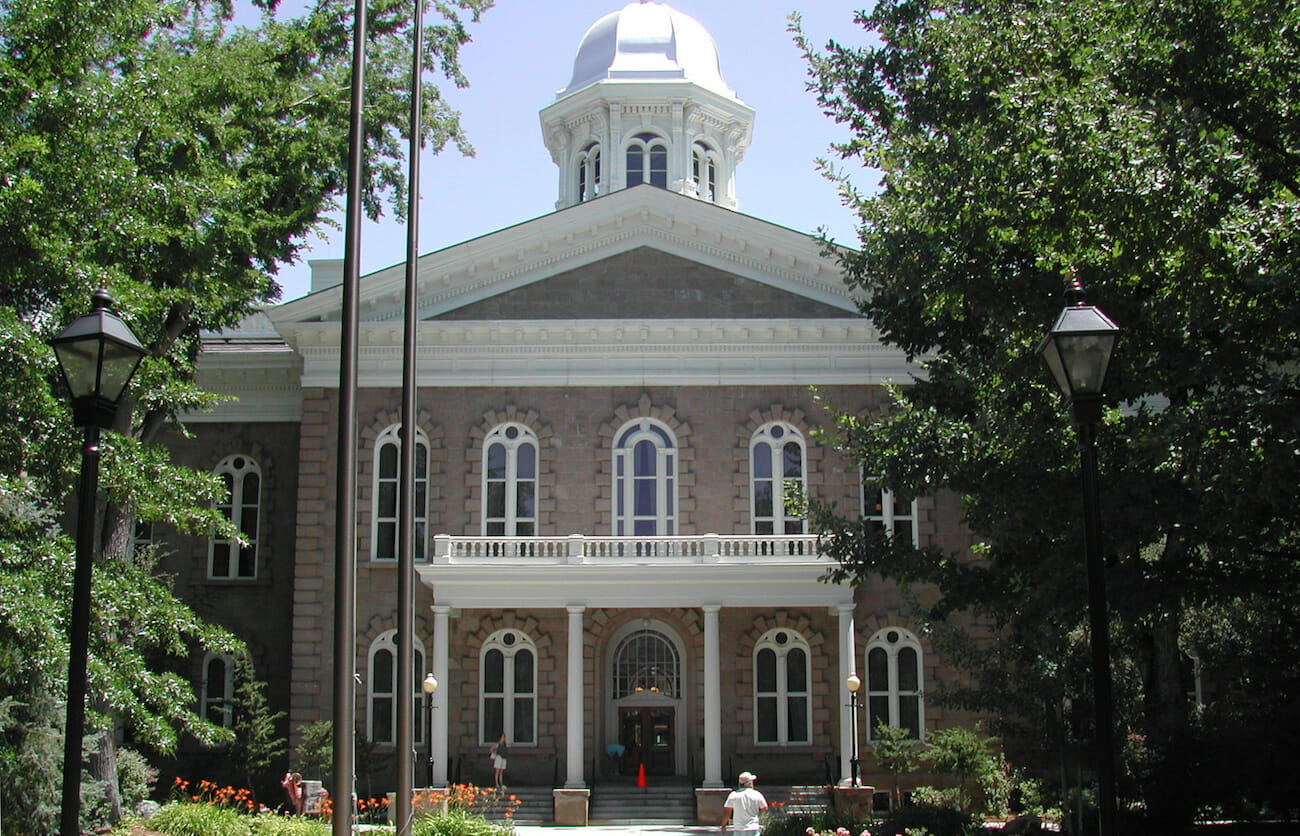 Welcome to an everything-you-ever-wanted-to-know and things-you-didn't-even-know-you-needed-to-know primer on the Legislature, the never-boring 120-day bill-making stint energized by 63 state lawmakers, hundreds of staffers, more than 1,000 lobbyists, and lots of citizen witnesses and advocates. And the governor.
The Nevada Independent is committed to providing explainers on legislative concepts and jargon that can help our readers make sense of things. This is our first installment in what will almost certainly be an ongoing series.
If you have questions or suggestions for terms we can define, concepts we can explain, and rules we can clarify, please email Riley Snyder at [email protected] (He's the reporter who has agreed to be the Keeper of the Indy's #nvleg Primers.)
How is Nevada's Legislature structured?

Like the federal government, Nevada is a bicameral legislature. The two houses are called the Assembly and the Senate. Lawmakers officially only meet for only 120 days every odd numbered year, though the governor or a supermajority of lawmakers can call a special session to deal with specific issues. (The limitation was passed by amending the Constitution at the ballot in 1998.)
The so-called "citizen Legislature" doesn't meet in a vacuum — lawmakers spent the roughly 18 months between sessions holding various interim committee meetings, the most important of which are the Legislative Commission (supervises the Legislative Counsel Bureau and other interim regulatory matters) and the Interim Finance Committee (approves contingent spending and other interim financial matters.) Some have noted over the years that the Constitution seems to limit any legislative activity to the mandated 120 days, but this has never been challenged in court.

How many legislators are there?

There are 42 Assembly persons and 21 Senators. The state Constitution sets the maximum number of legislators at 75, but the state has stuck with 63 since 1983.
How long are lawmaker terms?
The term of office for Nevada's legislators somewhat mirror the terms of our federal Congress, but Nevada's legislators are subject to term limits and senators serve shorter terms. Members of the Nevada Assembly serve two-year terms. If re-elected, they are limited to six terms, or twelve total years in the Assembly. Members of the Nevada Senate serve four year terms. If re-elected, they are limited to three terms, or twelve total years in the Senate.
How do I find out who my state representative is?
#nvleg
Outside of a handful of proud Luddites, most of the people inside the Legislature follow most of the action on Twitter. The social network is known for being jargon-y and difficult to initially access, but it's required reading for anyone interesting in following blow-by-blow highlights of the legislative happenings or getting the first crack at breaking news.
#nvleg is the Twitter hashtag for the Nevada Legislature. If you use it in a tweet, that tweet will show up all the searches for #nvleg. You can run a search for the hashtag to see what legislators, lobbyists, reporters and everyday people are saying at any given moment.
Following lawmakers on Twitter
A good place to start is to this Twitter list of all lawmakers and their official caucus accounts.
Committees
In general, legislative committees meet at regularly scheduled times and places with a relatively substantial amount of time given for input and tinkering on proposed bills. We published a recap Sunday of campaign donations to the committee chairs, who will be overseeing proceedings at which their donors testify. We'll point it out when it happens. We'll also track their votes.
LCB (Legislative Counsel Bureau)
Legislative service agencies like LCB were created, in general, to free state legislators from over-dependence upon the executive branch of state government and lobbyists for information and assistance. LCB helps draft bills, research fiscal data and legal information, and provide information about laws in other states.
Although many states maintain separate staff for each house in addition to partisan staff, the LCB is a nonpartisan centralized agency serving both houses and members of all political parties.

In March of 1945, the Nevada Legislature created the LCB. It consists of the Legislative Commission, an Interim Finance Committee, a Director, an Audit Division, a Fiscal Analysis Division, a Legal Division, a Research Division, and an Administrative Division.

How a bill becomes a law
Once a bill draft request (BDR) is drafted into a full bill, it is read and referred to a committee. If the bill passes out of committee, it is read two additional times to the full house. After the third reading, the bill receives a roll call vote.
Most bills only need a simple majority to pass, but tax or fee increases require a two-thirds majority. If the bill passes the first house, the process is repeated in the second house. If the bill passes the second house, it must be signed by the governor to become a law.
How a bill DOESN'T become a law
The process in which a bill becomes a law is a treacherous journey, and there are multiple avenues through which legislative leaders can delay or kill a bill. These include:
Committee hearings: Individual bills need to pass through a committee before a legislative branch can vote it through, which means individual committee chairpeople determine which bills live and die. Chairs have the authority to not hold hearings or votes on bills that are referred to their committee, which effectively prevents them from being passed unless they're made exempt from legislatively mandated deadlines.

Budget committee graveyard: Another way to shut down bills is to refer them to either of the committees that deal with the state's two-year budget. (Assembly Ways and Means and Senate Finance). If a bill is given a fiscal note (which estimates the cost to the state), it's often referred to a finance committee to determine its effect on the budget. However, the budget process is often complex and Nevada generally isn't known for having an overflowing surplus of revenue sources, so riders or pet projects of legislators face an uphill climb to make it into the budget.

Veto: If all else fails, the governor has the power to veto legislation. Lawmakers can override vetoes with a two-thirds majority vote in both houses, but that can be challenging as no party controls two-thirds of the seats in either house, and because the governor can veto bills after the Legislature finishes its 120-day session.
Zombie bills
Just because a certain bill or policy doesn't make it past one of the legislatively mandated deadlines doesn't mean it's gone for good. Wily lawmakers can often submit last-minute amendments into bills that totally change their meaning or even general subject matter to resurrect other bills that didn't survive one of the many legislative deadlines.
Times keeps on slipping, slipping, slipping…
Other than specifically exempted bills, all legislation proposed by the Legislature is subject to several committee and house deadlines. The current proposed deadlines are:
First committee passage: April 14

First house passage: April 25

Second committee passage: May 19

Second house passage: May 26
Open government?
Though the Legislature has made strides in transparency, especially with the advent of the Internet, it can still be difficult to follow along the often byzantine process, especially as deadlines loom and sine die approaches. We collected a few ways the Legislature is opaque or hard to follow in a story here.
Longest serving legislators
Approved by voters in 1996, Nevada's 12-year term limits have had an outsized impact on legislative turnover, though a handful of lawmakers have been able to stick around for longer by switching legislative chamber. The longest serving lawmakers include:
Why Carson City?
Just like California and New York, Nevada's capital city is located far away from its major population center.
Despite Las Vegas being the home of a majority of legislators, Carson City has been the center of Nevada's government since the state was founded in 1865.  The capital is in the North because that's where the miners were who settled in the state and helped write the Constitution. Despite some efforts by state lawmakers to allow lawmakers to meet in Las Vegas, a recent Nevada Independent poll found a solid majority of Nevadans support keeping the capitol where it is.
Sine Die
Like all good (and terrible) things, the Legislature has to come to an end. After 120 days, lawmakers adjourn sine die, which is a Latin phrase literally meaning "without day" and that references proceedings that have been adjourned with no appointed date for resumption.
Still confused?
For newcomers and legislative watchers outside the friendly confines of Carson City, following the Legislature can be hard. The Las Vegas League of Women Voters has a helpful "Advocacy Guide" that's incredibly helpful for navigating the informative but oftentimes byzantine legislative website.
Featured Videos
Comment Policy (updated 4/20/2021): Please keep your comments civil. We reserve the right to delete comments or ban users who engage in personal attacks, use an excess of profanity, make verifiably false statements or are otherwise nasty. Comments that contain links must be approved by admin.