Lawmakers form tech caucus focused on economic development ahead of the Legislature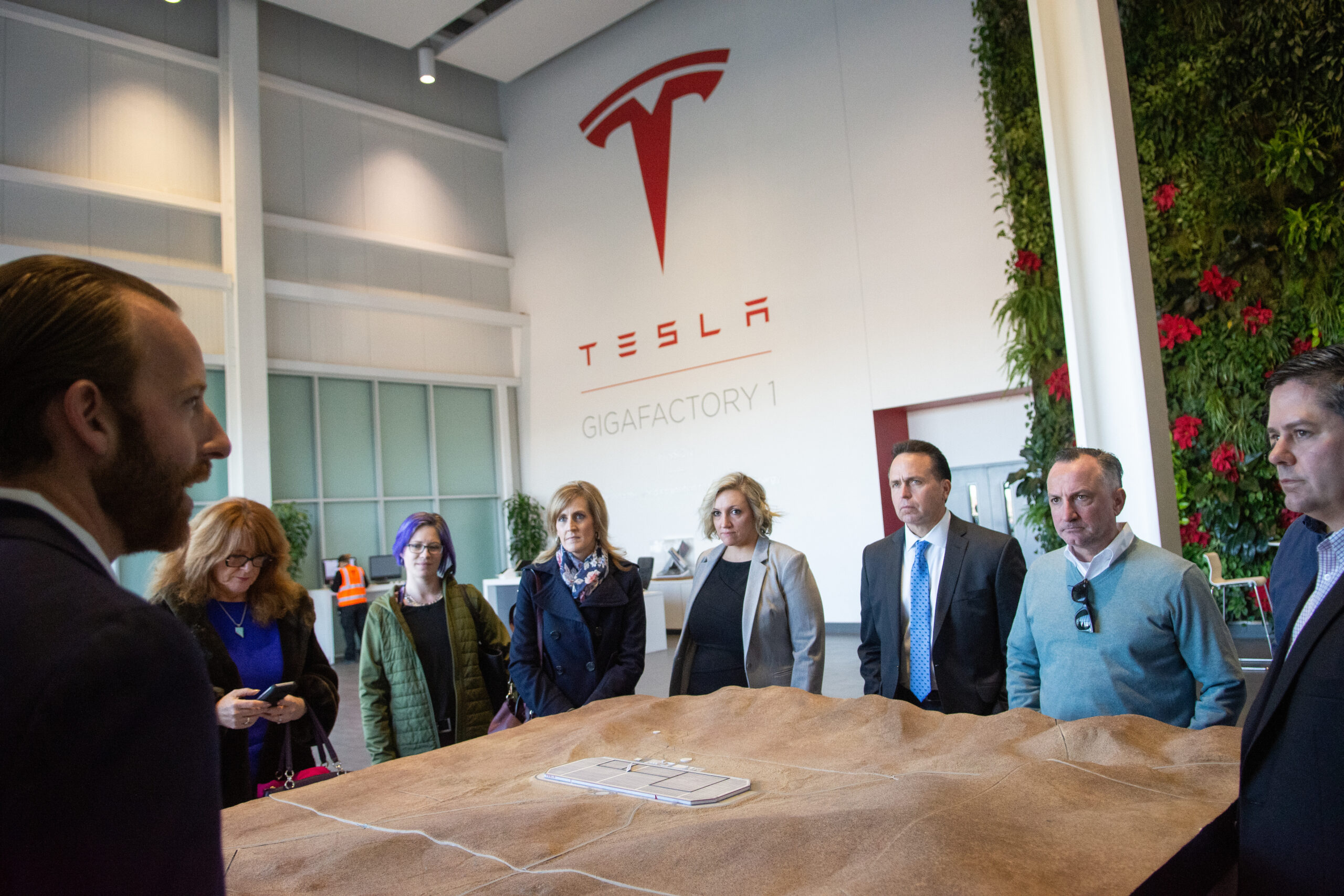 A group of nine Assembly members and five state senators have formed a new caucus focused on economic development through the lens of technology and businesses that bring tech jobs to Nevada.
The group, named the Tech Caucus, met Wednesday morning in Northern Nevada for an all-day tour of the Tahoe Reno Industrial Center (TRIC), touring the facilities at Tesla, Blockchains, Switch and the TMCC Applied Technologies Center before meeting at The Innevation Center in midtown Reno.
The caucus, which is bicameral, bipartisan and consists of lawmakers from both the north and the south, was formed with the goal of better informing the Legislature on technology issues.
"To the extent [that] bills come forward, and maybe [we] have members that may not understand what's going on, we'll be resources to be able to sort of fall back on, to be able to explain it," said Assemblyman Steve Yeager. "I think the hope is that we can better educate the entire legislature so that we will get in front of these issues."
The two primary organizers of the caucus are Yeager, a Southern Nevada Democrat, and Assemblywoman Jill Tolles, a Northern Nevada Republican, although structure and formal leadership will be established as the group moves forward.
"Later on in the agenda is for us to sit down and just talk about what we want this to look like going forward," Yeager said. "What kind of leadership structure we want... I anticipate we will probably have regular meetings where we will talk about these issues and probably get input from industry leaders."
Though the Legislature has a number of formal committees that are likely to tackle technology and business-related issues in the upcoming session, the caucus is a voluntary group of lawmakers similarly interested in technology who will meet to increase their general knowledge and propose legislative solutions. Those proposals then could be forwarded on in the form of bills or amendments to committees for formal review and votes.
Part of the onus for forming the caucus was the work of members, including Yeager, on legislation that helped bring Blockchains, LLC to Northern Nevada. Blockchains has attributed a significant portion of its decision to locate in Sparks to a bill introduced by state Sen. Ben Kieckhefer that prohibited local governments from taxing blockchain.
"I think there will be some Blockchain legislation… we had a bill last session, two years ago, that was a Blockchain bill, so I think we're looking forward to kind of continuing that," Yeager said. "We want to make sure we are staying on par with Delaware in terms of corporate records, and then Wyoming has really emerged as a leader in Blockchain technology. So I think we want to hopefully get on par with them, if not exceed them."
During the post-tour meeting at The Innevation Center, Mridul Guatam, vice president of research and innovation at UNR, encouraged the group to consider how companies that promote new technology can help Nevada grow. He noted the types of desirable wealth in a community besides money, including technology wealth, energy wealth, agricultural wealth and water wealth.
Sen. Heidi Gansert, one of the members of the new caucus and UNR's executive director of external relations, highlighted during the meeting how the university is focusing on providing study programs that help meet the workforce needs of tech companies coming into the area, such as offering a minor degree in Batteries and Energy Storage Technologies.
Mike Kazmierski, president of the Economic Development Authority of Western Nevada (EDAWN), talked to the group about the importance of bringing in small companies with the potential to grow and employ even more people. He also pushed back on the assertion that Northern Nevada's tech boom is a bubble ready to burst — one of his slides proclaimed "This Is Not a Bubble!" — by showing the lawmakers figures reflecting the number of companies and entrepreneurs EDAWN helped bring to the area in 2017 and that employment in the state is steadily rising.
Freshman Assemblywoman Sarah Peters, another member of the Tech Caucus, toured the facilities with the group. She has a background in engineering and is one of the younger members on the caucus at 31.
"I like showing up as a millennial, to add that perspective… what [the] difference in culture may be for our age group," Peters said.
Kieckhefer, another member of the caucus who participated in the tour, represents the area just west of the TRIC industrial park.
"Our economic development strategy is focused really heavily on companies that make capital investments into our state. That's how our economic development incentives are structured," Kieckhefer said. "I think there's a recognition amongst this group of people that we would really like to bring a knowledge-based economy to the forefront of our economic development efforts."
After the meeting at The Innevation Center, the group of legislators went to a local restaurant in midtown Reno to discuss more specifics of the caucus and what its role would be during the session. They also plan to meet with local startups and entrepreneurs in the area.
The caucus consists of senators Chris Brooks, Nicole Cannizzaro, Mo Denis, Heidi Gansert and Ben Kieckhefer, as well as assembly members Jill Tolles, Steve Yeager, Tom Roberts, Ellen Spiegel, Melissa Hardy, Glen Leavitt, Lesley Cohen, Sarah Peters and Alexis Hansen.
Megan Messerly contributed to this report.
The Nevada Independent is raising $200,000 by Dec. 31 to support coverage of the 2024 election.
Tax-deductible donations from readers like you fund this critical work.
If you give today,your donation will be matched dollar-for-dollar.
Give + Get Matched
Featured Videos