Lombardo-backed cannabis bill targets illicit market amid tension between regulators, industry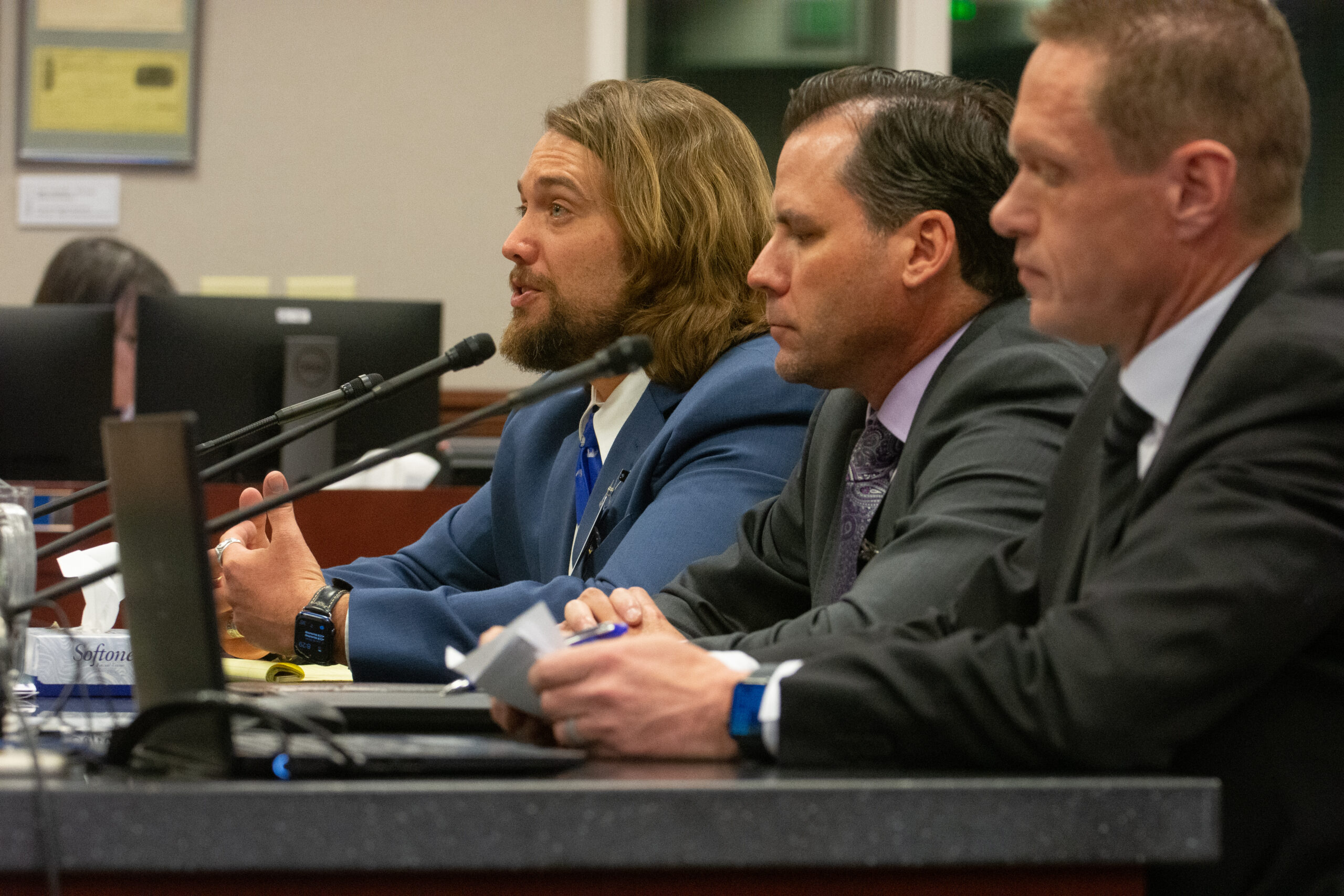 Update: 4/14/2023 at 3:10 p.m. — The Senate Commerce and Labor Committee voted along party lines Friday afternoon to "indefinitely postpone" the bill, essentially killing a proposal that came together at the request of Gov. Joe Lombardo. The parliamentary motion is uncommon in Nevada, and is generally used in legislative chambers to kill a bill. The Senate Standing Rules stipulate that a vote on a motion to postpone indefinitely cannot be rescinded or reconsidered and that a proposal postponed indefinitely can only be introduced again if the rule is suspended by a majority vote of the Senate.
Sen. Melanie Scheible (D-Las Vegas) confirmed that the indefinite postponement means the bill will not advance past tonight's deadline to vote bills out of their first committee.
On Friday morning, lawmakers held a last-minute hearing on a bill intended to crack down on the illicit cannabis market and improve a tenuous relationship between the industry and state marijuana regulators.
SB69, a bill entirely repealed and replaced by an amendment presented Friday, seeks to give the Cannabis Compliance Board (CCB) greater ability to take action against the illicit cannabis market by spelling out the board's power to investigate and refer illegal activity to law enforcement groups, educate the public on the dangers of illicit cannabis, create a system for reporting illicit activity and establish a disciplinary and civil penalty system for unlicensed cannabis activity.
"Those folks who are licensed right now, they have frustrations with their regulator, they have frustrations with the illicit market … so that was our goal," said Brett Scolari, a former cannabis industry attorney and lobbyist who represents several cannabis companies and presented the bill.
Cannabis industry representatives have voiced frustration over hefty fees from the board for routine regulatory tasks — an issue that would be tackled by a separate bill (SB195) backed by retailers.
The overhauled version of the bill came from a cannabis working group made up of representatives from the marijuana industry and CCB at the request of Lombardo. The bill would make several changes to the CCB, including staggering board members terms and giving the governor power to appoint an executive director of the agency, rather than the board.
In a statement before the bill was indefinitely postponed, a spokeswoman for the governor's office said the amendment was a product of a working group brought together after "hearing about growth of the illicit market and concerns about the current regulatory structure during the early stages of the legislative session."
"The amendment presented to SB69 was the product of those efforts," Lombardo spokeswoman Elizabeth Ray said.
The measure would also clarify "the illegality of possession of cannabis with the intent to sell," Scolari said, by making that crime a category D felony, punishable by one to four years imprisonment. Multiple local law enforcement groups supported that portion of the bill, highlighting their need to be able to address the illicit market in light of a district court decision last year calling for the removal of marijuana from the controlled substances list.
After a Friday morning hearing, the committee did not immediately vote on the bill.
Sen. Jeff Stone (R-Henderson) commended the bill's concept, and described the CCB as "authoritarian" and overactive in regulating industry retailers.
The measure would also direct a portion of cannabis tax revenues to state law enforcement agencies ($2 million to the Department of Public Safety and $500,000 to the attorney general's office annually) to investigate and prosecute crimes involving unlicensed cannabis activity.
In response to concerns from lawmakers that the bill would pull marijuana tax revenues away from local governments, Scolari said the bill was put together from a state perspective, noting that marijuana is taxed and regulated at a state level.
Chris Nielsen, general counsel in the governor's office, also said the change would create "one more avenue for prosecution" through the attorney general's office, and would not preclude local law enforcement from prosecuting illicit activity.
The bill faced opposition from representatives of local governments who echoed concerns about directing tax revenues away from cities and counties and to state agencies.
Alongside investigation and prosecution of illicit market activity, the bill aims to amp up public education efforts by requiring local governments to use a portion of marijuana license fees to educate the public on safe use of cannabis products through licensed establishments.
"Customers continue to knowingly or unknowingly buy cannabis from the illegal market, which causes an array of public health and safety concerns including sales to minors, untested products that may be laced with other drugs and violent crimes associated with illegal sales," Scolari said.
Democratic lawmakers also voiced frustration over the composition of the cannabis working group that put the bill together, highlighting a lack of racial diversity in the group and representation from communities affected historically by the criminalization of marijuana.
Sen. Scott Hammond (R-Las Vegas) said the group had been put together "about a month ago," and that he had been asked who should participate in the group, adding that if there's any fault for a lack of diversity, "it lies with me." He said the group's intention was to find how the industry and CCB could coexist amid tensions between the two groups.
'Recriminalization' versus access
A'Esha Goins, founder of Cannabis Equity and Inclusion Community (CEIC), said a proposal from the bill to criminalize possession of marijuana with "intent to sell" drudges up failed policies from the past.
"Why would you criminalize something that you've already decriminalized?" she said. "The voters decriminalized marijuana. Why are you still creating pathways to criminalization and not for entrepreneurship?"
Goins, whom committee chair Sen. Pat Spearman (D-North Las Vegas) suggested should have been a member of the group working on the amendment, said the only difference between illegal and licensed operators is that one has exemption from the state. She said the illegal market remains as a symptom of a lack of legal pathways into the industry.
Last month, Goins presented AB253 that would create a license for a smaller business model that she said could help curb illicit operations. The policy would allow for a mobile cannabis concierge license in which a vendor could buy retail cannabis and sell it at temporary cannabis events. An amended version of the bill was passed out of committee Friday morning.
"You can't criminalize people and not provide them opportunities," she said.
She said the proposed felony penalties on possession and sale of black market cannabis is dangerous and that it will mostly harm Black and Brown communities. She fears for aspiring cannabis entrepreneurs who might be experimenting with products and growing at home.
Goins said the way to avoid this is by passing creative policy that will push the envelope as it relates to cannabis and by consistently talking to the community.
"It takes the industry giving and allowing access and not holding the purse strings so tightly," she said about solving unregulated market concerns. "It takes the state understanding that small businesses are the large way that states are held up."
The Nevada Independent is raising $200,000 by Dec. 31 to support coverage of the 2024 election.
Tax-deductible donations from readers like you fund this critical work.
If you give today,your donation will be matched dollar-for-dollar.
Give + Get Matched
Featured Videos