Longtime labor union goal of collective bargaining for state workers draws emotional testimony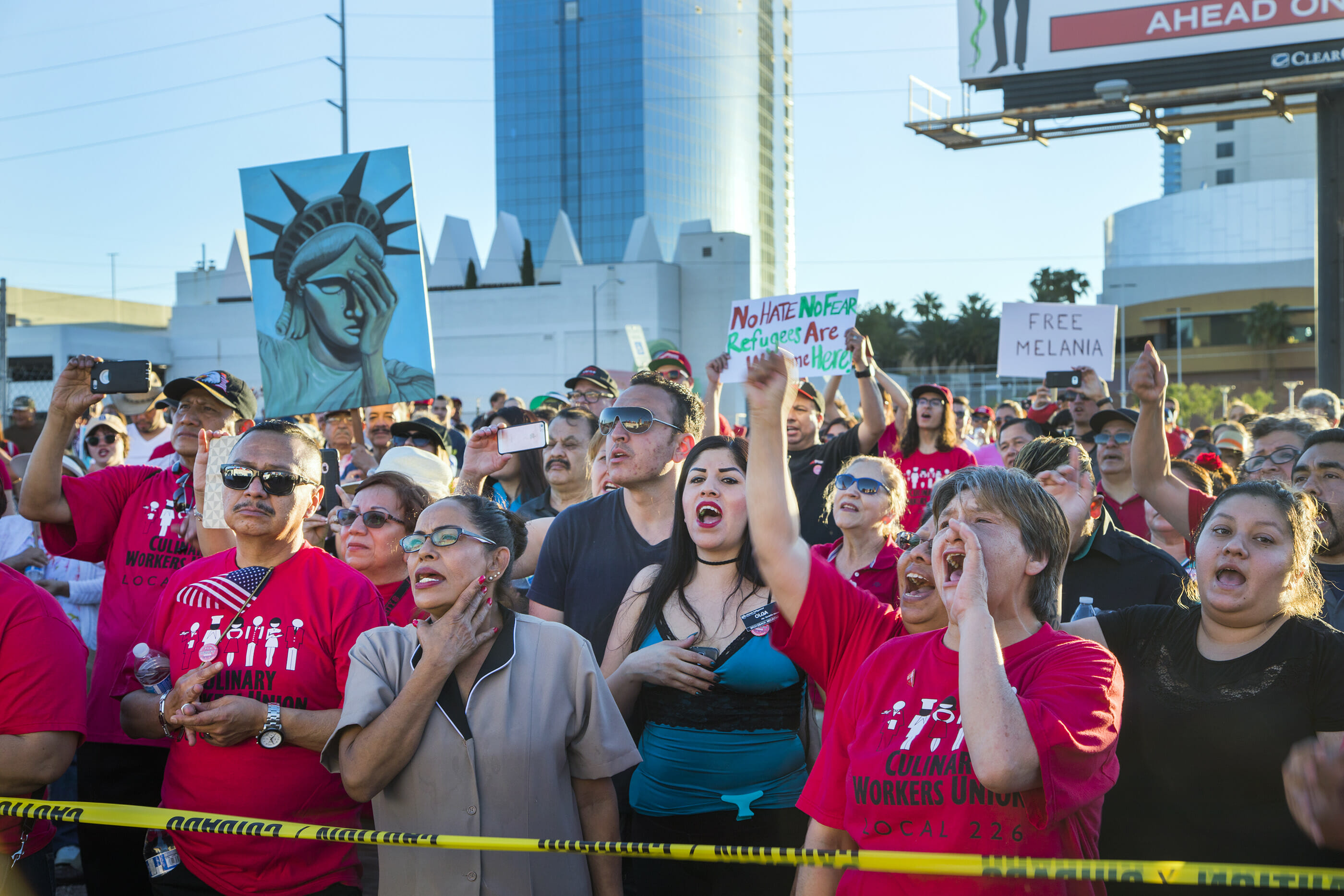 A longstanding goal of Nevada labor organizations to allow an estimated 20,000 state government employees to collectively bargain came before lawmakers for the first time Thursday, the initial step for a bill with its best chance at passage in three decades.
Lawmakers on the Senate Government Affairs Committee held an evening hearing on the much-anticipated SB135, which would lay out the structure and framework for nearly a dozen categories of state workers to join a union and collectively bargain with state government.
The bill is sponsored by Democratic Sen. David Parks, but was presented and strongly supported by members of the American Federal of State, County and Municipal Employees, the nation's largest labor organization for public employees. Steve Kreisberg, the union's Director of Research and Collective Bargaining, told lawmakers that the bill would extend the same rights to join a union and collectively bargain offered to local government and private-sector workers.
"By adopting such a bill, you're really expressing trust in your workforce, to make what they believe is the correct decision for themselves," he said. "And you're trusting in that workforce to exercise the rights that they believe they should exercise, as opposed to policy makers exercising that right for them."
This bill is similar to a measure introduced in the 2017 Legislature but that died in committee, facing a likely veto by former Republican Gov. Brian Sandoval. Multiple attempts to allow state workers to collectively bargain have been introduced since the 1970s, but the only measure to make it through the legislative process was vetoed by Democratic Gov. Bob Miller in 1991.
But new Gov. Steve Sisolak — who was boosted by more than $3.7 million in spending from an AFSCME political action committee — said allowing state workers to collectively bargain was a priority both on the campaign trail and after the election.
The bill would authorize the governor to appoint an individual to negotiate benefits and other wages with employer unions and would set up a process by which disagreements first go to a voluntary mediator and then to an arbitrator. The bill exempts collective bargaining negotiations from Open Meeting Law, which Kreisberg said was necessary because it "encourages us to have frank discussions and encourages compromise."
But the decision to actually approve any spending for the bargaining units would be left up to state lawmakers, and the bill sets up bargaining contracts to last for two years and to coincide with state legislative sessions. It would also prohibit strikes.
An amended version of the bill deletes provisions changing the membership of the Local Government Employee-Management Relations Board, but changes its name and allows it to assess a fee against each agency or unit of the state government to help pay for administrative costs in overseeing union elections as well as any disputes between employees, unions and local governments.
Although the bill allows the governor and newly created bargaining units to discuss health care, Republican Sen. Ben Kieckhefer raised concerns that the bill would conflict with the state's Public Employee Benefits Program, which manages group health-care benefits for state employees. He also raised doubts that state lawmakers would be able to effectively bargain with state employees during the already-hectic 120-day legislative session.
"Our budgeting process really started like nine months ago, as agencies start building their budgets and we do all of these sorts of things," he said. "Making wide-scale changes to our state budget based on an agreement that might only be executed now and still getting out of here within 120 days, I find difficult as someone who's worked on the budgeting process now for a decade."
The bill would authorize categories of state employees to collectively bargain regardless of which agency employees them:
Labor, maintenance, custodial and institutional employees, including correctional institution employees who are not responsible for security at those institutions

Administrative and clerical employees, including legal support staff and employees whose work involves general office work, or keeping or examining records and accounts

Technical aides to professional employees, including, computer programmers, tax examiners, conservation employees and regulatory inspectors

Professional employees who do not provide health care including engineers, scientists and accountants

Professional employees who provide health care, including physical therapists and other employees in medical and other health-related professions

Employees, other than professional employees, who provide health care and personal care, including employees who provide care for children

Category I peace officers, which includes most police officers

Category II peace officers, which includes officers who work for community colleges, schools, courtrooms and some state agencies

Category III peace officers, which typically includes prison and correctional guards

Supervisory employees not otherwise included in other three bargaining units.

Firefighters
Exempted from collective bargaining rights include employees of the Public Employee Benefits System, who are paid out of the pension program and not the state's general fund and thus could not be represented by the governor in collective bargaining cases. The bill also allows for some cross-agency collective bargaining negotiations, in cases where multiple bargaining units might need to negotiate with a single agency that employs members from more than one category of workers in cases of common employment issues.
On Thursday evening, dozens of green-clad AFSCME members working for the state told lawmakers their frustrations with their treatment over the last decade, starting with unpaid furloughs and pay cuts for state workers that started in 2009 and continued through Sandoval's first term.
Amber Fryer, a senior correctional officer who works at the Northern Nevada Correctional Center, told lawmakers that the difficult conditions of her job paled in comparison to the powerlessness she and other officers felt in their relationship with the state.
"Many of these state inmates would assault me or kill me, just to be a trophy. I have responded to more assaults and bloody scenes than I care to count," she said. "The frustration lies not in how the inmates treat us, but how the powers that be smack us in the face at the end of the day."
Rick McCann, head of the Nevada Association of Public Safety Officers, said that allowing police officers employed by the state to collectively bargain would prevent him and others from having to wait for each legislative session and hope for enough money leftover in the budget for a pay raise.
"Collective bargaining is needed in part so we can stop coming to this body every session and begging. I sat before a committee a couple of days ago, and I said, 'I'm begging you on behalf of our state employees in law enforcement,'" he said. "I really would like to stop begging. Let's start bargaining."
Appearing in opposition, Nevada Policy Research Institute President John Tsarpalas told lawmakers that his libertarian-leaning organization estimated that allowing for collective bargaining would cost the state between $325 million and $685 million per budget cycle.
"The public sector has neither owners nor profits over which to negotiate," he said. "Elected officials making decisions regarding public worker's compensation do not have to pay the costs themselves."
The committee took no action on the bill, which must either be passed out of committee by next Friday or be declared exempt from legislative deadlines to remain afloat in the legislative process.
The Nevada Independent is raising $200,000 by Dec. 31 to support coverage of the 2024 election.
Tax-deductible donations from readers like you fund this critical work.
If you give today,your donation will be matched dollar-for-dollar.
Give + Get Matched
Featured Videos