Nevada becomes first state with majority female Legislature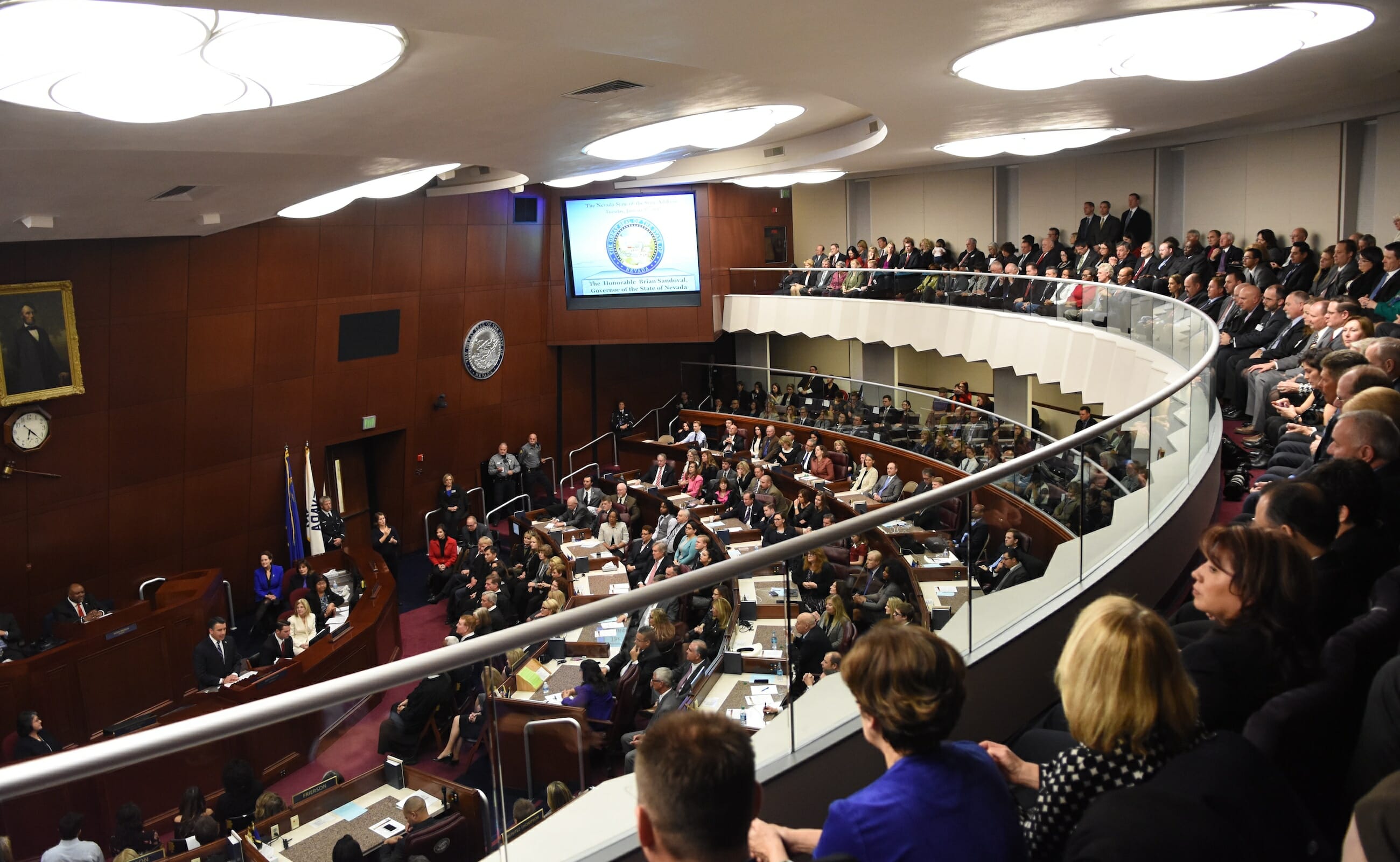 Nevada will become the first state in the country to have a majority female Legislature after members of the Clark County Commission appointed two women to a pair of open seats in the Assembly.
County commissioners on Tuesday appointed Rochelle Nguyen to replace former Assemblyman Chris Brooks, appointed to the state Senate last month, and Culinary Union grievance specialist Beatrice Angela Duran to replace Assemblywoman Olivia Diaz, who resigned earlier this month and will run for a Las Vegas City Council seat.
With the appointments, female lawmakers will take 23 of 42 seats in the state Assembly and nine of 21 spots in the state Senate, good for 32 out of the 63 seats in the Legislature.
Nationwide, women hold about 25 percent of state legislative seats, according to the National Conference of State Legislatures' most recent data. The only previous time women held a majority in a state legislative chamber was New Hampshire's state Senate between 2009 and 2010. Guam also saw a majority female Legislature elected in 2018.
Both appointments were made with unanimous votes, and commissioners said the decisions were made based on recommendations from the Assembly caucus leadership.
"The Assembly Democratic Caucus is proud to welcome Rochelle Nguyen and Beatrice Duran to the State Assembly and our Caucus," Speaker Jason Frierson said in a statement. "In addition to a diversity of backgrounds and life experiences, both Rochelle and Beatrice bring passion, energy, and knowledge to the State Legislature that will better serve our state and our constituents."
The new Assembly members are both Democrats, and will serve the remainder of the two-year terms until the 2020 election. They'll join a supermajority in the Assembly, where Democrats hold 29 of the 42 seats.
The path to a female-majority Legislature wasn't immediately clear after the November midterm election but became possible through various vacancies. State Sens. Tick Segerblom (elected to the Clark County Commission) and Aaron Ford (elected attorney general) left vacancies filled by Brooks and Public Utilities Commission attorney Dallas Harris, respectively.
Nguyen said she came to Nevada in 1999 and enrolled in the William S. Boyd School of Law at UNLV in 2002, later working for the Department of Justice on immigration review cases and spent three years with the Clark County Defender's office. She now owns and operates a criminal defense firm with her husband, attorney Matthew Lay, which she said would be an area of interest in the Legislature.
"We're very familiar with the criminal justice system and have first-hand knowledge about the reform that needs to take place in that area," she told commissioners.
She'll also become the only Asian-American Pacific Islander (AAPI) community member in the Legislature and one of a handful to ever serve in Carson City. Evan Louie, the chairman of a recently formed progressive advocacy group called One APIA Nevada, said it was important for members of the community to see themselves in elected office.
"I'm a single father raising a daughter; she's 11 years old. She wants to be a future president someday," he said. "Yet she's never seen a female president, she's never seen an AAPI or someone who looks like her in the state Legislature."
Duran told commissioners that she joined the Culinary Union's staff in 1999 after helping unionize her workplace, and since 2007 has been part of a team of 12 grievance specialists who represent union members in workplace disputes.
"In the last 10 years, our grievance team has won over $10 million in back pay, lost wages, and helped hundreds of working men and women get their jobs back," she said.
Duran said her top issues in the Legislature would be restoring voting rights to the disenfranchised, giving more funding to public schools and making health care more affordable.
The Culinary Union, which represents more than 57,000 workers in Nevada, backed Duran publicly at the meeting and called her a "fighter for working families" in a statement after the appointment was made.
"When the workers, who make Las Vegas run, have a voice in the political process and a seat at the table, our entire community benefits," Culinary Secretary-Treasurer Geoconda Arguello-Kline said in a statement.
Although the votes were unanimous, several commissioners, including Chris Giunchigliani and Susan Brager, grumbled at the appointment process, suggesting that a better solution might be to hold special elections or find other ways to allow applicants more of a chance at open seats if they are not favored by the caucus.
"I've gotten to the point that I think legislatively, this process is flawed and needs to be taken a look at," Giunchigliani said. "We've been doing too many appointments. It gives people the image of incumbency and new people can never bubble up."
The list of candidates who applied for the seats include:
Assembly District 10
Alison Brasier, attorney and founding partner of Hicks & Brasier law firm

Nadia Hojjat, chief deputy public defender in Clark County

Jesse "Jake" Holder, licensed mortgage loan officer and real-estate agent

Mara Callister Meservy, administrative assistant for the Nevada Society of CPAs

Rochelle Thuy Nguyen, attorney and owner of Nguyen & Lay law firm

Zenda M. Shepherd, executive casino host
Assembly District 11
Ace Acosta, crew member at Little Caesar's Pizza and former canvasser for Fund Our Future

Douglas A. Bache, former assemblyman and retired Clark County School District employee

Abraham Camejo, small-business owner

Beatrice Angela Duran, grievance specialist with the Culinary Union

Mayra Salinas-Menjivar, legal services fellow at the UNLV Immigration Clinic
Updated at 4:17 p.m. to include statements from Assembly Speaker Jason Frierson and the Culinary Union
The Nevada Independent is raising $200,000 by Dec. 31 to support coverage of the 2024 election.
Tax-deductible donations from readers like you fund this critical work.
If you give today,your donation will be matched dollar-for-dollar.
Give + Get Matched
Featured Videos