One of the few major cities without one, Las Vegas may soon get an art museum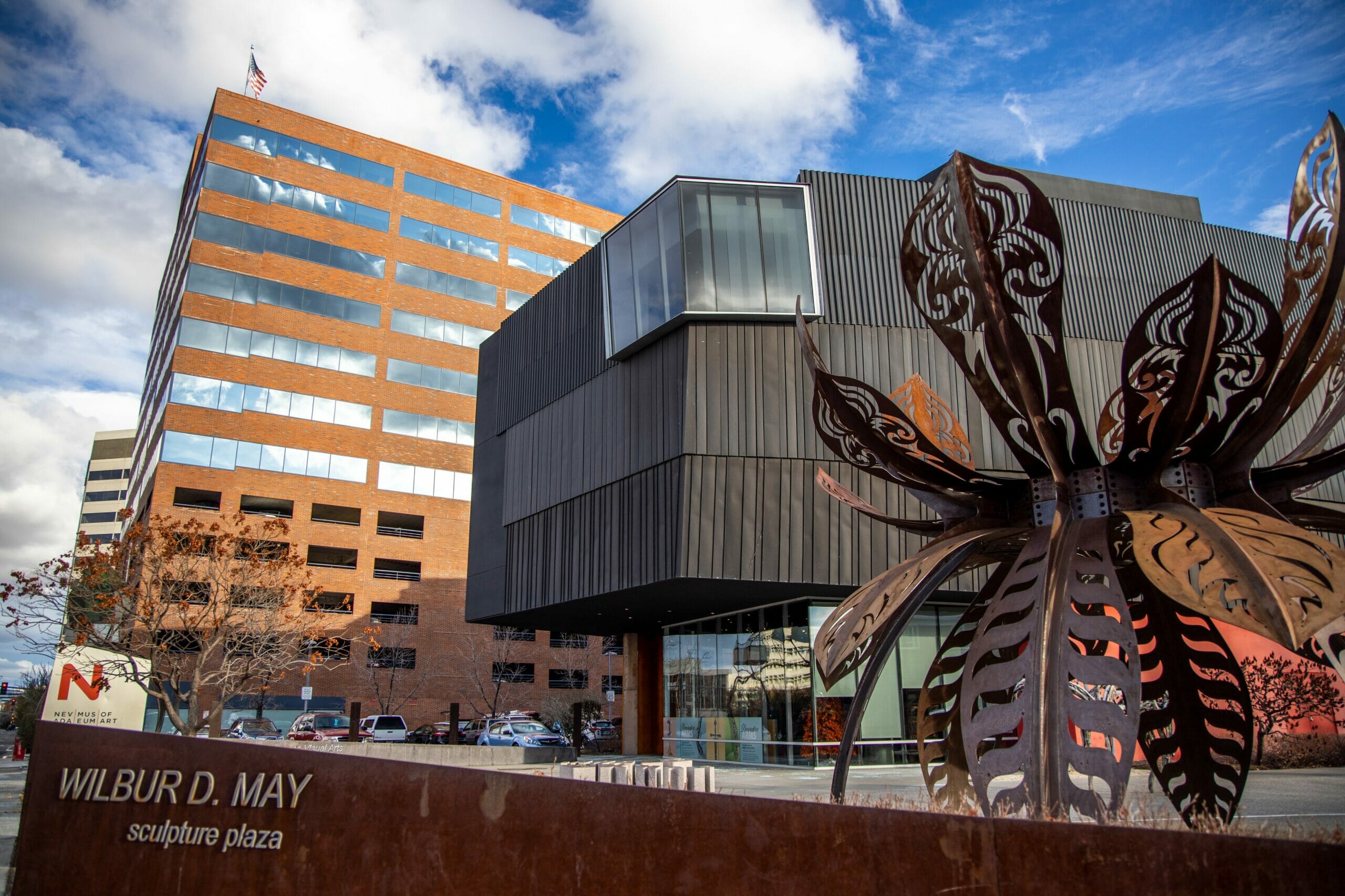 People bustle about outside the Las Vegas Container Park on a Sunday afternoon, flanked by flashy murals that stretch up to four stories tall. A giant praying mantis sculpture looms above the scene, blowing fire every few minutes toward the visitors below.

On the Strip, flashing billboards and street performers stand in front of immaculate fountains and imaginative casinos. Just a few miles outside of town there's the Seven Magic Mountains art installation.

Further into the desert north of town is Michael Heizer's piece, Double Negative, carved into a mountainside. Beyond that, looking down on the ghost town of Rhyolite, are haunting statues of desert ghosts by Albert Szukalski. And farther still outside of Goldfield are graffiti-covered cars with their noses buried in the dirt — the International Car Forest of the Last Church.

Southern Nevada, a bastion of artistic attractions, remains one of the largest metropolitan areas in the U.S. without an accredited art museum.

But that could all change soon.

The Nevada Museum of Art, headquartered in Reno, is planning to expand to Las Vegas.

In 2017, then-Sen. Tick Segerblom proposed a bill, SB187, that would provide $1 million in seed money for the expansion project into Las Vegas. During the 2019 session, lawmakers proposed another bill, SB533, that would allocate $5 million dollars more of state funding.

Both bills passed with overwhelming support, and private donors have matched the state contributions, but regional tensions have complicated the project.

Although the museum is planning to start from scratch in Las Vegas, it spent more than half of the original funds allocated on expanding its venue in Reno — a city that has had an art museum for nearly 90 years and has been in its current 70,000-square-foot location in the popular Midtown district since 2003.

David Walker, CEO of the Nevada Museum of Art, said he understands why people want to see all of the money go south because Las Vegas is so much further from its goal.

"Certainly, if you live in Las Vegas, you want to see all of the energy in Las Vegas," Walker said during an interview with The Nevada Independent. "It's natural. I think the important thing to note here is that most of the money, most of the funding to fund the art museum in Las Vegas will come from Southern Nevada."
Some lawmakers have been vocal about their frustrations. Democratic Sen. Chris Brooks repeated himself four times during an Interim Finance Committee meeting in October, asking why 100 percent of the money approved in 2019 wasn't being spent in the south and arguing the Reno museum has enough resources.
Kathleen Conaboy, the senior vice president for museum advancement, defended the use of the money from the bill in 2017, saying they couldn't spend immediately in the south because of a pending merger with Symphony Park and would have lost the funds if they went unused. The museum also needed to jump on an opportunity to acquire land in Reno.
Both Reno and Las Vegas branches of the museum have big plans ahead.

The Las Vegas site is projected to open in seven years and it is estimated to cost $217 million. Although the museum originally was going to be located at Symphony Park, close to the Smith Center for the Performing Arts, the 1.2-acre lot was deemed not large enough to accommodate the project. Museum officials are currently working with Clark County staff to finalize a deal with the county to have the museum located adjacent to the Clark County Government Center along Grand Central Parkway in Las Vegas according to a Clark County Commission meeting in November.

Meanwhile, officials hope to add 50,000 square feet to the museum in Reno — an expansion estimated to cost $50 million.

There are other art collections in Las Vegas, but none that are accredited by the American Alliance of Museums (AAM).

"That's vitally important," said Conaboy. "It can take decades to earn accreditation of a museum. No one, no collector in the United States or elsewhere in the world, will lend a piece of work or consider donating a piece of work to a non accredited museum."

Cities of similar size to Las Vegas have accredited museums, including Cleveland, Kansas City, San Jose, Austin and Nashville. So why is Las Vegas so far behind?

Brooks has a theory.
"We've grown so fast," he said. "So things like art museums and things like public transportation and our public school system are having a hard time keeping up from a funding standpoint."
Correction: This story was updated on 12/3/2019 at 2:07 to reflect recent developments in negotiations with Clark County about the museum's location.
The Nevada Independent is raising $200,000 by Dec. 31 to support coverage of the 2024 election.
Tax-deductible donations from readers like you fund this critical work.
If you give today,your donation will be matched dollar-for-dollar.
Give + Get Matched
Featured Videos