State Sens. Patricia Farley, left, Joyce Woodhouse, center, and Nicole Cannizzaro watch during court proceedings inside the Las Vegas Regional Justice Center on Wednesday, Feb. 7, 2018. Daniel Clark/The Nevada Independent
State Senate recall battle makes first stop in court; initial decision could come mid-February
February 7th, 2018 - 5:04pm
Arguments over the high stakes effort to recall two Democratic state Senators — and possibly flip control of Carson City's upper house — came to court for the first time on Wednesday, but a decision is unlikely to emerge until later this month.
The four-hour hearing ended with no clear indication on how District Court Judge Jerry Wiese — who asked only a handful of questions during the hearing — would rule on the case. But it provided a preview from attorney Marc Elias (a prominent national Democratic attorney) and Lt. Gov. Mark Hutchison, arguing the case through his private law practice, of the first of many legal arguments set to play out before any special recall election can be called.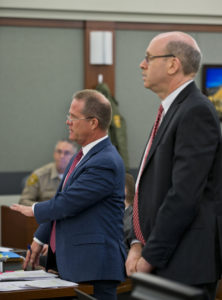 The crux of both party's arguments revolved around whether or not to count hundreds of requests submitted by people who initially signed the recall petition but later signed a form asking to withdraw their signature. Attorneys on both sides recognized that the court's decision on whether or not to recognize the withdrawal requests submitted after the recall petition was turned in would essentially decide whether or not both recalls qualified for a special election.
"As a practical matter, if the court credits those 1,425 post submission revocations, then that's going to be game, set match," Elias said. "Because no matter who's numbers you start with, we're going to wind up under the threshold."
Under Nevada law, recalls are required to gather signatures from 25 percent of the voters who cast ballots in the election of the targeted office-holder. Once they gather the necessary signatures in the required 90-day window and submit them to state and local election officials, a special election should be called as long as the number of signatures turned in continues to surpass the threshold after invalid signatures are removed.
But Nevada law allows for people who signed the recall petition but then changed their mind to request to strike their name from the petition before a special election is called or a complaint is filed. Democratic groups, taking full advantage of the law, submitted hundreds of these post-certification withdrawal requests for both recall efforts which, if found valid, would push the number of valid signatures below the threshold for a special election.
Democratic Sens. Joyce Woodhouse and Nicole Cannizzaro — the targets of the recalls — both sued to stop the efforts from being verified last year, citing several examples of alleged invalid signatures as well as hundreds of signature withdrawal requests. The cases, which deal with similar issues, were consolidated in January.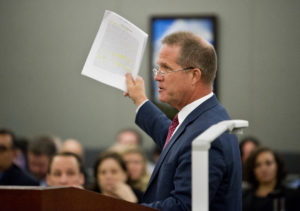 Hutchison, arguing for the recall PACs, compared the use of post-certification withdrawals to the Patriots running plays and running up the score on the Eagles after time ran out at the Super Bowl. He said the law drafted to allow the extended period to submit signature withdrawals ignored the language of the Constitution, which does not expressly allow for the withdrawal forms.
"At some point in time, the time must remain static for a recall petition," he said. "The Nevada Constitution fixes that point in time. The Legislature moved it. It's up to this court to determine whether that's constitutional or not."
Hutchison also asked the court to dismiss the withdrawals submitted on the recall targeting Woodhouse, saying that the campaign had missed the statutory deadline when it sent the court copies of all withdrawal forms a day after the filing of the initial complaint.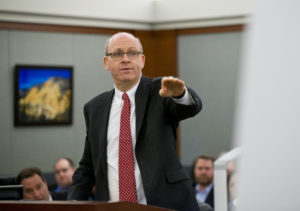 Elias countered by stating that the state Supreme Court had already ruled to uphold the constitutionality of withdrawal requests submitted prior to certification of the recall petition, and that the same principle should apply to the withdrawal forms submitted after the recall petition was turned in.
"The inquiry before the court is not whether the law is fair, not whether this procedure treats the two sides equally, but whether the actions of the Legislature are constitutional," he said. "Did they act within the law? Did they act within the bounds of what the Legislature is permitted to do."
Wiese, who asked both attorneys to provide him with additional findings of fact by Feb. 14, said he would likely issue a written order in the following days and noted that whatever party was on the losing end would likely appeal the case to Nevada's Supreme Court.
"It seems like this may be a political party issue to some of you, but it's not to me," said Wiese, a registered Democrat, at the close of arguments. "I just want to make sure that everybody understands that I'm going to make my decision based upon the statutes and constitution, not my party or anybody else's party."
INDY FAST FACTS
Joyce Woodhouse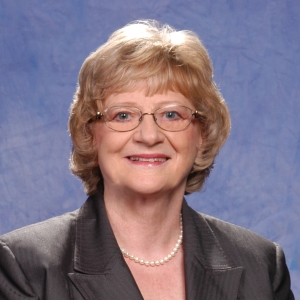 Job:
State senator, District 5
Party:
Democratic
In current office: 2013 to present
Birthdate:
 May 7, 1944
Education:
Carroll College (B.A.)
University of Nevada, Las Vegas (M.A. and M. Ed.)
Public offices held:
State senator (2006-2009)
Total Donations: $1,608,074 (7/24/09-5/4/18)
Top Donors:
MGM Resorts International $54,000
Citizens for Justice Trust $32,000
Clark County Education Association $32,000
Committee to Elect Mo Denis $20,000
Boyd Gaming $17,500
INDY FAST FACTS
Nicole Cannizzaro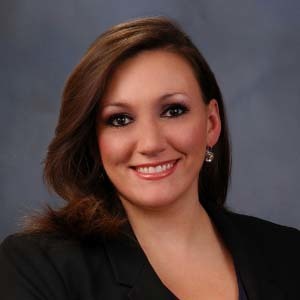 Job:
State senator, District 6
Party:
Democratic
In current office: 
2016-present
Birthdate:
January 19, 1983
Education:
University of Nevada, Reno (B.S.) University of Nevada, Las Vegas (J.D.)
Other public offices held: 
None
Total donations: 
$1,623,334 (8/17/15-5/9/18)
Top donors:
MGM Resorts International $45,000 Tom Steyer $30,000 Laborers for Solid State Leadership PAC 872 $20,000 Citizens for Justice Trust $15,000 Eglet Law Group $10,901
INDY FAST FACTS
Mark Hutchison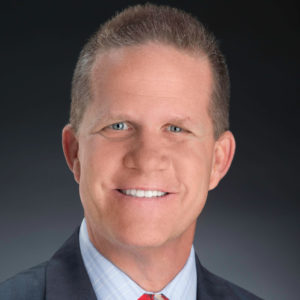 Job:
Lieutenant Governor
Party:
Republican
In current office:
2015-present
Birthdate:
May 5, 1963
Education:
University of Nevada, Las Vegas (B.S.) Brigham Young University, Utah (J.D.)
Other public offices held:
State senator, District 6 (2013-2014)
Total donations:
$4,039,967 (1/08/12-12/15/16)
Top donors:
Marnell Companies LLC $75,000 Wynn Resorts $70,000 Las Vegas Sands $40,000 Station Casinos $39,500 MGM Resorts International $34,000
From the Editor
The Nevada Independent
is a 501(c)3 nonprofit. We need help to attain the elusive goal of sustainability. We depend on recurring donations from you, the readers who believe in our mission of nonpartisan, transparent journalism. I know you are busy. I know you have many commitments. But if you would take a moment to
support our work
or bump up your current donation, I would be forever grateful.
Thanks for all of your support.
Best,
Jon Ralston
get our morning newsletter,
The Daily Indy
Stars & Struggles
Take a peek into today's education world through the lens of Sunrise Acres Elementary School in Las Vegas.
@TheNVIndy ON TWITTER