Massive clean energy bill expanding transmission, electric car charging stations gets first hearing; resorts opposed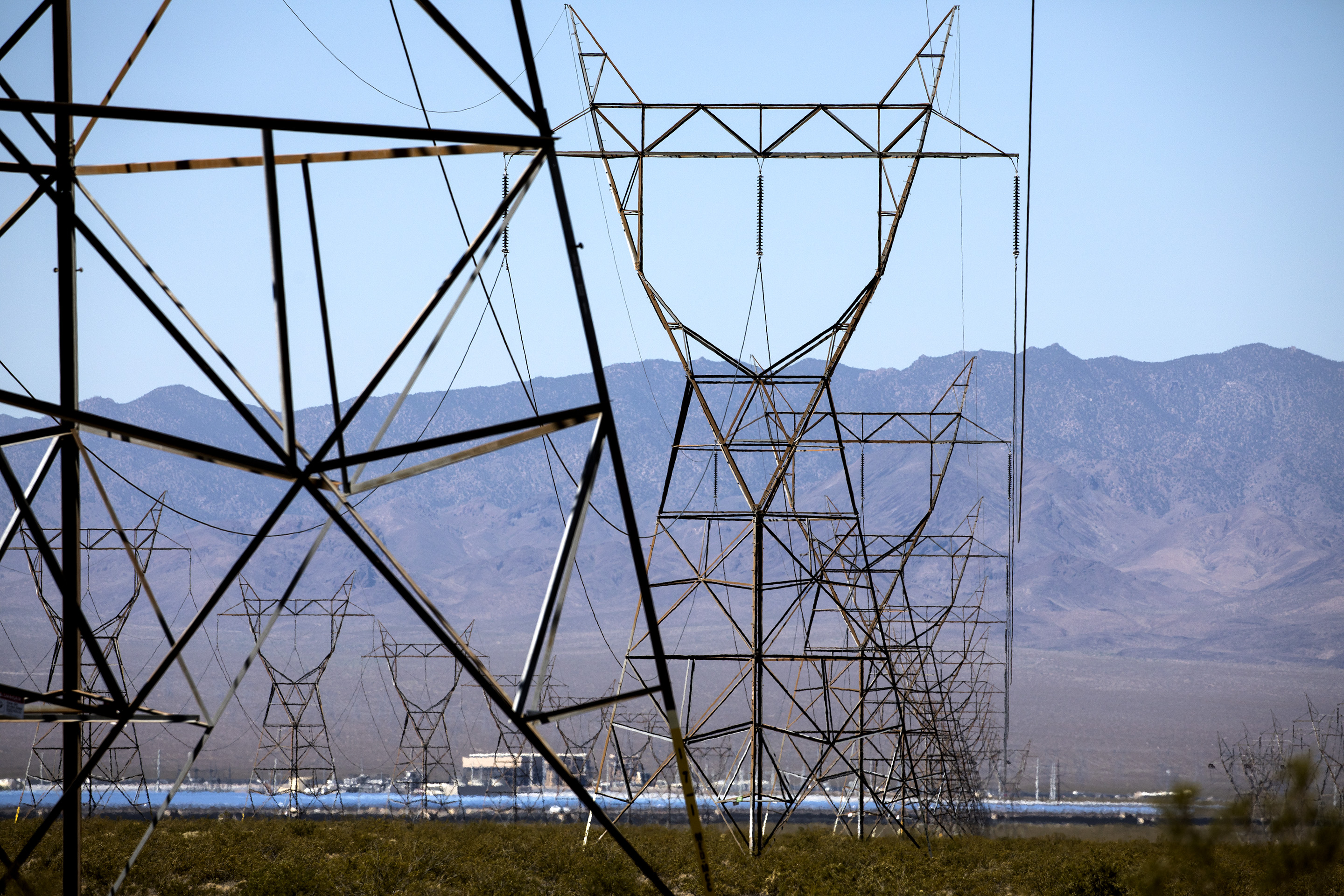 Heralded as a transformative step to move Nevada toward greatly reduced carbon emissions through massive expansions in transmission and electric vehicle infrastructure, state lawmakers heard the first details of the legislative session's biggest energy policy bill with just two weeks to go before the end of session.
Sponsored by Sen. Chris Brooks (D-Las Vegas), SB448 would expand the state's transmission infrastructure in line with NV Energy's multibillion-dollar Greenlink Nevada initiative, along with requiring a $100 million investment in electric vehicle charging stations, expanding rooftop solar to multi-tenant and commercial buildings and proposing a host of other measures aimed at lowering carbon emissions and building up renewable energy infrastructure.
During the bill's first multi-hour hearing on Monday in the Senate Growth and Infrastructure Committee, lawmakers and clean energy advocates were not shy about pouring praise on the legislation — ranging from NV Energy CEO Doug Cannon saying the bill "positions Nevada as energy leader in the western United States for decades to come" to Governor's Office of Economic Development Director Michael Brown saying "448 will be one of those bill numbers that lives beyond legislative sessions."
Support was not unanimous — several progressive and environmental groups warned that a large infrastructure project could harm fragile ecosystems, and the politically powerful Nevada Resort Association (which represents many casino resorts that have left regular utility service but remain as transmission-only customers) testified in opposition, wanting the state's Public Utilities Commission to have more authority over the transmission build-out.
Brooks, who sponsored legislation raising the state's Renewable Portfolio Standard in 2019 and 2017, said those bills and past efforts were helpful first steps but that this legislation represented an attempt to "take a more holistic approach at carbon reduction planning for the electricity sector."
"Imagine a world where in Nevada, we are making most of our own electricity with renewable resources, we're putting them in our vehicles, and we're driving our vehicles," he said. "That closes the loop and keeps billions of dollars in our economy, and also makes it far more affordable for the individual who's driving the electric vehicle."
SB448 has two main prongs — transmission and electric vehicle charging infrastructure.
The transmission portions would help finish NV Energy's proposed "Greenlink" transmission plan, which received initial, partial approval from the state Public Utilities Commission in March. The project would build two major transmission lines aimed at forming a "transmission triangle," expanding and linking the current 235-mile, 500 megawatt "One Nevada Transmission Line" that links Northern and Southern Nevada.
Brooks said expanded transmission capacity would not only build up grid resiliency beyond the current One Nevada line — pointing at the 2021 Texas electricity crisis as a warning — but would also allow Nevada to more cheaply import renewable energy produced in other states and help diversify the current fuel mix.
"If we just connect the dots with a few transmission lines, we could realize that economic opportunity of being the hub of the western grid, and we could realize the benefits that come with all of that energy that we can export and all that energy that we move through our state," Brooks said. "The benefits are billions of dollars of economic activity in our state and billions of dollars of private investment in our state and renewable energy projects."
The other major portion of the bill would require NV Energy to propose and submit a $100 million spending plan for electric vehicle charging station infrastructure over the next two years, with a strong focus on historically underserved areas, outdoor recreation, transit agencies and fleet upgrades for state, local and federal governments.
Much of the three-hour hearing focused on the transmission aspects — a wide variety of groups testified in support including IBEW; businesses including Google, Ikea, Patagonia and Uber; Battle Born Progress and clean energy development groups including the Natural Resources Defense Council, Southwest Energy Efficiency Project, Nevada Conservation League and others.
Brown, who heads the state's economic development arm, said corporations in and considering moving to Nevada were increasingly focused on renewable energy and meeting environmental goals, giving the state a potential leg up on business development if it further committed to renewable resources.
"For the first time, we sat with a manufacturer from the Midwest a few weeks ago, and they looked at us and the first question they had for us is they wanted to talk about renewable energy," he said. "They wanted to know how we were producing it, how it was transmitted, what the prices were. That's a game changer. We've not had that before."
Cannon, who helped present the bill, said completion of the Greenlink project would help create a "path forward for us to economically achieve the state's net zero carbon goals," while opening up new areas for solar and renewable energy development currently cut off from transmission lines.
"We can produce energy in a lot of places in Nevada, but that doesn't do us any good if we can't get that energy from where it's produced to where it needs to be utilized," Cannon said. "Transmission becomes the backbone that is necessary to fully utilize that energy."
But that proposed infrastructure expansion attracted opposition from spokesmen for environmental groups including Basin and Range Watch and the Center for Biological Diversity who said they had strong concerns that the legislation allowed NV Energy to rush forward without enough time for environmental review or potential impacts.
"Instead of instructing state agencies to complete a clear-eyed, comprehensive review of where renewable energy might be appropriate in this state, SB448 would throw open the doors to our most wild and pristine landscapes and rely on the tender mercies of the market and fossil fuel companies like NV Energy to decide the fate of Nevada's wildlands," Center for Biological Diversity State Director Patrick Donnelly said.
Sen. Dallas Harris (D-Las Vegas), a former administrative attorney at the PUC, asked what would happen if the promised economic benefits don't materialize — and how much risk was being shouldered by ratepayers.
Cannon responded that the Greenlink plan was "not a risk-free proposition," but said the utility was prepared to move forward with the $2.5 billion infrastructure project immediately, noting that customers would not have to start paying for the project for several years and that any proposal by the utility would go through a contested hearing process before the PUC and ultimately have to be approved by the commission.
"There is no guarantee in this legislation that we will recover the dollars of this investment," he said. "There's not. We have to proceed reasonably, and then we'll trust in the process on the back end that we have the opportunity to recover our investment and earn a reasonable return. It's kind of the regulatory compact that exists between the utility as a private entity and the state."
But the proposed process in the bill attracted opposition from the Nevada Resort Association — lobbyist Laura Granier said the group was in "technical opposition" because of the complexity of a bill introduced with only two weeks left in the legislative session. She said the association had proposed "clarifying changes" to the bill that would not affect the timeline but would ensure that the PUC "retains authority and regulatory discretion to protect customers from increased rates and making projects more expensive than they need to be."
"The Commission needs the tools to keep an eye on that," she said. "We're not saying that they shouldn't earn their return on investment, they should, but through the (Integrated Resource Planning) process they do get to recover costs."
Both Brooks and Cannon said the bill would not have a sizable impact on utility customers — Brooks pointed to a slide showing the adoption of renewable energy increasing while average electric prices in the state had gone down. Cannon added that opening up transmission markets would help the state access lower-cost power from other areas, and that ratepayers wouldn't see the cost of the expanded infrastructure until five or six years down the road.
NV Energy, in a filing submitted to the PUC as part of the initial Greenlink filing last month, estimated that customers in nearly all rate classes would see higher base power prices to help pay off the expansion of power lines. Cannon and others said in a previous forum on the bill that those estimates do not include potential benefits from increased transmission access.
Beyond transmission and electric vehicle charging, the bill also creates a Regional Transmission Coordination Task Force, a group of public and private industry officials tasked with helping the governor and Legislature determine the steps needed to join a western states regional transmission organization — an entity that coordinates, controls and monitors a multi-state electric grid. The legislation requires Nevada to join a regional transmission organization (RTO) by 2030, with options for the PUC to delay or waive the requirement.
The bill would also double an energy efficiency initiative for low-income customers from five to 10 percent of the utility's overall energy efficiency plan, expand a state Renewable Energy Tax Abatement program to cover energy storage projects, reopen a discounted energy rate program that expired at the end of 2017 and require NV Energy to begin including a low carbon dioxide emission reduction plan in its triennial integrated resource plan.
The Nevada Independent is raising $200,000 by Dec. 31 to support coverage of the 2024 election.
Tax-deductible donations from readers like you fund this critical work.
If you give today,your donation will be matched dollar-for-dollar.
Give + Get Matched
Featured Videos