Despite major vetoes, lawmakers advanced pro-renewable energy agenda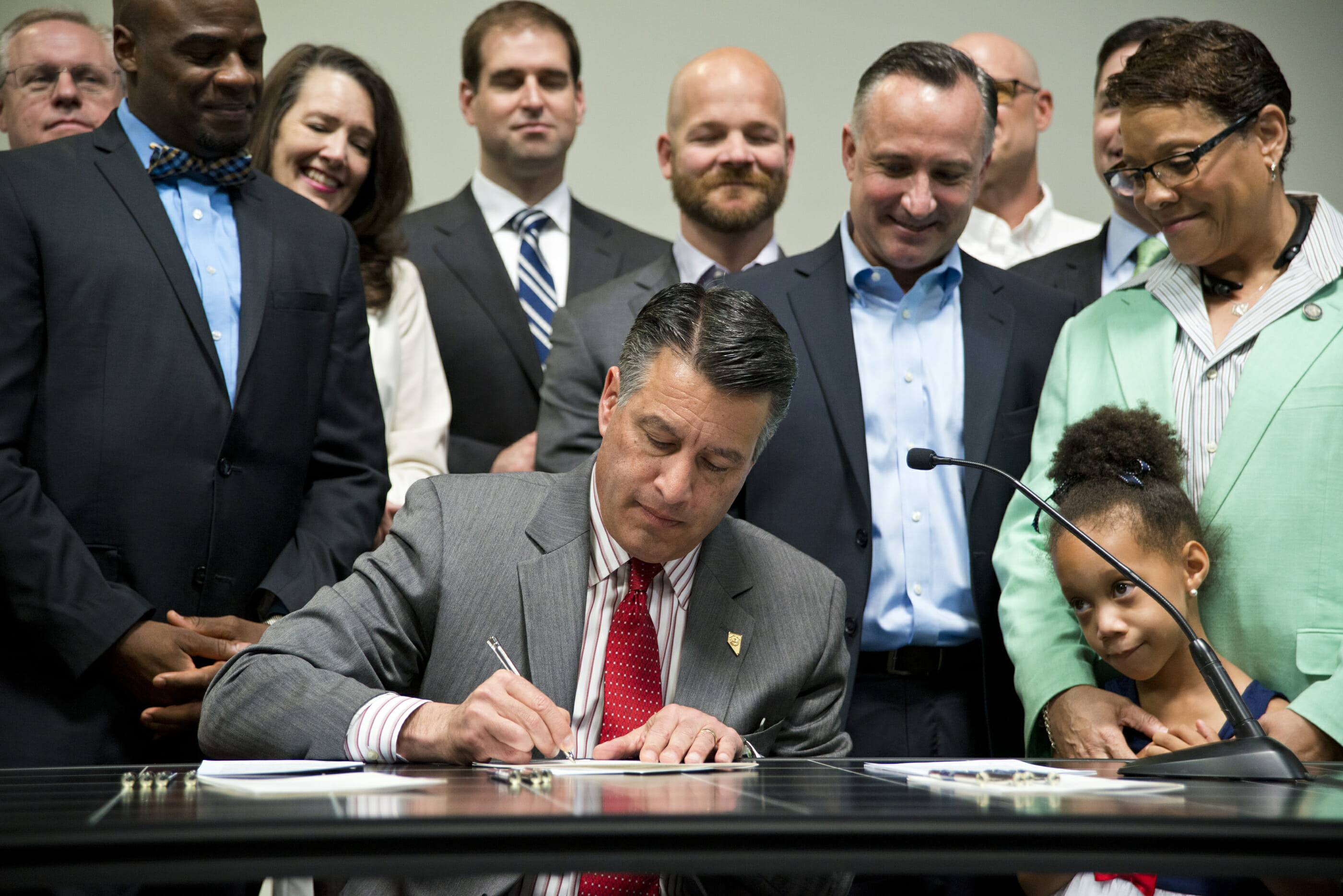 Ahead of an expected massive paradigm shift in energy policy tied to the likely success of a 2018 ballot question, Nevada lawmakers sent Gov. Brian Sandoval 11 bills pushing state policy toward a more renewable-focused future -- measures ranging from restoring reimbursements for rooftop solar owners to creating additional incentives for energy storage and electric vehicles.
Sandoval approved nine of those bills, signing three measures at a flashy event inside a Tesla facility in Las Vegas on Thursday atop a desk made of solar panels.
But it was the two proposals Sandoval vetoed late Friday — one ambitiously raising the state's renewable energy production standards to 40 percent by 2030, and another creating so-called community solar gardens — that attracted the most pointed criticism from renewable energy advocates and the most hesitation from the state's traditional power players.
Though other major policies were enacted outside the two vetoed measures, the 2017 session may have just been a preview of major pitched energy policy battles to come in future sessions. That's especially true if an energy market restructuring ballot initiative — Question 3 — passes as expected in 2018 (it passed by a landslide in 2016) and places the state's part-time Legislature on a crash course to revamp and rewrite much of state energy law by a constitutional deadline of 2023.
Debates over how much uncertainty major energy policy changes may have on the market restructuring process ultimately drove decisions on many of the bills signed or vetoed by Sandoval, and promises to remain an ongoing issue as legislators and industry members grapple with the best ways to deal with a total change in how retail energy is marketed and sold in the state.
Here's a look at what ultimately happened with some of the highest profile energy-related bills, and other smaller changes to state policy approved by lawmakers and Sandoval.
RPS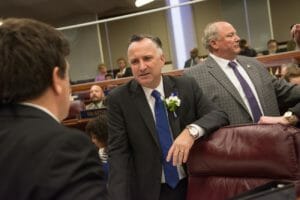 One of the hardest-fought political battles of the 2017 session came over AB206, the ambitious measure sponsored by Las Vegas Assemblyman Chris Brooks that would have rocketed Nevada's current Renewable Portfolio Standard (RPS) goal up to one of the highest in the nation.
The bill would have required the state to ramp up its minimum renewable energy production standards to at least 40 percent by 2030, with slightly more flexibility in determining compliance. Nevada's current RPS goal is 25 percent by 2025.
Sandoval vetoed the bill just hours before Friday's constitutionally mandated deadline, commending the measure's goal in his veto message while bringing up multiple concerns of how the consequences of approving the bill would mesh with the "massive shifts in energy policy that have already dramatically altered the energy landscape in Nevada."
"The questions associated with the acknowledged costs, risk and rate issues connected to an enhanced RPS are ones that were not fully answered during the debate on AB206," he wrote.
Utilities under the bill would have been allowed to apply for exemptions if enough renewable energy wasn't available, delayed construction on renewable energy facilities or if the state's Public Utilities Commission rejected a plan proposed by the utility to obtain new renewable assets.
It also would have required a subset of so-called 704B customers — who have paid to leave the utility as a customer and purchase electricity on the open market after 2012 — to comply with the higher renewable standards.
The measure would have also created "multiplier" compliance credits for use of energy storage systems used in tandem with energy produced through renewable sources.
It also allowed utilities to apply for exemption from the standards if a sufficient supply of renewable energy isn't available, a delay in new renewable energy facilities or if the PUC rejects a plan to obtain new renewable assets.
Under the bill, any power purchase agreements or new renewable plants would be transferred to a new retail electricity provider if the deregulation ballot question were passed again in 2018.
Serious opposition to the bill emerged from several major casino companies and the powerful Nevada Resort Association, whose representatives testified against the measure and submitted a major amendment spiking the RPS increases and instead requiring utilities meet higher renewable standards when planning to add generation capacity.
The proposed alternative, which was supported by a broad group of business chambers and major casinos, was criticized by Brooks as being "fundamentally and conceptually completely opposite" of what the bill was trying to accomplish.
"When the most powerful entities in the state are saying they don't like it, I don't know if there were any details within the bill that could've changed that position," he said.
The bill passed on a 12-9 margin in the Senate and on a 30-12 vote in the Assembly.
At least 13 other states and Washington D.C. have a deregulated, retail energy market with some form of a renewable energy generation standard, though only a few met or surpassed the 40 percent goal proposed in Nevada.
Sandoval noted in his veto message that only four of those states — Connecticut, Maine, Massachusetts and New Jersey — adopted a higher RPS ramp-up either before or structured with "adoption of a restructured energy market."
In his veto message, Sandoval amended his executive order on the possible effects of energy choice and charged the 25-member committee to also look at the effects of raising the RPS in tandem with an energy market restructuring.
Brooks said the amended order wasn't much of a "silver lining" given the makeup of the mostly unelected committee. He said the state — though still a hotbed for solar and other renewable generation — missed a chance to spur further development under a 30 percent federal tax credit for solar projects given its uncertain future in the current presidential administration.
"We just lost our window to help send a clear message to the industry that Nevada is open for businesses and they should could come here," he said.
Net Metering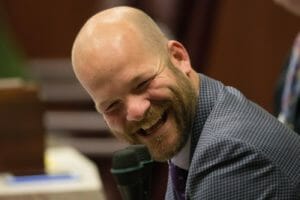 After a year-long, mostly self-inflicted hiatus, state lawmakers and prominent rooftop solar industry members say they've crafted a legislative solution bringing the stalled industry back to Nevada.
Immediately after the legislative passage of AB405 in early June, at least three rooftop solar installers — Tesla, Vivint Solar and Sunrun — announced they would jump-start operations in Nevada as soon as Sandoval signed the bill, which he did Thursday at a Tesla facility in Las Vegas.
"So this was something that truly was comprehensive, and addressed all of the issues that I was concerned about, and I know that the Legislature was concerned about," Sandoval said. "I believe, humbly, that this will be a national model."
The measure — led by Democratic Assemblymen Justin Watkins and Brooks — reinstates a program where rooftop solar customers are reimbursed at slightly less than the retail rate of electricity for "excess" energy produced and put back on the electrical grid. The reinstatement comes after the state's PUC — under orders from the 2015 Legislature — slashed reimbursement rates for rooftop solar customers in January 2016 under the guise of removing "unreasonable" cost shifts, kicking off a year's worth of legal challenges, protests and businesses leaving the state.
The amended version of the bill, which was introduced and adopted in the waning days of the Legislature, creates a tiered system to reimburse net metering customers at slightly less than the retail rate of electricity. The tiers — initially set at 95 percent of the retail rate — would decrease for every 80 megawatts of additional rooftop solar capacity added onto the grid. Solar groups estimate that a single megawatt can power an average of 164 homes.
Customers who enroll in a certain tier under the program will be eligible to receive static reimbursement rates for a 20-year period, even if the reimbursement rates decrease over time.
The bill also contains anticipatory provisions related to the energy deregulation ballot initiative — Question 3 — that will be up again in 2018 and could force Nevada into a retail energy market by 2023 if approved by voters. The bill prohibits hypothetical future retail electric providers from "impeding or interrupting" existing net metering customers and requires them to continue honoring the reimbursement rate that they receive when they signed up for the program.
The measure also includes several portions related to consumer protection, including a mandatory 10-year warranty on any sold or leased rooftop solar system. It also requires the PUC to open an ongoing investigatory docket to determine the best methodology for measure the effect of net metering on all ratepayers.
NV Energy as of May has nearly 25,700 customers enrolled in the program since 2004, with total installed capacity around 227 megawatts.
Community Solar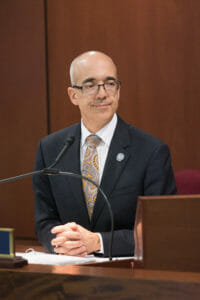 A measure that would have allowed businesses or Nevadans to join in community solar gardens — an alternative to individual rooftop panels that would have functioned as a sort of group net metering program — was the other high-profile energy bill vetoed by Sandoval.
SB392, sponsored by Democratic Sen. Mo Denis, would have outlined rules and provisions governing the operation of community solar gardens in Nevada. Such "gardens" would be limited to generating no more than 12 megawatts of electric capacity, have at least 20 "subscribers" with none allowed to own more than 40 percent proprietary interest in electricity generated.
Individual subscribers to a community solar garden would have received a credit on their power bill tied to the reimbursement structure created in AB405, which set a declining tiered system for net metering reimbursements tied to the retail rate of electricity.
It also would have implemented a rolling incentive allocation of $1 million over five years for community solar development aimed at serving low and moderate income people, and set a goal of generating at least 200 megawatts of electricity through the program by 2023.
In his veto message, Sandoval said there was "much to commend" in the bill, but was concerned that community solar gardens could operate as "utilities within utilities" without the regulations governing existing energy providers.
"This disruption brings with it unnecessary risks, and likely unintended consequences, that could harm both Nevada's ratepayers and its broader clean energy economy," he wrote. "At this time, the possible benefits of SB392 do not outweigh the risks."
In a statement, Denis derided the veto as a lost opportunity for lower-income Nevadans to play a role in adopting renewable energy.
"With the veto of SB392, we continue to limit our citizens' ability to invest in clean renewable energy," he said in a statement. "I am disappointed that many of my constituents will continue to be prevented from participating in the vibrant and growing solar economy simply because they do not own their home."
The bill passed on a 17-4 margin in the Senate and a 30-12 tally in the Assembly, with Republicans and Democrat Skip Daly opposed.
Other energy bills:
Not every measure approved by lawmakers and signed by the governor took as dramatic steps or publicized changes to the state's energy policy, but the cumulative effect of the dozens of new laws promises to have an immediate impact on how utilities plan for energy generation and how concepts such as energy efficiency and storage can be put to almost immediate use.
An early indication of the aggregated changes came on Wednesday, when members of the state's Public Utilities Commission voted to slightly increase the annual assessment charged on power bills to help pay for staff to comply with the "large number of new laws." The estimated increase will be roughly five cents per month for each power customer.
Here's a look at what other energy policy changes were enacted this legislative session:
Other energy bills: AB5 authorizes local governments to create a local improvement district within its boundaries that would include a renewable energy or energy efficiency project on commercial or industrial land. SB314 removes height restrictions on windmill installation, and instead allows local governments to stop construction if the turbine's size or location prevents a danger to the public or if it's not compatible with the "character" of the area.
Caption: Nevada Governor Brian Sandoval, center, prepares signs bills during an event inside the Tesla Energy Warehouse in Las Vegas on Thursday, June 15, 2017. Daniel Clark/The Nevada Independent Follow @DanJClarkPhoto
The Nevada Independent is raising $200,000 by Dec. 31 to support coverage of the 2024 election.
Tax-deductible donations from readers like you fund this critical work.
If you give today,your donation will be matched dollar-for-dollar.
Give + Get Matched
Featured Videos