Sisolak signs 'milestone' bill increasing Renewable Portfolio Standard to 50 percent by 2030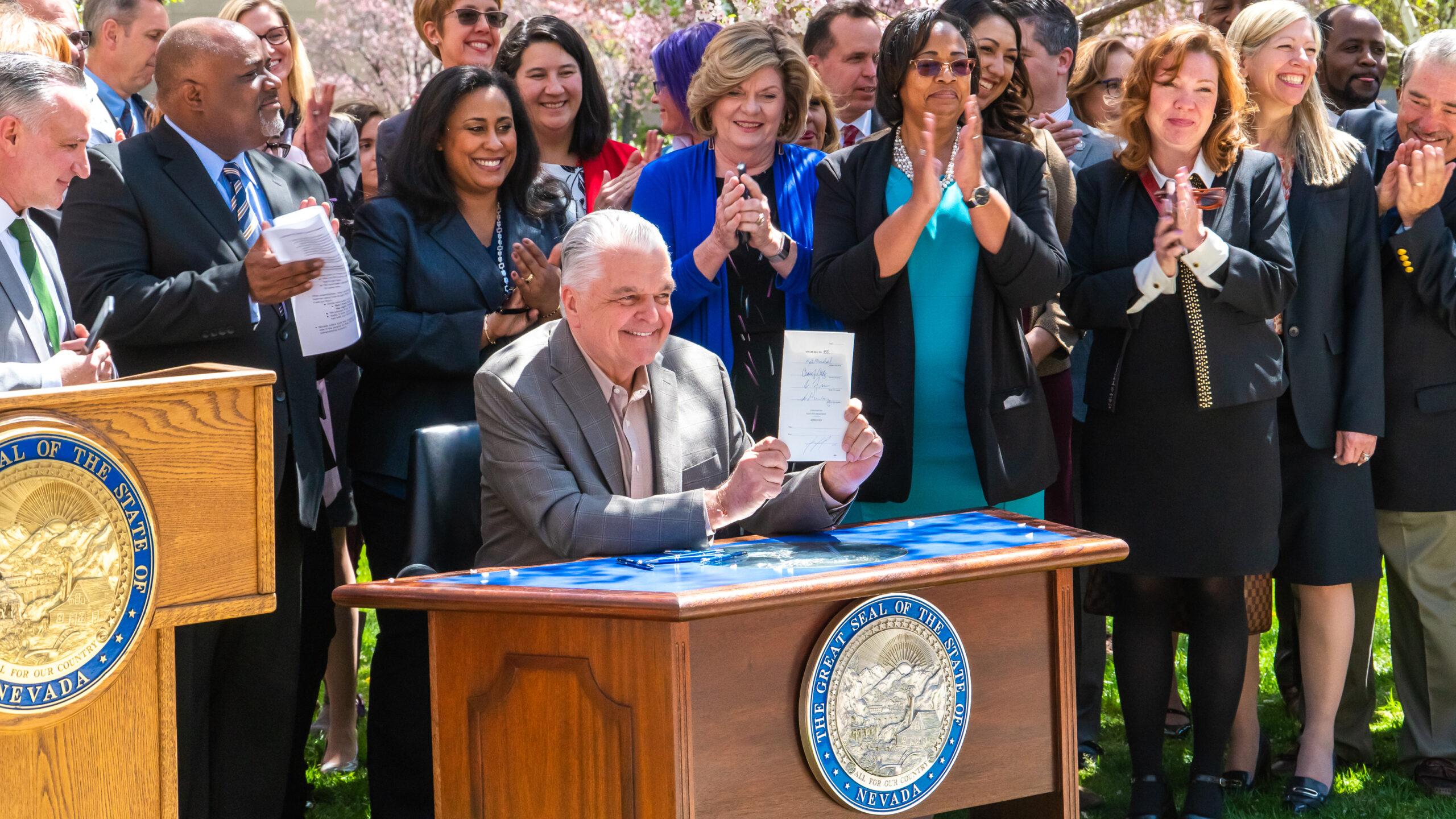 Two years after a last-minute veto dashed the dreams of renewable energy advocates, Gov. Steve Sisolak has approved a bill requiring Nevada to double its Renewable Portfolio Standard to 50 percent by 2030.
Flanked by lawmakers, renewable energy advocates and others, Sisolak signed SB358 on Monday in a public ceremony outside the legislative building and state Capitol. The Democratic governor — who noted the bill would be his third measure signed since taking office — said signing the bill fulfilled a campaign promise and stressed the policy's economic and ecological benefits.
"This milestone piece of legislation will also help reduce emissions that negatively affect the health and well-being of Nevadans," he said. "By using more clean energy, we'll reduce our carbon emissions and smog-forming pollution that comes from fossil fuels, decreasing use of pollution in the air that our children, our seniors, and everyone breathes everyday."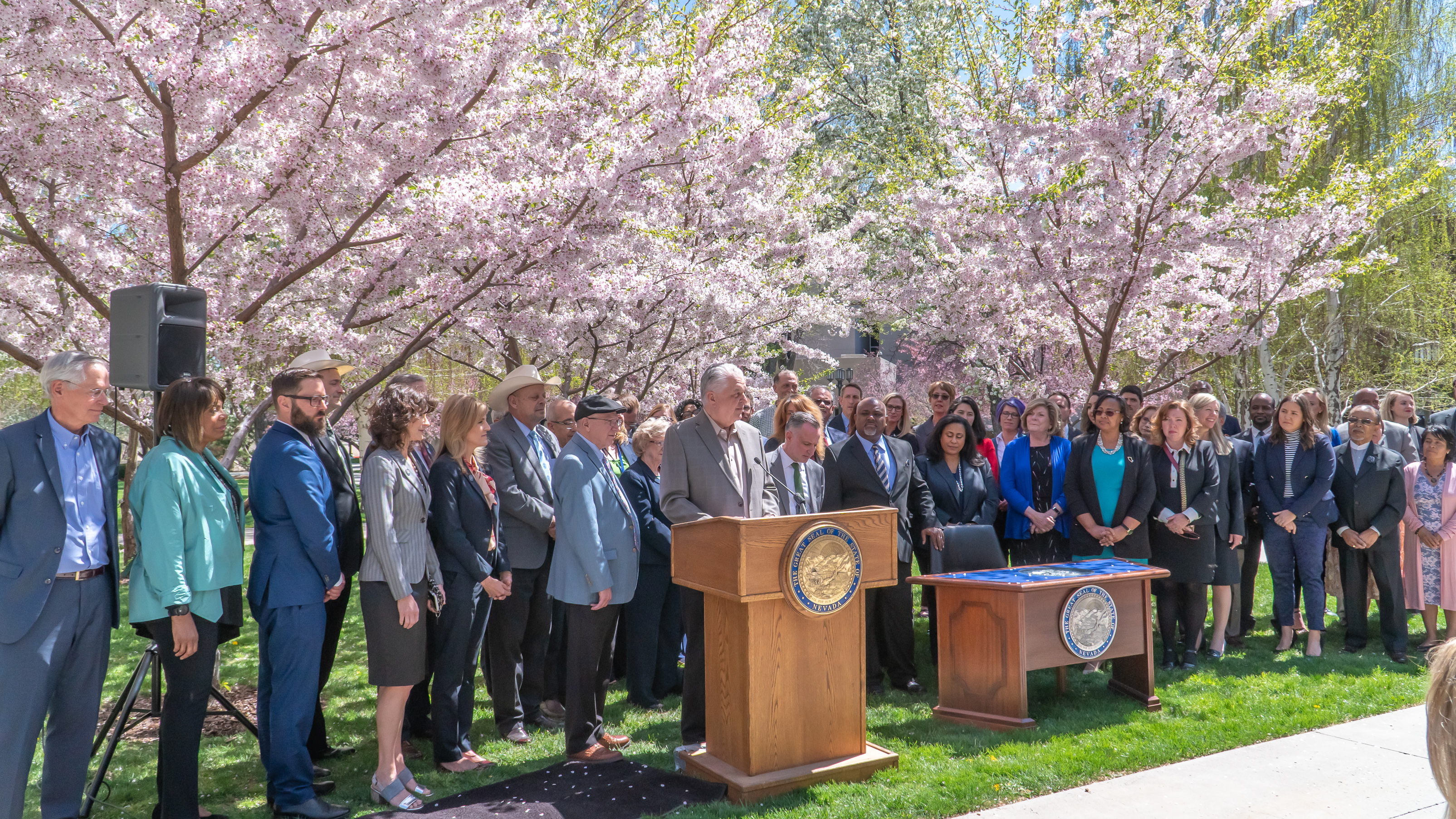 The highly publicized bill-signing ceremony — arranged purposefully to coincide with Earth Day — marks a substantial departure from a similar bill's fate in the 2017 legislative session, when former Republican Gov. Brian Sandoval vetoed a bill that would have raised the RPS to 40 percent by 2030. The bill's rejection came amid concerns with a 2018 ballot question that would have turned Nevada into a competitive electric retail market (which ultimately failed) and opposition from some of the state's top casino companies, including the Nevada Resorts Association.
But outside of a quibble with energy efficiency credits by the Resort Association that was quickly resolved, the bill sponsored by Democratic Sen. Chris Brooks sailed through both houses of the Legislature with no organized opposition and unanimous votes in both legislative chambers — a fact lauded by Sisolak, who handed one of his pens used to sign the bill to Republican Senate Leader James Settelmeyer.
"I'm joining leaders on both sides of the aisle to send a message to the country and the world that Nevada is open for business as a renewable leader, and our commitment to growing our clean energy economy will not falter or fade due to political climate," he said.
It comes a few months after Question 6, a ballot measure that would enshrine a 50 percent renewable standard in the state constitution, passed with 59 percent of the statewide vote. The measure will appear again on the 2020 ballot on its way to becoming a constitutional amendment that would be harder to change than the law Sisolak signed.
But billionaire political donor Tom Steyer, whose advocacy group poured more than $10 million into the ballot question, said in an interview he doesn't plan to put much money, if any, into the ballot question's second go-around.
"I don't think we'll have to," he said. "There's no paid opposition to this … When we started this, it seemed it was controversial, but over time, it's become clear that it isn't controversial."
If approved by voters, the ballot initiative wouldn't interfere with the newly-approved law; the language added to the constitution requires the Legislature to adopt a bill increasing the RPS to 50 percent by 2030 and requires the Legislature pass a law to do so, something already accomplished by passage of SB358.
Sisolak said he didn't want to wait through another election cycle to start raising the renewable standards.
"The difference is, it's a year and a half away," he said after the event. "Why not start today? Everyday is going to be beneficial to us, as far as I'm concerned."
Sisolak, who said in his State of the State address that he would support a "minimum" increase in the RPS to 50 percent by 2030, said he would have likely signed a higher RPS into law if that was part of the bill.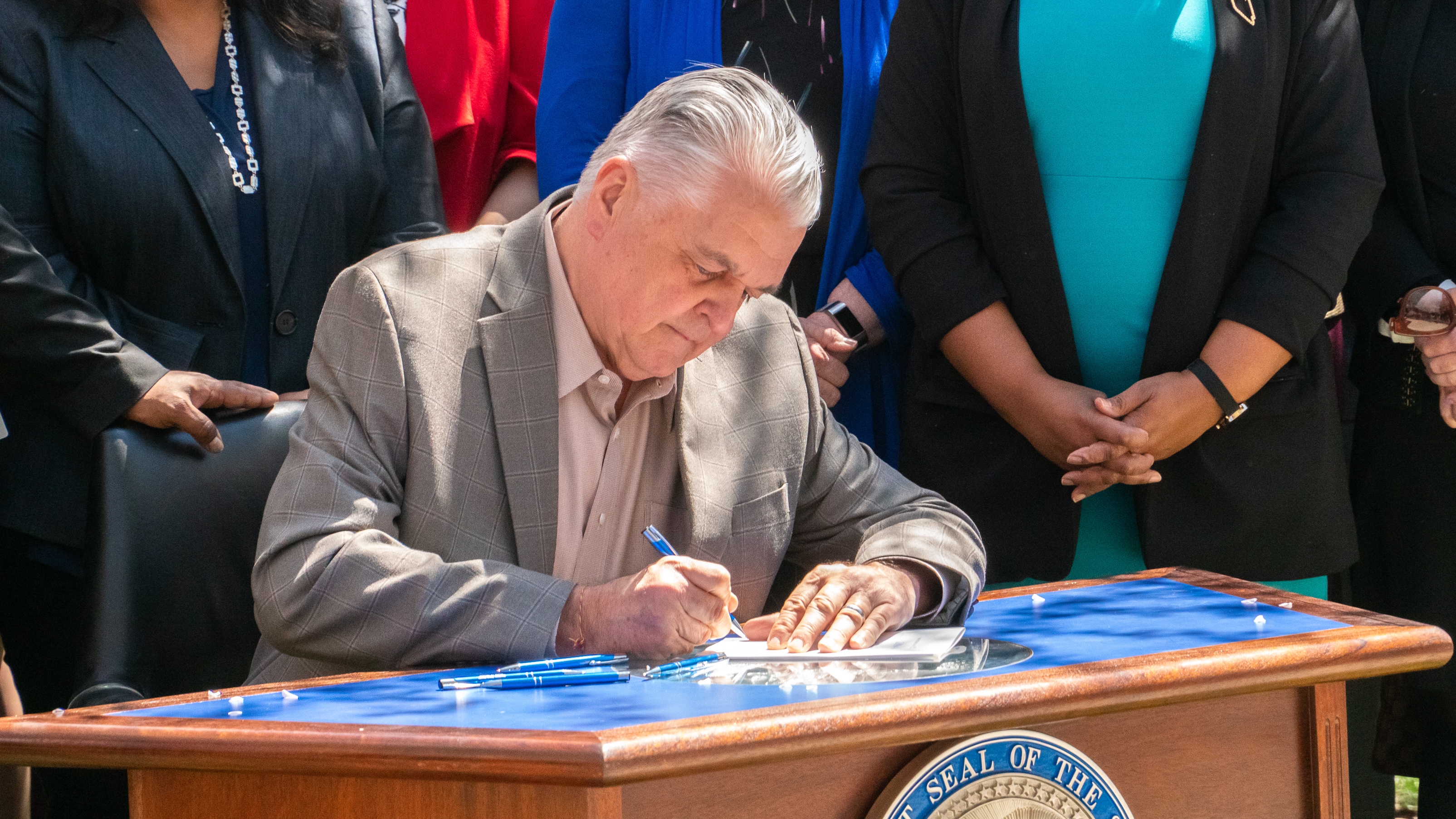 "If it would have gone to 60 (percent) or more, I would have probably signed it," he said. "I mean this is that important. Every percentage point that we can get higher is going to help us, it's going to improve the situation."
A Renewable Portfolio Standard system essentially sets up an artificial marketplace where power plants gain "PECs" (Portfolio Energy Credits) for producing renewable energy. The state runs a marketplace where PECs can be bought and sold, and requires NV Energy and other applicable entities to meet a certain percentage standard by turning in enough credits as compared to their total electricity generation.
Utilities are also allowed to roll over and use excess PECs in future years. A PEC itself is equivalent to one kilowatt-hour of generated electricity, equivalent to a 100-watt television running for 10 hours.
Nevada's first RPS was put in place in 1997, and most recently increased in 2011 to gradually ramp up to 25 percent by 2025. The standard is not a perfect barometer of renewable energy use — the ability to roll over credits and purchase them from other sources, as well as other mechanisms of the RPS, mean a state's actual renewable fuel supply is typically a few percentage points lower than its reported RPS.
The bill would raise the RPS to 22 percent by 2020, and gradually increase the standard over the next decade:
24 percent by 2021

29 percent by 2022 through 2023

34 percent by 2024 through 2026

42 percent by 2027 through 2029

50 percent by 2030
Additionally, the bill would apply the increased RPS provisions to entities that have filed to leave NV Energy and purchase power on the open market, such as MGM Resorts, Barrick and Caesars Entertainment. Current law only requires those entities to meet the RPS standard in place at the time of their departure.  
The bill also requires electric cooperatives and public power districts to meet the higher renewable standards once they reach a 1 million megawatt threshold.
In another major change, the bill will also count electricity generated from hydroelectric sources — including the Hoover Dam — to count toward the RPS (that source of power was previously excluded from the RPS formula), while excluding any potential new hydropower generation or plants.
The measure also allows NV Energy and any other entity to exempt electricity sold by the utility (in terms of calculating compliance with the RPS)  as part of an optional pricing program, where the utility either transfers or cashes in renewable portfolio credits for a certain customer. It'll apply to the utility's existing and planned special pricing rate program offered to some of its largest customers flirting with leaving the utility.
Steyer said he's not concerned that some of those changes will give the utility and others a boost without any extra investment in clean energy, and dampen progress toward other alternative fuels.
"Really what I think is important is to get the broad principle in there, to get it going," Steyer said. "I know details are important, but … I'm not worried overall."
In a statement, utility CEO Doug Cannon reiterated the company's "aspirational" goal of providing its customers with 100 percent renewable energy, and lauded the bill's passage as an "important step."
"Our company has made great strides over the last decade to increase our use of clean energy resources and reduce our carbon footprint, all while keeping costs low for our customers. Today signifies another step in building Nevada's clean energy economy and we're proud to be one of the leaders in that effort," he said in an emailed statement.
Although NV Energy raised multiple concerns and stayed neutral on the bill in the 2017 Legislature, the utility announced last year that it would support increasing the RPS to 50 percent by 2030 after winning approval from state energy regulators last year to construct six new large-scale solar plants. In 2018, the utility reported a 24 percent compliance with the RPS — above the required 20 percent — while warning the utility could possibly fall short of the increased targets in 2021 given existing solar plant underperformance.
But a shortfall in meeting the target wouldn't mean immediate action; a provision in the bill prohibits the administration of any fine against an entity that fails to meet the standard unless it fails to hit the minimum targets for three subsequent years. That requirement is removed in 2030, allowing the commission to administer non-compliance fines or other actions on a yearly basis.
The bill also allows utilities to avoid a fine if it fails to meet the standard in situations where the commission determines sufficient renewable energy isn't available to meet the standard, construction of a renewable plant is delayed or if an existing plant underperforms projected electric output.
Those provisions essentially mean that barring an unforeseen collapse in current renewable projects or other unforeseen circumstances, NV Energy and all other entities required to meet the standard will be essentially immune from any penalty related to noncompliance with the RPS until at least 2030.
The bill signing comes more than a month after Sisolak signed the state onto a multi-state agreement to fulfill greenhouse gas reduction goals set in the Paris Climate Agreement, which President Donald Trump announced the U.S. would begin to withdraw from in 2017. Joining the "U.S. Climate Alliance" commits Nevada to an effort to reduce greenhouse gases by at least 26 to 28 percent from 2005 levels by 2025, monitoring and reporting progress on emission reduction efforts and committing to speeding up efforts to cut emissions and expand clean energy adoption.
But adoption of the RPS bill was lauded by Sisolak and legislative leaders as a major step toward combating climate change and furthering the goals of the "Climate Alliance."
"This law will make a meaningful difference in the fight against climate change," Democratic Senate Majority Leader Nicole Cannizzaro said. "There's no doubt about that.
Steyer, whose political advocacy group NextGen America remains active in Nevada, said his next goal for the state is that it leverages its role as a key stop in the 2020 presidential campaign to elevate the issue of climate change. The issue was scarcely discussed in the 2016 campaign, he said.
"If it isn't discussed in Nevada during this campaign, in effect it doesn't exist," he said.
The Nevada Independent is raising $200,000 by Dec. 31 to support coverage of the 2024 election.
Tax-deductible donations from readers like you fund this critical work.
If you give today,your donation will be matched dollar-for-dollar.
Give + Get Matched
Featured Videos