Amid opioid-fueled drug crisis, lawmakers seek higher penalties for fentanyl trafficking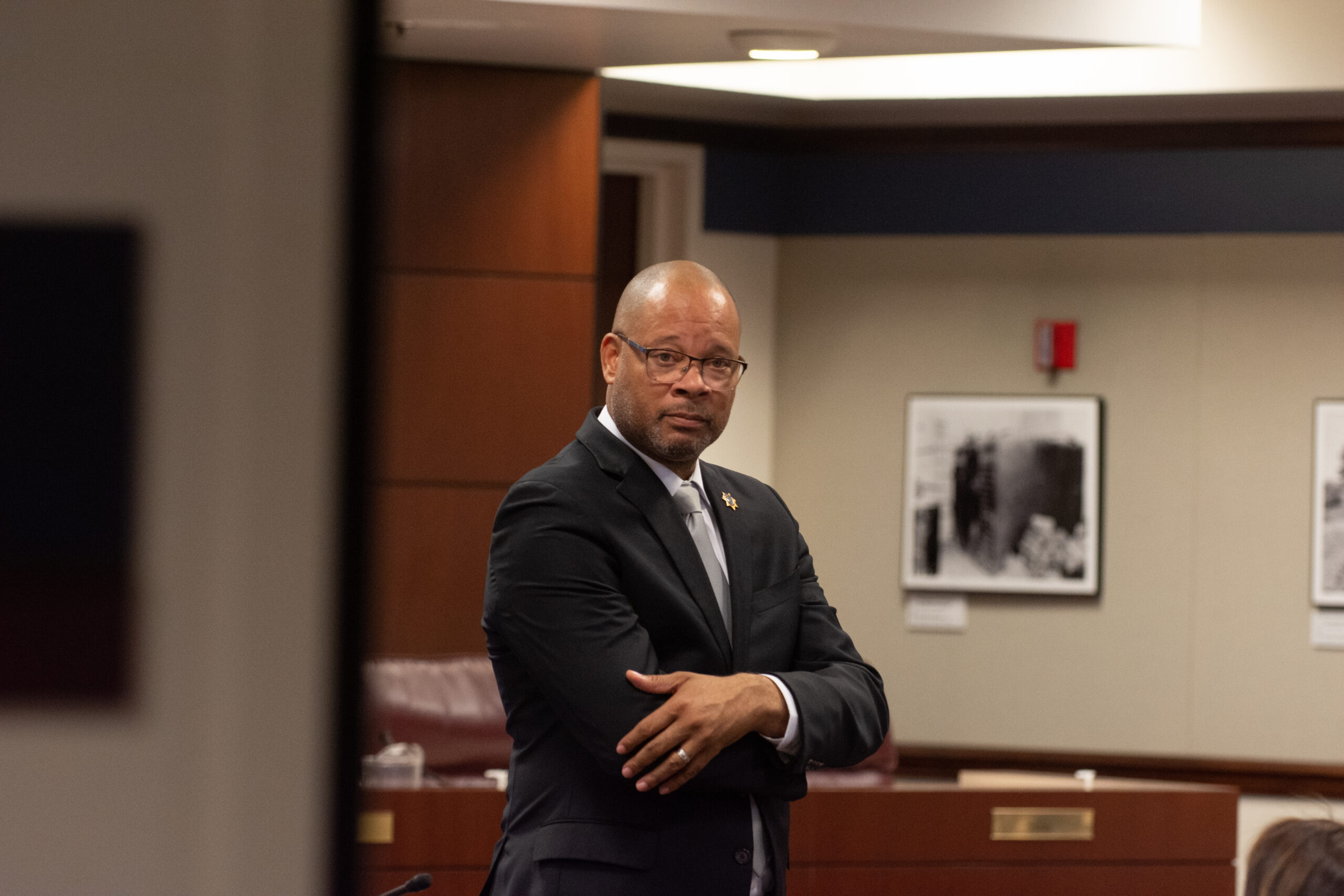 From statehouses to the campaign trail, politicians and elected officials across the country have raised the alarm about the fentanyl crisis, pushing for increased penalties for traffickers as a way to limit the rising number of overdose deaths related to the synthetic opioid drug.
Nevada lawmakers are considering five bills this legislative session seeking to counter the crisis through heightened felony charges for anyone convicted of selling or distributing fentanyl.
That includes SB35, a bill backed by Attorney General Aaron Ford that would establish the crimes of mid-level and high-level trafficking in fentanyl and lower the threshold for prosecution of selling or distributing the drug, and SB343, a bill sponsored by Senate Majority Leader Nicole Cannizzaro (D-Las Vegas) that would establish the crime of low-level trafficking and seeks to distinguish fentanyl from other Schedule I controlled substances, such as heroin.
During a joint hearing of the bills Monday, Cannizzaro and Ford cited "alarming" statistics showing the significant rise in fentanyl-related overdose deaths since 2020 and pitched the two measures as companion pieces that would work in tandem.
"Our intent is very much not to create a system whereby we are punishing individuals or sending them to prison merely because they happen to have an addiction issue," Cannizzaro said. "We are intentionally crafting legislation that targets those who are trafficking the drugs, while including provisions that encourage and provide for treatment for those dealing with addiction and recourse for those acting in good faith to help individuals who are experiencing an overdose."
Cannizzaro said drug traffickers are the root of the fentanyl problem, and the bills are meant to give law enforcement better tools.
Ford, a Democrat, also highlighted the unique nature of illicit fentanyl — which he noted is different from medical-grade fentanyl — saying "the weights involved are inherently different" and that a much smaller amount of fentanyl can be deadlier than larger amounts of other illegal drugs, such as cocaine. And he pointed to those differences to argue for the need to treat fentanyl differently.
"I keep Narcan in my truck because this is such a recurring activity," Ford said, referencing the brand name of naloxone, a drug that can be used to treat narcotic overdoses in an emergency situation.
Combined, the bills would establish tiered crimes of fentanyl trafficking for those who "knowingly or intentionally" sell, manufacture, deliver or bring the drug into the state or who "knowingly or intentionally" are in "actual or constructive" possession of the drug. That includes:
Low-level trafficking of 4 to 14 grams, punishable by one to six years imprisonment and a fine of up to $50,000;
Mid-level trafficking of 14 to 28 grams, punishable by two to 15 years imprisonment and a fine of up to $100,000;
High-level trafficking of 28 grams or more, punishable as a category A felony, meaning life with the possibility of parole or 25 years imprisonment and a fine of up to $500,000.
Existing law governing trafficking of Schedule I substances specifies low-level trafficking in the range of 100 to 400 grams is punishable by two to 20 years imprisonment.
Monday's meeting did not include hearings of three other bills seeking greater penalties for fentanyl possession and lower thresholds for charging those criminal penalties, including two backed by Senate Republicans (SB128 and SB197) and an omnibus crime bill from Gov. Joe Lombardo (SB412) that proposes to criminalize possession of the drug in any amount by one to six years imprisonment.
Ahead of Friday's deadline for bills to pass out of their first committee, neither bill sponsored by Senate Republicans has received a hearing. (Lombardo's crime bill has been granted a waiver to be exempt from the deadline.)
The bills sought by Cannizzaro and Ford faced opposition from representatives of the Clark and Washoe county public defender's offices and the ACLU of Nevada, who argued the enhanced penalties for possession mirrored the war on drugs of the 1980s and 1990s that triggered mandatory minimum sentences for possession of a substance. They called for investments in public health to treat users and prevent overdoses rather than heightened criminal penalties.
"Increasing penalties for possession of fentanyl is yet another iteration of the drug war's ineffective and punitive strategies," said Erica Roth, a representative with the Washoe County Public Defender's Office. "We know how to combat this issue, and it is not by increasing penalties for crime."
Cannizzaro rebutted those arguments, saying that "when somebody has a large quantity in possession, that is not somebody who has it for personal use," and that the amounts included in the bills target those who are in possession of an amount of fentanyl that they manufactured or intended to sell.
Ford also said he did not want the bill to "recreate the war on drugs from the crack cocaine days," highlighting characters from the television show "Snowfall" as examples of who would be targeted by the bill — those responsible for the manufacturing and distribution of fentanyl — and who would not be targeted by the bill, such as "those who are struggling with addiction."
"This is not a moral crusade against drug use. It is a crusade to save the lives of our fellow Nevadans," Ford said. "We cannot stand idly by and do nothing."
He also described opposition testimony arguing that the bills "impose draconian penalties on the individual users" as "nonsense," saying the focus of the bills is not on those users.
But Ford agreed with bill opponents who criticized the state's shortcomings in drug testing. The state's drug labs perform qualitative testing, rather than quantitative. That means that if 4 grams of a substance are examined, the test will show whether that includes any fentanyl but not how much of the mixture is fentanyl.
Roth argued that because of that kind of testing, a person in possession of 4 grams of a substance that includes just 1 gram of fentanyl would be characterized as a "drug trafficker" under the bills, which define trafficking to include a person "who is knowingly or intentionally in actual or constructive possession of fentanyl."
John Jones, representing the Nevada District Attorneys Association, and Jason Walker with the Washoe County Sheriff's Office also testified in opposition, though voicing different concerns about a proposal to require the establishment of "medication-assisted treatment" programs in correctional facilities that Walker said could be difficult for smaller agencies to establish.
Jones also noted that pills containing fentanyl commonly seen on the streets typically are 100 milligrams each, meaning it would take 40 pills to reach the low-level threshold proposed by Cannizzaro's bill.
Sen. Jeff Stone (R-Henderson), who holds a doctorate in pharmacy and who sponsored a bill seeking enhanced penalties for trafficking the drug, highlighted the deadliness of fentanyl posed by such a large amount of pills. He said the amount of the drug needed to meet the low-level trafficking threshold of 4 grams in Cannizzaro's bill would be enough to kill more than 1,300 people. He similarly argued the bills should not target the "end user" but rather the "purveyor" of the drug.
"If you sold what you had as something other than fentanyl, and you knew that fentanyl was in it, it deserves a large enhancement if you hurt somebody," he said. "If you sell [a drug] as something else other than fentanyl and you kill somebody, it should have a very high penalty."
Ford, however, said he hopes to keep his bill tailored to the one issue rather than expanding it to include the enhancements Stone mentioned.
Despite a wide range of opposition, those who testified against the bill expressed a collective need to take action to address the issue. Ford emphasized that his intent is aligned with those who argued against his bill — and that it does nothing to affect programs in place meant to help those struggling with substance use, such as diversion programs and drug courts.
He added that there is "a lot of work yet to do" with those opposed.
"My intent is to try to ascertain ways in which to provide assistance to the end user … and to, in fact, focus on those who are distributing and manufacturing those drugs," Ford said. "I don't endeavor to claim to be tough on crime. I want to be smart on crime."
The Nevada Independent is raising $200,000 by Dec. 31 to support coverage of the 2024 election.
Tax-deductible donations from readers like you fund this critical work.
If you give today,your donation will be matched dollar-for-dollar.
Give + Get Matched
Featured Videos