Clark County School District Superintendent Jesus Jara discusses the school budget during a news conference on Thursday, May 9, 2019. (Jeff Scheid/The Nevada Independent)
Educators anxiously await release of budget numbers from Legislature
As the state's K-12 budget remains in flux, Clark County Superintendent Jesus Jara expressed optimism Friday that lawmakers would find the money needed by the school district to award teacher raises.
The magic number: $111 million.
Jara said the school district would need $60 million for the 3 percent teacher raises, $40 million for the 2 percent roll-up pay that reflects upward movement on the salary schedule, and $11 million for increased health-care costs. District officials previously estimated that increased health-care costs over the next biennium would be $10 million to $20 million, but Jara said they recently confirmed that expense would be $11 million.
"I think and I'm hopeful that we will get there," Jara said during a news conference Friday afternoon.
The Clark County School District did not include Gov. Steve Sisolak's promised teachers raises in its final budget for the 2019-2020 academic year. Jara said the district can't afford the pay increases unless the state unleashes more education funding. If that happens, the school district would amend its final budget, which trustees adopted earlier this month, to include the additional compensation for educators.
The situation has been a tension point during the final weeks and, now, days of the legislative session — leaving the governor and lawmakers scrambling to find the money. As of Friday afternoon, the bill to fund the state's K-12 education budget had not been introduced.
Jara said the district's latest conversations with legislative leaders have left him feeling confident that it would be resolved by sine die Monday.
Should the additional $111 million not materialize, the district could face budget cuts. The trustees approved a balanced final budget, but if the district was forced to pay the teacher raises without extra revenue, cuts would be necessary, Jara said.
The school district has cut $128 million, which includes reducing its ending-fund balance, over the last two years, Jara said. Since 2015, the district has chopped its budget by $221 million.
The superintendent noted that budget cuts prior to the 2017-2018 school year targeted the district's central office. With not much left to trim there, future cuts would hit closer to the classroom, he said.
"Any cut we make would be programmatic cuts impacting our children, which is what I'm trying to stay away from," Jara said.
As district officials await final revenue numbers from the state, Jara offered praise for SB543, the bill that would modernize Nevada's K-12 funding formula. The legislation doesn't inject new revenue into education budgets — much to critics' dismay — but Jara said it provides more transparency about how dollars move from the state down into classrooms. He also commended the legislation's move to weighted funding as well as language that keeps K-12 money for its intended purpose.
Nevada senators passed the bill in an 18-3 vote Wednesday, which moved it to the Assembly.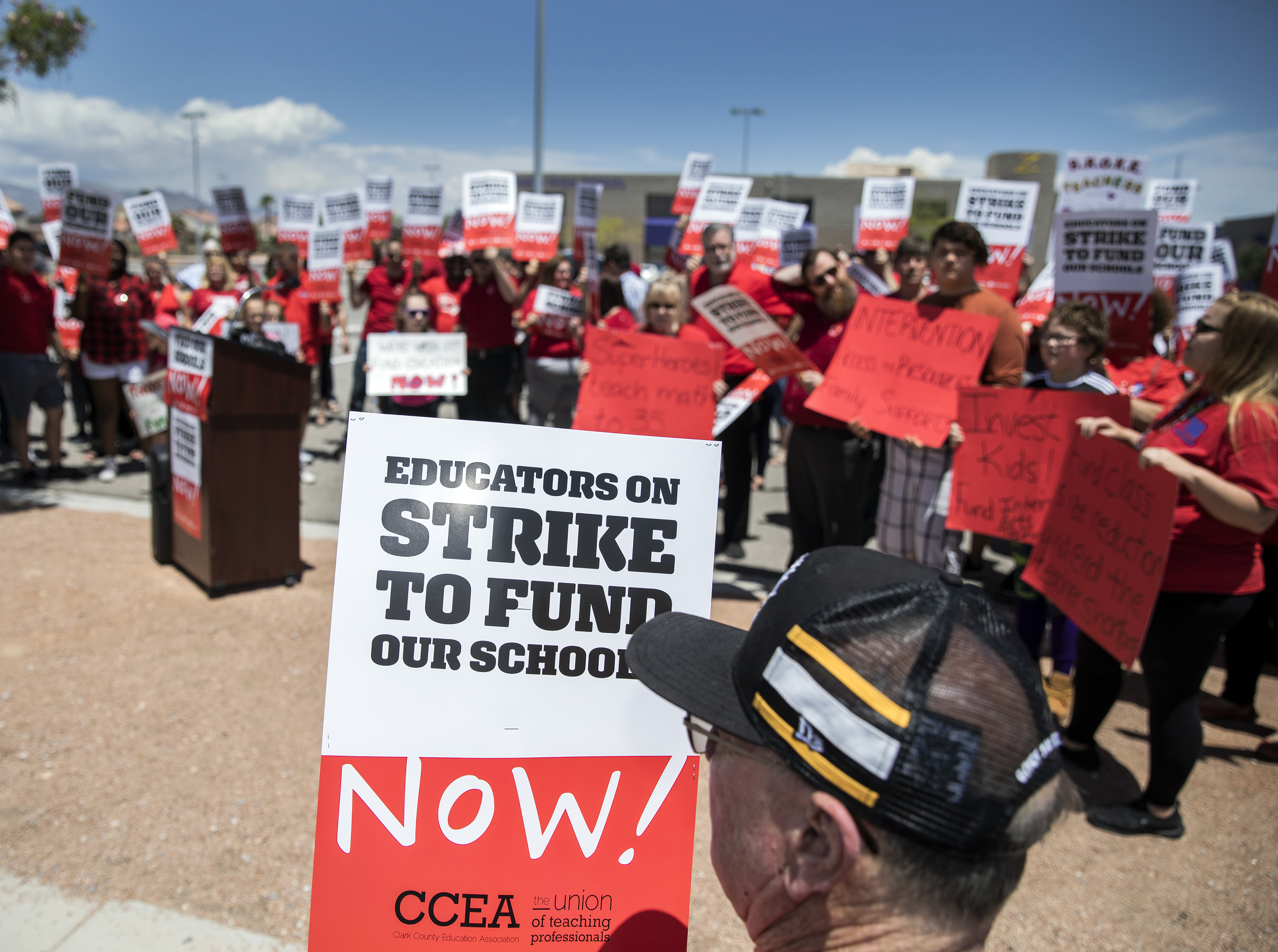 Shortly before Jara's news conference, the Clark County Education Association held a rally warning legislators of an impending strike in August if the school district makes any budget cuts.
CCEA director John Vellardita and several other teachers spoke about frustrations ranging from inadequate pay and heavy workloads to oversized classrooms and lack of concern for school safety.
"If this isn't fixed by August, we will strike," Vellardita said. "If you can give a billion-dollar handout to an NFL team, you can put that money in the classroom. How many generations do we need to have suffer these problems?"
Striking is prohibited by public school teachers and public service workers in Nevada, but Vellardita believes that the strike would bring attention and action to the change they desire.
"In other right-to-work states where it was illegal to strike, they got the agenda passed that they wanted," Vellardita said. "We believe that can happen here."
Educators believe that Sisolak is trying his best to pass the budget needed for Clark County, but they're demanding action.
"I believe our governor has our best interest at heart, but interest doesn't pay the bills," high school teacher Jim Frazee said. "I'm teaching high schoolers with 12-year-old books with no covers. We are the fifth -largest school district in the country and we're funded like one of the worst."
This story has been updated to correct a teacher's name spelling.
Stories
Candidate Trackers
Endorsements, Ads, Policies, Visits
& More
visit now
Comment Policy (updated 10/4/19): Please keep your comments civil. We reserve the right to delete comments or ban users who engage in personal attacks, use an excess of profanity, make verifiably false statements or are otherwise nasty.