Hundreds rally in Carson City for National School Choice Week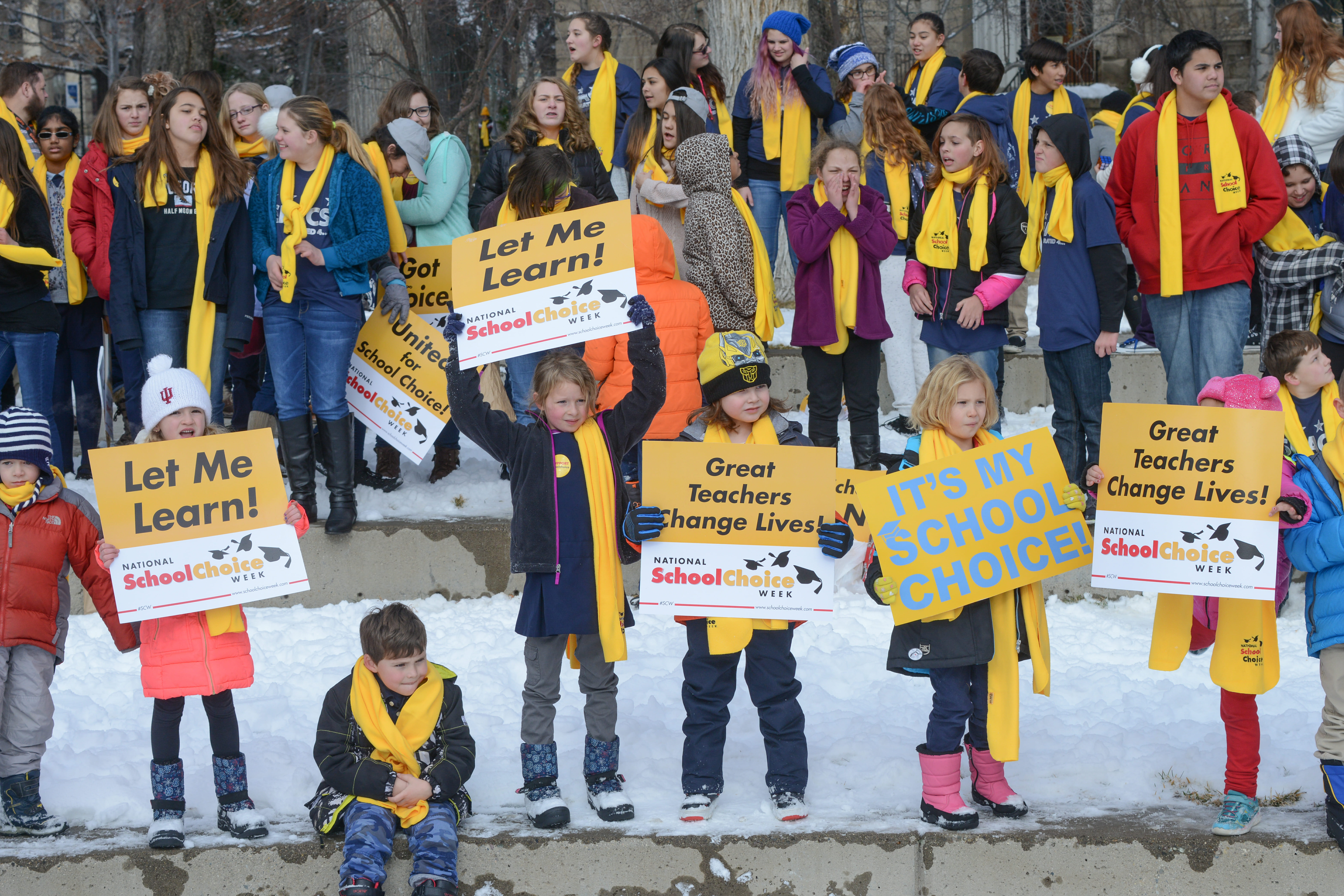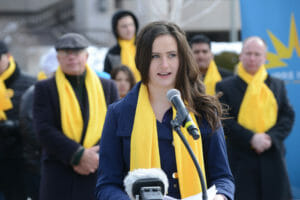 Shelby Petersen said she used to be so shy that she had trouble ordering a burrito for herself for lunch, much less asking questions of her teachers at the crowded school she was zoned for through middle school.
"If you weren't the extroverted go-getter, then it was very easy to be left behind," the high school junior told about 500 attendees who'd gathered Wednesday in the frigid Carson City weather for a rally celebrating National School Choice Week. "The middle-school version of me had already accepted the fact that I wouldn't ever be as good as the straight-A students."
Petersen said that her whole self-image changed when she had a choice and opted for Alpine Academy Charter High School in Sparks, where she's now in a dual-credit program that allows her to complete college courses while still in high school.
"There is no way that a student could slip through the cracks at the charter school because the teachers were always available to help," she said. "I completed my homework, went in for questions and studied very hard for tests. I was finally able to receive those long-awaited straight A's."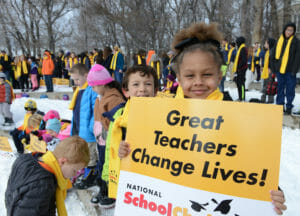 Wednesday's rally at the Capitol complex, populated by busloads of students wearing matching bright yellow scarves, aimed to highlight a spectrum of school options like Petersen's charter school and fight against what organizers described as a "one-size-fits-all" approach to public education. It also sought to drum up support for the most controversial option on the school choice spectrum -- Nevada's sweeping, voucher-style Education Savings Account program, which allows parents to claim more than $5,000 in state funds per child for qualified educational expenses such as private school tuition.
Supporters are heartened that the Nevada Supreme Court recently declared the general framework of the state's sweeping ESA program is constitutional, and that Republican Gov. Brian Sandoval proposed spending $60 million over the next two years to restart the program that's stalled over its funding mechanism the justices struck down.
But there's already talk of hardball in the legislative session that begins Feb. 6 as Republicans, who are in the minority, try to push their beloved program past Democrats who are in control and have resisted ESAs in the past.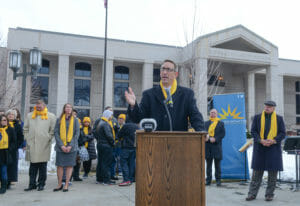 "I personally don't see myself or any of my colleagues voting for a budget that doesn't include this," said Republican state Sen. Scott Hammond, who first proposed the program in 2015 and suggested his party would stick to their guns well past the early June deadline when they're supposed to wrap up their work. "I also hear Carson City is nice in the summertime."
Groups that have sided against the ESA program in lawsuits and in the Legislature were quick to respond to the rally with criticisms that the program drains money from cash-strapped public schools and supports private schools that can reject applicants based on religion and other grounds.
"Parents and educators are in agreement -- the best choice for Nevada is a quality public education for all students regardless of zip code or family income," Ruben Murillo Jr., president of the Nevada State Education Association teacher union, said in a statement. "We should not be committing public dollars to unaccountable private schools when that revenue can be better invested in strengthening our public education system with proven programs that help all students."
Nevada's ESA program, considered the broadest program of its kind in the country, has attracted national attention and campaign spending from groups that hope to replicate it across the country. In addition to local organizations such as the Nevada Charter School Association and the conservative think tank Nevada Policy Research Institute, rally co-sponsors included the LIBRE Initiative, a group affiliated with the conservative billionaire Koch Brothers that seeks to promote free-market principles in the Hispanic community.
"We weren't necessarily the focus two years ago but certainly we're squarely in their vision," Hammond said. "They want to see this go really well so they can scale it."
Questions loom about how to pull it off. The Nevada Supreme Court ruling means lawmakers must make a conscious decision about how much money they'll put toward the program, and practically speaking, that means the end of unlimited ESAs.
Grant Hewitt of the Nevada Treasurer's Office, which administers the program, said his office is still considering how to divide the potential $60 million among an applicant pool that's larger than that -- should ESAs be first-come, first-served? Should the office scrap existing applications and start over with a short application window?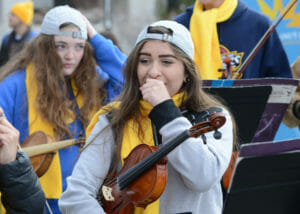 Whatever the details, Republican lawmakers are staking out a position as champions of ESAs and the broader cause of school choice. They delivered speeches in the 16-degree chill, rallying parents and children during a spirited rally that also included a DJ, a mini concert from a charter school orchestra and dancing to Justin Timberlake's "Can't Stop the Feeling" -- the official song of school choice week.
"I think it does let people visualize school choice," said Karen Gray of Nevada Policy Research Institute, one of the event organizers. "They can see that it's a movement and there's support behind it."
Comment Policy (updated 4/20/2021): Please keep your comments civil. We reserve the right to delete comments or ban users who engage in personal attacks, use an excess of profanity, make verifiably false statements or are otherwise nasty. Comments that contain links must be approved by admin.