Sen. Dallas Harris at the Nevada Legislature on opening day Monday, Feb. 4, 2019 in Carson City, Nev. (David Calvert/The Nevada Independent)
Freshman Orientation: Sen. Dallas Harris
February 5th, 2019 - 2:00am
This is one in a series of profiles of legislative newcomers.
STATE SEN. DALLAS HARRIS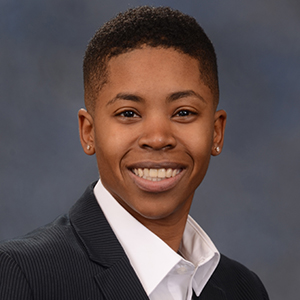 Freshman Democrat who was appointed to replace Democratic Sen. Aaron Ford, who was elected as the state's attorney general in 2018

Represents District 11, which includes parts of Las Vegas, including Spring Valley

District 11 leans heavily Democratic (44 percent Democratic, 26 percent Republican and 30 percent nonpartisan or other in the 2018 election).

Harris was appointed to her Senate seat by the Clark County Commission, which chose her from a field of 10 applicants.

She will sit on the Growth and Infrastructure, Judiciary, and Natural Resources committees.
FAMILY AND EDUCATION:
Born in Las Vegas, Harris received two bachelor's degrees from the University of Nevada, Las Vegas, in computer science and psychology. She went on to receive her master's in public policy from Claremont Graduate University in California and her law degree from The George Washington University Law School in Washington, D.C. In her free time, Harris loves to play tennis or spend time tutoring students who are thinking about going to law school.
CAREER:
Harris has worked as an administrative attorney for the Public Utilities Commission since 2017. Before that, she worked as legal and policy fellow at Public Knowledge, a non-profit focused on intellectual property law and the internet, and as a law clerk at the D.C. law firm Utrecht, Kleinfeld, Fiori & Partners.
ON NEVADA AND THE ISSUES:
What are your top three priorities for the 2019 legislative session?
1) Education
I want to focus on ensuring Nevada climbs the ranks in education. As a product of the Clark County School District, I cannot think of a better way to have a lasting, positive impact on the state than by improving our education system.  
We need to look at ways to create more funding for our schools so that our students receive a quality education and are prepared to stand toe-to-toe with kids from other states when they are applying for college or entering the workforce.
2) Homelessness
Put simply, too many Nevadans are living on the street and unfortunately, it's often the most vulnerable among us. This session, I really want to focus on how our state can provide better services for the homeless.
3) Business Development
I want Nevada to remain an attractive state for businesses to call home. Whether it's expanding opportunities for small businesses or recruiting new businesses to our state and diversifying our economy, I want to focus on helping business succeed in our state so that we create more good-paying job opportunities for Nevadans.
What programs/parts of the state government could be cut? What programs/areas need more funding in 2019?
Inevitably, there are programs that do not provide the benefit that they were designed to provide. I am looking forward to learning more about the state's budget to find places where it makes sense to cut unnecessary spending in order to provide more funding for the things we really need to be focused on, like improving our local public schools.
What specifically should Nevada do to improve health care this session? How about education?
I am committed to making sure that no Nevadan is ever denied coverage for a pre-existing condition. I think it is extremely important that we make sure big insurance and drug companies are not overcharging or withholding coverage for Nevada families. I also think it's important that we look into ways to make mental health treatment more available to Nevadans who need it.
I want to make sure we put marijuana tax revenue towards education. I am also committed to giving our teachers a much-deserved pay raise. Our teachers are on the front lines every day and a quality teacher in every classroom means a quality education for all Nevada students.
Should Nevada raise its Renewable Portfolio Standard to 100 percent by 2050? If not, what should the state's RPS compliance standard be?
I support raising our Renewable Portfolio Standard. Increasing our state's RPS will have many positive impacts, including lower, more stable electricity rates, which means more money in the pockets of Nevada families. Renewable energy has also brought thousands of good-paying jobs to our state, and I believe raising our RPS will help make Nevada a leader in the renewable energy market.
Do you support modifying or eliminating current property tax caps in state law?
I want to make sure our local governments have the resources they need to fund our schools, our police and fire, and other critical services that are vital to the lives of Nevadans. I'm open to looking into our current property tax laws but first I want to look into re-allocating existing revenue to fund those programs. I would also only support such a change with considerable input from the citizens of Senate District 11.
Are there any particular issues on which you see yourself working across party lines? If so, which ones? If not, why not?
I am willing to work with anyone if it's on something that benefits the people who live in my district.
This interview was edited for length and clarity.
Comment Policy (updated 10/4/19): Please keep your comments civil. We reserve the right to delete comments or ban users who engage in personal attacks, use an excess of profanity, make verifiably false statements or are otherwise nasty.
get our morning newsletter, The Daily Indy
INDYMATTERS PODCAST
CAFECITO CON LUZ Y MICHELLE
@TheNVIndy ON TWITTER