Freshman Orientation: Democratic Assemblywoman Daniele Monroe-Moreno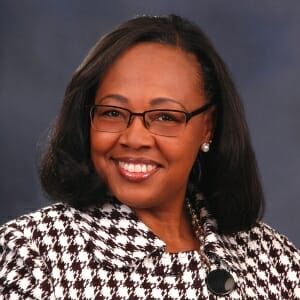 ASSEMBLYWOMAN DANIELE MONROE-MORENO
Freshman Democrat who succeeds term-limited Assemblywoman Marilyn Kirkpatrick, who resigned from her post in August 2015 to join the Clark County Commission.

Represents District 1 in North Las Vegas.

District 1 leans heavily Democratic (46 percent Democrat, 28 percent Republican and 21 percent nonpartisan in the 2016 election).

Monroe-Moreno ran unopposed in the Democratic primary.

She defeated Republican Howard Brean in the general election by 19 points or about 5,000 votes.

Serving on Government Affairs; Legislative Operations and Elections; and Transportation committees in the 2017 session.
FAMILY AND EDUCATION:
Daniele Monroe-Moreno was born in Tuscon, Arizona and moved to Nevada 22 years ago. She has lived in District 1 almost the entire time she has lived in Nevada. Monroe-Moreno attends Grace Point Church in North Las Vegas. She has three children — Candace, Cassandra and Celena — and two grandchildren. Her hobbies include spoiling her grandchildren, volunteering, cooking and event planning.
CAREER:
Monroe-Moreno is a retired corrections officer with the North Las Vegas Police Department. Before moving to Nevada, she worked at the Maricopa County sheriff's office. She has served on the board of a number of community organizations including as a member of the North Las Vegas Steering Committee, a commissioner on the Clark County School District's Attendance and zoning Advisory Commission and a member of the North Las Vegas Justice Court's Community Courts program. She is also a member of the North Las Vegas Police Officer's Association, the Black Police Officers Association of Nevada and the Southern Nevada National Latino Police Officers Association.
ON NEVADA AND THE ISSUES:
What about Nevada are you proud of? Does anything embarrass you about Nevada?
Nevada is still that cowboy state, which is really nice. We're open to things. We're not a young state, but there's still so many young ideas that you can do here in Nevada that you might not be able to do in other places. There's a mindset of people who are willing to take a chance on things. Maybe it's that gambler's mentality. That's one of the things I love about Nevada: You can come here and you can make it. When we moved here from Arizona we moved here because of the job and the opportunity Nevada afforded us. We saw this as a place that we can raise our family and give our family the opportunity to be successful. I don't think that's changed.
I think we can improve upon our education system. It's the basis for so many other things. That's one of the things I can see improved.
What are your top priorities in the 2017 session?
I think the biggest thing that I would personally like to accomplish — that's something that resonated at the doors in my community — is that we have a legislative body that works together, that we run under one party or another but when we are serving we serve the people of Nevada no matter what's behind our name, working together for them. That's the biggest thing I would like to see come out of the session.
I've worked 27 and a half years in law enforcement. There's a lot of good things and things we can improve upon. We need to make sure our correctional system is a system that helps people correct behavior — something I'm passionate about. One of the reasons behind the Juvenile Justice Bill of Rights I've introduced is that kids find themselves in trouble and in the system through no fault of their own. We need to do what we can do once they hit the juvenile justice system to make sure we're helping them become better citizens. That and making sure that when kids come in that they if they did not get the education they needed before they got in our system help them get on track, addressing behavioral health issues and mental health issues. That's one of the things I was passionate about in my career and I'm passionate about going into the Legislature.
Should we raise taxes, and under what circumstances?
I'm not opposed to anything. I want to do what it's going to take to make the state of Nevada a better place for all of us to live in,.
Talking to the different municipal governments property taxes are things we might have to readdress and look at. When the current caps on taxes were put in place we were at a different economic place as a state and those things have changed. We may have to look at addressing that to better fit the economy we're at today.
Where might we need to expand or reduce the budget?
Well, honestly, probably every area needs more funding. Our behavioral health, mental health and education would be the areas in North Las Vegas, and from what I've heard from people in North Las Vegas, would be the areas that they would want to see more funding.
How do you plan to diversify Nevada's economy and create more jobs?
During my campaign and in my personal life I tried to support small businesses as much as possible. All business are the heart and soul of your community, owned by local people who hire local people. When those small businesses do well they grow into larger businesses. I think that would be the focus for me and then in coupling with that, bringing in those larger industries and bigger businesses.
I created a thing called second Friday during the campaign. We were out promoting small businesses in my district, canvassed neighborhoods and handed out flyers for those businesses. I feel I have a direct responsibility for those businesses whether they're a small businesses or large businesses. It's one on one conversations and helping get them the resources they need to help them stay in business. I've had them at my dining room table. I take it very personally.
What should we do next on solar?
The state of Nevada, 90 percent of the time it's sunny and when it's not sunny it's windy and sometimes it's sunny and windy. I really feel we should be the leaders nationally on solar and wind power, and I'd like to see us work towards that.
I'm sure there's something we should be doing more of but I think we're moving in the right direction. We have great small companies here and professionals in those areas to get us to where we need us to be. The grandfathering clause was a step in the right direction. We're getting there, and I think most of us want us to be there.
What should Nevada's next step be on the stalled Education Savings Account program?
That's a really important topic and a hot topic at the doors in my community. Nevada schools, for the most part, are at the lowest part of the education ranking nationally so we need to do resource funding in general for our schools so our students no matter what school they attend in the state have an equal opportunity for a good education.
I'm a mom (and) all my children went to public schools. My daughter is a public school teacher. I would like all of our schools to have the resources that they need and educators receive the benefits that they need to adequately teach. At the end of the day I'd have to do what was best for those students within our community and the one thing I heard over and over again was that they wanted their public schools to be competitive.
What should Nevada's minimum wage be?
My daughter is an awesome mother of two who works hard at a job where she makes $10 an hour. That is just not a livable wage. So I would definitely be in support of raising our minimum wage to a livable wage and that would have to probably be incremental. We need to have a wage where families can live while taking into consideration businesses.
I know that there's a push for $15 and that might be the best rate for minimum wage; however whatever rate we have it will take us some time to get there. I'm not sure of the exact number. It could be $17 or $18 and it might be $12. I'm not sure exactly what that rate is, but I know for my family personally, my daughter lives it.
Will you work across the aisle, and on what issues?
Every issue is an across the line issue. There's not one in the state that's a Democratic or Republican issue.