Nevada Assembly.
Freshman Orientation: Republican Assemblyman Richard McArthur
February 4th, 2017 - 1:45am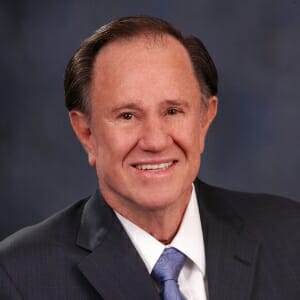 ASSEMBLYMAN RICHARD MCARTHUR
Freshman Republican who succeeds Republican Michele Fiore, who did not seek re-election to run for Congress.

Represents District 4 in Las Vegas near the intersection of the 215 Beltway and U.S. 95.

District 4 leans slightly Democratic (37 percent Democratic, 36 percent Republican and 20 percent nonpartisan in the 2016 election).

McArthur defeated Republicans Ken Rezendes and Melissa Laughter, receiving 44 percent of the vote in the primary election — 107 more votes than Rezendes.

He defeated Democrat John Piro by 4 percent or 1,260 votes in the general election.

Sitting on Government Affairs; Legislative Operations and Elections and Transportation.
FAMILY AND EDUCATION:
Born in Lake Forest, IL, McArthur grew up in Fair Oaks, CA, just outside of Sacramento. He earned his bachelor's degree in economics from the University of California, Davis, before joining the U.S. Air Force in 1966. McArthur was honorably discharged as a captain in 1972. McArthur has been married to his wife Trish for more than 45 years and they have two children, Kimberly and Michele, and five grandchildren. He lists dirt bike riding as one of his hobbies.
CAREER:
McArthur worked as a special agent with the FBI for 25 years, dealing with cases including bank robberies, kidnappings and terrorism. He was also a longtime firearms instructor and retired from the FBI after serving his last 16 years in the Las Vegas FBI office. He was first elected to the Nevada Assembly in 2008 and served until 2012.
ON NEVADA AND THE ISSUES:
McArthur declined to answer specific questions sent to all freshmen legislators — as nearly all of the others did in detail and most have been published here — as part of The Nevada Independent's ongoing series on new lawmakers. The Nevada Independent attempted to contact McArthur six times to either interview him or ask him to fill out the survey. Reached by phone, McArthur said he didn't care about having a profile written about him.
From the Editor
The Nevada Independent
is a 501(c)3 nonprofit. We need help to attain the elusive goal of sustainability. We depend on recurring donations from you, the readers who believe in our mission of nonpartisan, transparent journalism. I know you are busy. I know you have many commitments. But if you would take a moment to
support our work
or bump up your current donation, I would be forever grateful.
Thanks for all of your support.
Best,
Jon Ralston
get our morning newsletter,
The Daily Indy
Double your generosity!
Between now and Dec. 31, every donation of up to $1,000 will be matched by a group of national foundations in support of local, nonprofit journalism.
Your donation is also tax deductible, so don't delay — give today.
#NewsMatch
@TheNVIndy ON TWITTER