The Nevada State Senate as seen on Monday, Feb. 4, 2019 in Carson City, Nev. (David Calvert/The Nevada Independent)
Freshman Orientation: Sen. Marilyn Dondero Loop
February 6th, 2019 - 2:00am
This is one in a series of profiles of legislative newcomers.
STATE SEN. MARILYN DONDERO LOOP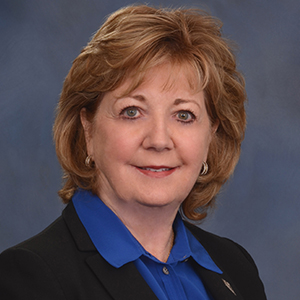 Freshman Democrat who succeeds independent state Sen. Patricia Farley, who did not seek re-election in 2018

Represents District 8, which includes parts of Las Vegas, including Summerlin

District 8 is a swing district (37 percent Democratic, 36 percent Republican and 27 percent nonpartisan or other in the 2018 election).

Dondero Loop defeated Stephanie Alvarado in the 2018 Democratic primary by 31.4 percentage points, or about 2,200 votes.

She then defeated Republican Valerie Weber in the general election by 3.2 points, or roughly 1,600 votes.

She will sit on the Education, Judiciary, and Revenue and Economic Development committees.
FAMILY AND EDUCATION:
Born in Las Vegas, Dondero Loop graduated from Las Vegas High School before receiving both her bachelor's and her master's degrees in education from the University of Nevada, Las Vegas. Her family has a more-than 100-year-long history in the state, including her mother, who served as the first female Clark County commissioner and later as a Nevada System of Higher Education regent. Dondero Loop has three daughters and five grandchildren and in her free time enjoys cooking, reading and spending time with family.
CAREER:
Between 2008 and 2014, Dondero Loop served as assemblywoman for District 5. In that time, she chaired the Transportation and Health and Human Services committees, in addition to serving as vice-chair of the Education committee and sitting on the Judiciary committee. She also worked for 30 years as a teacher in the Clark County School District before becoming a trainer and regional director in the private education industry.
ON NEVADA AND THE ISSUES:
What are your top priorities for the 2019 legislative session?
As a former classroom teacher and the grandmother of 5 grandchildren, my top priority continues to be improving our public schools. From my time in the classroom, I know firsthand that quality teachers are the key to our students' success. I want to ensure we give our teachers a much-deserved pay raise so that we ensure we are attracting and retaining the best and brightest to educate our kids. I also believe it's critical that our students are learning the skills that will prepare them for high-tech, 21st century jobs. I will also focus on making sure we invest in STEM and STEAM education and technical job training school.
In addition to education, I also want to focus on keeping our community safe. I support implementing background checks for gun purchases to ensure violent criminals and domestic abusers never get their hands on guns. I also want our first responders to have the resources they need to protect our community and keep our streets safe. I want Nevada to be a safe and educated state for all our residents.
What programs/parts of the state government could be cut? What programs/areas need more funding in 2019?
It is of the utmost importance to me that we have a fiscally responsible budget. I want to see that we are spending our tax dollars responsibly and on issues like improving our public schools. I will always look for ways to cut wasteful government spending so we can maximize the revenue we bring in as a state and make sure it is spent wisely.
What specifically should Nevada do to improve health care this session? How about education?
The 80th session is a time for us to make sure all Nevadans are safe and healthy and educated. I support making sure that no one in our state is denied coverage for pre-existing conditions. I also want to see us invest more in the UNLV medical school to help alleviate the shortage of doctors in our state. We know doctors are more likely to live in the state where they completed their residences.
As I previously mentioned, improving our public education is a top priority for me. In addition to the mentioned issues, I want to look at ways to cap class sizes so that our students are getting the individualized attention they deserve.
During my time in the Assembly, I was part of the legislators who created ZOOM schools, which have provided Nevada's students with unprecedented support in acquiring the reading skills needed to be successful. I want to see us invest more in the ZOOM schools to ensure that our state continues to move up in the public education ranking system.
Achieving a higher ranking also is vital to recruiting new businesses to our state that will create more high-paying jobs. Companies want a ready workforce and an education system they can rely on for workers.
Should Nevada raise its Renewable Portfolio Standard to 100 percent by 2050? If not, what should the state's RPS compliance standard be?
Increasing our Renewable Portfolio Standard in vital to improving our state's environment and also in making Nevada a leader in the renewable energy market.
Do you support modifying or eliminating current property tax caps in state law?
Improving our local public schools is a top priority for me. I am willing to explore options that will ensure we are funding public education. I will always look to explore options that will ensure we are funding public education. I will look at ways we can reallocate existing revenue like the marijuana excise tax dollars currently sitting in the rainy day fund before we change our property tax system.
Are there any particular issues on which you see yourself working across party lines? If so, which ones? If not, why not?
I have never believed one party has the corner on good ideas. I am certainly willing to work across party lines to benefit my constituents or our state as a whole. I think Republicans and Democrats can work together this session on improving our local public schools, attracting more jobs to our state, creating opportunities for small businesses, and make Nevada a leader in the renewable energy market.
This interview was edited for length and clarity.
Stories
Candidate Trackers
Endorsements, Ads, Policies, Visits
& More
visit now
Comment Policy (updated 10/4/19): Please keep your comments civil. We reserve the right to delete comments or ban users who engage in personal attacks, use an excess of profanity, make verifiably false statements or are otherwise nasty.