Hundreds may have missed chance for Opportunity Scholarship through governor's workaround
Though advocates warned that more than 600 students could lose their school choice scholarships, less than half took advantage of an emergency extension.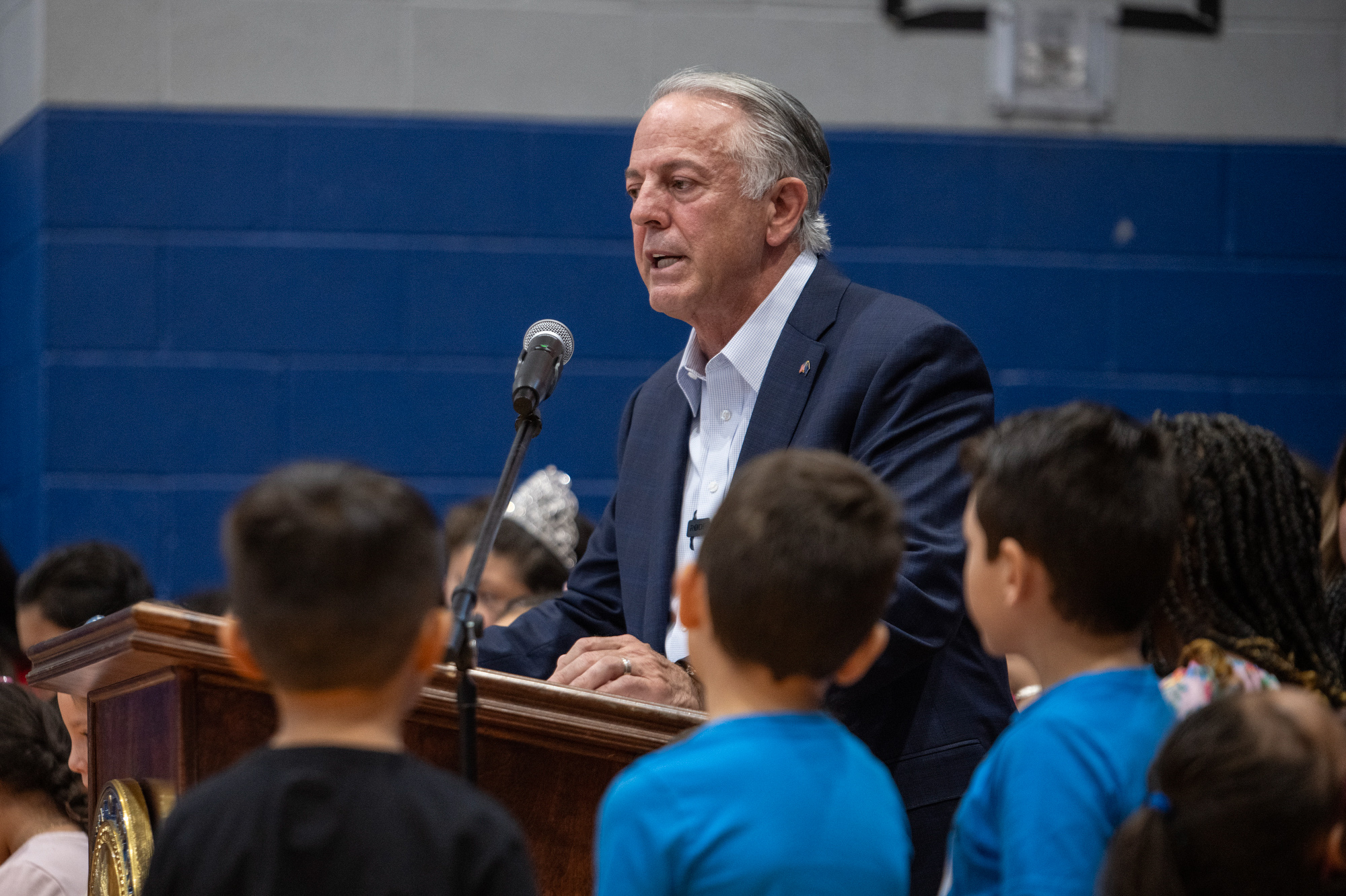 Six weeks after Gov. Joe Lombardo and the largest organization running the state's Opportunity Scholarship school choice program announced an emergency plan to maintain awards for hundreds of students, less than half of the students expected to lose their funding have applied for a transfer.
That's according to AAA Scholarship Foundation CEO and President Kim Dyson, who told The Nevada Independent in an email this week that the organization received 270 self-identified transfer applications between Aug. 10 and Sept. 11, a special extended application window opened at the request of the governor.
Dyson said an additional 13 students applied as "add-on" applications, which cover the siblings of students already receiving an Opportunity Scholarship.
But that total — 283 — is less than half of the roughly 600 students school choice advocates said could be kicked from the Opportunity Scholarship program this summer. However, it was not immediately clear if the remaining students fell through the cracks of the impromptu fix — or if the total number inadvertently included students who hadn't previously received a scholarship.
Silver State Scholarships, the second largest scholarship grant organization (SGO) in the state behind AAA, had estimated it lacked funding to renew scholarships for about 350 students. Another SGO, Injured Police Officer's Fund, had requested funding for about 216 students, and a third SGO, Student Choice Fund of Nevada, had requested funding for about 100 students. It was unclear how many students from the two latter SGOs were new or returning applicants.
Silver State Scholarships Executive Director Michele Morgan found the 270-student figure "concerning."
"When everything went down, I left it in AAA's hands and there was nothing else I could do aside from notifying the schools and the students to contact AAA," Morgan said. "So I have no idea what has happened. I just know that it's a disaster."
The program provides a limited number of need-based scholarships for private school costs through a tax credit-based funding model.
But this year's debate over Opportunity Scholarships comes after a funding dispute in Carson City earlier this year led to the program's lowest available funding levels since 2017, and after a quirk in the program's funding distribution sent all available funding to just one organization: AAA.
Dyson said it was not yet clear how many among the 283 will ultimately receive a scholarship from the organization, as those applications continue to be processed.
As families wait to hear back, some schools such as Mountain View Christian Schools in East Las Vegas have allowed students to enroll and go to school before they receive an answer.
In July, three SGOs had asked lawmakers for $3.2 million in COVID-19 relief funding as part of a proposal by Lombardo. Of those estimated 600 students who would receive scholarships through the enhanced funding, it was unclear how many were new to the program and how many had a scholarship in past years.
"We are still investigating the issue, but for years, we have been calling on the legislature to make funding permanent along with other urgently needed fixes," said Valeria Gurr, a senior fellow with the American Federation for Children, a national school choice advocacy group, in a written statement.
A spokesperson for Lombardo's office did not immediately respond to a request for comment.
Passed in 2015, Opportunity Scholarships provide low- and middle-income families a limited amount of need-based scholarship money in order to subsidize the cost of private school, including at religious institutions. The scholarships are distributed through a handful of authorized SGOs, which solicit donations from private companies in exchange for a limited amount of tax credits usable against the state's payroll tax.
Since its inception, the program has been a political football, as legislative Democrats have sought to starve it of funding.
But after Lombardo's school choice agenda — which included a proposal to vastly expand Opportunity Scholarship funding, up to a record $500 million by 2032 — was axed by Democrats during this year's legislative session, 2023 marked the first year in which the cap on Opportunity Scholarship tax credits fell to the statutory cap, or roughly $6.6 million annually.
Those reduced funding levels meant that all $6.6 million were claimed by the first SGO in line: the AAA Scholarship Foundation, which is by far the largest SGO in Nevada with around 900 students receiving scholarships as of last school year.
As a result, five other SGOs applied for tax credits and received none, leaving the students on the rolls for three of those SGOs — Silver State, Injured Police Fund and School Choice Fund of Nevada — in limbo.
Last school year, Silver State Scholarships granted scholarships to about 500 students. Silver State Scholarships said in documents provided to lawmakers in August that it anticipated providing scholarships to a similar number of students, including 27 siblings of existing students.
But without additional funding from lawmakers, the organization said it could only fund scholarships for about 50 students, meaning approximately 350 of its students would not have their scholarships renewed this year.
Lombardo moved to fill the gap by requesting $3.2 million in federal COVID aid money through the Interim Finance Committee, a panel of lawmakers tasked with approving state financial decisions in between legislative sessions, during an August meeting.
Legislative Democrats, who control the committee nearly 2-to-1, balked at the ask. During a meeting that stretched over 12 hours, they criticized the ask as a potential expansion of the school choice program, rather than one narrowly tailored to existing students.
They also repeatedly singled out AAA over the other SGOs, pointing to AAA's $13 million reserve account as a means to prevent the exodus of students without the allocation of any federal money.
Democrats ultimately voted on party lines to reject the governor's proposal. Two days later, Lombardo announced that AAA would cover the additional students after all, after receiving such a request from his office.
The Nevada Independent is raising $200,000 by Dec. 31 to support coverage of the 2024 election.
Tax-deductible donations from readers like you fund this critical work.
If you give today,your donation will be matched dollar-for-dollar.
Give + Get Matched
Featured Videos