Indy Explains: Legislative Democrats' plan for permanent expanded mail-in voting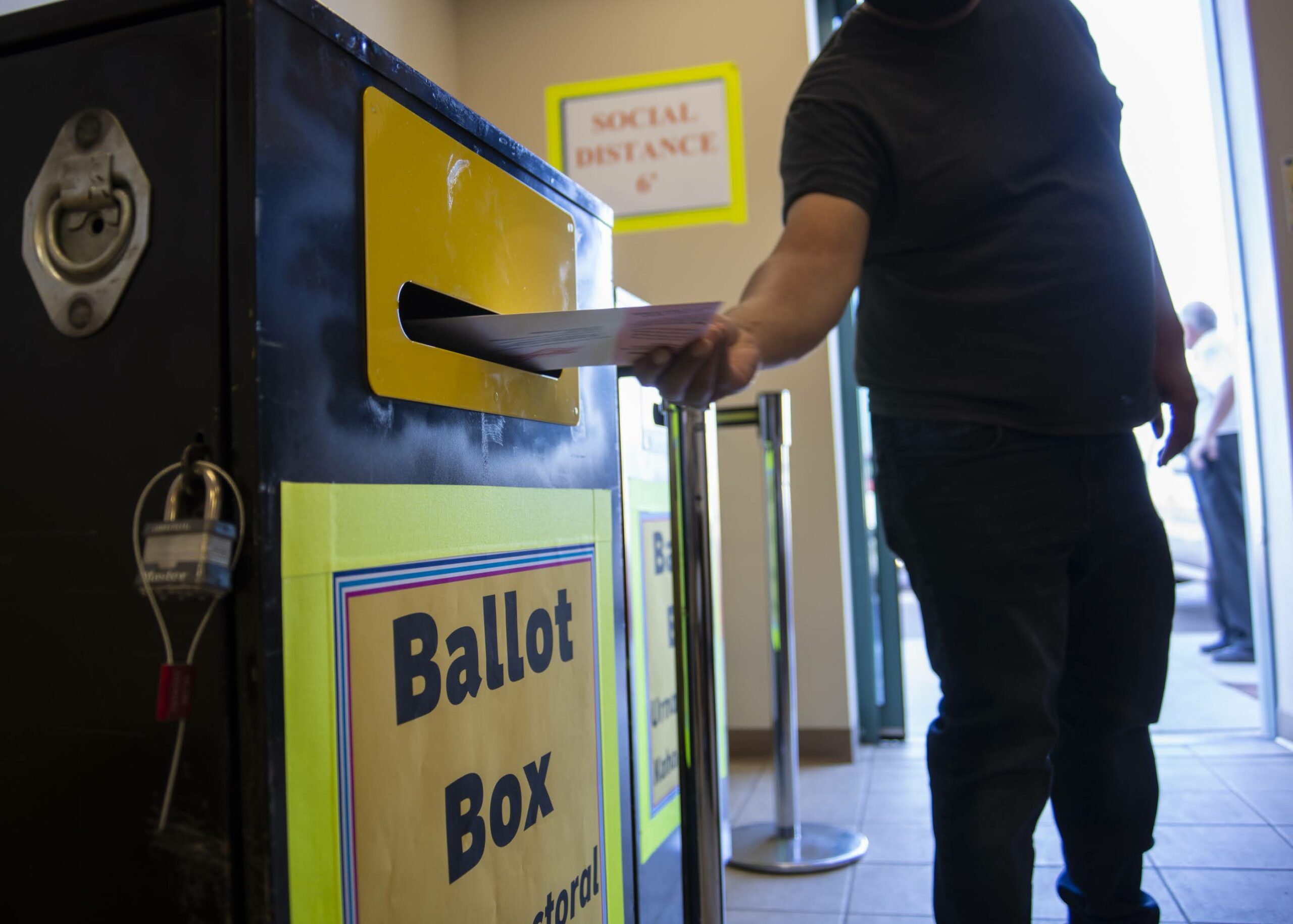 The next front in the war over Nevada election laws is finally here.
Introduced Wednesday, AB321 is sponsored by Assembly Speaker Jason Frierson and would make Nevada the sixth state to adopt a largely all-mail voting system, following Oregon, Washington, Utah, Colorado and Hawaii.
The bill is the fulfilment of a promise that Frierson made earlier in the session to make the state's pandemic-induced change to mail balloting in the 2020 election permanent, but is also likely to draw staunch opposition from Republican lawmakers who have denounced the expansion of mail voting and have introduced many of their own election-related proposals.
But the bill does more than just make expanded mail voting permanent. It also would shorten the deadline for fixing issues with signatures on mail ballots and for how late a mail ballot could be counted after election day.
It also would explicitly authorize election clerks to use electronic devices in signature verification, require more training on signature verification and adopt a handful of other provisions aimed at beefing up election security measures.
To be clear, many details in the bill could change (the measure hasn't even been scheduled for a hearing as of Friday). But it's already attracted some tentative support from an important ally — Gov. Steve Sisolak.
"The Governor has been supportive of efforts to expand voting access and opportunities for eligible Nevadans, and based on how Nevadans embraced voting by mail in record numbers this past fall, he believes it makes sense to consider making this a permanent option while also ensuring continued opportunities to vote in person," Sisolak spokeswoman Meghin Delaney said in an email, while noting that the governor will continue to "review and evaluate any legislation that may come before him."
Here's how AB321 would change future elections in Nevada:
Enshrining expanded mail-in voting while changing deadlines
In a technical sense, AB321 fulfills the Republican legislative goal of repealing AB4 from the 2020 special session — the bill that expanded mail-in voting during the pandemic or other declared state of emergencies.
The bill repeals large sections of election law related to mail and absentee ballots (including AB4) — but re-enacts many of the same provisions in a more streamlined way.
As with AB4, the bill would require all county and city clerks to send every active registered voter a mail ballot before a primary or general election. Inactive voters, who are legally registered to vote but don't have a current address on file with election officials, would not be sent a mail ballot (inactive voters were sent a mail ballot in the 2020 primary election, but a failure to update Clark County voter lists in time before the general election led to many of them being sent general election ballots).
The bill would allow voters to opt-out of being mailed a ballot, by providing written notice to their local or county election clerk.
But AB321 also changes some of the deadlines that were in place for the 2020 election.
AB4 allowed election officials to accept mail ballots that were postmarked by Election Day and received within seven days after election day. If passed, AB321 would shorten that deadline from seven days after the election to four days.
It also would reduce the amount of time in which voters can fix issues with their signature on a mail ballot — a process called "signature cure." The provisions of AB4 gave voters a 7-day window after Election Day to "cure" a signature issue or error; AB321 would shorten that to six days after the election.
Another shortened deadline is how long election officials would have to process mail ballots. As in AB4, election officials could still start processing received mail ballots up to 15 days before an election (totals would still be kept secret), but they would have to process all mail ballots by the 7th day after an election. AB4 allowed election boards to take up to nine days after an election to finish processing mail ballots.
The measure also would allow Indian reservations or colonies more time to request the establishment of a polling place within the boundaries of the reservation or colony. For primary elections, the deadline to request a polling place would be moved up from the first Friday in January to April 1, and from the first Friday in July to Sept. 1 for general elections.
The legislation maintains other contentious items in AB4, including legalized ballot collection (derided as "ballot harvesting" by opponents). Under those provisions, a voter can authorize another person to deliver their mail ballot to either a drop box or an election clerk's office on their behalf, with substantial (felony) penalties if a person does not turn the ballot in before the election or otherwise fails to return the ballot.
Signature verification and other security measures
Beyond those changes, the bill also would implement explicit directions on machine signature verification and other security related provisions that were contested in court filings prior to the 2020 election.
For one, it grants explicit permission for election clerks to check signatures electronically — a point that the Trump campaign challenged in an ultimately unsuccessful federal lawsuit filed shortly after AB4 was approved, and shortly after election day in 2020.
If a county election clerk opts to use an electronic device for signature verification, AB321 requires a test of the accuracy of the machine before the election, and also requires it to be set to the same "standard for determining the validity of a signature" as a manual review by an elections worker.
Clerks also would be required to conduct daily audits of each signature-checking device during the processing of mail ballots, which would include a review and sample of at least 1 percent of verified signatures each day. County clerks would also be required to prepare a report on each daily audit, and would require the review of signatures to be overseen by an election board whose members "must not all be of the same political party."
Regardless of whether a county uses an electronic machine or staff to check signatures, AB321 would require that each county election clerk and any members of their staff who help administer elections complete a training class on forensic signature verification. The class has to be approved by the secretary of state's office.
In a previous interview, Frierson discounted any notion that widespread fraud occurred in the 2020 election, but said he wanted to still take into consideration that a considerable number of voters had some doubts about the election administration process in 2020.
"Regardless of whether or not I believe that the basis for those concerns is legitimate or reliable, I do believe that we need to hear them out and make sure that we have an inclusive vetting process, and that we care about safe and secure elections," he said in a February interview.
The bill retains the standard for signature verification present in AB4 — at least two election employees must have a "reasonable question of fact" as to whether the signature on the mail ballot matches the one on file, with "multiple, significant and obvious" differences between the signatures.
Another change is that the bill would require the secretary of state's office to enter into an agreement with the State Registrar of Vital Statistics to cross check the list of registered voters in the state with a list of deceased individuals. The bill would require a comparison of records to be conducted at least monthly.
Though primarily focused on mail voting, the proposed legislation would also make a change for those who continue to vote in person. Under current law, if a registered voter shows up to a polling place and has a signature that doesn't match the one on file, the election worker is allowed to ask for personal data or other forms of identification that verify their identity. The bill would exclude a person's date of birth from that "personal data" that an election worker can ask about.
And while not directly related to election security, the bill also would add county or city clerks, or any of their deputies, to the list of occupations and positions which are allowed to request their personal records be kept confidential.