Federal judge blocks another attempt to stop use of signature verification machine in Clark County, slow count of mail ballots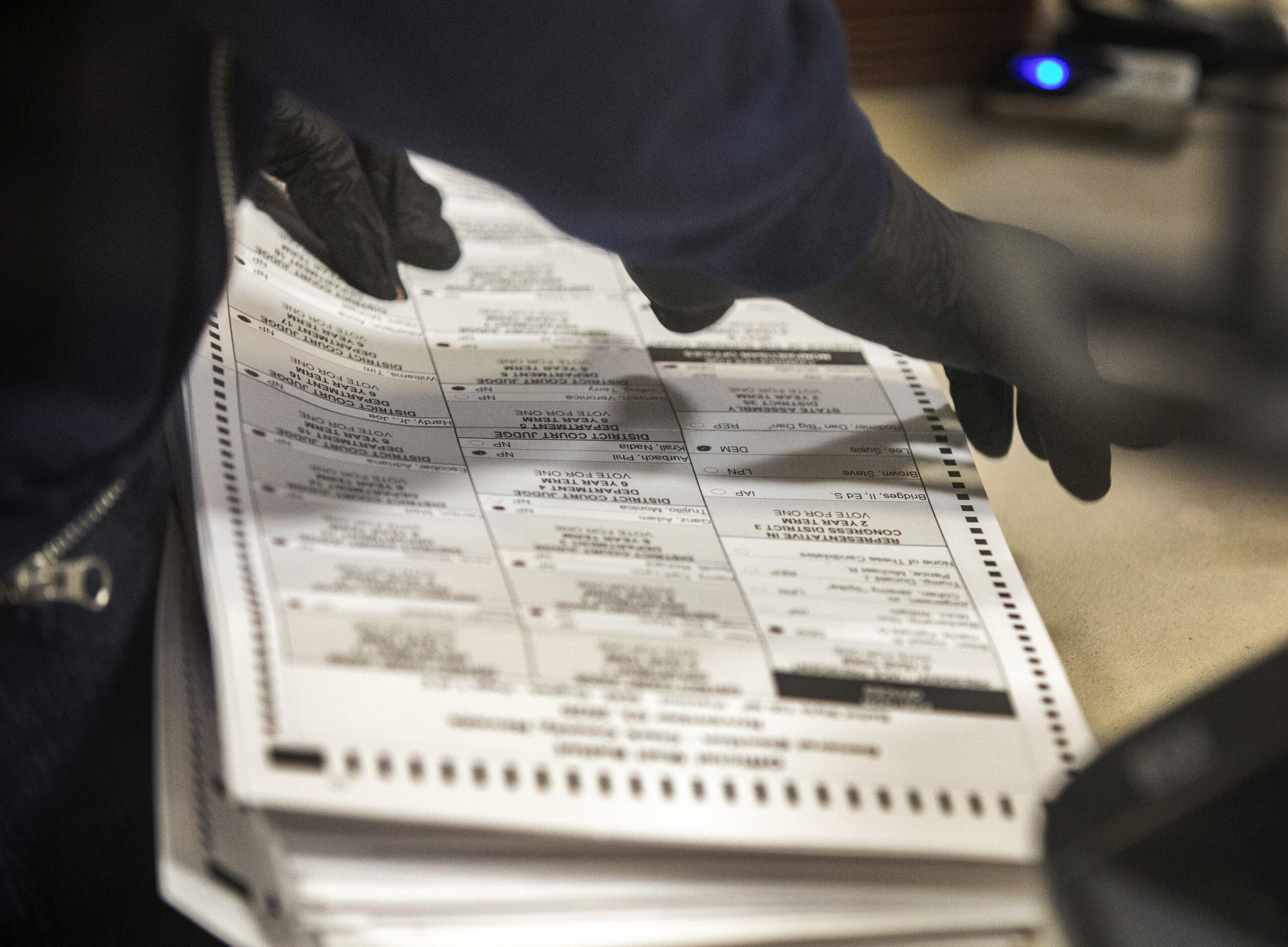 A federal judge has again rejected attempts by Nevada Republicans to cease use of a signature verification machine for mail ballots in Clark County, an act that could have substantially delayed the processing of votes.
Judge Andrew Gordon denied the request after a nearly two-hour hearing Friday afternoon, saying the lawsuit filed on behalf of two Republican congressional candidates and a Las Vegas voter who claimed someone else had fraudulently cast her mail ballot failed to produce enough evidence to warrant extraordinary legal intervention in Nevada's election system.
The lawsuit, which was filed Thursday evening, sought an emergency injunction to halt use of an automated signature verification machine used by Clark County election officials to process mail ballots. It also requested expanded public observation access to the county facilities where ballots are processed and tabulated.
But Gordon said the claims of the lawsuit failed to rise to the level requiring extraordinary judicial intervention from a federal court into a state's electoral system two days after the election, adding that he did not want to interfere in pending, similar litigation going on at the state court level.
"These issues are being litigated right now in front of the Supreme Court of Nevada, which is an issue of significant state concern, involving state laws, and should be interpreted by state courts, particularly Supreme Court justices elected by state of Nevada citizens," he said.
The ruling means a likely quicker turn-around on election results from Clark County, which is still processing the bulk of roughly 120,000 outstanding ballots sent by mail or cast provisionally. Former Vice President Joe Biden holds a narrow lead in the state over President Donald Trump, but no major networks have yet called the state for Biden.
The ruling is a setback for the Trump campaign and state Republican Party, which trumpeted the lawsuit during a Thursday morning announcement outside the Clark County Election Center. Former attorney general and Trump campaign co-chair Adam Laxalt, who attended the press gathering, said the campaign had identified tens of thousands of ballots cast by voters who moved out of Clark County or were deceased.
Few of those claims made it onto the lawsuit, save for testimony by a 78-year-old legally blind Las Vegas woman named Jill Stokke who alleged that she was unable to cast an in-person ballot because someone else had previously turned in her mail ballot. Stokke also spoke at the Trump campaign's announcement on Thursday.
But evidence presented by attorneys for the Nevada Secretary of State said that a trio of county election officials, including Clark County Registrar of Voters Joe Gloria, had reviewed Stokke's signature on the mail ballot and determined that it matched her registration record. They offered her the ability to file an affidavit and cast a provisional ballot, but Stokke allegedly refused and said she did not want to implicate anyone for committing a criminal act.
Stokke's attorney, Dave O'Mara, argued that her experience was evidence that Clark County's use of a machine that automatically scans signatures on mail ballots was allowing potentially fraudulent ballots and should be halted immediately, with county officials required to check the rest of the county's outstanding ballots by hand.
But Gordon disagreed with essentially all of O'Mara's arguments, saying there was "little to no evidence that the machine is not doing what it's supposed to do and incorrectly verifying other signatures." He added that her issue could have been easily resolved had she filled out a provisional ballot.
Gordon also said the balance of hardships favored the state and Clark County, and that it would be unwise for him to order an injunction that could potentially prevent tens of thousands of ballots from being counted by the deadline set in state law.
Mary-Ann Miller, an attorney for Clark County, said it wouldn't be "catastrophic" if use of the signature verification machine was barred — given that a large number of mail ballots have already been processed — but said that it would still cause delays in the county reporting ballot totals.
Still, Gordon cited a concurrence authored earlier this year by Supreme Court Justice Brett Kavanaugh stating that district court judges should by and large avoid interfering or making changes in the state's election system at the eleventh hour sans an egregious constitutional violation.
"I'm declaring that I'm not deciding this case on a technicality or some esoteric legal principle," he said. "Rather, I'm deciding that the plaintiffs have not come to the court at this point with sufficient legal showing and sufficient evidentiary basis."
The Trump campaign isn't a party to the lawsuit, but the state Republican Party sent a letter to the Department of Justice listing 3,000 individuals it claimed had cast a ballot in Clark County but had changed their address to a non-Nevada one through the National Change of Address database. The lawsuit cites that letter as part of its claims that "irregularities have plagued the election in Clark County."
But many legal observers and Democratic groups have pointed out that state and federal law allows individuals such as military members who are deployed, or college students, to cast a ballot even if they temporarily reside out of state. At least 132 of the addresses were Army Post Office addresses, which are used by active service personnel while overseas.
Amy Rose, a former legal director at the American Civil Liberties Union of Nevada, said in an interview that she and her husband were almost assuredly on the list that the state Republican Party sent to the DOJ based on tracking their previous and current ZIP codes (which only matched with two names on their list).
Rose said she moved to Davis, California, because her husband, who is on active duty with the Air Force, was deployed there, but both of them retain Nevada as their legal state of residency and cast a ballot in that state — something covered under the federal Military Spouses Residency Relief Act.
"It indicates such a fundamental misunderstanding of Nevada law, of federal law, of how voting works," she said in an interview. "It's just pretty outrageous to make these claims without understanding what this actually indicates."
The Nevada Independent is raising $200,000 by Dec. 31 to support coverage of the 2024 election.
Tax-deductible donations from readers like you fund this critical work.
If you give today,your donation will be matched dollar-for-dollar.
Give + Get Matched
Featured Videos