NV Republicans file last-minute federal suit seeking stop to automated signature verification in Clark County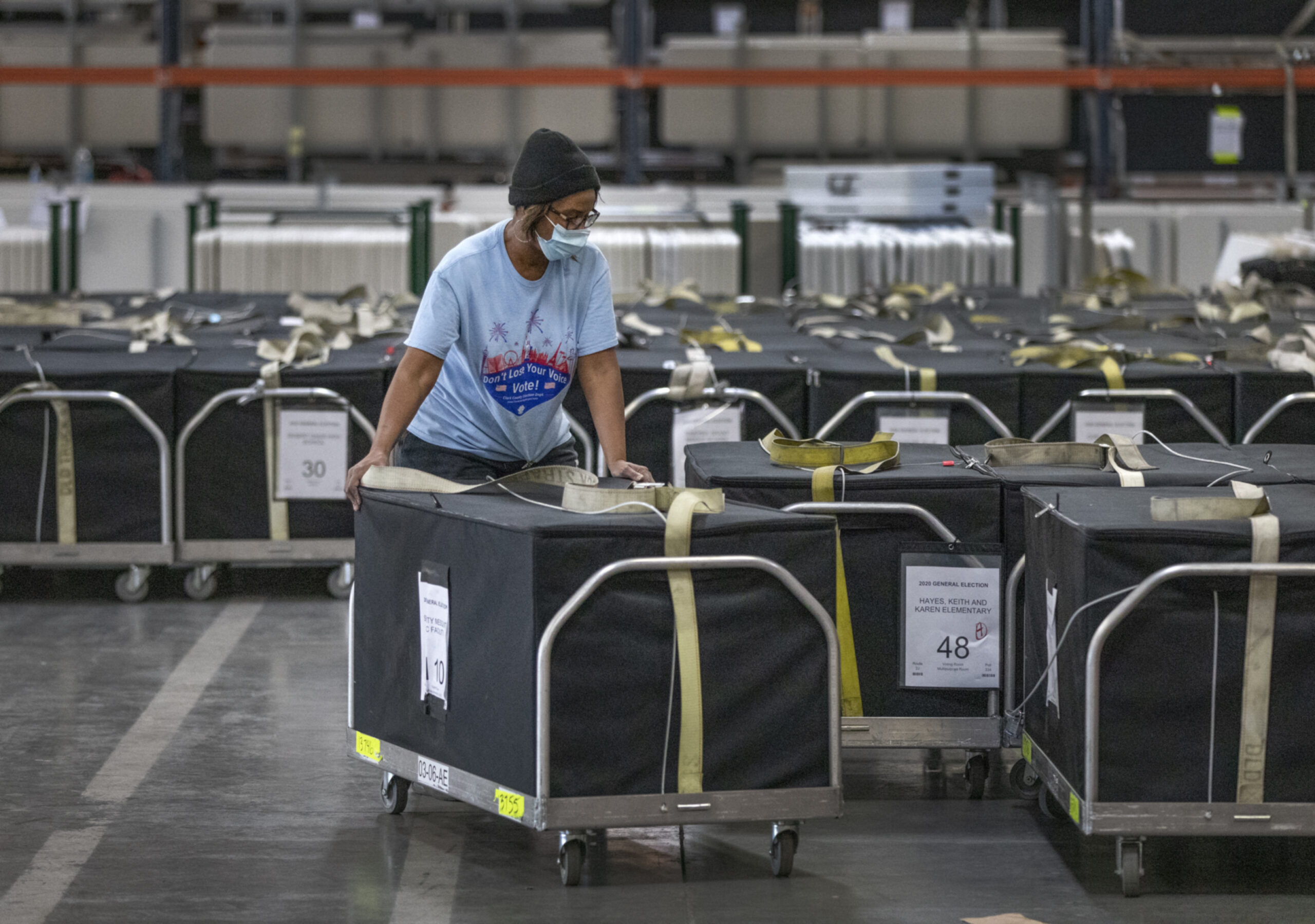 A lawsuit backed by the Trump campaign and Nevada Republican Party that challenges the ballot-counting process in Clark County and could potentially delay the reporting of mail ballots finally made its way to federal court late Thursday in Las Vegas.
The six-page lawsuit, which was touted in an early-morning press conference by Trump campaign officials, claims without evidence that "irregularities have plagued the election in Clark County," citing alleged "lax" procedures for authenticating mail ballots and claiming that more than 3,000 ineligible voters have cast a ballot. It names Secretary of State Barbara Cegavske and Clark County Registrar of Voters Joe Gloria as defendants.
The plaintiffs, as described by the lawsuit, are Jill Stokke, a registered voter; Chris Prudhome, a "credentialed member" of the media (who described himself as a senior advisor to the state Republican Party) who attempted to observe ballot counting in Clark County; and campaigns for Republican candidates Jim Marchant and Dan Rodimer, who are running for congressional seats.
The lawsuit seeks an injunction that would bar Clark County from continuing use of its signature verification machine known as the Agilis system. Additionally, it requests "meaningful access to the ballot counting process" — a complaint Republicans have repeatedly sounded during this election.
The litigation comes as Nevada and the nation wait on future election results from Clark County, which is poised to release a significant number of ballots tomorrow morning. The secretary of state's office stated that there about 190,000 outstanding ballots left to count in the state, with roughly 90 percent of them coming from Clark County.
As of Thursday, former Vice President Joe Biden holds a narrow 11,438 vote lead over Trump, with no major networks having called the state for either presidential candidate. Marchant and Rodimer are currently trailing their Democratic opponents by around 2 percentage points each, though neither race has been called.
Many of the claims made by the lawsuit — specifically that the county's automated signature verification machine operates below manufacturer specifications and that use of the machine violates requirements in state election law — were also alleged by the Trump campaign and state Republican Party in an unsuccessful state court lawsuit filed last week.
That litigation and claims therein were rejected outright by a state district court judge on Monday, who said it lacked standing and valid claims that would warrant judicial intervention in the election process. The Trump campaign appealed but then signaled a retreat from the lawsuit earlier Thursday, saying in a state Supreme Court filing that they had reached a limited stipulation agreement allowing for more poll observation but with no changes to the system for mail ballot processing.
Gloria has said that blocking use of the county's signature verification machine at this point in time would likely result in the county failing to meet its deadline to finish the counting by the deadline next Thursday.
The lawsuit filed Thursday reiterates the claims made by Stokke, a 79-year-old legally blind Las Vegas woman who said she went to vote in person and was told her ballot had already been received by election officials and her signature was already verified. Stokke spoke earlier today at a press conference arranged by the Trump campaign.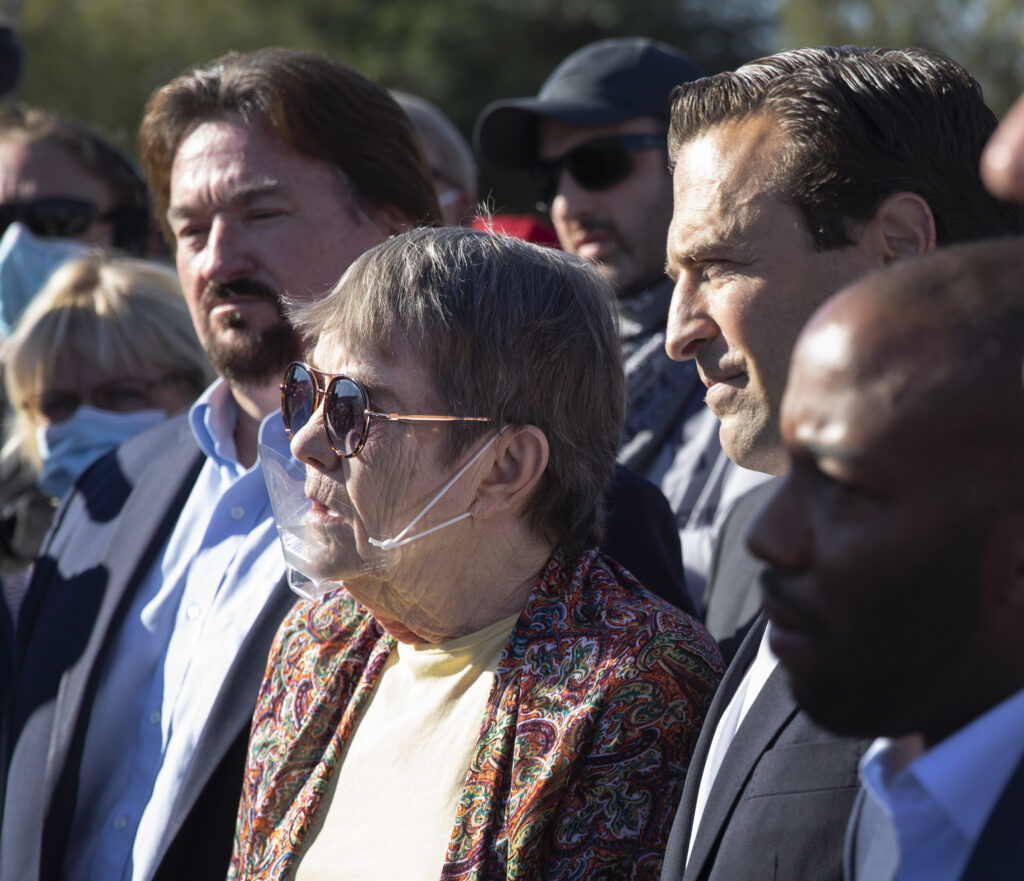 Gloria directly addressed Stokke's claims during a press conference on Thursday, saying that he personally met with her and reviewed her ballot, and that the elections department believes that it's her signature on the mailed-in ballot.
"We also gave her an opportunity to provide a statement if she wanted to object to that and provide a challenge to that," he said Thursday morning. "She refused to do so. A member of the Secretary of State's Office investigation team also interviewed her, and they had no issue with the assistance that we tried to give her.
Also named as a plaintiff in the lawsuit is Prudhome, described as a "credentialed member of the media" who said he attempted to observe ballot counting in Clark County early Wednesday but was denied entry to the office. Prudhome, who also spoke at the Trump campaign's press conference, describes himself as a "Republican strategist" and frequent Fox News Guest Commentator on Twitter.
By Friday morning, the Clark County Elections Department is expected to announce the results of roughly 51,000 mail ballots that were being counted Thursday. Gloria has said the county should be finished counting the majority of its mail ballots by Saturday or Sunday, although some mail ballots sent on Election Day through the U.S. Postal Service will trickle in through Tuesday.
The Nevada Independent is raising $200,000 by Dec. 31 to support coverage of the 2024 election.
Tax-deductible donations from readers like you fund this critical work.
If you give today,your donation will be matched dollar-for-dollar.
Give + Get Matched
Featured Videos