Trump campaign announces lawsuit challenging registration status of voters amid razor-thin election margin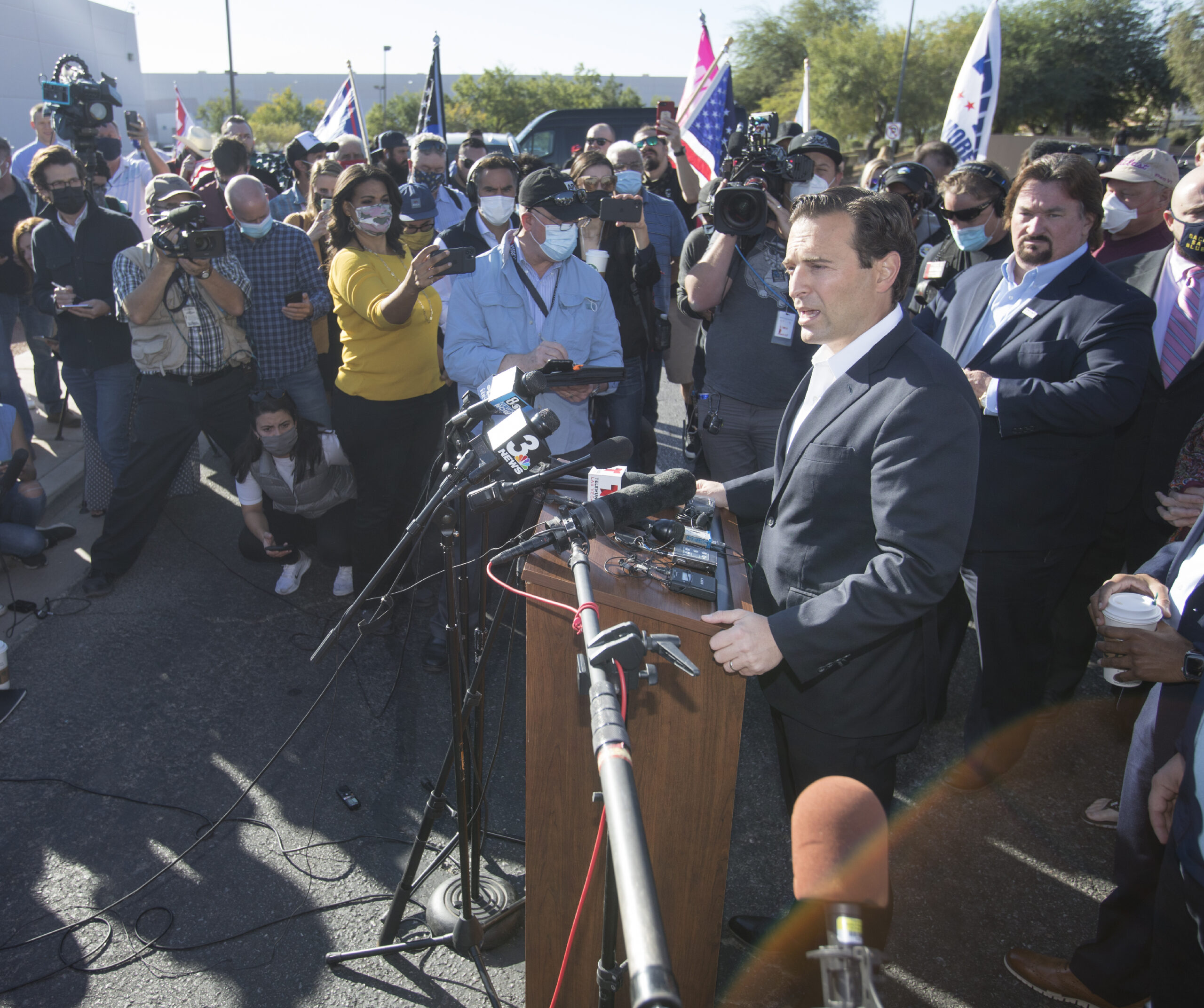 President Donald Trump's campaign and the Nevada Republican Party plan to file a federal lawsuit in Las Vegas this morning asking a judge to stop the counting of "improper votes," alleging that tens of thousands of people in the state cast a ballot despite no longer living here.
Members of the Trump campaign announced details of the lawsuit at a press conference outside of the Clark County Elections Department headquarters in Las Vegas. The announcement came shortly before the release of more election results in Nevada, showing that former Vice President Joe Biden now has a roughly 12,000-vote lead over Trump.
News of the lawsuit was first reported by Fox News.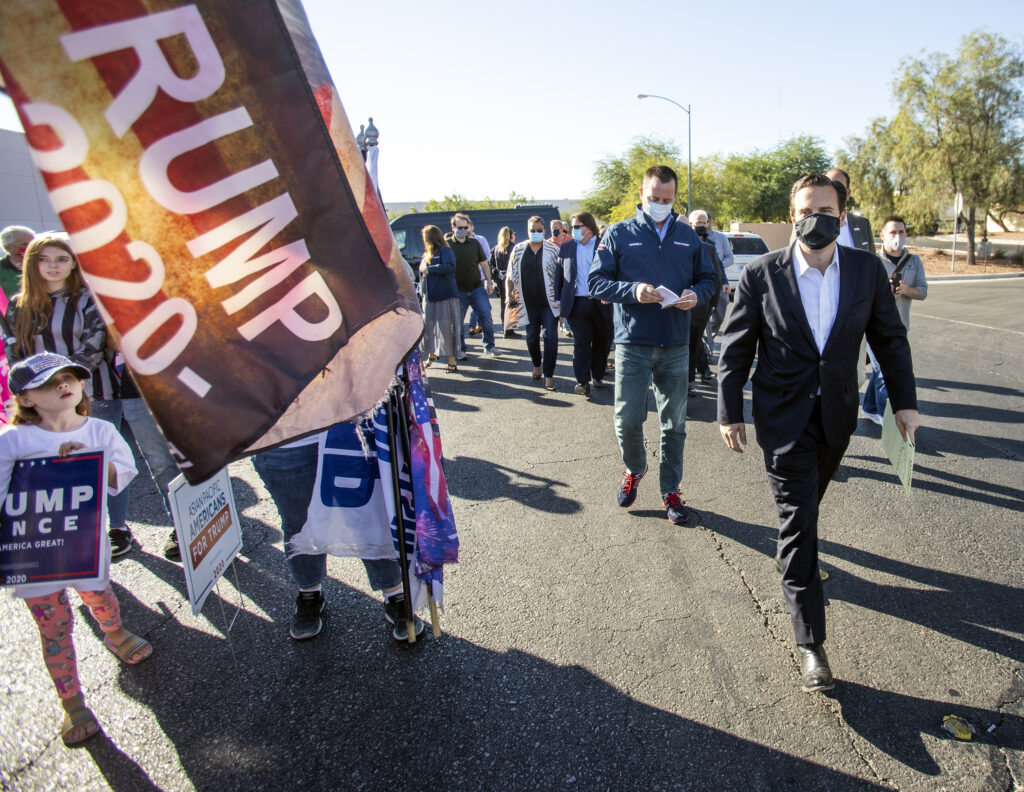 Former attorney general and Trump campaign co-chair Adam Laxalt said that the campaign believed that there were "many" mail ballots submitted by deceased individuals or by people who have moved out of Clark County during the pandemic. Former Acting Director of National Intelligence Ric Grenell also claimed that the campaign was not being allowed to check returned ballots, and that the lawsuit was being filed to "protect legal voters."
But the campaign did not offer evidence of the alleged fraud or deceased people voting — save for a 78-year-old Las Vegas woman who said she was prevented from voting in-person — and left without answering media questions, instead saying Clark County should be answering the questions.
"We don't have access to the information," said Grenell, a Trump campaign official. "They are not giving us access to the ballots."
Grenell framed the litigation as the remedy to protecting legal voters who cast ballots in this election. He also cast blame on the "Harry Reid Machine," alleging it recklessly threw ballots in the mail ahead of the general election (the U.S. Postal Service delivers mail ballots in Nevada and other states).
"It is unacceptable in this country to have illegal votes counted and that is what's happening in the state of Nevada," he said. "We've asked Clark County for answers. They have no answers. They continue to count illegal votes. That is unacceptable and it is giving legal people a sense that the system is corrupt."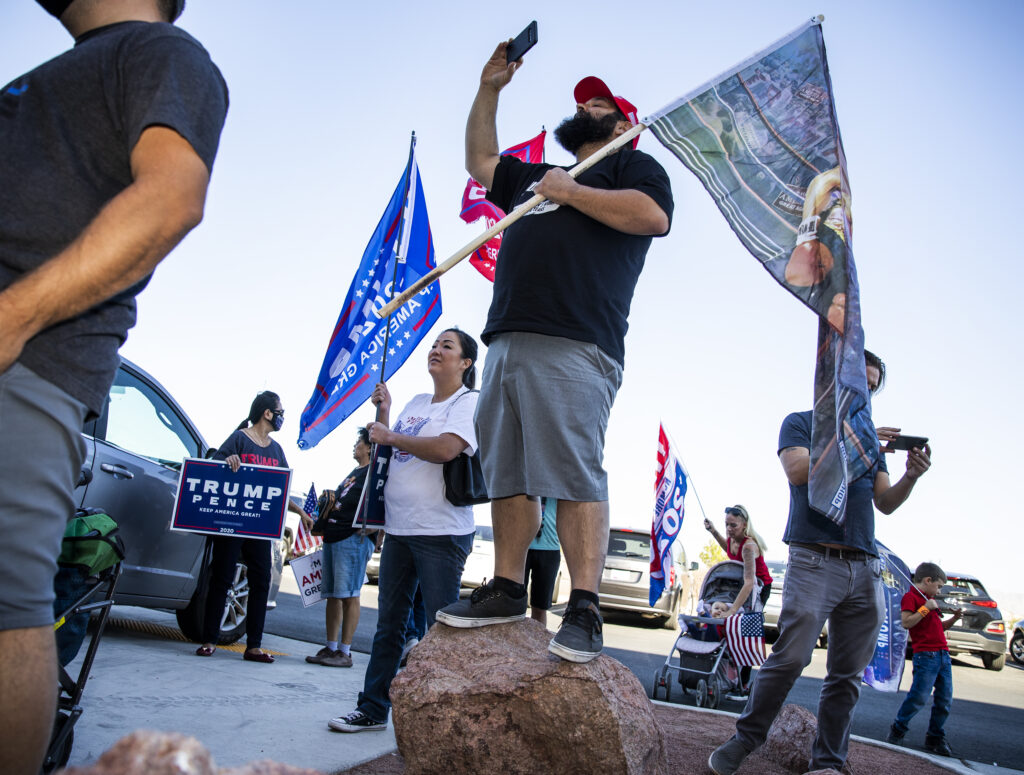 The lawsuit had not been filed in federal court as of 9 a.m. on Tuesday, and it's unclear what kind of relief a judge could offer given that election officials typically process mail ballots by separating the envelopes and ballots before they're processed, to ensure ballot secrecy. That means any challenged registered voters who have already cast a mail ballot and have had it processed by election officials could not have the ballot "pulled" from totals — though a judicial order could theoretically prevent ballots from voters challenged by the Trump campaign from being counted.
Attorney General Aaron Ford called the latest lawsuit a "Hail Mary attempt at undermining the vote," during a Facebook Live interview about Nevada's election results with Battle Born Progress, a progressive advocacy group.
"We need to trust the process and finish it out," Ford said. "Rest assured, again, that we have people here who know how to run fair, safe and secure elections and voter fraud is a very minimal occurrence."
Nevada generally allows overseas or military voters to cast a ballot while not actively residing in the state, and state law generally anticipates mailing ballots to registered voters who are currently out of state, such as college students.
Trump's campaign has filed lawsuits contesting vote counts in several of the undecided or recently called states, including Pennsylvania, Georgia and Michigan.
The campaign previously filed emergency requests for judicial intervention in Clark County's system of processing mail votes through use of an automated signature verification machine. That request was denied outright by a district court judge, with the Nevada Supreme Court declining to take any immediate action on the request this week.
Nevada law does contain a procedure to challenge the residency of registered voters, but requires the filing of an affidavit at least 25 days before the election.
Updated at 9:40 a.m. on Thursday, Nov. 5, to include information from the press conference and at 12:00 p.m. on Thursday, Nov. 5 to include comments from Attorney General Aaron Ford.
Tabitha Mueller contributed to this story.
This is a developing story and will be updated.
The Nevada Independent is raising $200,000 by Dec. 31 to support coverage of the 2024 election.
Tax-deductible donations from readers like you fund this critical work.
If you give today,your donation will be matched dollar-for-dollar.
Give + Get Matched
Featured Videos