Lawmakers advance more than a dozen proposals reducing but not eliminating cash bail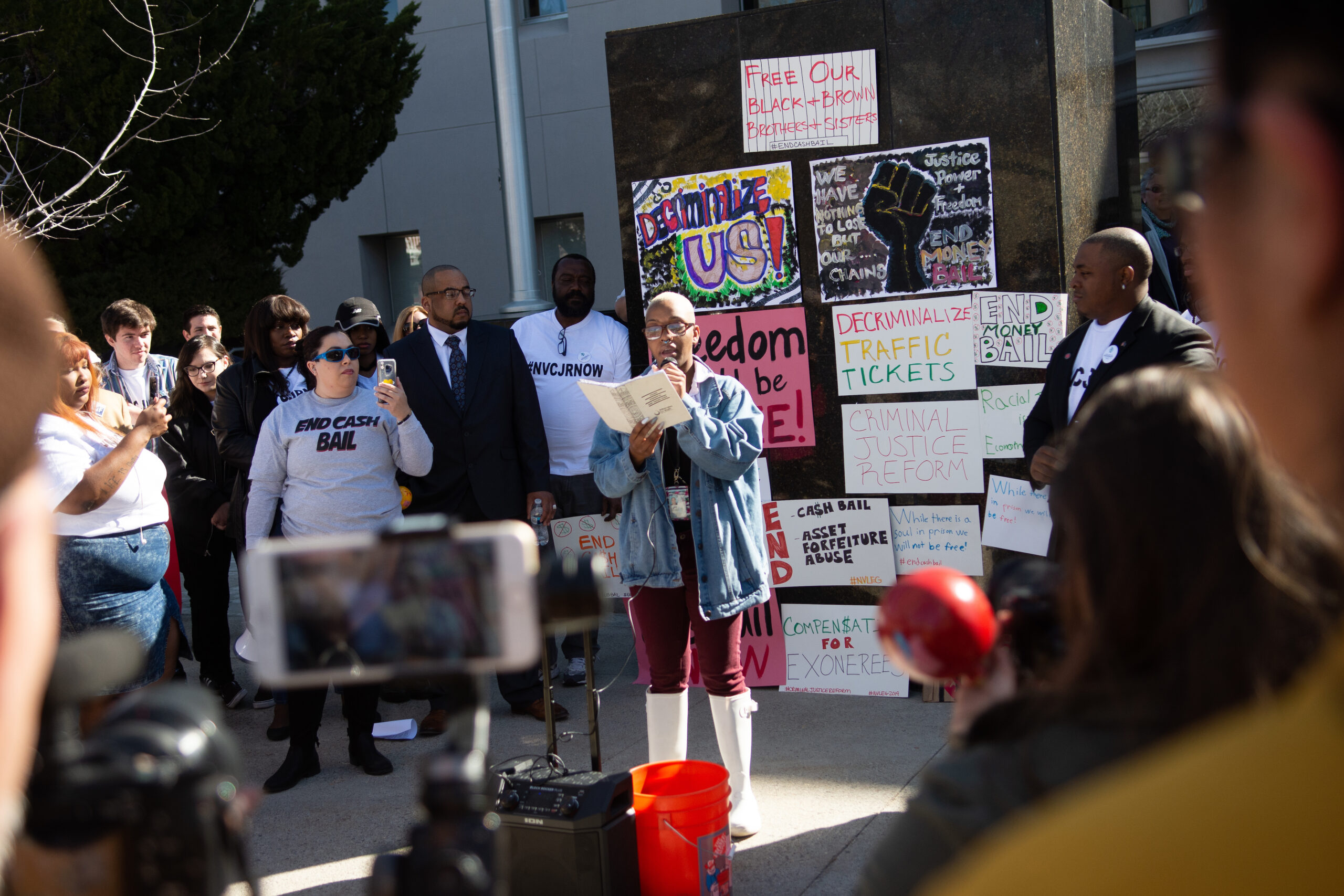 Nevada lawmakers have given preliminary approval to more than a dozen changes in the state's cash bail system that will likely come up during the 2021 Legislature, laying the groundwork for discussion on a divisive issue that has drawn sharp lines between criminal defense attorneys and prosecutors.
Members of a state legislative committee studying bail and pretrial release met virtually on Monday to approve a wide variety of recommendations aimed at limiting requirements that people pay money to leave jail before their trial. It marked the end of a year-long process studying issues related to how the court system treats people who are arrested but then released before a trial.
Requiring cash bail for pretrial release has come under renewed scrutiny from progressive and criminal justice reform groups, who say it unfairly benefits wealthier defendants able to pay their way out of jail while unfairly burdening the poor, who if unable to pay or post a bond are kept behind bars before a trial begins.
But others, including Republicans on the committee and district attorneys around the state, have warned about changing too much too fast and hamstringing the ability of the judicial system to use cash as a way to ensure that defendants return to court.
Though none of the recommendations would fulfill the progressive rallying cry of prohibiting cash bail outright, many would place substantial limits on the scope and practice of using cash bail for pretrial release. Many also enjoyed bipartisan support, with 12 of the 19 recommendations passing unanimously by the six-member committee.
But several of the more far-reaching proposed recommendations, including allowing a 48-hour grace period for people who fail to appear in court on a nonviolent misdemeanor and an outright ban on "unattainable" pretrial release conditions, fell short after Democratic Sen. Melanie Scheible, a prosecutor with the Clark County District Attorney's Office, joined Republicans to block those items from advancing. 
The Democrat-controlled Legislature briefly took up but later abandoned efforts to adopt wholesale changes to the state's cash bail system in 2019. Disputes between public defenders and district attorneys led lawmakers to create the committee that met on Monday to continue studying the issue during the interim and recommend changes to the 2021 Legislature.
Meanwhile, other changes have come from court action. In April 2020, the Nevada Supreme Court issued a major bail-related decision creating a higher bar before lower-court judges or prosecutors can request cash bail.
But many advocates — including the two attorneys who argued the case — say that several jurisdictions are not following the court's ruling on bail-related issues and that changes in law are needed to fully implement that court's order. Several of the approved recommendations directly addressed changes required by the high court's order.
The committee is allocated five bill draft requests for the 2021 legislative session. Committee Chair Sen. Dallas Harris hinted that several of the proposals would likely be combined into omnibus measures, while the rest could be considered as individual measures.
Here are the recommendations the committee made and didn't make on Monday:
Reclassifying traffic offenses, misdemeanors as citations
Legislators approved a recommendation to downgrade certain misdemeanors and traffic offenses to citations, which typically have less severe punishments and are not arrestable offenses.
Republicans on the committee opposed the recommendation. Assemblyman Tom Roberts said he was OK with the idea of decriminalized traffic offenses but that lowering penalties for some misdemeanors could lead to issues with trespassing and other serious violations in which an arrest may be warranted.
Democrats on the committee said that lawmakers could tailor the lesser penalties for certain traffic offenses and misdemeanors that were less severe. Democratic Assemblywoman Rochelle Nguyen said that in Henderson, for example, she was aware of individuals arrested, not just cited, for violating municipal code that prohibited people from encouraging pigeons to linger, roost or congregate.
"We have jurisdictions that are arresting on nonviolent circumstances and having people in jail for extended periods of time based on those types of offenses," she said.
Pretrial detention only when necessary
Another split vote came on a recommendation to draft a law change requiring pretrial detention to be the last resort for an arrested person, with the default position being release without conditions.
Lawmakers voted 5-1, with Republican Sen. Scott Hammond in opposition, to approve the recommendation setting options for pretrial release in the following order: release without conditions, followed by release with conditions, and finally, detention.
But legislators on the committee failed to get a majority on a related recommendation that would require a court to also consider whether a defendant is a risk to the public or a victim when determining whether bail is necessary. That vote fell 3-3, with Scheible joining the two Republicans on the committee in support.
The recommendation, brought by the Clark County District Attorney's Office, was made as a way to codify victim right requirements added to the Nevada Constitution through Marsy's Law, which voters approved in 2018.
Though Republicans said including that recommendation in law would send a "strong statement," Democratic members of the committee said they didn't think it was necessary to reiterate existing constitutional protections or requirements in state law.
"I don't think it's necessary to further codify it in statute as the beginning of an individual sections," Democratic Assemblywoman Rochelle Nguyen said. "I don't believe it's in any of the other sections. I think the fact that it's in our Nevada state Constitution is pretty strong."
48-hour grace period
Scheible also joined Republicans on the committee to block a recommendation for a 48-hour grace period for anyone who fails to appear in court on an arrest warrant for a nonviolent misdemeanor.
Specifically, the recommendation would allow a defendant to reschedule a court appearance within 48 hours after missing the initial court date. The recommendation initially applied for all arrest warrants, but was narrowed down to nonviolent misdemeanors ahead of the eventual (failed) vote.
Scheible said she opposed the recommendation over concerns that defendants could abuse the grace period and potentially use it in "perpetuity," and that it was unfair to require courts to "babysit people for 48 hours after the court appearance."
"I think that we have enough trouble getting people to court as it is, and they should be there when they are expected to be there," she said. "It puts an undue burden on the court to keep track of people who are calling and stopping by for 48 hours instead of just the normal two to three hours that court is held for."
Democratic Assemblyman Edgar Flores, who requested the narrowed scope of the grace period, said he was sympathetic to individuals who might miss a court date because of other concerns or obligations, and didn't want to punish poor people who can't afford legal representation.
"I personally sometimes know folk who will miss court and for whatever reason had an emergency, and they couldn't be there," Flores, a criminal defense attorney, said. "And now they're paying an attorney $1,000 to quash the warrant only, and they're already in a very difficult position, and it was just simple oversight."
'Unattainable' conditions of pretrial release
Legislators opted not to take up a recommendation that would outright prohibit a court from setting unattainable conditions of pretrial release, but approved two other recommendations aimed at creating mechanisms to review whether people are being kept in jail because they cannot meet pretrial release conditions.
Essentially, the recommended change in law would hold that if a judge sets a release condition with which a defendant cannot comply (too high of a bail amount, or asking a homeless person to have an address), the court would then have to treat the release as a de facto detention order and meet a higher standard of burden as to why the individual should not be allowed to be released before a trial.
But Scheible said that suggestion would tie the hands of judges, and that the framework envisioned by the Supreme Court's order and other proposed changes to the bail structure meant that courts would already be required to meet the least restrictive means possible before imposing release conditions.
"By simply telling them that they're not allowed to have the unattainable conditions, it doesn't give courts the instruction necessary to determine whether they're supposed to go up or down automatically," Scheible said. "I don't think that's a policy decision that we're ready to make in this committee."
Lawmakers opted to table that recommendation and instead took up two others aimed at reviewing whether release conditions were unattainable.
The two adopted recommendations call for legislation requiring jails to report the number of individuals kept behind bars with bail amounts lower than $2,500, a mechanism to bring defendants back to court if they're held longer than 24 hours after a release order, and inserting a "population manager" in jails to more frequently assess and report on individuals stuck in custody because of an inability to make bail.
Legislators on the committee also requested to include a statement of legislative intent that unattainable release conditions are "strongly disfavored" and that the Legislature intends for courts to work diligently to find alternative and attainable conditions for release.
Both policy recommendations were approved on a 4-2 vote, with the two Republicans opposed.
Burden of proof
In the Nevada Supreme Court's April decision on bail, justices struck down a piece of Nevada law requiring that defendants show "good cause," or adequate grounds or rationale, before being released on bail. Justices wrote in the 6-1 opinion that the existing law "undermines the constitutional right to nonexcessive bail," adding that it "effectively relieves the State of its burden of proving that bail is necessary to ensure the defendant's appearance or protect the community."
One of the recommendations before the committee addressed that very topic: shifting the burden of proof for the necessity of bail on the state and prosecutors, as well as repealing the section of law found to be unconstitutional.
But Scheible voted against the recommendation, saying she believed the state needed to meet the burden of proof standard regardless, but also saying legislators should be more specific as to how it would function if adopted into law.
"I think we need to be specific about if it is the state's burden," she said. "Does that mean the state actually has to open their mouth and make the record, or can a judge make the finding that the state has met the burden simply by for example filing a criminal complaint or by getting the search warrant or getting the arrest warrant or something like that?"
Ultimately, the recommendation was approved on a 5-1 vote.
Other recommendations
Several of the recommendations approved by the committee were adopted by unanimous consent, or were supported unanimously out of committee. Those requested draft laws include measures:
Requiring bail hearings to be held within a "reasonable" time after a defendant is arrested. Lawmakers did not approve a specific time frame for what is "reasonable," but suggested policy options include requiring a bail hearing within 12 to 24 hours of arrest, or within 48 hours if prosecutors say the defendant poses a danger to the community.
Mandating a court to determine a person's ability to pay a monetary amount for pretrial release, either using a financial affidavit or using federal poverty guidelines to determine a fair amount to pay.
Requiring that defendants be afforded the right to be present at a hearing, have counsel, and have access to all records in possession of the state during an individualized bail hearing.
Mandating a court to make certain findings before imposing pretrial release or detention. Required findings include why a defendant is being released or detained, why conditions of pretrial release are necessary, whether the court considered the defendant's ability to pay a monetary bail and if bail is more than the defendant can pay, why the amount is necessary.
New requirements for data collection on the pretrial process, including how long people are in jail, what pretrial processes are afforded to defendants and how pretrial success is measured.
Additionally, lawmakers approved another recommendation to draft legislation requiring individualized bail hearings and prohibiting standardized bail schedules, where the bail amounts are tied to the specific crime without any consideration of an individual's circumstances or ability to post bail. Republican lawmakers on the committee said they were hesitant to entirely eliminate bail schedules, but voted yes to continue the process.
Other recommendations dealt more with the rights of crime victims as it relates to the bail process. These proposed legislative changes included:
Prohibitions on allowing bail for a 24-hour period for any person arrested for a crime committed against another person.
Creating a mechanism allowing a victim or prosecutor to request a protective restraining order as part of the pretrial release process, with the orders immediately transmitted to law enforcement.
A policy statement encouraging education related to risk factors for victims of domestic and sexual violence.
Other approved recommendations dealt with requests to the Nevada Supreme Court, which included:
Requesting the court use a risk assessment tool to assess the "domestic violence risk" of an arrested defendant.
Revalidating the state's evidence-based risk assessment tool, which is used by courts to "assess the likelihood that a criminal defendant will appear for future court proceedings."
Urging a study and report to the Legislature concerning potential racial bias in the pretrial risk assessment system.
The Nevada Independent is raising $200,000 by Dec. 31 to support coverage of the 2024 election.
Tax-deductible donations from readers like you fund this critical work.
If you give today,your donation will be matched dollar-for-dollar.
Give + Get Matched
Featured Videos