Lawmakers scold treasurer for seeking forgiveness, not permission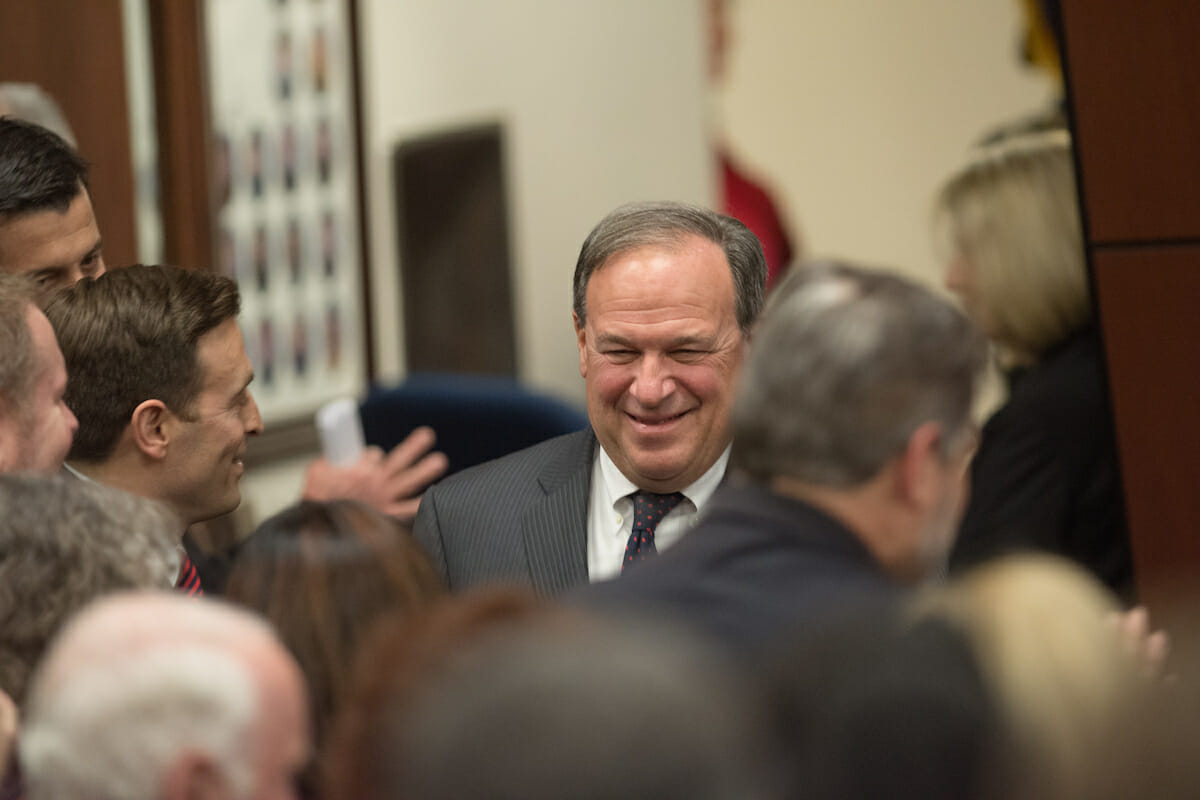 Nevada Treasurer Dan Schwartz found himself in an all-too-familiar place on Thursday morning -- in the hot seat taking a tongue-lashing from a panel of legislators.
This time, lawmakers took umbrage that Schwartz had moved forward on a monetary incentive initiative to a college savings program for kindergartners, even though they expressly told him not to do so. Members of the Senate Finance Committee took the tone of disappointed parents scolding their disobedient child.
"This (treasurer's) office abuses its discretion too frequently for my liking," said Democratic Senate Majority Leader Aaron Ford. "The (Interim Finance Committee) gave very clear direction that the treasurer's office was not to fund additional incentives to the Kickstart program in 2017, and you've done it. Please offer me an explanation."
Schwartz didn't deny that he'd gone against their will, but said he believes he was within his authority to do so and said his heart was in the right place.
"I sleep very well at night," he said after the meeting about moving ahead with the incentives without legislative permission. "Instead of berating us, they should be thanking us."
The three-year-old Kickstart program, based on the premise that children are more likely to go to college if they know someone is saving on their behalf, pledges $50 in seed money to all kindergartners in the state. More than 135,000 children are now entitled to the money if they take steps to claim it, but clerical hurdles in the program mean many don't.
Schwartz' office, with permission from the board of the College Savings Plan of Nevada, moved forward with plans to give incentives of up to $1,000 per child over five years. Parents who enroll in autopay, for example, would get $100 toward their savings plan, and parents who open an additional account would get $200.
The program is funded through fees paid by private companies servicing Nevada's college savings plans, not through taxpayer dollars.
Schwartz's office said that since it rolled out an online portal in November, 1,630 parents have proactively claimed their child's account. A new budget proposal calls for rolling money back to the state if families don't claim accounts by third grade.
"You were opposed to our expanding program," he told the committee. "But had we followed that directive … we would've been back here with nothing to show. We would've made no progress in understanding or improving the Kickstart program."
But lawmakers said they were having trouble trusting that he'd execute their directives and not go rogue again. They didn't like that he included a spokesman position in his core budget, again against their wishes.
It's a job that includes lots of time answering questions about the controversial Education Savings Account program. Some take issue that he's been so aggressive in implementing a program that is suspended and may not even get funding this budget cycle.
Schwartz says he's just trying to take action to improve the state's poorly ranked educational system, but that didn't sit well with others on the committee, who said lawmakers and the Department of Education should take the lead on policy.
"I take exception a little bit when we have our treasurer trying to tell us education policy," said Democratic Sen. Mo Denis. "You feel you know how something is better than we know it, and you just want to do it and later come back and ask for forgiveness."
Even fellow Republicans said his insubordination was complicating his relationship with lawmakers, who decide his overall budget.
"I like this program," Republican Sen. Ben Kieckhefer said about Kickstart. "But you can't spit in the Legislature's face and expect a warm handshake in return."
The hearing had echoes of the 2015 Legislature, when Schwartz crafted a three-page alternative budget to counter Gov. Brian Sandoval's proposed tax increases and heavily researched line-item spending plan, which is thousands of pages long. Lawmakers and state officials lambasted Schwartz's budget in a dramatic public meeting, saying they were appalled by the lack of research and accusing him of hijacking the traditional, governor-led budgeting process for his own political gain.
Schwartz said after Thursday's hearing that lawmakers were probably nitpicking his Kickstart move and might be jealous of the major achievements within his office.

"Yes, I probably have been a bad boy," he said. "But I think it's because I feel strongly about education."
Feature photo: Republican Treasurer Dan Schwartz at the State of the State address on Jan. 17, 2017. Photo by David Calvert.
Featured Videos
Comment Policy (updated 4/20/2021): Please keep your comments civil. We reserve the right to delete comments or ban users who engage in personal attacks, use an excess of profanity, make verifiably false statements or are otherwise nasty. Comments that contain links must be approved by admin.