Legislators quickly push bill targeting garbage monopoly as contract extension draws closer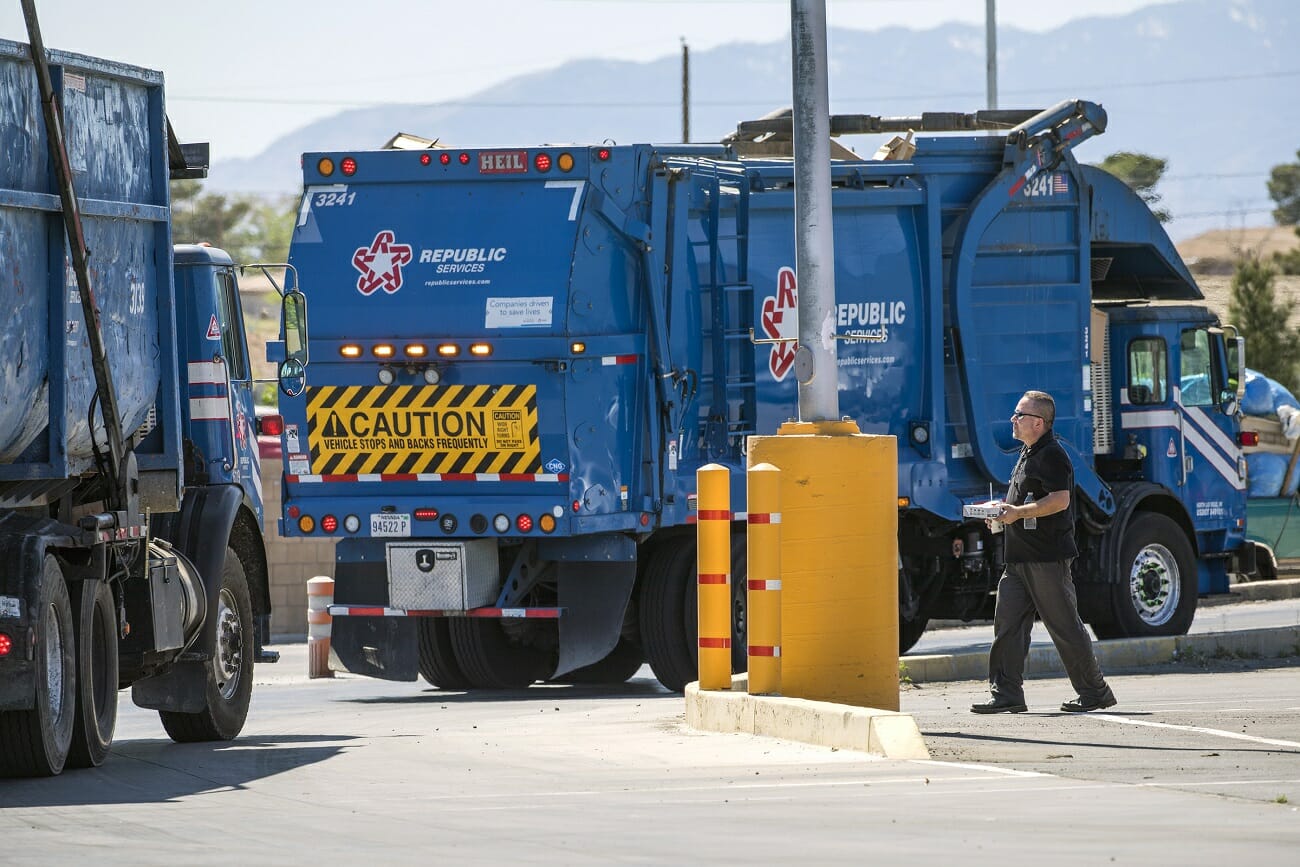 Nevada's two major trash collectors, who operate quasi-monopolies in Reno and Las Vegas, could see their status quo disrupted as lawmakers begin a public push to open up the market.
Legislators on Wednesday quietly scheduled a last-minute Thursday hearing on SB315, which would implement recycling minimums and revise the relationship between trash-haulers and municipalities, including a proposed prohibition on exclusive rights to commercial waste and recycling. Advocates say it will introduce more competition and level the playing field in the waste management industry, especially in Southern Nevada where trash giant Republic Services has reigned unchallenged since the early 1990s .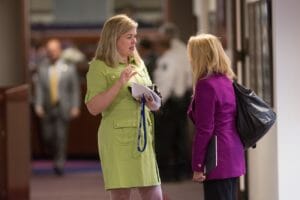 Independent Sen. Patricia Farley, a primary sponsor of the bill, said legislators are rushing on the measure due to a likely upcoming vote extending the City of Las Vegas's contract with Republic Services by roughly 12 years.
In addition to sending a letter and delivering a petition signed by hundreds of businesses to council members, Farley said the hearing was in part designed to induce a delayed city council vote in favor of long-term discussion on the future and structure of the industry.
"Why would you rush to a decision when you know there's a significant policy discussion going on?" she said. "Why would you rush to a decision with 7,000 business owners asking you to stop and participate in the public policy discussion?"
Farley and Democratic Sen. Mo Denis are co-sponsors of the bill, which would set restrictions and add more regulations on franchise contracts between a county or municipality and waste management businesses, and require disclosure of rate and billing information by companies that enter into agreements with municipal governments.
Both sides of the issue are well-staffed in Carson City; Republic Service lists seven lobbyists representing the company including former Assembly Majority Leader William Horne and the law firm of Kaempfer Crowell, while proponents of the bill are retaining the firm of Argentum Partners.
Republic Services gave more than $53,000 to Nevada lawmakers during the 2016 election cycle. Members of the Senate Committee on Natural Resources — which will hear the bill on Thursday — received a total of $6,000 from the company, including $2,000 to Republican Sen. Pete Goicoechea and $1,000 to fellow Republican Sen. James Settelmeyer, and $1,000 to Democratic Sens. Julia Ratti, Mark Manendo and Yvanna Cancela.
The legislation, which was introduced two weeks ago, would require the state environmental commission to study waste management agreements between municipalities and to give non-binding recommendations and advice on proposed agreements related to their overall effect on recycling. It would also require waste-haulers who have contracted with municipalities to submit monthly reports on pricing to the commission, which would then be charged with calculating and posting effective monthly disposal rates.
Additionally, the measure would prohibit future exclusive franchise agreements for commercial recycling, and a proposed amendment would prohibit any such exclusive contract with respect to commercial waste and commercial recycling.
The bill would also create a state council on recycling and waste diversion, and would mandate a 25 percent recycling level for Washoe and Clark counties that would take effect in five years.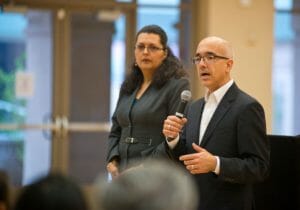 Denis said the counties should be able to easily hit the 25 percent mark, but said the new reporting requirements would be helpful in oversight.
"This is a mandate, and they have to show that they're actually doing it," he said.
In an emailed statement, Republic Services Market Vice President Tim Oudman said the company was opposed to the bill and said government-mandated price controls could lead to "unintended consequences."
"Each company involved in the collection of construction waste has the same ability to permit and construct the necessary infrastructure to manage these materials in an environmentally responsible manner," he said in an email.
Farley questioned the need for the council to extend the existing contract, which continues for another four years, and said that while the legislation had been worked on over the past 14 months, legislators were moving at a quicker pace to put more pressure on councilmembers.
Republic Services holds exclusive rights to managing municipal solid waste, which includes residential and commercial curbside pickup, in Clark County and the cities of Las Vegas, Henderson and North Las Vegas. In 2005, county officials opened up the market for management of construction and demolition waste allowing other companies to compete with the trash giant.
Farley, who along with Denis sent a letter earlier this week urging city council members and Mayor Carolyn Goodman to delay voting on the proposed ordinance, said that opening up the commercial waste market would be an economic boon.
"If we were to break up the franchise agreements and carve out construction waste, we would see potentially a bunch of small businesses start to flourish and enter the market," she said.
Goodman told the Las Vegas Review-Journal earlier this week that she'd like to see the council vote on the proposed ordinance, which would also pave the way for single-stream recycling.
Oudman said in an email that the company had worked with city staff for more than two years to revise the contract in order to implement single-stream recycling, and said the extension was needed to help pay increased recycling costs.
"The City of Las Vegas approached Republic Services about enhancing their recycling program," he wrote. "Residents are anxious to get on the new single-stream recycling program. The only way Republic can invest $50 million in that program, and keep residents' rates low, is to extend the agreement so those costs can be spread over time."
A 2014 study undertaken by economic firm Applied Analysis for construction firm H&H Enterprises raised questions about the company's construction waste recycling practices and pricing structure, calling it a "logical disconnect."
"From an environmental standpoint, the current structure results in significant amounts of construction/demolition waste that would otherwise be recycled and reused going directly to a landfill," the report stated.
Competitors in the construction waste industry have accused the county's contract with Republic as a "money-loser" due to how the company-owned Apex landfill charges for dumping waste.
Photo Caption: A Republic Service garbage hauler arrives at the Cheyenne Transfer Station on Wednesday, March 29, 2017. (Jeff Scheid/The Nevada Independent)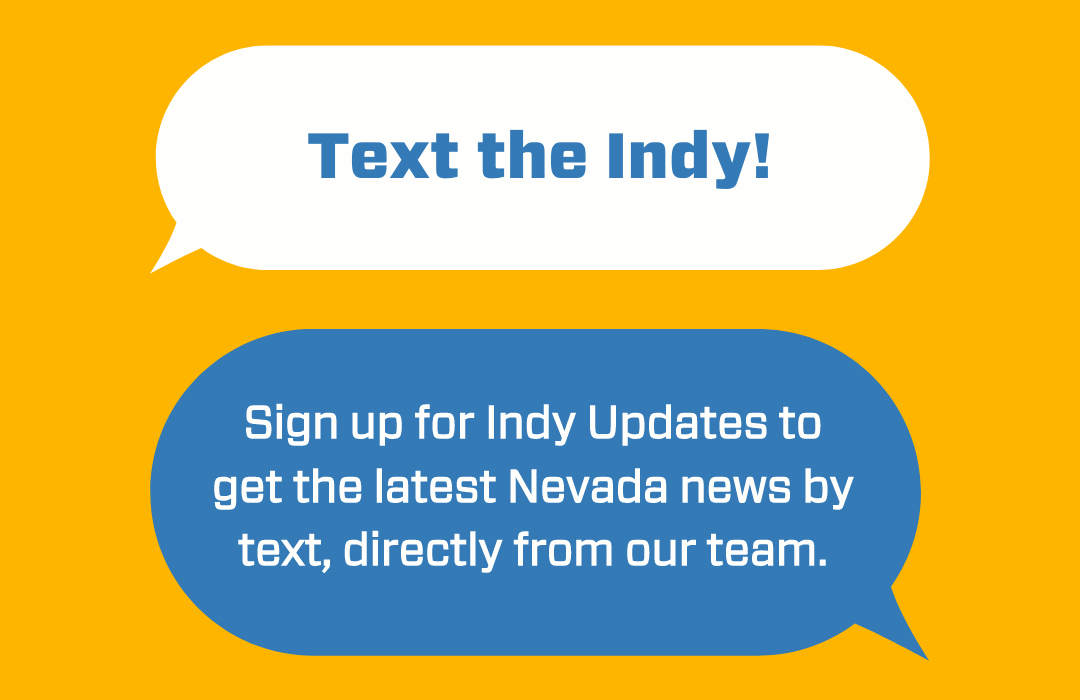 Featured Videos
Comment Policy (updated 4/20/2021): Please keep your comments civil. We reserve the right to delete comments or ban users who engage in personal attacks, use an excess of profanity, make verifiably false statements or are otherwise nasty. Comments that contain links must be approved by admin.