Meals on Wheels waiting lists could be a thing of the past under preliminary budget plan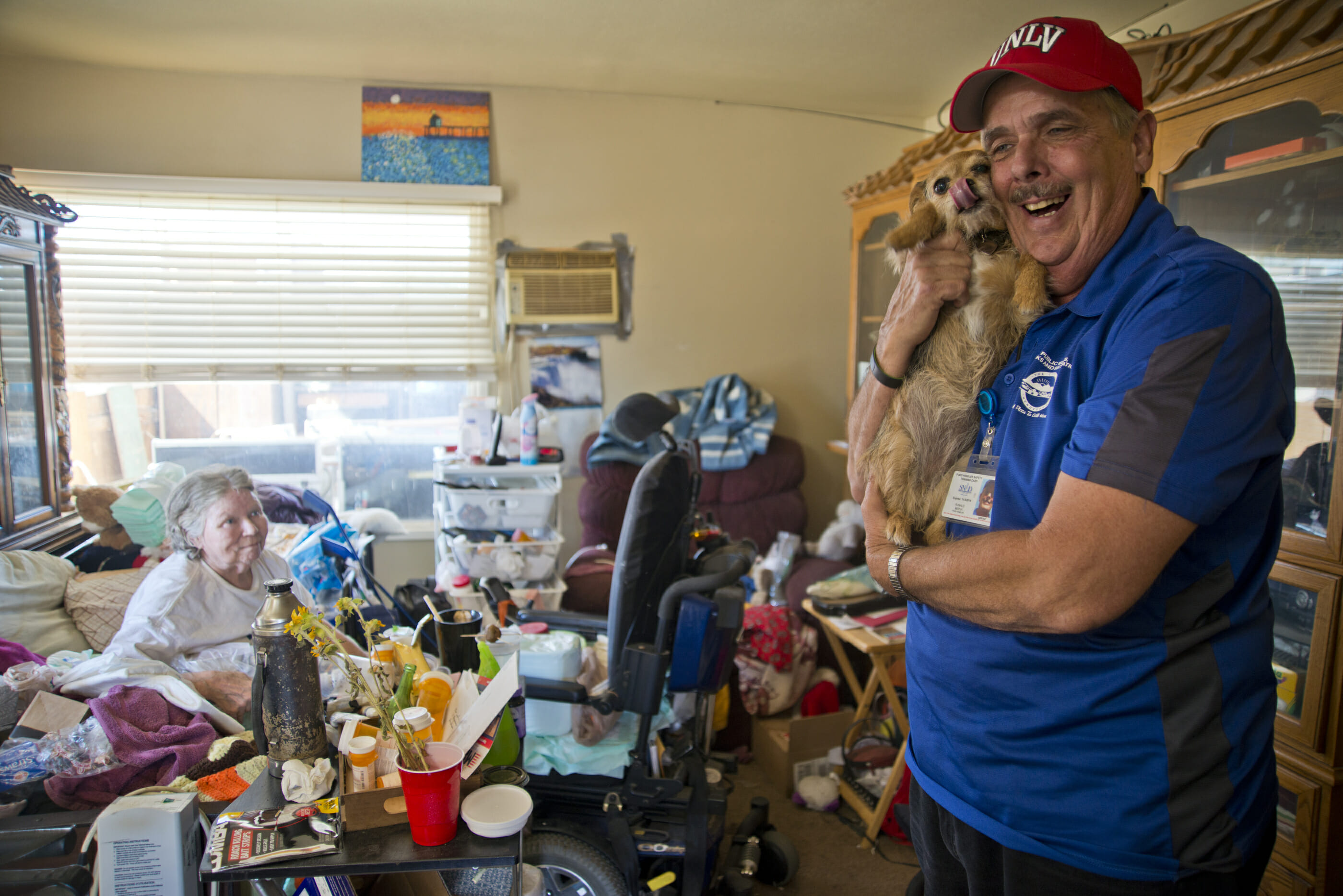 A year-long campaign aimed at feeding more homebound Nevada seniors — and ensuring that the 1,126 people on the waiting list start getting service — appears to be bearing fruit.
After Gov. Brian Sandoval called for putting $1.5 million in additional state funds towards Meals on Wheels programs over the next two years, lawmakers took preliminary steps last week to more than double that investment in a bid to eliminate the current waiting list. A joint Assembly and Senate subcommittee's vote to put $3.4 million toward home-delivered meals is a first step that could be cemented when full money committees finalize their budgets in coming weeks.
"We're very, very excited and happy about the subcommittee's recommendation," said Robert Hoo, lead organizer at Nevadans for the Common Good, a coalition of faith-based and community groups that has been lobbying decision-makers since last May to apply more funding to the program. "For several years now, we have been working on the overarching issue of how our state works for vulnerable seniors."
The state can feed a senior for $2.65 a meal when it partners with nonprofits such as Catholic Charities that chip in close to $3 for a meal. Providing one meal each day for a year would cost the state $976.25 per person.
Proponents say the benefits of home-delivered meal programs go beyond nutrition for people who have trouble getting to the store and cooking for themselves. Visits from drivers who deliver the meals offer social contact and a regular wellness check that can help clients live safely, independently and longer.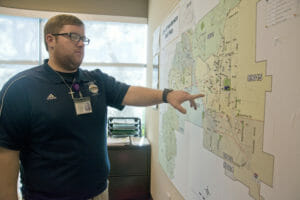 At less than $1,000, a year of Meals on Wheels is cheaper than an average one-day hospital stay, and far less expensive than the $80,000 or so a year it costs to live in a nursing home. Anyone who is 60 or older and homebound due to an illness or disability is eligible regardless of their income or assets.
Nevada's Aging and Disability Services Division spent $6.2 million in federal funds and $655,455 in general funds in fiscal year 2016 to support cities and charities with such programs. At about 27 cents per meal, Nevada is ranked 51st in the nation for how much general fund money it's putting toward Meals on Wheels, according to an analysis from Catholic Charities of Southern Nevada.
Sandoval noted in his State of the State speech in January that he wanted to add enough state general funds to the program to serve one meal a day to 775 more seniors, or 283,000 meals total. That would mean the state is kicking in 92 cents per meal.
"Helping our senior citizens lead independent, meaningful and dignified lives needs to be a priority for us all," he said.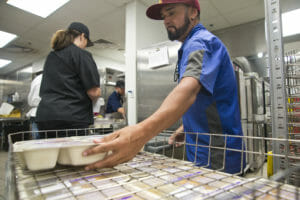 Lawmakers, who got personal visits from members of Nevadans for the Common Good and heard testimony from seniors and veterans who talked about how grateful they were for the program, voted to increase the spending.
What the subcommittee declined to do was add an additional $2.1 million on top of that to eliminate a waiting list in the City of Henderson's Meals on Wheels program. The city indicated it can't serve any more clients if it's only getting $2.65 from the state and said it would need to be reimbursed at a rate of $10 a meal.
Henderson's meal program, which currently serves 330 people, is more comprehensive than others in the state. It uses paid city employees and delivers hot meals five days a week, plus two frozen meals for the weekend, while the Catholic Charities of Southern Nevada program delivers seven flash-frozen meals, as well as fresh fruit and milk, in a delivery.
Henderson also has its drivers deliver books through a partnership with the library, offers pet owners dog food deliveries and drops off commodity food supplies to eligible clients.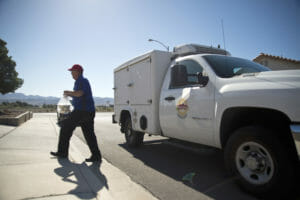 "The City of Henderson has chosen not to eliminate any of the benefits listed above to simply reduce the cost of service," said Henderson lobbyist David Cherry, who pointed to a Brown University study saying more frequent personal meal deliveries result in better well-being for participants. "We know delivering frozen meals may help seniors with nutritional insufficiencies, but it does not help seniors with social isolation and wellness the way the current program does."
Cherry said the city is constantly evaluating ways it can reduce costs, including switching to reusable trays, having volunteers help with deliveries and increasing the proportion of frozen meals it serves vs. hot meals. But simply adding more state funds at the reimbursement rate of $2.65 a meal won't be enough to enroll some of the 386 seniors on the waiting list, if the city is already kicking in about $4 a meal.
"The City of Henderson is not able to increase its subsidy simply because additional funding is available," Cherry said. "The per-meal reimbursement would have to increase to fund the expansion of the program."
Democratic Sen. Joyce Woodhouse and Republican Sen. Ben Kieckhefer expressed concern that even the higher state contribution wouldn't address the nearly 400-person-long Henderson waitlist.
"Clearly the mission can be met for a significantly lower cost," Kieckhefer said. "And the idea that they're keeping people on a waiting list by maintaining this alternative model and city staff doesn't make sense to me. But it's up to them."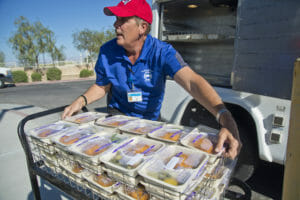 Lawmakers' decision to ramp up Meals on Wheels spending — which came on the same day they recommended about $11 million more for autism and child disability programs than is included in the governor's budget — could squeeze funding from other areas. While the Economic Forum's updated projection showed the state's tax revenues would perform better in the upcoming biennium than previously expected, Sandoval wanted to use as much of that extra $96 million as possible on education.

"Every time we add back any kind of a dollar, it adds back into the bottom line," said Sandoval Chief of Staff Mike Willden, noting that lawmakers had voted to add about $35 million to $40 million beyond the governor's budget so far, with more votes still to come.. "The governor's priority is obviously having some money to go into education … he wants money for weights, for education, but that has to be balanced."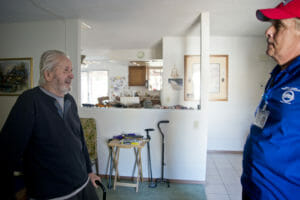 Feature photo: Jackie Counts, left, watches as her Meals on Wheels delivery man, Ronald Merva, embraces her dog Wrigley inside her home in Henderson on Friday, May 12, 2017. Daniel Clark/The Nevada Independent
This story was updated on May 17, 2017, to correct the number of frozen meals that Catholic Charities of Southern Nevada provides in a delivery.
The Nevada Independent is raising $200,000 by Dec. 31 to support coverage of the 2024 election.
Tax-deductible donations from readers like you fund this critical work.
If you give today,your donation will be matched dollar-for-dollar.
Give + Get Matched
Featured Videos