North Las Vegas lawmakers butt heads over charter committee bill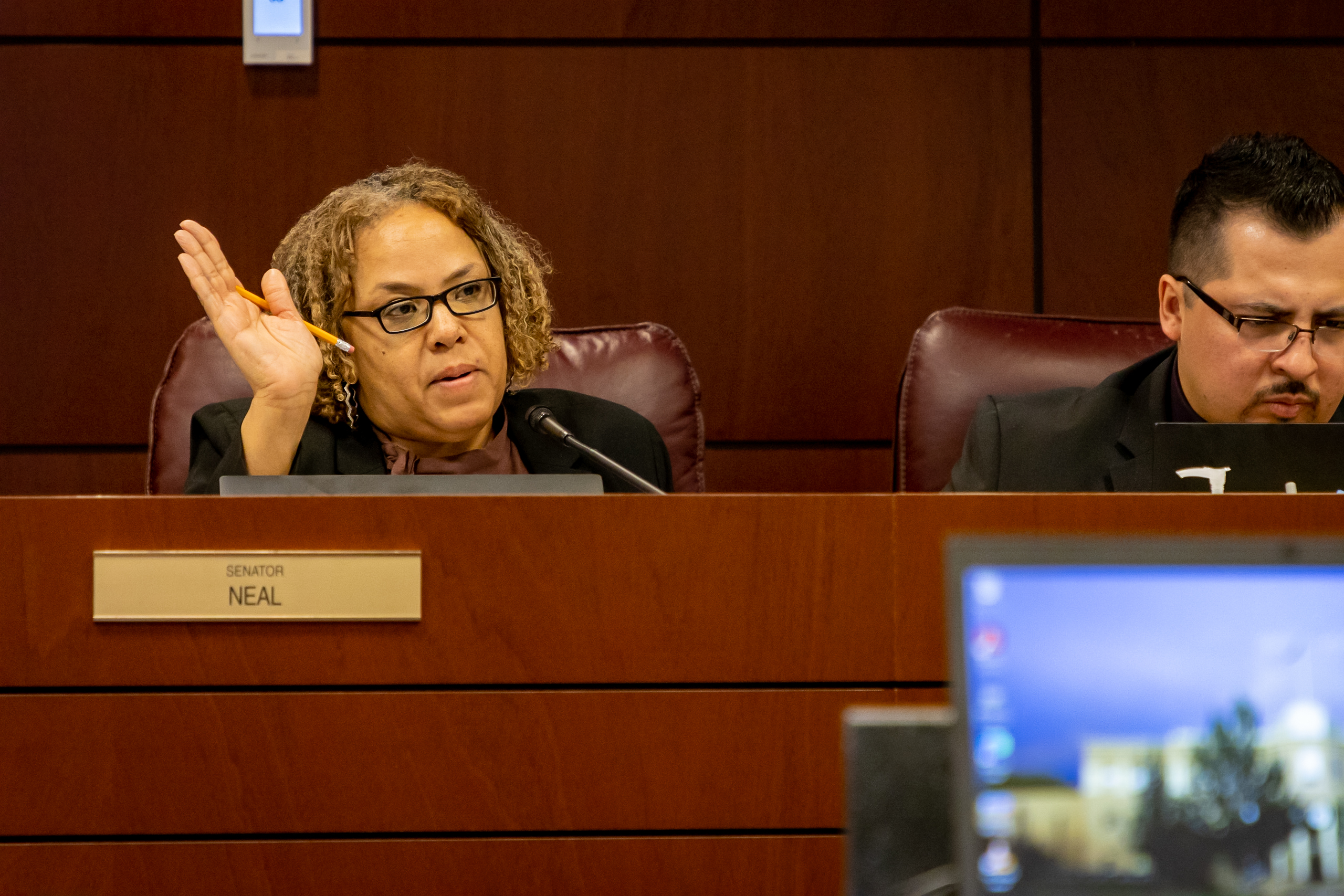 Discussions became heated between Sen. Dina Neal (D-North Las Vegas) and Assemblywoman Clara Thomas (D-North Las Vegas) during a Friday morning hearing in the Assembly Government Affairs Committee over certain sections of a bill affecting the city they both represent.
SB246, sponsored by Neal, would create a work development program in North Las Vegas and revise procedures between North Las Vegas' city charter committee and the city council. Though Thomas said the workforce development part of the bill was good legislation, she was "ashamed" of parts of the bill that would create criminal penalties for the North Las Vegas city clerk if that person was found abusing their power.
"It reeks with retaliation. Yes, ma'am, it does," Thomas said during the hearing. "The city clerk, who I know personally, that I worked with for over 20 years, this besmirched her, just like you feel … the city did to you, you're doing to her."
Thomas also raised concerns with sections of the measure requiring the charter committee to report "abuses of authority" by the council or city manager to the director of Legislative Counsel Bureau and giving the state attorney general the authority to bring civil action against the city clerk if they willfully and knowingly "violate any provision governing elections, commit fraud, abuse the public trust abuse his or her authority, falsify records or violate any other provision of law governing his or her duties" with penalties of up to $1,000 for each violation. It would also prohibit the city from coercing, threatening, conspiring or preventing the charter committee to meet.
SB246 initially did not include these sections and was purely a workforce development bill until April. Around this time, Neal was being investigated for allegedly pressuring a professor to direct federal dollars earmarked for local businesses toward unauthorized businesses owned by Neal's friend, according to the Las Vegas Review-Journal. Neal told the newspaper that she had acted appropriately.
During Friday's hearing, she referenced the situation.
"My own city was attacking me in the paper. And they were directly attacking me in the paper. And so my thing was, if you're gonna abuse your power to come for me, then what are you doing for regular citizens?" Neal said.
After the discussion, Neal agreed to take out the criminal charges section of the bill.
"I also am willing to take the criminal piece out. Because I felt that it did go too far. Any other commentary related to anything else is outside of the public policy and there is no bias," Neal said. "I'm just trying to make sure that the citizens who signed up to be a part of the charter committee can meet."
In the midst of Neal and Thomas' debate, other lawmakers responded to the amendments with confusion. Assemblyman Reuben D'Silva (D-Las Vegas) questioned why there was so much focus on North Las Vegas this session.
"Why is [this bill] only focused on North Las Vegas? And what about some of the other municipalities that could be benefited by language like this?" D'Silva said.
Neal replied she had only heard complaints that the North Las Vegas Charter Committee was not able to meet.
"Based on the testimony and the fact that I've been in this building for a really, really long time, there have been no other charter committees that came to the Legislature saying that they didn't have the capacity to meet and that somehow the law was being violated," Neal said.
The Nevada Independent is raising $200,000 by Dec. 31 to support coverage of the 2024 election.
Tax-deductible donations from readers like you fund this critical work.
If you give today,your donation will be matched dollar-for-dollar.
Give + Get Matched
Featured Videos