Right to return, minimum wage increase and jaywalking decriminalization among more than 200 laws to kick in today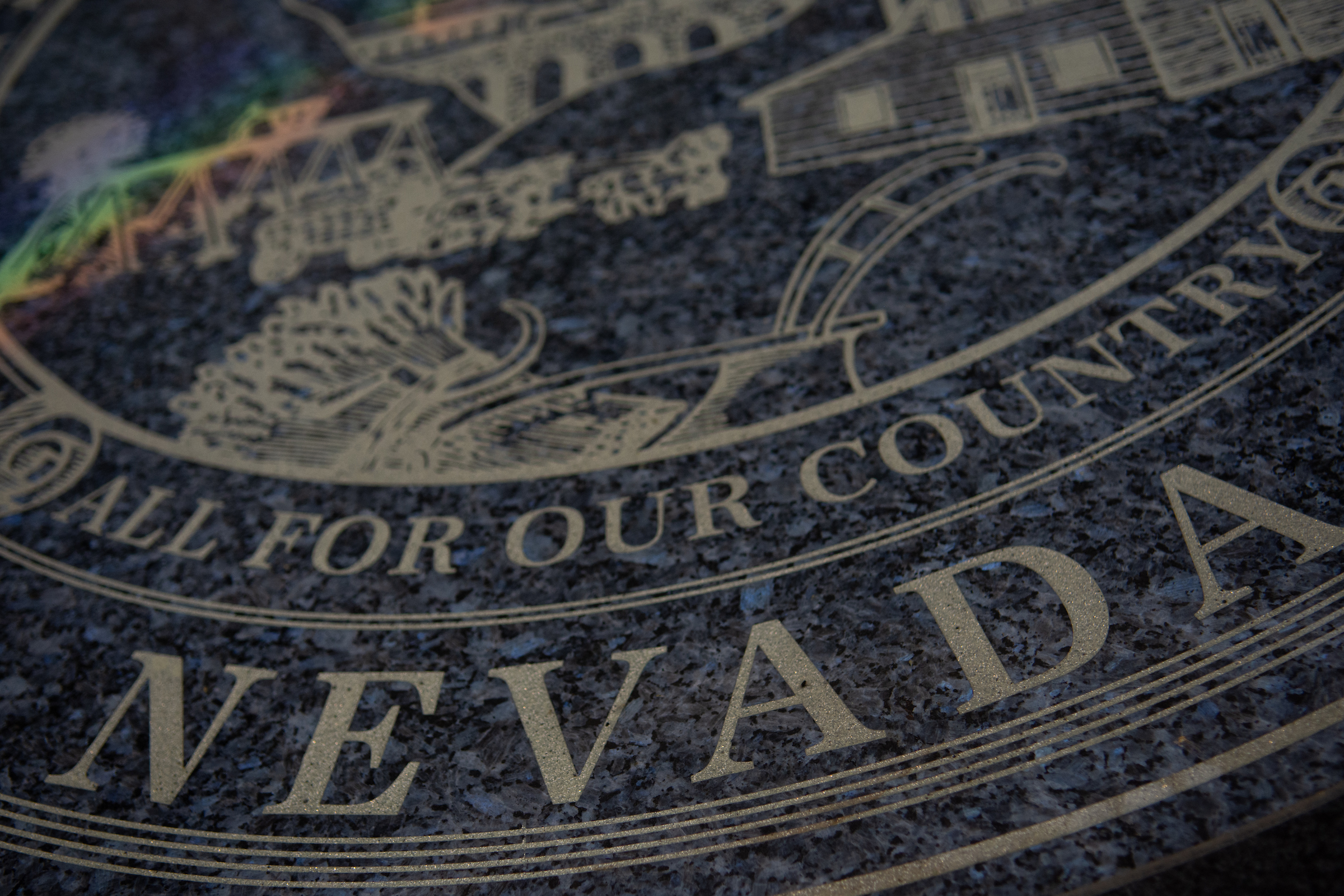 More than 200 of the roughly 550 bills passed by the Legislature during the 2021 session take effect either in full or in part on Thursday, from a high-profile new policy giving laid-off casino workers priority in rehiring to a new law decriminalizing jaywalking.
Other notable new laws now in effect remove specific "per se'' limits on cannabis metabolites that would trigger a DUI, waive tuition and fees to public colleges and universities in Nevada for Indigenous students and create more flexibility for prescription refills during a state of emergency. Landlords also must now wait three days after the date rent is due before charging late fees for overdue rent, owners of certain exotic animals will face steep penalties if the animals come into contact with members of the public and health care providers will be required to offer STD testing in emergency settings.
It is also now illegal to cut down or otherwise harm a population of juniper trees known as swamp cedars that live in Spring Valley near Ely, which are sacred to local Indigenous communities.
Here's a look at those laws and more that are now in effect:
AB456 (2019): Minimum wage increases to $9.75 an hour
This bill passed during the 2019 legislative session raises the Nevada minimum wage to $9.75 an hour for those who are not offered health benefits from their employers and $8.75 an hour for employees who are offered health benefits.
After the law went into effect in 2019, the minimum wage first increased on July 1, 2020 to $8 an hour for employees who get health benefits and $9 an hour for those who do not.
Under the law, the state's minimum wage will increase by 75 cents on July 1 of each year, gradually increasing to $11 an hour for those who are offered health benefits and $12 an hour for those who are not by 2024.
The federal minimum wage is $7.25 an hour.
CRIMINAL JUSTICE
AB400: Removes "per se" limits on non-felony DUIs involving marijuana
This new law, which kicks in today, removes specific "per se" limits for cannabis metabolites that if found in a person's blood would trigger a DUI — except for in cases where the DUI is punishable as a felony, including those that caused someone's death or substantial bodily harm. Cannabis metabolites are the substances that form when THC is broken down in the body.
Under the new law, drivers will be generally considered to be under the influence of marijuana if the substance has impaired their ability to safely operate their vehicle, instead of having impairment determined by a test for a specific amount of marijuana in their blood or urine.
Assemblyman Steve Yeager (D-Las Vegas) and other proponents of the measure have called the "per se" limits arbitrary and said they are a poor reflection of how impaired a person is because cannabis is metabolized by the body differently than alcohol.
"My main concern with this bill is to make sure that drivers aren't being unfairly convicted of impaired driving when they're not actually impaired," Yeager said during a hearing of the bill in March.
AB403: Jaywalking is decriminalized
Starting today, jaywalking will no longer be punishable as a misdemeanor. Any pedestrian who commits a violation by crossing a highway, which constitutes any road for vehicles available for public use, at a place that is not marked as a crosswalk may be punished with a civil penalty of up to $100. Previously, such a violation was punishable by up to six months in jail and a fine of up to $1,000.
This bill also requires courts to cancel all outstanding bench warrants for people who failed to appear in court for such violations.
Attorney General Aaron Ford, in a letter supporting the bill, decried the criminalization of jaywalking as a "regressive" policy that "disproportionately affects the poor" and "creates a de facto debtor's prison."
"Although jaywalking is a misdemeanor crime on par with a traffic citation, it is on occasion the starting point of a more prolonged series of interactions with the criminal justice system," Ford said. "Because jaywalking is a criminal offense, failure to pay its associated fine can eventually lead to a warrant for arrest, or even incarceration."
AB396: Police can only use deadly force if there is an "imminent" threat
This law specifies that only peace officers and those working under their command and aid — and not public officers or other people acting under the command of a public officer — may use deadly force to carry out the arrest of a person trying to escape and that deadly force may only be used if the person poses an "imminent" threat of serious bodily harm to the peace officer or others. The peace officer also must have probable cause to believe that a person has committed a felony causing or threatening serious bodily harm or the use of deadly force.
Correction: This section was updated at 1:00 p.m. on July 1, 2021 to reflect that AB396 applies to all peace officers.
AB113: Increases statute of limitations on initiating a criminal sex trafficking prosecution
Beginning today, this law increases the statute of limitations for starting a criminal sex trafficking prosecution from four to six years after the offense was committed. That increased time applies to any violations for which the statute of limitations has not yet expired and for any sex trafficking crimes moving forward.
AB138: Allows people convicted of felony possession to receive certain federal assistance
This new law allows people who were convicted of felony possession, use or distribution of a controlled substance to still be eligible to receive benefits from Temporary Assistance for Needy Families (TANF) and Supplemental Nutrition Assistance Program (SNAP) — two federal programs that help provide financial assistance to families in need.
The Food Bank of Northern Nevada, in a document supporting the bill, noted that barring the formerly incarcerated from SNAP and TANF makes reintegration more difficult.
"It promotes food insecurity and malnutrition for ex-offenders and their families; poses a barrier to reintegration into the community; and has a disparate impact on African Americans and women and victims of domestic violence," the food bank wrote.
TRANSPORTATION
AB53: Call boxes are no longer required along highways
This legislation, also called the "I-15 Call Box" bill, eliminates the requirement for the Department of Transportation to establish call boxes along frequently traveled highways, instead making the establishment of the communication system optional. Data from the department show that only eight calls came from the boxes in Southern Nevada during all of 2020.
AB412: Expanding delivery services through driverless vehicles
Under this new law, your pizza orders may soon be delivered by a low-speed, driverless vehicle. This legislation allows for "neighborhood occupantless vehicles," which are defined as low-speed vehicles not designed, intended or marketed for human occupancy, to travel short distances on roads with speed limits between 35 and 45 miles per hour.
The bill was originally presented by Nuro, a company that makes autonomous, occupant-free vehicles. Nuro has partnered with several companies, including Domino's and Kroger, to help deliver orders. The measure was supported by Smith's Food and Drug Stores, which wrote in a letter that it would "expand access to delivery of fresh food, with new kinds of vehicles and for customers in areas like food deserts."
SB204: DMV electronic branch authorization
This new law aims to expand access to Department of Motor Vehicles services electronically. Specifically, it authorizes the DMV to establish an electronic branch office in the form of an internet website or application. It also allows the DMV to issue electronic versions of cards, certificates and licenses — including driver's licenses — though drivers would still be required to have the physical card, certificate or license in their possession when operating a motor vehicle.
The legislation isn't binding though, meaning that it is up to the DMV whether it decides to move forward with establishing an electronic branch or providing certain documents electronically and when. DMV officials have, however, said they plan to move forward with moving most, if not all, of their services online in the next four years.
"The DMV is committed to radically changing its long-term service delivery model from an in-person brick-and-mortar service to an online storefront, similar to online shopping experiences," Sean Sever, DMV deputy administrator, said during a hearing on the bill in April.
HIGHER EDUCATION
AB262: Tuition and fee waiver for Native students at public colleges and universities in Nevada
A new, historic law waives tuition and fees for Native students attending public college and universities in Nevada. Tribal leaders have said the bill will help support access to higher education within their communities, which have faced historically high rates of poverty and unemployment.
"Being from a rural community creates many challenges for students wishing to pursue higher education," Maxine Redstar, tribal chairman of the Fort McDermitt Paiute-Shoshone Tribe, wrote in a letter supporting the bill. "It is anticipated that waiving tuition fees will encourage our students to carry out their dreams of obtaining secondary education without the burden of tuition fees."
To qualify for the tuition and fee waiver, Native students must be a member of a federally recognized Indian tribe or nation — all or part of which is located in Nevada — or be certified by the enrollment department of such a tribe or nation or the Bureau of Indian Affairs as being a descendent of an enrolled member of the tribe or nation.
Native students also must be eligible for enrollment in a school in the Nevada System of Higher Education, have been a resident of Nevada for at least one year, have maintained at least a 2.0 grade point average each semester and completed FAFSA (the Free Application for Federal Student Aid) to qualify for the waiver.
AB156: Nevada National Guard members can assign their registration and fee waiver to a spouse or child during reenlistment
Under this new law, members of the Nevada National Guard who choose to reenlist can assign their waiver from registration and lab fees at Nevada System of Higher Education institutions to a spouse or child during their reenlistment period. Guard members will be allowed to assign or reassign a waiver upon reenlistment, whether they used the waiver to attend school before reenlisting or not.
Spouses and children assigned the waiver will be required to maintain a certain grade point average, just as members of the Nevada National Guard are required to. The waiver can only be used by one spouse or child during the reenlistment period, though it can be reassigned to a different person if the waiver isn't used by the initial person to whom it was assigned.
AB165: No tuition charges for veterans who were honorably discharged
Under state law, the Nevada System of Higher Education is prohibited from assessing tuition charges on veterans who were honorably discharged within five years before enrolling at a university, college or community college. This new law removes that five-year limitation, allowing all veterans who were honorably discharged to enroll without tuition charges.
SB193: No tuition charges for those using Post-9/11 Education Assistance to attend Nevada System of Higher Education
This new law prohibits tuition charges from being assessed against veterans, spouses and dependents who are using Post-9/11 Education Assistance and against students using Survivors' and Dependents' Educational Assistance.
A secondary portion of the bill, which goes into effect on Oct. 1, will require nursing programs and teaching programs within the Nevada System of Higher Education to give preference in admission to veterans who have been honorably discharged.
HEALTH CARE
AB178: Prescription refills during an emergency
Starting today, insurers are required to waive restrictions on the time period during which a prescription can be refilled during a state of emergency or declaration of disaster. Patients, however, must request the refill no later than the end of the state of emergency or 30 days after the issuance of a proclamation of a state or emergency or disaster declaration — whichever is later.
The new law additionally requires insurance companies to pay for up to 30 days of coverage for prescriptions refilled under such circumstances. It also gives the state insurance commissioner permission to extend any of those time periods as necessary in 15- or 30-day increments.
The law applies to private insurers, as well as Medicaid and the Public Employees' Benefits Program.
Pharmacists also will be allowed to refill prescriptions greater than the amount authorized by the prescriber up to a 30 day supply, so long as the drug is not a controlled substance and the patient lives in an area which is under a state of emergency or declaration of disaster.
Nevada has been under a state of emergency relating to the COVID-19 pandemic since March 12, 2020.
SB211: STD testing in emergency medical settings
This new law requires medical providers, including doctors, physician assistants and advanced practice registered nurses, who provide emergency medical services in hospital and primary care settings to offer testing for sexually transmitted diseases to all patients 15 years of age or older. The law aims to reduce the rates of sexually transmitted infections and HIV in Nevada, which are among the highest in the nation.
Under the law, providers are required to talk with patients to help them decide whether there are certain diseases they should be tested for and whether they want to be tested. Providers are not required to offer STD testing if the patient is being treated for a life-threatening emergency, has recently undergone STD testing or lacks the ability to consent to STD testing.
Providers who fail to offer such testing won't be subject to criminal penalties or administrative fines but may face disciplinary action.
SB196: Penalties for conducting pelvic examinations on anesthetized or unconscious patients without consent
This new law bars health care providers from performing or supervising the performance of a pelvic examination on an anesthetized or unconscious patient without their informed consent, unless the examination is within the scope of a procedure the patient has consented to, the procedure is required for diagnostic purposes and is medically necessary, or is performed as part of an examination of a victim of sexual assault who is unconscious and justified by pressing circumstances.
It also bars providers from performing or supervising pelvic examinations if they aren't appropriately licensed, certified or registered to perform the procedure or if it is outside of their scope of practice. Unlicensed individuals, such as medical students working under the supervision of a health care provider, are similarly barred from performing or supervising pelvic examinations unless their supervising provider is there.
Providers who violate the new provisions of the law will be subject to professional discipline.
Las Vegas residents Christine Smith and Teri Greenman, in a letter supporting the bill, said they brought forward the policy after learning that it is legal in most states for medical providers and medical students to conduct pelvic examinations on women under anesthesia without their consent.
"Under anesthesia, a patient no longer has control over what happens to their body," they wrote in the letter. "While we understand that the pelvic examination is a critical tool for the diagnosis of women's health conditions and an important skill for students to master before becoming physicians, it becomes an intrusive exam when, if not medically necessary, performed on an anesthetized patient without their express consent."
NATURE & HUNTING
AB171: Protecting the swamp cedars
This new law makes it illegal to cut, destroy, mutilate or remove a population of juniper trees, known as swamp cedars, living within Spring Valley outside of Ely. Bahsahwahbee, "the sacred water valley" in Shoshone, where the trees live, is a ceremonial site for many communities in the area.
The new law also makes a change to who is allowed to gather native flora considered protected species for medical and ceremonial use. Previously, only Indigenous communities native to Nevada were allowed to gather such flora, but the new law expands the exemption to broadly include Indigenous communities.
AB89: Transfer of big game hunting tags
This new law will allow big game hunters to transfer their tags to a family member upon their death and authorizes the Board of Wildlife Commissioners to establish a program to allow people to transfer their big game tags to certain nonprofit organizations for use by people who are 16 years or younger and are eligible to hunt but have a disability or life-threatening medical condition. Tags, generally, are prohibited from being transferred under state law.
AB102: Expanding access to state parks and recreational areas to disabled veterans
Under current law, the state is required to issue annual, free permits to enter, camp and boat in state parks and recreational areas to residents who are veterans who were honorably discharged and who have a permanent service-connected disability of 10 percent or more. This new law removes the requirement that the disability has to have a rating of 10 percent or more.
However, the state is still required to impose an administrative fee to cover the costs of issuing the permit.
INCLUSIVITY & EQUITY
SB194: Expanding the study of different communities in public schools
This new law requires students in public schools to learn about the culture, history and contributions of an expanded group of communities — the group now includes Pacific Islander Americans, Chicano Americans, Latino Americans, Middle Eastern Americans, women, people with disabilities, immigrants or refugees and people who identify as LGBTQ — as part of ethnic and diversity studies for high school students.
The previous list of communities to be studied only named the following groups: African Americans, Hispanic Americans, Native Americans, Asian Americans, European Americans and Basque Americans.
The law additionally requires the state superintendent to establish a "State Seal of Civics Program" to recognize students who graduate from high school with a high level of proficiency in civics.
AB365: Declares that state employees "be afforded, respect, dignity and equity in the workplace"
Through this bill, the Legislature officially declared in early June that it is the public policy of Nevada that state employees "be afforded, respect, dignity and equity in the workplace."
In accordance with that policy, the legislation requires authorities for the state's courts, the Legislative Counsel Bureau and Nevada System of Higher Education to compile yearly reports of each complaint filed by an employee of the state that alleges conduct in violation of the policy, "including, without limitation, conduct that communicates a negative attitude toward persons of marginalized identities."
The law additionally requires state employees who are supervisors or are in managerial positions to be trained on implicit bias.
AB421: Updates language in state law referring to people with mental illness and people who are deaf or hard of hearing
Starting today, this new law ensures that the state's legislative lawyers will use respectful and people first language — putting the person before their disability — when referring to people with mental illness and people who are deaf or hard of hearing in drafting state laws and regulations.
The law also clarifies that outdated and offensive terms, including "insane," "insanity," and "deaf and dumb," are not preferred for use in statute.
OTHER
SB386: Granting laid-off hospitality workers the "right to return" to work
This much-debated new law guarantees certain workers within the state's casino, hospitality, stadium and travel-related sectors who were laid off as a result of the pandemic a right to return to their former positions.
Under this law, employers in those industries with at least 30 employees are required to offer certain laid off employees — those who were employed for at least six months of the year preceding March 12, 2020 and were laid off after that date for an economic, non-disciplinary reason — each job position that becomes available after July 1 for which the laid-off employee is qualified, including the same or similar positions the employee held before being laid off. Priority for those jobs will be given to those employees with the greatest length of service for the employer.
An employee who is offered the right to return to work has 24 hours — or more depending on the decision of the employer — to accept or decline the offer, and the employee must be available to return to work within five days of accepting the offer. If an employee does not accept or decline within 24 hours of receiving the offer, the employer may move onto the next available laid-off employee.
Employers who decline to hire a laid-off employee because of a lack of qualifications and decide to hire a different, new employee must provide the laid-off employee with a written notice containing the reasons for the decision within 30 days.
Laid-off employees are entitled to opt out of the provisions of the law by declining to be considered for future positions. Employers are additionally prohibited from terminating, refusing to employee or taking any other adverse action against a person wishing to engage in their rights guaranteed under this new law.
The law will expire on Aug. 31, 2022 or when the governor rescinds the active emergency declaration for the COVID-19 pandemic, whichever is later.
AB308: Requiring a three-day grace period before landlords can charge late fees for overdue rent
Beginning today, landlords will be required to wait three days after the date rent is due before they can charge late fees for overdue rent.
The law additionally increases the time for which landlords must give tenants an advance written notice of an increase in rent. For tenancies that are month-to-month or longer, landlords are required to give notice of a rent increase 60 days in advance of the increase, rather than 45 days. For tenancies that are less than month-to-month, landlords are required to give notice 30 days in advance, rather than 15 days.
SB344: Prohibiting people from allowing a dangerous wild animal to come in contact with a member of the public
This new law prohibits people from allowing a dangerous wild animal — that includes elephants, non-human primates, wolves, bears and big cats — to come in direct contact with a member of the public.
A person who violates that law will be subject to a civil penalty of up to $20,000, and the law additionally authorizes law enforcement or animal control officials to seize and impound a dangerous wild animal if the authority has probable cause to believe the owner of the animal has allowed the animal to come in contact with a member of the public.
SB440: Sales tax holiday for Nevada National Guard members and their families
This new law creates a temporary sales tax holiday for members of the Nevada National Guard and their families to honor their service to the state of Nevada during the COVID-19 pandemic. The sales tax holiday will happen over three days — the day on which Nevada Day is observed and the following Saturday and Sunday. Guard members are eligible for the sales tax holiday if they are on active status and are residents of the state. Guard members must file an application for a letter of exemption no later than 30 days before Nevada Day, observed.
Update: This story was updated at 8:45 a.m. on July 1, 2021 to include details about the minimum wage increase passed during the 2019 legislative session.
The Nevada Independent is raising $200,000 by Dec. 31 to support coverage of the 2024 election.
Tax-deductible donations from readers like you fund this critical work.
If you give today,your donation will be matched dollar-for-dollar.
Give + Get Matched
Featured Videos