Senate approves COVID-19 liability protections legislation that excludes hospitals, schools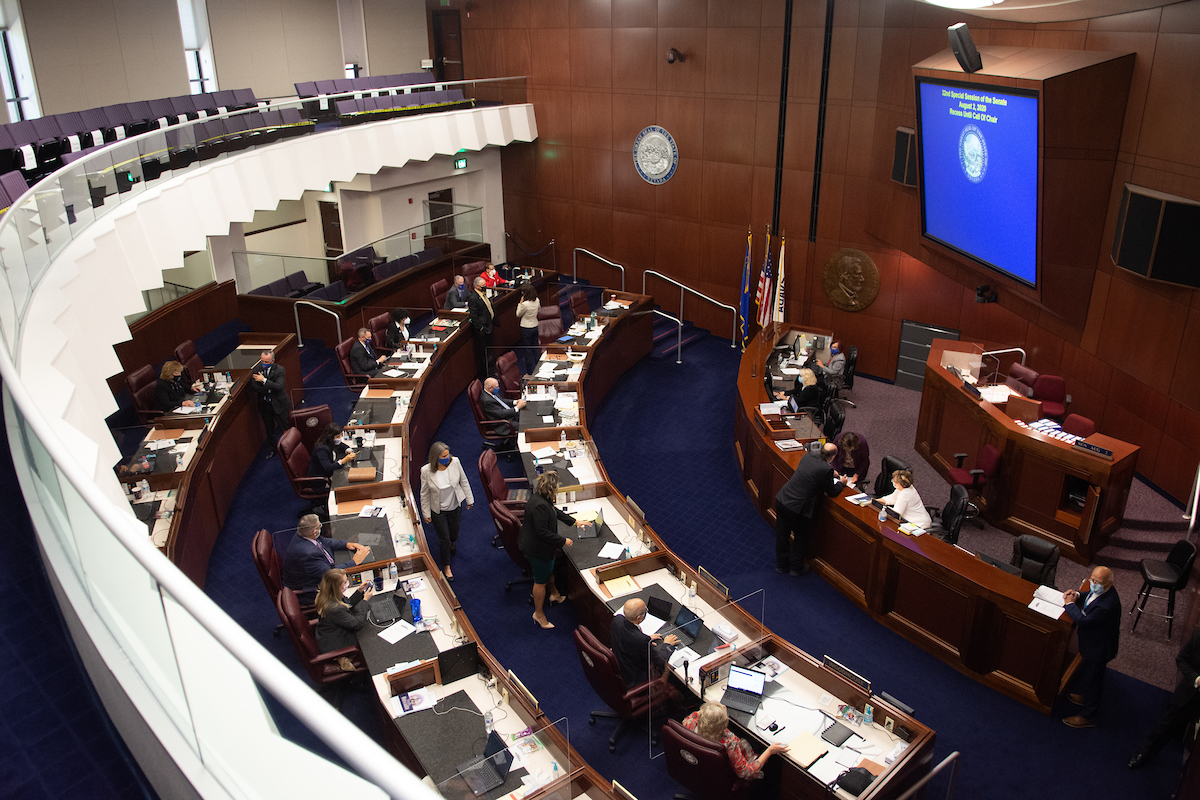 The Senate voted 16-5 Wednesday morning to advance a bill to shield companies from COVID-19-related liability, with a last-minute amendment carving out K-12 school districts.
The bill, which is expected to be the last major piece of legislation to advance in the special session, gives broad liability protections to nearly all businesses, governmental bodies and nonprofit groups in the state so long as they follow required local, state and federal health protocols. Under the legislation, health care facilities and, now, K-12 schools are exempt from those enhanced protections.
Four Republican senators — Ira Hansen, Pete Goicoechea, Joe Hardy and James Settelmeyer — and Democratic Sen. Marcia Washington all voted against the bill. It now heads to the Assembly, where it's expected to come up for a hearing and vote at some point Wednesday.
But ahead of any Assembly meetings, lawmakers are planning yet another amendment to clarify language explicitly excluding any non-profit hospitals or health care facilities from the liability protections. Democratic Sen. Yvanna Cancela said after the vote on Wednesday that the change was being made as the existing version of the bill had "competing" provisions" to ensure that non-profit hospitals or health care facilities were excluded from the bill.
"As a result of that competing interpretation, the bill will likely be amended to ensure there's clarity that no hospitals, regardless of their non-profit or for-profit status, will be afforded liability protections," she said.
Ahead of the vote, many Republican lawmakers voiced significant concerns about an amendment exempting schools from the liability protections, saying it would essentially lead to school districts declining to return to in-person instruction and that the exempted industries were chosen for political reasons.
"I want to know who the people are that actually want to have these kind of liabilities removed, because I think I know who it is," Hansen said. "And I think you're going to see some beautiful class action lawsuits, and there's gonna be some incredibly wealthy people if some of the schools dare to go back."
But Democratic lawmakers, who introduced the amendment early Wednesday to address concerns from teachers' unions and trial attorneys, said the language would require schools to think more about health and safety standards before reopening for in-person instruction. Democratic Sen. Julia Ratti said health and safety concerns would drive the decisions on reopening schools — not liability protections.
"Schools are filled with children, and children deserve perhaps a higher level of protection," she said. "And so where I'm going to land on this is without the liability protection, maybe that does put our schools in the position of having to think just a little bit harder about the safety standards that they're providing."
The amendment itself passed 12-9, with Washington joining Republicans in opposition. But several Republicans opted to vote in favor of the legislation in spite of the exemptions, saying the liability protections would help with the state's fragile economic recovery.
"While I could find a couple of easy ways to vote no, getting people back to work will put me to yes, every day of the week that ends with 'y,' and twice on Sunday," Republican Sen. Ben Kieckhefer said.
The legislation also establishes protections for casino industry workers and outlines enhanced cleaning policies that large casino companies must follow, provisions the politically powerful Culinary Union has been long pushing for. Adolfo Fernandez, a Caesars Palace utility porter and Culinary Union member, died after contracting the virus in June.
Democratic Sen. Yvanna Cancela directly invoked Fernandez during a floor speech, saying it was incumbent upon lawmakers to ensure that hospitality employees are guaranteed high safety and protection standards that not only ensure their safety, but to also send a signal that the state's tourism industry is following the highest standards.
"Do I love every provision of this bill? No," she said. "But do I know that it is important to move our economy forward to ensure that we lead the nation and what it looks like to safely reopen our hospitality industry? Yes."
Lawmakers also did not take up a formal request from the Nevada Workers Coalition — a conglomerate of more than two dozen labor and progressive groups — sent on Monday that requested several changes to the legislation to make it more palatable to them.
Members of the coalition wrote that they "shocked" that the Legislature would take up a business liability proposal while Democrats in Congress were uniformly against similar policies being pushed by Republican Senate Majority Leader Mitch McConnell.
"The members of the Coalition feel that moving forward in this manner would undermine our U.S. Congressional delegation in their efforts to fight back the attempts on the national level," the letter stated. "They also felt that we put workers in other states at risk that are currently fighting this battle in their home states if we are the first state to implement these liability immunity efforts."
Their request included a new bill creating a "rebuttable presumption" for employees diagnosed with COVID-19 to receive workers compensation, as well as prohibiting workers compensation rates from being raised due to the pandemic.
They also included proposed changes to SB3, which dealt with the state's unemployment insurance system, that would allow the state to deem a person to be "unemployed" and eligible for benefits if they are required to be quarantined or isolated due to a positive COVID-19 diagnosis or close contact with a someone who is positive.
They also suggested changes to "controlling health standards" that businesses are required to comply with to qualify for the enhanced legal protections. It would keep the current standard in place for casinos and hotels, while changing the definition back to one which was included in a draft version of the bill that would require them to comply with recommendations, not just mandates, on best COVID-19 mitigation practices.
The Wednesday amendment also included other technical changes to the legislation, ensuring that specific entities such as credit unions and private nonprofit groups are covered under the legislation's liability protections, as well as the officers and employees of any covered business. Lawmakers raised concerns during a Monday night hearing on the bill that the legislation unintentionally exempted several groups from its protections.
But the amendment did not, however, address concerns from hospitals and other health care facilities, which are excluded from the legislation's liability protections. The Nevada Hospital Association on Tuesday released a video arguing that the legislation would leave hospitals "vulnerable to frivolous lawsuits" and "limit patient capacity."
"Throughout this pandemic, we have worked closely with Governor Sisolak and his office to fully support his goals to flatten the curve and protect hospital capacity. As written, this bill puts that capacity at risk, and undermines our efforts to protect Nevadans' health," Bill Welch, CEO of the hospital association, said during the hearing on the legislation. "Nevada hospitals are the frontline of this pandemic. Hospital capacity is critical for providers to treat this fast-spreading virus."
It is not exactly clear who pushed for health care facilities to be exempted from the bill's liability protections, though Brin Gibson, Gov. Steve Sisolak's general counsel, said during a hearing on the bill that it was the byproduct of conversations between "some of the most important members of Nevada's economy." Gibson also suggested that health care facilities are already held to a higher standard because of the type of business they run.
"They're able to manage illness in a way that other businesses are not because they're experts in these spaces," Gibson said during the hearing. "Our role was to try to not overburden the bill, but at the same time to extend it into every possible business that we could, with limitations."
The Washoe County Health District has also voiced concern about the legislation, with Health Officer Kevin Dick saying on a press call on Wednesday that the health district was not consulted on the legislation. He also said that the legislation contains an unfunded mandate for health districts to inspect and enforce health protocols at hotel-casinos since it only appropriates funding for that purpose through the end of the calendar year.
"I wish we would've been engaged and part of the discussion as the bill was developed," Dick said. "I don't think there's going to be much opportunity for any modifications to the approach that was already put together."
Comment Policy (updated 4/20/2021): Please keep your comments civil. We reserve the right to delete comments or ban users who engage in personal attacks, use an excess of profanity, make verifiably false statements or are otherwise nasty. Comments that contain links must be approved by admin.