Senate approves gun background check bill amid fierce debate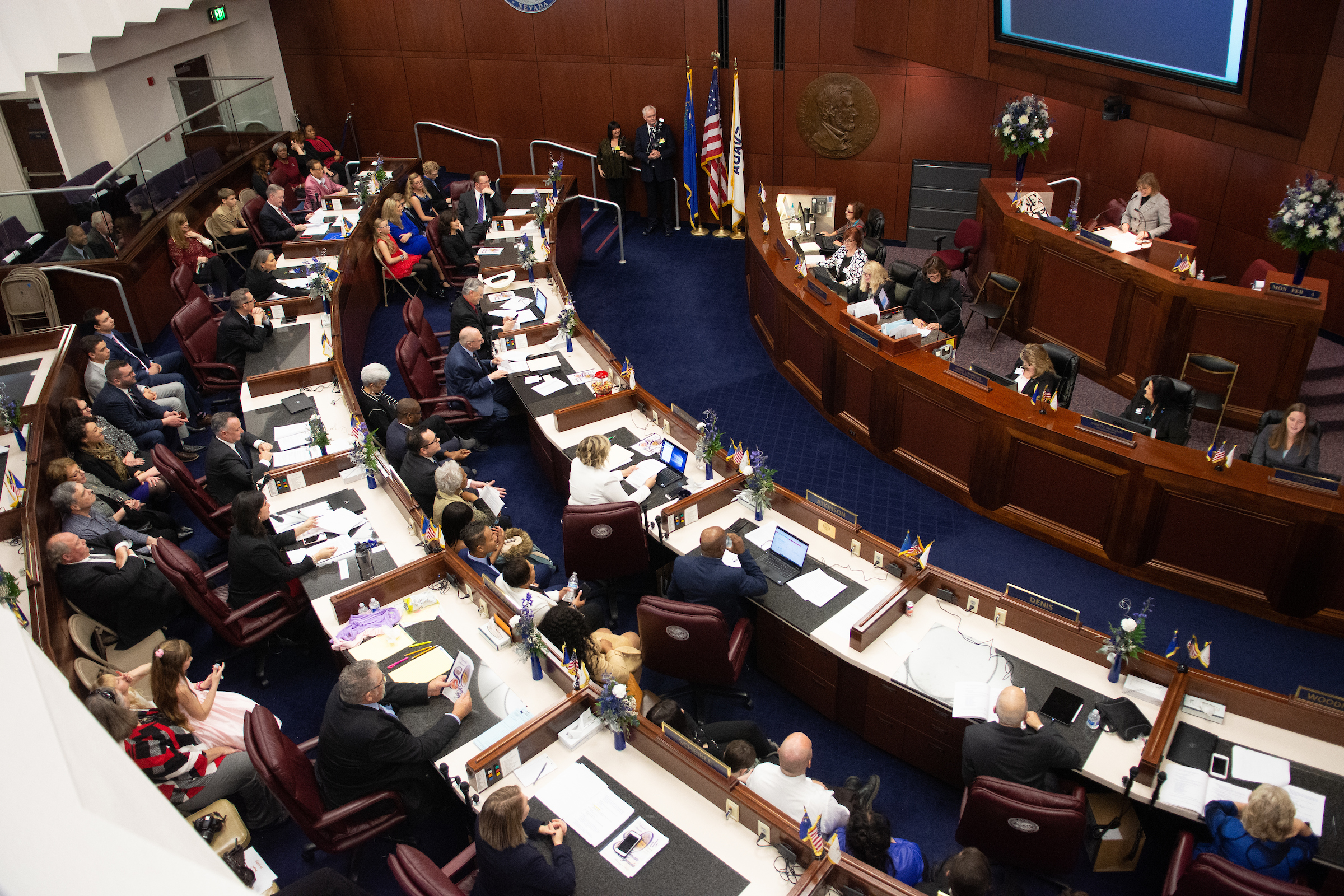 State senators split on party-lines over a major vote requiring background checks on most private gun sales or transfers, with Democrats continuing the rapid processing of the bill designed to finally implement a stalled ballot initiative approved by voters in 2016.
After more than an hour of spirited and emotional floor debate, the bill — SB143 — was approved on a party-line vote with all 13 Democrats in favor and all 8 Republicans opposed. The vote came after Tuesday's nearly eight hour-long committee hearing on the legislation that saw hundreds of advocates on either side crowd the halls of the Legislature to testify on the bill.
Emotional testimony from nearly two-thirds of the 21 senators dominated debate on Wednesday, with at least two senators saying close family members had been killed by gun violence. But Republicans and Democrats staunchly disagreed over whether the legislation would fulfill the will of voters who approved a substantially similar 2016 ballot initiative or create arbitrary and unneeded restrictions for gun owners.
Despite the opposition, few serious roadblocks remain for the legislation; the bill is likely to easily sail through the Democratic-controlled Assembly and Gov. Steve Sisolak has indicated he will sign the measure this week.
Democratic Senate Majority Leader Kelvin Atkinson, the primary sponsor of the bill, said the measure was the latest attempt to implement background checks on private sales and transfers following the 2013 veto by Gov. Brian sandoval of a similar bill and the stalled 2016 voter initiative. He said the Legislature's "failure to act" could have possibly prevented several shooting deaths, including a 14-year-old Henderson child killed by his father — legally prohibited from possessing firearms — over his sexual orientation.
"Our citizens have waited much too long," he said. "They've been waiting for almost six years for us to act. Again, the time has come."
Speaking with reporters after the vote, Atkinson said he understood why some Republican lawmakers representing areas that overwhelmingly rejected the ballot measure voted against the bill, but said it was a "little disheartening" to see Republican lawmakers from populous Clark County — which supported the measure by more than 100,000 votes — vote against it.
"There are some southern legislators who, they know themselves that it may have passed in their districts," he said. "I think they know that, and it's probably a little disheartening to see them not support their citizens."
If approved the bill would require a background check on nearly all private sales and transfer of firearms in the state, with exemptions for certain family members, antique firearms, law enforcement officials, people at a shooting range or hunting; and if a person is facing "immediate death or great bodily harm."
The legislation allows a firearms dealer to charge a "reasonable" fee to conduct the background check, but doesn't assess any fee or tax that would require a two-thirds vote by legislators. Violations of the law are punishable first by a gross misdemeanor and additional violations by Category C felony.
Prior to the vote, Republican Sen. Keith Pickard submitted an amendment that he said would remove what he called "superfluous language" in the bill and more clearly define exemptions and details of situations where a gun sale or transfer is not necessary.
"I personally agree that we should be taking every effective step we can to reduce the likelihood that the bad guys have guns" he said. "As demonstrated in the hearing, the flaws in SB143 make the bill largely unworkable and unenforceable in practical terms."
Democratic Sen. Nicole Cannizzaro said the amendment would "gut" provisions of the bill allowing the state and not the FBI to conduct the background checks, running the risk of a continued stall of the voter-approved initiative.
"It completely would render this entire piece of legislation unenforceable," she said.
The amendment failed on a voice vote.
Republican senators, acknowledging that they had little leverage or power to stop the bill's momentum, pleaded with their Democratic colleagues to either slow down the process or work with the minority party to improve aspects of the bill they said were needlessly vague or could be improved.
"Maybe neither side is absolutely right," Republican Sen. Joe Hardy said. "Maybe there are things that can be done that would make a better approach, that would make it more applicable to more people, that would allow more people to be safe, more people to be considered."
Republican Senate Majority Leader James Settelmeyer disclosed in a speech that his father had committed suicide with a firearm, but doubted that a background check requirement would have stopped that and other tragedies. He said that the bill did not consider the differences in how rural Nevadans viewed gun ownership, and he said Democrats should instead put their focus on increased mental health funding.
"To me, this still comes back to a simple issue: rural versus urban," he said. "I got a lot of constituents, and I'm sure you're shocked, are saying this is an infringement on their constitutional rights. I'm worried because I think it's an assault on our very way of life in the rest of the state of Nevada."
Democratic senators forcibly pushed back against claims proffered by Republicans that the bill was too vague in its definition or did not tackle the root causes of gun violence. Freshman Democratic Sen. Dallas Harris said the bill was the "epitome of common sense."
"This bill does not solve our country's gun violence problem," she said. "Many of my colleagues on the other side are correct that the problem is a holistic one, spurred by mental illness, crime, gun safety, and I look forward to considering measures they bring forward to address those issues. In the meantime, we must do something. I cannot and will not throw my hands up in the face of such a large problem that has impacted so many of our constituents."
Democratic Sen. Melanie Schieble, who works for the Clark County district attorney's office as a prosecutor, said the notion enforcement of the law would be hampered by a lack of clear definitions of phrases such as "transfer" or "possession" was incorrect.
"I'm a person who has personal experience in interpreting laws regarding transfer and possession of property," she said. "I have personally prosecuted cases of prohibited persons in possession of a firearm. And I can tell you that our legal system  is perfectly equipped to understand the terminology of 'possession' and 'transferred.'"
Other arguments became emotional. Democratic Sen. Pat Spearman disclosed that two of her brothers had been shot to death and said that had an effective background check process been in place they might still be alive.
"Do not tell me, do not tell me that we cannot do something, the right thing, to protect those who need to be protected from those who have no right and no reason to have a weapon," she said. "We're better than that. As my colleagues have already said, maybe it doesn't solve all the problems, but I'll tell you one thing, if we could back in time and I could take Senate Bill 143, and put that in Oceanside, California in 1969 and I can put in Indianapolis, Indiana in 2007, if I can do that then, my brothers would still be here."
Featured Videos
Comment Policy (updated 4/20/2021): Please keep your comments civil. We reserve the right to delete comments or ban users who engage in personal attacks, use an excess of profanity, make verifiably false statements or are otherwise nasty. Comments that contain links must be approved by admin.