Sparks votes no on Lime bikes after scooter rollout; Reno votes to keep Lime but pushes for a legislative fix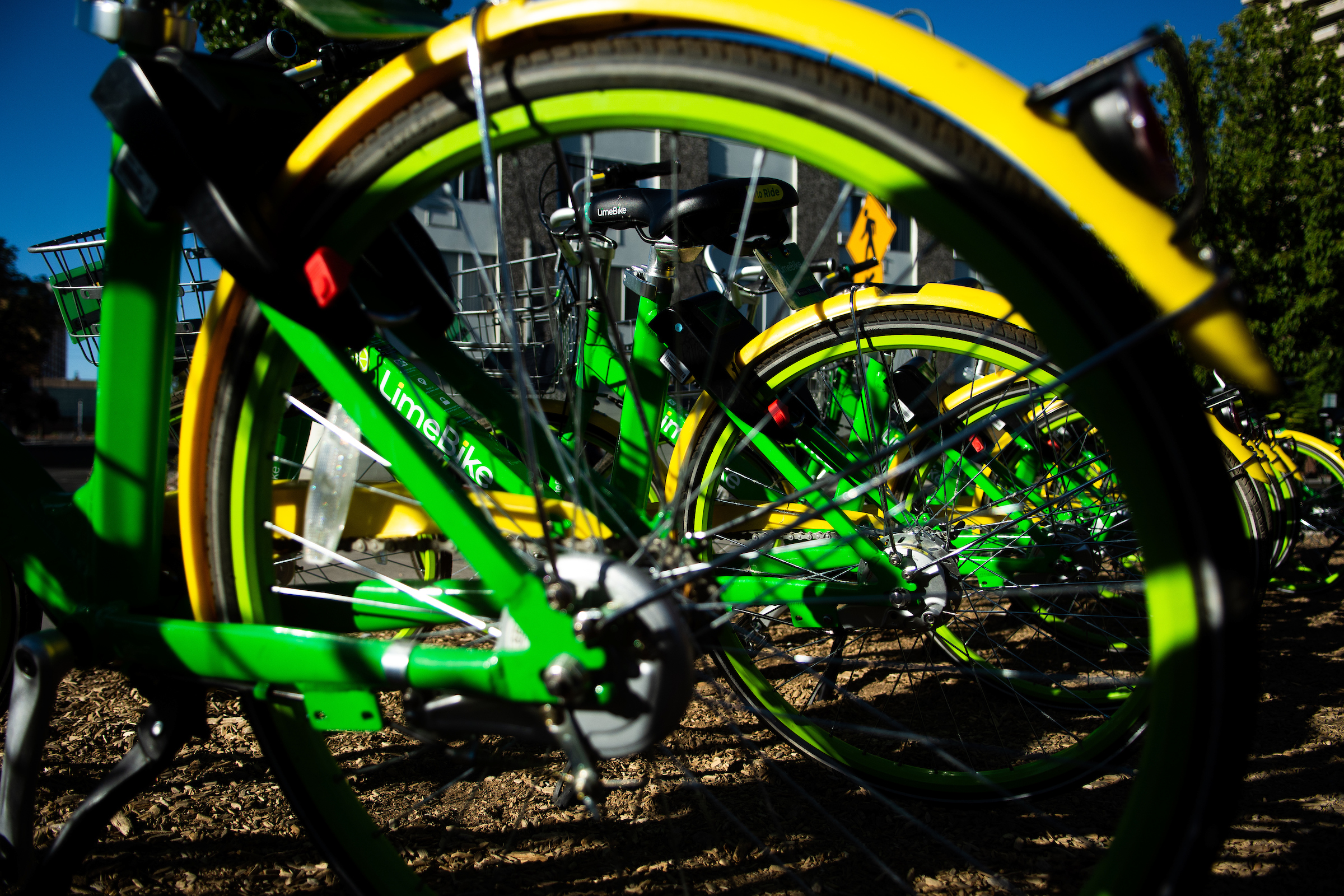 One day they were in. The next day they were out.
In Reno last week, the San Francisco-based transportation startup Lime rolled out a fleet of electric scooters that pedestrians could pick up off the street and rent for a fare. There was one problem: The company, which has a pilot program to offer shareable bikes in Washoe County, failed to ask the Reno City Council and other regional partners if it could launch the scooters.
The city of Reno and the city of Sparks were not pleased.
The next day, Reno's assistant city attorney had written the company a cease-and-desist letter, arguing that the deployment of electric scooters, which have been popular — and sometimes controversial — in other cities, could violate state law. They were shortly taken off of the streets.
Sparks City Council voted Monday to discontinue the pilot program with Lime when it ends in January. The city of Reno continues to work with Lime, despite the fractured relationship.
As startups like Lime and Bird move in, cities across the U.S. have been forced to grapple with how electric scooters fit in with the often arcane local and state laws that govern sidewalks and roadways. Reno is the latest city to deal with this problem, one that some Reno officials and politicians said on Wednesday will likely require legislative tweaks during the next session.
At a City Council meeting Wednesday, a representative for the company publicly apologized for the launch. Gabriel Scheer, Lime's director of government affairs, called the launch a "misstep."
"I regret this is how the launch was experienced," Scheer said in an interview with The Nevada Independent before the meeting. "I'm disappointed with how the whole thing happened."
Electric scooter startups, like ride-sharing company Uber (an investor in Lime), have launched in some cities without first seeking formal permission from city officials. In San Francisco, Bird and Lime launched without permission and were later banned from participating in a pilot program.
On Wednesday, most of the council was willing to accept the apology and move forward.
But Councilman Paul McKenzie said that the decision to drop electric scooters on the street was less a misstep and more a way to win public support for a product that faces legal uncertainty.
"I'm completely offended that our attorneys are telling you it's not legal, and you're going to drop a bomb and ignore them," he said. "It's a far stretch to say that that was a misstep. That was an intentional step to get something established and get public opinion to force the council to go against the opinion that our legal staff had given us on where we were on [the scooters.]"
There is legal uncertainty about how and whether Nevada statutes address electric scooters, and those questions around the law have loomed over the Lime discussion for several months.
In an August memo to the City Council, staff wrote that Lime planned to deploy electric scooters, a product that was included in the contract for the pilot program. The memo also included an opinion from the city attorney's office that argued scooters should fall under the state's regulations for "mopeds." And Lime's electric scooters do not meet the criteria for mopeds because state law requires mopeds to include side-mirrors and tail lamps.
Lime continued to push for electric scooters. The company has argued that the scooters will help it build a sustainable business model — scooters are more popular than bikes. Lime also notes that the Nevada DMV said it interpreted scooters to fall under statutes for electric "bikes."
"Candidly, the full business line is what it takes to make money and we are really we're trying to build a sustainable long-term business in the area," Scheer said in an interview.
At the last City Council meeting on Sept. 12, the issue of scooters had come up when several council members expressed mild frustration that their inboxes had been filling up with form letters from constituents who, through Lime, sent emails pushing them to allow scooters.
The council made no decision then. But on Sept. 18, the company launched the scooters anyway. Washoe County, the city of Reno, the city of Sparks and UNR all criticized the launch, as the Reno Gazette-Journal reported. Now all of the entities are working through next steps.
"Our contract with Lime requires them to demonstrate that the scooters comply with local and state regulations," a UNR spokesperson said in an emailed statement. "To date, they have not been able to satisfactorily demonstrate compliance with state law, therefore the university is unable to allow the scooters on campus. The scooters are legally prohibited from being operated on sidewalks/walkways, so that also precludes use on the majority of the campus."
Two days after Sparks voted to end its relationship with Lime in January, the Reno City Council voted on Wednesday to continue working with Lime with limited commissioners. Councilwoman Neoma Jardon asked the company to agree to seek council approval before launching scooters.
Scheer said the company would agree to that.
Councilman David Bobzien, who helped write the electric bicycle law at question when he was in the Legislature, said state lawmakers need to bring more clarity to scooters next session.
"Not only do we need to clarify the technology piece of this in the traffic statutes, but I think we need to make a very affirmative case to the Legislature as to our reserved rights to have a franchise possibly around this," Bobzien said.
In January when the pilot program expires, the City Council could extend the test phase or enter into a longer-term franchise agreement with the company. Most of the council members would like to see that happen and described the recent setback as a road-bump.
"From the outset, I just want to say I'm excited about the company," Bobzien said. "I'm excited about the product. I use the product. I would like to see the scooters come here. I think from Day 1, that has not changed. We appreciate the mea culpa. We were clearly off to a rocky start. I have full confidence that we can reset and get to where we need to go."
Under the pilot program expiring in January, it is possible Lime will launch electric bicycles. With Wednesday's unanimous vote, they will now need the City Council's permission. Electric bikes are defined in Nevada law. Still, there is uncertainty as to whether council will allow electric scooters before state lawmakers clarify the law or the DMV issues a legal opinion.
Lime's bikes and scooters are dockless, meaning riders can park them anywhere, including on sidewalks. Notably, one bike was left on top of the Virginia Street Bridge this summer. The council on Wednesday asked the company to explore better parking procedures, such as road markings. Council also urged the company to better educate riders on bike safety.
In cities throughout the U.S., the launch of bikes and electric scooters have been controversial, with many frustrated at riders who disrupt traffic and concerned they cause safety issues.
Scheer said he understands some of the backlash and said the company is willing to address it.
"I often put myself in the place of someone 100 years ago and think about how would I have felt about watching cars roll in from the vantage point of sitting on my horse," Scheer said. "I think I would have been flummoxed… Change is hard."
Comment Policy (updated 4/20/2021): Please keep your comments civil. We reserve the right to delete comments or ban users who engage in personal attacks, use an excess of profanity, make verifiably false statements or are otherwise nasty. Comments that contain links must be approved by admin.