2-Minute Preview: Paid time off, payday loan database and reducing traffic penalties all on deck for Legislature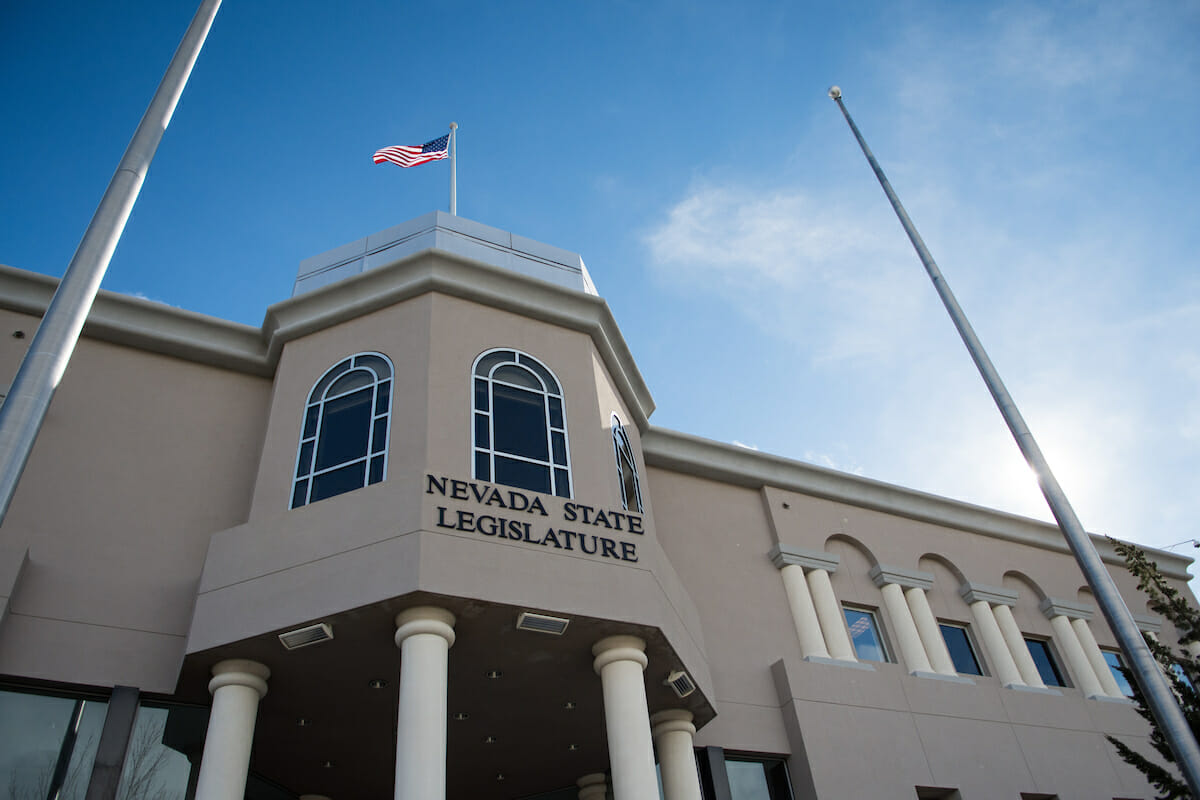 Bills requiring large employers offer paid time off to their employees, reducing some penalties for traffic tickets and prohibiting employers from not hiring someone because of a positive test for marijuana are up for hearings on Friday in the Legislature.
With only 25 days left to go in the legislative session, lawmakers are continuing to whittle their docket of bills by scheduling hearings on measures that create a payday loan database, require a growth plan for Northern Nevada and allocate $36 million to the K-12 budget account for shortfalls in spending for the last two school years. After Friday, lawmakers have only next week to move bills out of committee before next Friday's legislative deadline for second committee passage.
For more information on the status of bills working their way through the Legislature, check out The Nevada Independent's bill tracker. And for the bills in committee today, check out the Legislature's website for committee times and links to watch live committee meetings and floor sessions.
Here's what to watch for on Friday at the Legislature:
SB312: Paid sick leave
A top priority of legislative Democrats, SB312 would mandate that private employers with more than 50 employees grant a certain amount of paid time off every year to their employees.
The bill is sponsored by Democratic Sen. Joyce Woodhouse and would require private employers offer up to 40 hours of paid time off every year to their employees, starting within 90 days of being hired. It wouldn't apply to businesses with fewer than 50 employees, temporary or seasonal workers, employees who receive 40 or more hours off a year through a collective bargaining agreement or any new businesses formed in the state until 2022.
A hearing on the bill last month drew supportive testimony from business interests and progressive groups, though some chafed at the 50-employee limit and requested it be revised down to 25. It's up for a hearing in the Senate Finance Committee, likely due to an $18,000 fiscal note from the Capitol Police.
It's scheduled for a hearing at 8 a.m.
SB520: School funding shortfalls
Members of the Senate Finance Committee have also scheduled a hearing on SB520, which appropriates $36 million to the state budget account for K-12 education for "unanticipated increases" in student enrollment over the last two school years.
It's up for a hearing at 8 a.m.
Budget closings
Additional state agencies and departments will have their budgets finalized on Friday, with the Assembly Ways and Means and Senate Finance committees both meeting at 8 a.m. to approve budget closings in the state Treasurer's office, the lieutenant governor's office and the Governor's Office of Finance.
AB434: Traffic ticket penalty reduction
One of two bills attempting to lower penalties or altogether decriminalize minor traffic tickets is scheduled for a hearing in the Senate Judiciary Committee.
AB434 would amend several existing rules around the issuing of traffic citations, including creating a standard schedule where fines for speeding are based on $20 per each mile per hour a person is over the speed limit and creates a 30 day grace period for any person who fails to appear in court or pay a fine with most minor traffic violations.
An amendment to the bill proposed by primary backer Assemblyman Steve Yeager would prohibit state or local governments from reporting any delinquent fine payments to a credit agency, and limit their ability to use a collection agency or jail a defendant for nonpayment of a traffic ticket, unless a court finds them guilty and determines they have the ability to pay the fine but are willingly not doing so.
It's up for a hearing at 8 a.m.
SB201: Payday lending database
If approved, this measure would create a state-managed payday loan database, which has attracted the scorn and fierce opposition from the high interest, short-term loan industry.
Sponsored by Democratic Sen. Yvanna Cancela, SB201 would authorize creation of a database tracking all data on all loans with a 40 percent or higher annual percentage rate interest, including loan amounts, fees assessed on borrowers, default rates and the interest charged on loans. It also codifies portions of the federal Military Lending Act into state law and authorizes lenders to share information on food stamps and other welfare programs in their storefronts.
The bill has been fiercely opposed by the payday lending industry, and passed out of the Senate on a party-line 13-8 vote on April 18.
It's scheduled for a hearing in the Assembly Commerce and Labor Committee at 12:30 p.m.
AB240: Regional growth plans in Northern Nevada
Proposed by Democratic Assemblyman Skip Daly, AB240 would require Carson City, Douglas County, Lyon County, Storey County and Washoe County and all cities within to prepare a report to legislators on the "orderly management of growth" in the region.
The bill requires those counties and cities to meet jointly at least twice each calendar year between 2020 and 2023 to discuss growth issues, and prepare annual joint reports to the Legislature on growth management issues. It passed on a 38-3 vote in the Assembly on April 23.
It's up for a hearing in the Senate Government Affairs Committee at 1 p.m.
SB178: Work session on Council on Food Security
Sponsored by state Sen. Yvanna Cancela, this bill establishes the Council on Food Security, which was first created by Gov. Brian Sandoval in 2014 by executive order, in statute and outlines its membership. It would also create the Food for People, Not Landfills Program within the Department of Health and Human Services with the overall goal of decreasing food waste.
The council will be responsible for implementing the "2013 Food Security in Nevada: Nevada's Plan of Action," advising the governor on food security issues, making recommendations to the director of the Department of Health and Human Services for the Food for People, Not Landfills Program and submitting an annual report to the Legislature.
It's up for a vote in the Assembly Health and Human Services Committee at 12:30 p.m.
AB132: Hiring people who test positive for marijuana
Sponsored by state Assemblywoman Dina Neal, this bill would prevent employers from deciding not to hire someone because they test positive for marijuana on a drug test, with certain exceptions. It would, however, allow the employer to require employees to abstain from marijuana as a condition of their employment, unless he or she holds a valid medical marijuana card.
The bill would also make it an unlawful employment practice to discriminate against an employee because he or she engages in the lawful use of marijuana outside of the premises of the employer during nonworking hours if the use doesn't impair his or her ability to carry out the responsibilities of the job.
It also establishes 2 nanograms per milliliter of marijuana or 5 nanograms per milliliter of marijuana metabolite as the level at which it is presumed an employee can perform his or her job without adverse effect, the same levels used to determine whether someone can operate a motor vehicle.
The bill is up for a hearing in the Senate Commerce and Labor Committee at 1:30 p.m.
AB239: Work session on opioid prescribing changes
This bill, up for a vote in the Senate Commerce and Labor Committee, would amend an opioid prescribing law passed in 2017 that prompted significant backlash from the physician community.
Among other changes, the legislation would allow providers discretion when writing prescriptions for controlled substances to treat acute pain beyond the limitations in law if they determine that doing so is medically necessary.
The bill will be voted on at 1:30 p.m.
IndyFest is proudly sponsored by:
Comment Policy (updated 4/20/2021): Please keep your comments civil. We reserve the right to delete comments or ban users who engage in personal attacks, use an excess of profanity, make verifiably false statements or are otherwise nasty. Comments that contain links must be approved by admin.