A history of harassment: Past legislative leaders explain why Manendo faced few consequences for misbehavior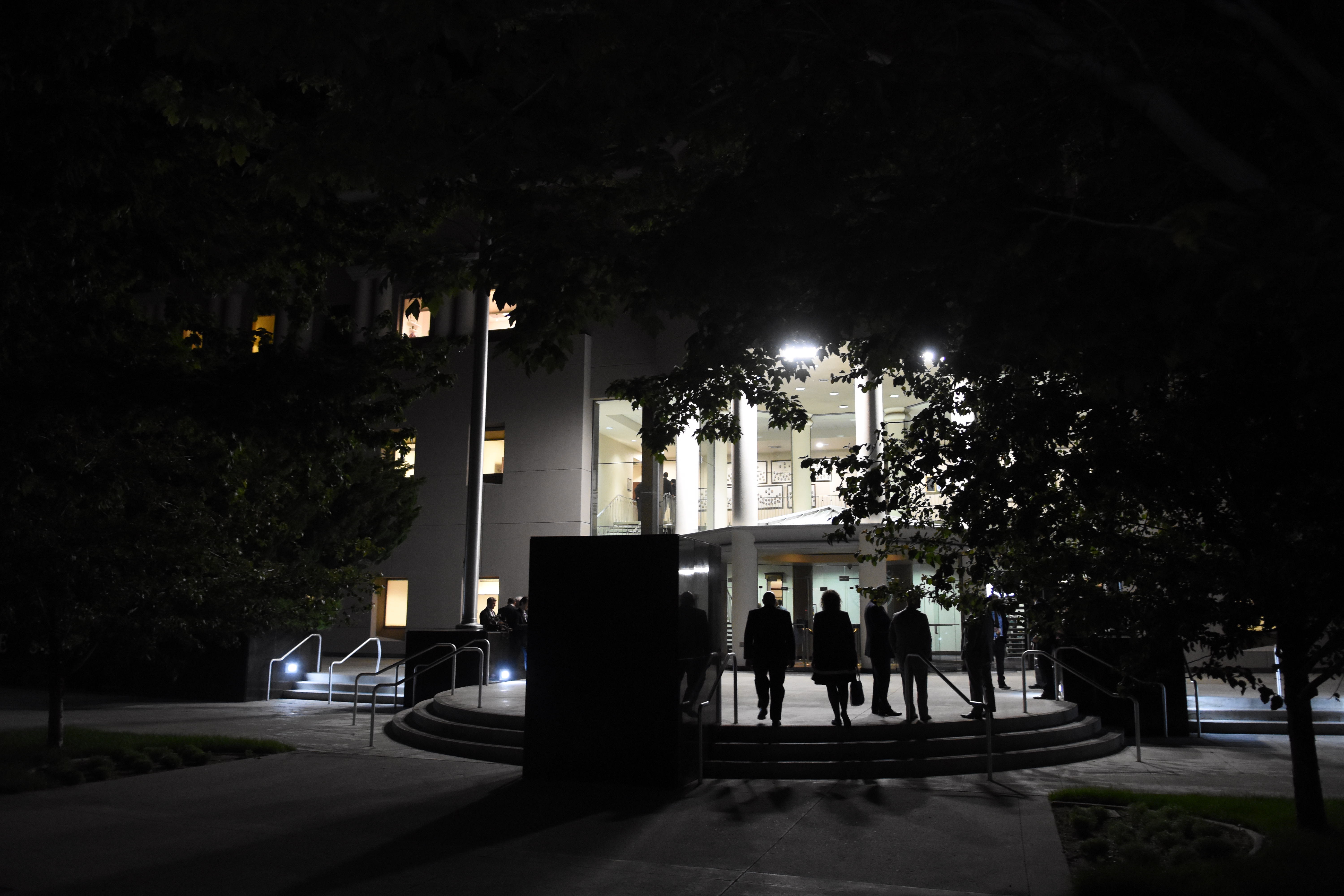 The news of a harassment investigation into state Sen. Mark Manendo's behavior during the last legislative session came as little surprise to many of those with experience in Carson City.
Women working at the Legislature — staff, lobbyists and journalists alike — have routinely been told to keep their distance from the longtime lawmaker. And although complaints about Manendo's behavior were whispered in the halls session after session, occasionally surfacing in media reports, Manendo returned to Carson City year after year, from 1995 to 2017, to become one of the longest-serving lawmakers in an era defined by term limits and rapid legislative turnover.
Democratic Senate Leader Aaron Ford, whose decision to launch an independent investigation into Manendo's behavior this spring ultimately led to the senator's resignation, acknowledges that he had heard the rumors "swirled about" that Manendo had engaged in "activities in the past." But Ford insists that, prior to this legislative session, he had never received a direct complaint about Manendo's behavior and, as soon as he did, he acted.
"In my capacity as Senate majority leader, when I had the ability to actually require something to be done is, you know, that's when it was brought to my attention and that's when I did something about it," Ford said in a recent interview with The Nevada Independent.
Asked why he appointed Manendo as a committee chair if he was aware of the rumors from prior sessions, Ford said in a statement that "the 2017 session was the first time I received reports from women in the building asking for Mr. Manendo to be investigated," noting that his first session was 2013 and he served as minority leader in 2015.
"This year has represented a turning point and a national reckoning on this issue. This past session, some very brave women came forward to me directly with reports of Mr. Manendo's misconduct," Ford said. "Like we've seen with other cases around the country, it took one or two women to come forward — and suddenly other women who experienced similar harassment by the same person felt comfortable enough to share their stories as well."
Manendo did not respond to a call, text, messages on Twitter and Facebook or a lengthy list of questions that the Independent emailed to him about the allegations against him and how he was treated in the investigation.
Manendo's conduct had led to concrete action from legislative leaders in the past, although it didn't snuff out the behavior. In 2003, then-Assembly Speaker Richard Perkins asked legislative staff to look into allegations that the then-assemblyman made inappropriate comments to two of then-Assemblywoman Dawn Gibbons's interns, a probe that was ultimately said to be inconclusive.
In another publicly reported incident from 2003, Manendo was accused of making inappropriate comments to a female staffer from the Nevada Association of Counties at a Carson City restaurant. The former director of NACO, Bob Hadfield, described the interaction to the Las Vegas Sun as "bizarre and inappropriate" and "a verbal attack."
After that session, Perkins decided not to re-appoint Manendo to chair the Assembly Government Affairs Committee. Perkins said the move was linked to the allegations.
The Sun also reported that Manendo was privately reprimanded by Democratic leadership during the 2009 legislative session. Sources told the Sun that "Manendo told the woman in vulgar terms that he found sexual gratification in viewing photos of her."
Nevertheless, he continued to win re-election year after year in his solidly blue Assembly district without any effort by legislative leaders to recruit another Democrat to challenge him. He ran unopposed in the Democratic primary in 2004, and handily defeated primary challenger Lon West Enwright by more than 60 points in both 2006 and 2008.
After eight terms in the Assembly, Manendo moved his way up to the state Senate in 2011. The allegations against Manendo were, however, front and center in his 2010 Democratic Senate primary, with then-Assemblywoman Kathy McClain making what the Sun described at the time as "veiled" statements in campaign materials alluding to his "pattern of sexual harassment." Still, he won the primary and the general in a district with about twice as many registered Democrats as Republicans.
Manendo didn't face any primary challenge in 2014, beating Republican Ron McGinnis by 7 percentage points in the solidly Democratic district.
During the past few election cycles, Manendo's campaigns coasted on donations from many of the big-name corporations and groups that lobby the Legislature and he collected some donations from current and former lawmakers: former Assembly Speaker Barbara Buckley donated $1,000 in 2013, former Senate Majority Leader Mo Denis' campaign gave him $5,000 in 2014, and the Senate Democratic Caucus gave him more than $5,000 in in-kind contributions in 2014.
In the Senate, he was selected as a committee chairman in 2011, 2013 and 2017 — each year when his party held a majority. As chair, he had power to let bills live or die, and as a member of small five-person Senate committees, his votes could play decisive roles.
Looking back
Former Democratic Assembly speakers — Perkins, Barbara Buckley and John Oceguera — were relatively circumspect in recent interviews with the Independent when asked whether they had any regrets about how they handled allegations against Manendo that were brought to them in prior legislative sessions. All praised Ford's decision to hire an independent investigator but said that the idea never occurred to them.
"I just don't think that it was, back in those days, that that was just something that existed, right?" Buckley said. "You know, I just, I think that is a newer, newer meaning the last five, six, seven years, it's become more commonplace."
Buckley said that when she received a firsthand complaint as an assemblywoman — before she was Speaker or in Assembly leadership — and encouraged the individual to report it to the Legislative Counsel Bureau, the person didn't want to. Buckley said when she asked why, the person told her, "I am swamped, I have my career, I have 90 things to do today. I don't want to spend this portion of my life dealing with this."
Buckley said she never directly confronted Manendo in response to either of the two complaints she was aware of during her time in the Legislature. She described it as a "kind of let one of the men do it" situation, saying she got the impression that Perkins and Oceguera both wanted to confront Manendo about his behavior.
Oceguera said he didn't necessarily think it was "a man's responsibility to confront a man" but that he was able to draw on his experience supervising people at the North Las Vegas Fire Department, where he worked until he retired from his post as assistant chief in 2011, when he confronted Manendo. He said he didn't recall the specifics of what he said to Manendo, but said that based on similar conversations he had within the fire department that he probably was "fairly stern," giving Manendo a warning and listing possible consequences.
Asked whether he had any regrets about how he handled Manendo during his time in the Legislature, Oceguera said that he wishes that he would have thought to bring in a special investigator.
"It worked out. It was a great idea," Oceguera said. "That's the only regret."
Perkins, who requested the Legislative Counsel Bureau investigation into Manendo in 2003, said he wouldn't use the word "regret" to describe how he had responded to allegations. However, he said that he's "disappointed" that it took so long for hard evidence to be brought forward and that there are "other women who had to endure his actions."
Perkins said that he had received a "hint of a rumor" as Assembly speaker that Manendo had "been very forcefully asking" two interns to go out with him. He asked then-Legislative Counsel Bureau Director Lorne Malkiewich to investigate; however, the interns ultimately never came forward to report the allegations.
Perkins, a former Henderson police chief who spent several years investigating sexual assault cases, said that he didn't feel it was his place to "compel" the women to come forward. He said he didn't want to revictimize them by doing so.
But Perkins felt that, because the allegations were something that was being talked about in the Legislative Building, it was important to take action, deciding to strip Manendo of his committee chairmanship. Perkins said he discussed the allegations with Manendo, who denied them, and tried to get Manendo to understand "how others might feel about what his actions were."
Like Buckley and Oceguera, Perkins said that he "would've loved to have access" to an independent investigator back in 2003. But he also said that he "didn't have a budget for those sorts of things back then" — the Manendo investigation cost the Legislature $67,000 — and that the thought of hiring an independent investigator didn't occur to him until Ford directed the Legislative Counsel Bureau to do so earlier this year.
Money for the investigation came from the Legislative Fund, a special revenue source derived from the state general fund that can be spent on a wide variety of things under state law, including "the payment of necessary expenses of the Senate." There's not a budget carve-out for investigations because they're not a predictable expense, but they're a proper use of the fund, according to Legislative Counsel Bureau director Rick Combs.
Complaints about Manendo did not come to Senate leadership in 2011.
Democrat Steven Horsford was majority leader that session and declined to comment on some specifics of his dealings with Manendo. But asked if he believed there were systemic problems, he said he thinks all workplaces — including the Legislature — can improve.
"This is a moment and it's a moment we need to reflect on and more importantly fix things that are broken," he said in an interview. "There needs to be a process that's independent, that's fair, that allows people to come forward. People shouldn't have to go to their boss alone to file a complaint and be heard — there needs to be a better code of conduct and ethics."
Democratic state Sen. Mo Denis said he didn't receive any complaints about Manendo's conduct during his time as Senate majority leader in 2013.
"Had I, I would have definitely done something, had some kind of independent investigation," he said. "I didn't have any formal complaints of any kind. I can't base stuff based on hearsay or past things. I had to go by whatever I had before me. The one thing I knew about Manendo is he's very good for his constituents. He'd always been very dutiful knocking on doors … he definitely worked very hard at it."
He said he wasn't sure why it took so long for the matter to come to the forefront.
"I think the fact that this is happening and what's going on right now — hopefully people won't have to put things off and will come forward," he said.
A spotty complaint process
Like most other states, Nevada's Legislature has a policy in place that prohibits sexual harassment and provides a way to address complaints. The National Conference of State Legislatures said at least 37 states have formal, written guidance on how to deal with allegations of sexual harassment, according to a poll taken in October 2016, the most recent data available.
But Rick Rossein, a professor with the CUNY School of Law who helped New York's legislature rewrite its policy following a major sexual harassment scandal in 2013, told the Independent earlier this year that many of those policies don't go far enough or are too informally enforced to be effective.
It's a point underscored by the number of reports of sexual harassment at statehouses across the country. Women in California, Rhode Island, Iowa, Oklahoma, Tennessee, Missouri, Wisconsin, New York and Kentucky, just to name some of the public reports, have spoken out in recent months and years about behavior they have experienced in their state capitals.
Congress, meanwhile, is grappling with deficiencies in its own policies. Sen. Catherine Cortez Masto called Thursday for an overhaul and an end to the practice of secretive taxpayer-funded settlements for sexual harassment cases involving lawmakers, and a harassment allegation against Rep. Ruben Kihuen by a campaign staffer highlighted the fact that campaigns hadn't been required to develop sexual harassment policies.
Nevada lawmakers revised their own harassment policy in the waning hours of the 2017 legislative session, expanding it from mentioning legislators to also mentioning lobbyists. While the existing process laid out a way people can submit complaints to legislative leaders, the new rules also call for a new reporting system that would allow people the option of anonymously submitting complaints, as long as they offered enough details to allow for a follow-up inquiry.
Combs said that the reporting system is still a work in progress but that his agency plans to have a draft version available to legislative leadership before the end of the calendar year.
The new rules also create a "Legislative Code of Ethics" that bars lawmakers, legislative staff and lobbyists from actions that intend to "threaten, harass, intimidate or improperly influence" another person, create a hostile work environment, cause "harm or serious emotional distress" or involve dishonest or fraudulent behavior against another person. People involved in the legislative process are bound by the code even in the interim period between sessions.
The expanded scope of the code appears to address a predicament that some of Manendo's accusers communicated to the Independent: that they weren't sure how to report conduct that wasn't overtly sexual but had elements of harassment and upset them, and weren't sure whether certain words or actions were worthy of a formal report.
Three lobbyists who spoke anonymously to this publication described encounters with the senator that included angry outbursts, pointed accusations and comments they found to be threatening. Because an investigative report into Manendo's actions that was completed this summer remains confidential, the nature of the encounters reported by the vast majority of the 58 people who spoke with the independent investigator is unknown.
Even before the 2017 session, legislative rules allowed for a "discreet and impartial" investigation that could be directed to a committee of lawmakers in the appropriate chamber. Lawmakers are directed to take "appropriate disciplinary or remedial action" if the anti-harassment policy is broken, but the rules don't specify what those processes look like.
The rules also say they do not create any "enforceable legal rights in any person."
In order to improve the culture of statehouses, Rossein said it's important to have a clear, delineated process for submitting, reviewing and disciplining cases of sexual harassment.
"The rule of law is very important, that everybody knows what the rules are, that the rules applied consistently, that they're applied fairly and that they will be applied," he said. "And that there is a process that moves from Point A to whatever the endpoint is."
The Nevada Independent is raising $200,000 by Dec. 31 to support coverage of the 2024 election.
Tax-deductible donations from readers like you fund this critical work.
If you give today,your donation will be matched dollar-for-dollar.
Give + Get Matched
Featured Videos