Assembly Republican Caucus: 2020 election was not 'fraudulent,' but reforms needed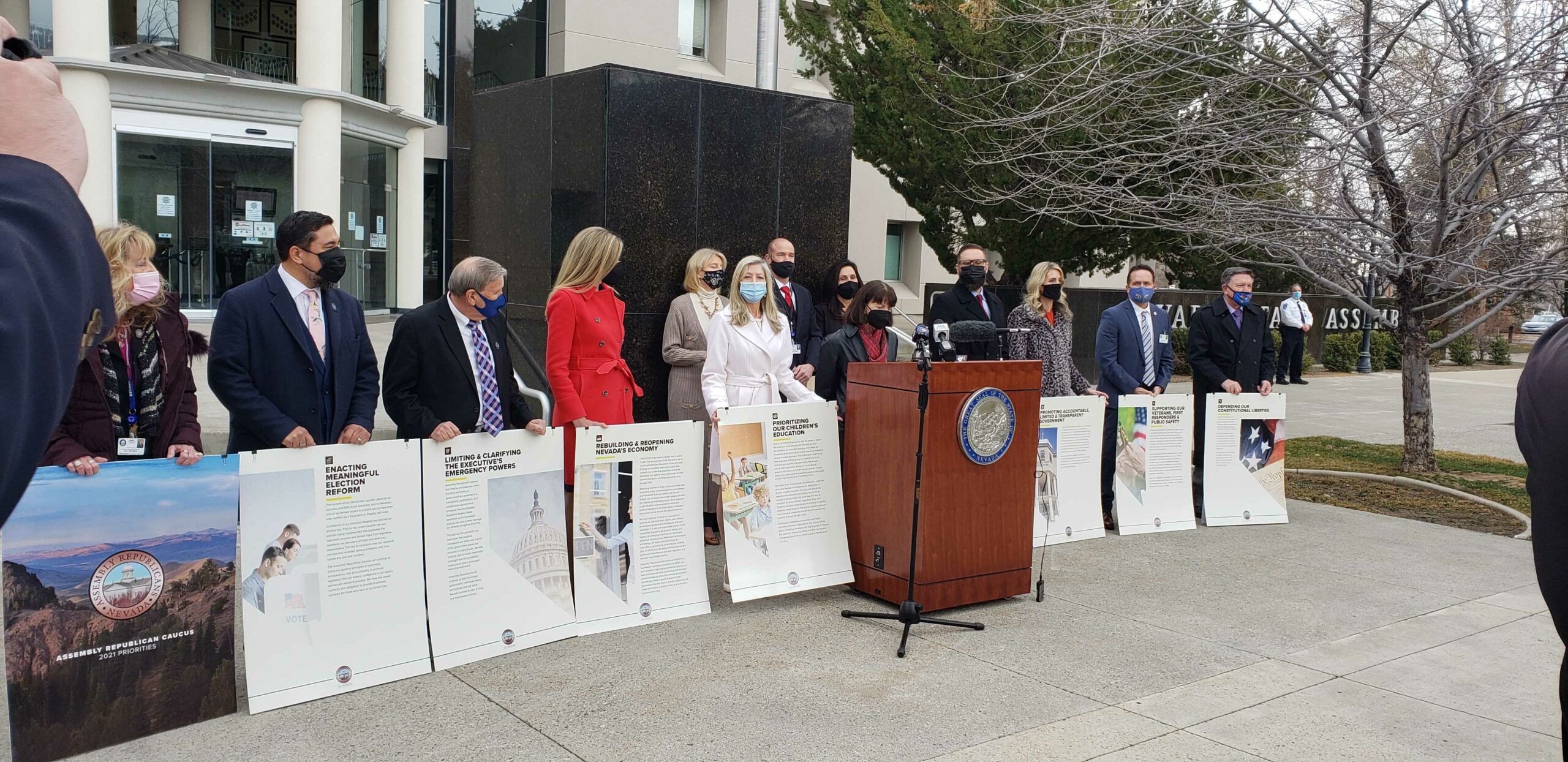 Officials with the Nevada Assembly Republican Caucus says the group's official position is that the recent election was not "fraudulent," although members pointed to individual examples of stray mail-in ballots as contributing factors to low confidence in elections, and members are trying to repeal a law that calls for widespread distribution of such ballots to active voters during states of emergency.
A rollback of election legislation passed in the summer was one of the policy plans Republicans described in a Thursday afternoon news conference outside the Legislative Building in Carson City. But many of those priorities will be difficult to accomplish with Democrats holding a majority in both houses of the Legislature and the governor's office.
Caucus members — all of them masked and together holding poster-sized printouts of a brochure outlining their policy priorities — spoke to reporters outdoors even as temperatures dipped into the 30s and a light snow began to fall. Assembly Republican Leader Robin Titus (R-Wellington) said their request to hold the event in a large conference room while observing COVID precautions was rejected; Republicans have been outspoken in support of a quicker lifting of capacity restrictions.
"This building is not open to the public and just for a point of information, it's not open to the legislators either," Titus said. "We like the snow, it's just not necessarily an opportune moment for us to be out here in it."
Reopening and emergency powers
While members did not all individually answer a question about whether they had been vaccinated, Titus said they are not anti-vaccine, but she also noted getting the vaccine to everybody is "a supply issue." Democratic leaders have suggested the largely virtual session could reopen to the public once more people working at the Legislative Building are inoculated.
"I think we're all in line to get that vaccine," she said. "We want to get this building open. And we want to do it safely. We don't want to have that as an excuse not to open this building. We're all on board."
Assemblyman John Ellison (R-Elko), however, told Elko media in a call on Thursday that he wouldn't be getting the vaccination on the basis of "religious belief."
Another caucus priority is putting a check on Gov. Steve Sisolak's emergency powers, which are still in effect nearly a year after they were first invoked. They held indoor capacity limits to 25 percent for many businesses for weeks until they were relaxed effective this week.
A bill co-sponsored by virtually all Republican caucus members, AB93, would require the Legislature's approval to extend a state of emergency beyond 15 days.
"A governor should have emergency powers. There's no doubt about that. We have a flood, we have a pandemic, we have … an earthquake, whatever — he's got to have those powers," Assemblyman Jim Wheeler (R-Minden) said in an interview. "But at some point, the other branches of government have to step in, and the people that are closest to the people that are electing us need to have a say."
Wheeler said he would hope Democrats could get on board with the concept on the understanding that a Republican could again become governor and assume those same powers.
"I've spoken to some that are kind of open to it," Wheeler said. "But I think they're afraid to say it out loud."
Revenue and COVID relief funds
Titus reiterated that she wants no new taxes — a declaration that could stall any plans to increase revenue this session because Democrats would need to secure a two-thirds majority to push through any plan. Republicans hold 16 of 42 seats.
Sisolak has not proposed significant new taxes, although Democratic leaders have said they want to have a discussion about revenue this session and several tax proposals that would need approval in a statewide vote are making a pit stop before the Legislature this session.
"Our revenues are still not what they were before the pandemic. And we still need to be responsible stewards of our money," Titus said. "Our team is continuously working with our fiscal staff on ways that we can save money without the need for raising taxes."
Titus said she has concerns that if Nevada receives the potentially $4 billion that might come from the next federal COVID relief package, the funds may not be spent wisely and those expenditures might not be fully transparent. She raised concerns about the effect the stimulus could have on the national debt.
"They're printing money like it's going out of style," she said in an interview. "And your grandchildren are going to be paying for that."
If the state does receive a large amount of money, however, she wants to see a commission providing oversight over the expenditures. She said it might be able to help to shore up budget accounts that are precarious session after session, including the Millennium Scholarship, a court system funded by traffic ticket fees and the Rainy Day Fund.
"Many people say that it's a very regressive tax system that we have in Nevada. And I think that it needs to be thoroughly vetted. So this may give us a cushion to do that," Titus said. "There's nothing wrong with the Rainy Day Fund. There's nothing wrong with saving that or investing in our infrastructure here or buildings."
Election integrity
Republicans' policy platform asserts that "no Nevadans should be denied access to a ballot box or have their vote nullified by a fraudulent or illegally cast vote," although caucus spokesman Jon Staab said after the event that "the caucus does not believe the election was fraudulent."
During the press conference, Assemblyman Andy Matthews (R-Las Vegas) described the Democrats' bill expanding vote by mail and allowing people to turn ballots in for others as practices that "dramatically undermine the security of our elections."
He said people he spoke to on the campaign trail said they received mail ballots for people who did not live at the address anymore, and also cited as an example voting discrepancies in a close Clark County Commission race initially decided by 10 votes and photos of large numbers of ballots gathering near mailboxes at apartment complexes.
Wheeler said the criticism of the policies under the recently passed election bill AB4 do not amount to not accepting the results of the election, but said he still wants a post-mortem examination of what happened.
"The election's over, we can't go back. And I think that people that are coming out saying we need to overturn the election, it's stupid. It's ridiculous," Wheeler said. "Let's get this building here, the [Legislative Commission], to audit the election, see where the problems were, and fix the problems."
He pointed to an allegation presented by former President Donald Trump's lawyers in an election contest lawsuit that was rejected by a Carson City judge in December that there was widespread double voting. Supporting materials for the allegation were filed with the court under seal and specific details have not been widely released.
"When you come back and you see actual — I'm not gonna say evidence, but I'm gonna say something that needs looking into — like 42,000 double votes, that demands an investigation," he said. "Is it true? I don't know. I haven't investigated it because I'm not an investigator. But it demands an investigation."
Mark Wlaschin, elections deputy for the secretary of state's office, testified before lawmakers a week ago that there is "no evidence of widespread fraud in any part of the 2020 general election," but that doesn't mean there was zero fraud, and discussions between law enforcement and certain individuals suspected of "bad choices" related to the election are ongoing.
Titus said she hadn't looked into allegations of large numbers of questionable ballots, but said she had patients bring ballots to her addressed to loved ones who had died several years ago. She wants to look into the process of notifying registrars when a voter dies.
"I discussed that with my county clerk. We're trying to make sure that doesn't happen," she said.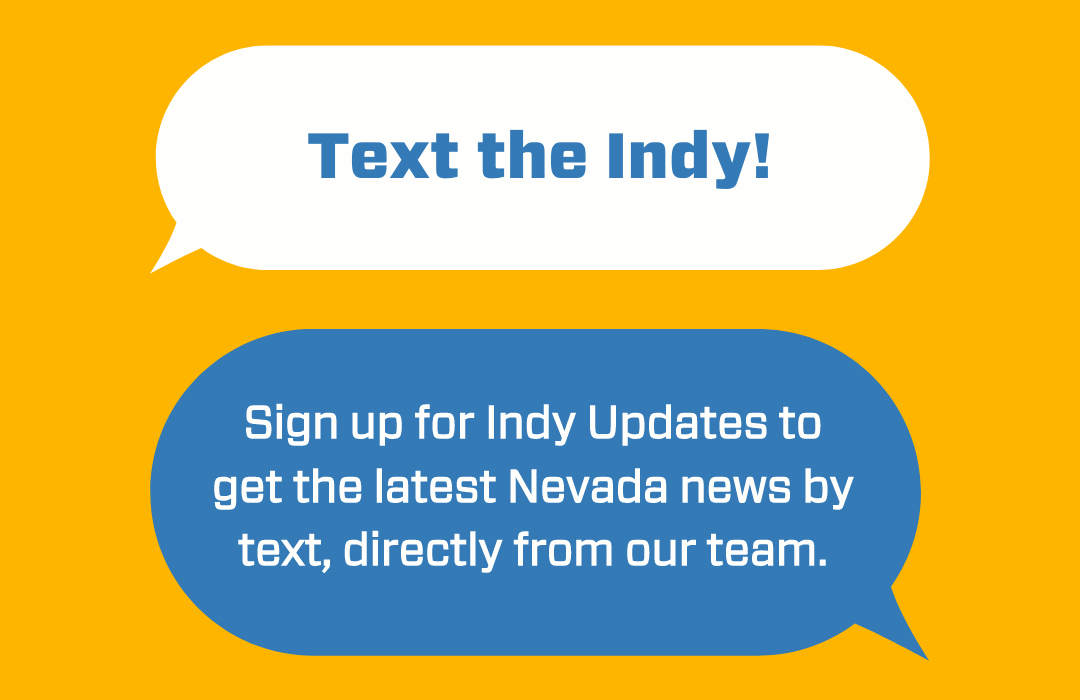 Featured Videos