Car startup Faraday Future halts North Las Vegas factory plan amid cash troubles, is working on Plan B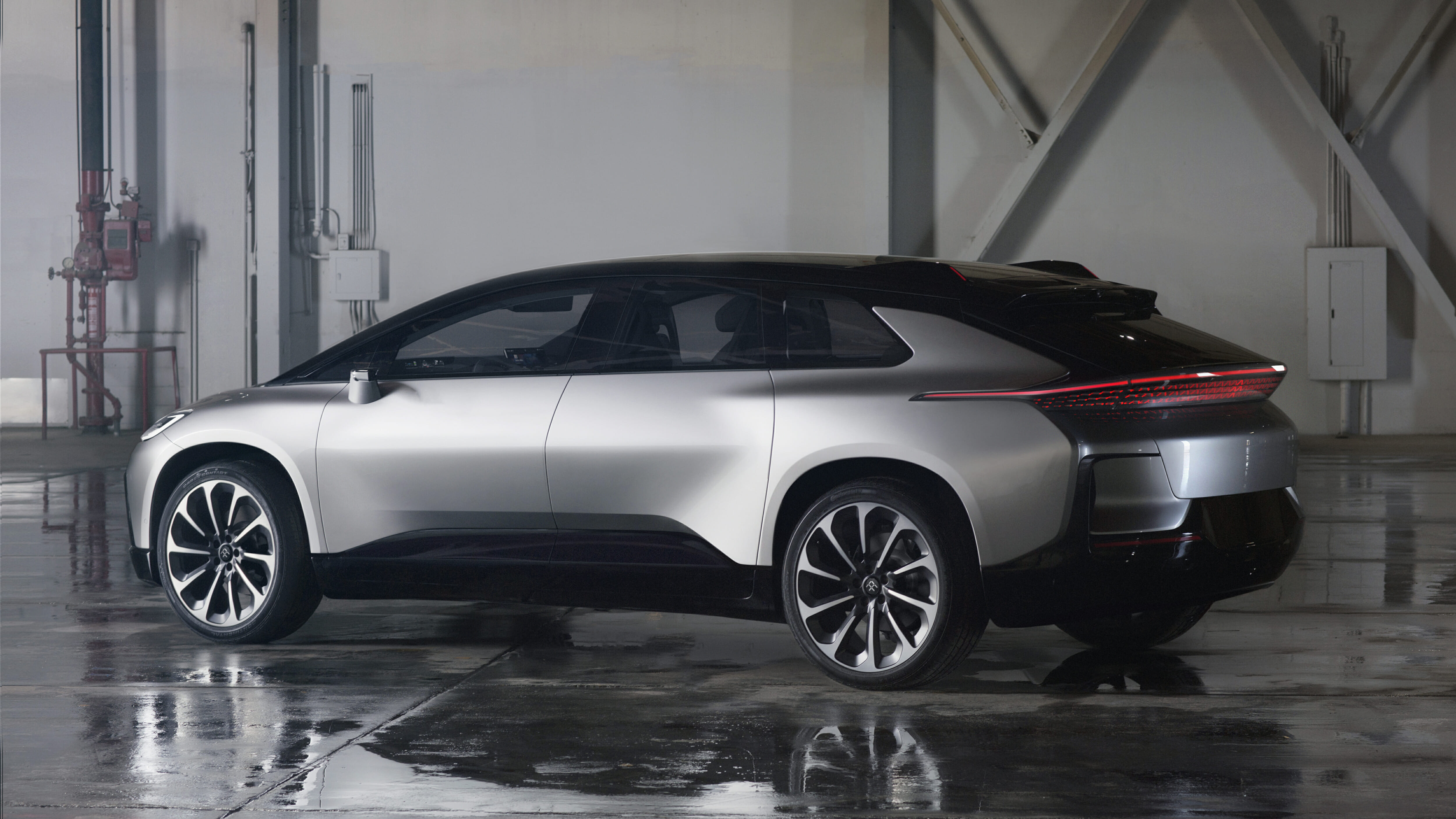 A futuristic electric car factory that was supposed to spur more than 13,000 jobs in Southern Nevada and bring new hope to recession-battered North Las Vegas won't be built anytime in the near future — a casualty of money troubles besetting the Chinese billionaire who had been funding the project.
Faraday Future's announcement Monday to halt its existing factory-building plan and pursue a smaller option that's more likely to accommodate its ambitious production timetable comes less than a week after a Shanghai court froze $183 million in assets of Jia Yueting because of missed loan payments from LeEco — his Chinese media and online video conglomerate — to various Chinese financial institutions.
Architects of the deal to bring the company to Nevada say the state braced from the start for this possibility and hasn't lost money on the dropped venture, although it dashes hopes for major job creation and workforce training in a needy part of the state.
"We have decided to put a hold on our factory at the Apex site in North Las Vegas. We remain committed to the Apex site in Las Vegas for long-term vehicle manufacturing," Stefan Krause, who's been Faraday Future's chief financial officer for the past four months, said in a statement. "We at Faraday Future are significantly shifting our business strategy to position the company as the leader in user-ship personal mobility — a vehicle usage model that reimagines the way users access mobility. As a result of this shift in direction, we are in the final stages of confirming a new manufacturing facility that presents a faster path to start-of-production and aligns with future strategic options."
The company is now seeking to diversify its investor base beyond Jia, who has been burning cash on a wide variety of ventures aside from the quest to build a clean-running, high-tech car that parks itself and uses facial recognition technology as a keyless entry. He's also limited by new restrictions imposed by the Chinese government, which bars the export of cash to a foreign business unless there's an arm of the business in China; Jia does not have a car-making operation in his home country.
Faraday plans to keep much of its 940-acre plot of land in Apex Industrial Park with the intent of building a large plant there some day but is now trying to close a deal on one of a few possible existing buildings, likely in California or Nevada, to try to get factory operations going quickly and roll out a car by the end of 2018. The company had done little more than move dirt and install some sewer infrastructure on its property at Apex, in spite of plans to construct a $1 billion, 3 million square-foot factory that was supposed to catalyze development in the plot of desert land with little meaningful infrastructure.
While most of the three-year-old car company's operations and its 1,450 employees are based in Gardena, California, Faraday had moved 25 employees to Southern Nevada and leased some space from the city of North Las Vegas. Company officials say the Nevada employees will be accommodated if the new, smaller factory is located out of state.
Dream deferred for lawmakers
The departure is a blow for state lawmakers who flocked to Carson City for a four-day special session in late 2015, which cost about $250,000, to approve a $335 million incentive package. They voted 54-5 for a bill creating abatements that the company is now being asked to formally withdraw from, although Gov. Brian Sandoval expressed confidence that the state wasn't left holding the bag.
"While I am disappointed in today's announcement, I can say with certainty that Nevada's citizens were held harmless financially," he said in a statement.
Legislators conceded even at the time of the special session that the young company was much more of an unknown quantity than other abatement recipients such as carmaker Tesla, and the deal has always had an outspoken critic in the form of Republican State Treasurer Dan Schwartz. But lawmakers nevertheless had big dreams about the economic jolt a factory would provide.
"I will be happy to go back to my constituents and say the darkness that has overshadowed us has lifted," said Democratic Sen. Pat Spearman, who represents North Las Vegas and called the deal a "watershed" moment for the state during the special session.
Only four lawmakers in the Assembly, including Republican Ira Hansen, voted against the Faraday deal. Hansen said Monday he wishes the project would've gone forward to provide an economic stimulus to North Las Vegas but that it has always had "all sorts of red flags" for him.
"Go back and watch all the testimony of the proponents of that thing — look at the rosy scenario, how fantastic this is, how minimal the risk is and how this is going to be the greatest thing," said Hansen, a plumbing contractor by trade. "Those of us who were skeptics, we got treated like pariahs. I'm not gloating. I honestly wish this would have gone forward. I've just been in the business long enough and in politics long enough that if something seems too good to be true, it usually is too good to be true."
Steve Hill, head of the Governor's Office of Economic Development that negotiated the original deal, called the company's decision to leave Nevada disappointing but said the state had structured the deal so it didn't lose financially if the project never got off the ground. He said he doesn't have regrets about trying to land the factory.
"This was real enough and provided a significant enough opportunity for Nevada, that if we could make it a risk-free opportunity, we owed it to the state to try," he said. "I think we made the right decisions. We knew that this was one possible outcome, but Nevada is held harmless in this outcome, so I think it was worth the attempt."
Incentives to the company included 10-year, 75 percent abatements to all property and payroll taxes, as well as a 15-year total abatement of sales tax and up to $38 million in transferrable tax credits based on the number of qualified employees.
But because of the structure of the tax incentive deal, those nonstandard abatement dollars never went into Faraday's pocket — rather, they were deposited in a trust fund maintained by the state's Department of Taxation, which was charged with holding the accrued money until the company reached $1 billion in total capital investment.
According to the company's most recent filing with state economic development officials, it's spent roughly $174 million in capital investment throughout the life of the project, including $14 million during the first quarter of 2014. That includes the cost of the land, grading and wastewater improvements at the site, design and engineering for a water system and deposits on equipment meant to stock the factory, Hill said.
Faraday received slightly more than $206,000 in tax abatements through 2017 and nearly $398,000 in 2016.
Hill said the abated taxes in the trust fund will be disbursed to their original state or local government sources, such as schools and the state general fund. Hill said he'll also ask for Faraday to refund the estimated $2,500 they already received in modified business tax (payroll tax) abatements; the deal had "clawback" provisions in the event of a breakdown.
The company had drawn negative publicity last fall amid reports that it fell $46 million behind in payments to its general contractor, AECOM, and work was stopped at the site. Hill said Faraday had an escrow account as part of its partnership with the multinational firm that at one point hit $42 million and has since been emptied.
Faraday officials said the bills have been paid. Asked about the situation on Monday, AECOM issued a brief statement.
"As Faraday Future recently announced, they will not be moving forward with their APEX site project in the short-term," it said. "We look forward to additional opportunities to work with them again."
Infrastructure improvements
A major part of the agreement was the state's promise to pay $120 million toward improvements at Apex if there was a "qualified project" willing to locate there — meaning one that could invest at least $1 billion. Those included road improvements along I-15 and US-93 at the entrance of the park, a rail port along a Union Pacific line and water infrastructure.
Although the rail port idea had already been scrapped, Faraday had put about $10 million into engineering and planning for sewer and water infrastructure. The end result is formal, CAD engineering drawings that explain how to build wells and pipe groundwater from the Garnet Valley basin to the factory and whatever other businesses wanted to interconnect.
The state and Southern Nevada Water Authority ratepayers had not put money toward building the actual system; Faraday had budgeted $6.6 million of its own money toward the design, which could be adapted for a different project.
"Even though we've got the design done and in the can and it doesn't look like we're going to be constructing it in the immediate future, there is value in having that engineering completed and done and ready to go," said Bronson Mack, spokesman for the water authority.
Spokesman Tony Illia of the Nevada Department of Transportation said the highway improvements were needed at Apex anyway for other tenants, and said the state transportation board would select a design-build contractor for the project during its next scheduled meeting on August 14.
"The are no changes to our project plans or schedule," he said. "Although Faraday may have been a catalyst for these much-needed upgrades, we would have had to do them within the next three to five years, regardless."
Taken together, the improvements aimed to transform Apex from a desert plot into something more like the bustling Tahoe Reno Industrial Complex in Northern Nevada, which has attracted major companies seeking proximity to California with the lower tax environment of Nevada.
"This is a great day for the entire state of Nevada," Senate Republican Leader Michael Roberson said when the deal was hammered out. "The passage of this legislation is the missing piece to making the Apex Industrial Park a viable destination for high-quality and emerging industries."
Clark County Commission chairman Steve Sisolak — who recently announced his intentions to run for governor in 2018 — said that he was "disappointed" the state would lose the planned jobs at the factory, and planned to remove a ceremonial shovel from the company's April 2016 groundbreaking from his office wall.
"That shovel is coming down this morning," he said,
Sisolak said his primary concern for the state was finding another "anchor development" for the industrial site, and was concerned that speculators eager to take advantage of proximity to the proposed factory may have driven the cost of land too high for future developments.
North Las Vegas Mayor John Lee put a positive spin on Monday's news, praising the company for its role in developing Apex even though the company's decision ends a deal in which he was deeply personally invested. City officials credited Faraday for investing almost $50 million in design and grading work, and credited the company with helping build momentum that has since attracted a scattering of major companies that have created 7,000 jobs and invested $1 billion in the community.
Assistant City Manager Ryann Juden said the city still has avenues for pursuing water infrastructure, pointing to a bill from 2015 that allows cities to obtain financing through a municipal bond bank and a bill from 2017 that creates the Nevada Infrastructure Bank.
"North Las Vegas is succeeding and doing well and it's not because of Faraday and it's not contingent on Faraday. We've turned the corner and there's so many other businesses we've been able to attract," he said. "There's no hope lost, no step backward from North Las Vegas."
Workforce training
Faraday's original plan was also a win for workforce training efforts. The deal created the Workforce Innovations for the New Nevada program, which awarded its first $500,000 grant to the College of Southern Nevada in 2016 and helped fund advanced manufacturing equipment at high schools.
WINN funds have also flowed to Northern Nevada, where they've supported Panasonic's training efforts for the Gigafactory as well as other businesses. Money in the account will be reallocated in light of Faraday's decision, according to GOED spokeswoman Jennifer Cooper.
Ricardo Villalobos, executive director of the College of Southern Nevada's workforce and economic development division, said the community college planned to push ahead with its planned training program for advanced manufacturing jobs regardless of the company falling through.
He said the program, which will be geared toward nontraditional students and aims to enroll up to 500 students, will still meet the demand of other manufacturers in southern Nevada, including Ocean Spray, Clearwater Paper Corporation and TH Foods, Inc.
"It's a bummer that Faraday fell through, but all our eggs were not in that basket," he said. "Although they pulled out, we see a need for a trained, ready qualified workforce for the manufacturing industry."
The project's halt also doesn't appear likely to affect about 90 students taking manufacturing-focused dual enrollment courses at several magnet schools in the Clark County School District.
And even though the company had pledged to give a yearly $1 million donation to the district starting in the 2018-19 school year, a district spokesman said that the assumed funds weren't built into the overall budget.
The skeptics
There have always been naysayers, notably Schwartz, a potential gubernatorial candidate with business ties in Asia who has been vocal in panning the project.
Schwartz, who visited China in January to look into the fiscal health of Faraday's parent company, publicly questioned the capacity of the startup to provide the necessary capital to get the project off the ground. He also vowed not to issue state bonds if he didn't have confidence in the company's viability.
His resistance, he argues, is part of the reason the state didn't lose anything "other than an enormous amount of egg on our face and a lot of wasted time and pictures of the governor breaking ground in the desert."
While Hill said he wasn't sure if Schwartz's frequent criticism materially affected the company's reputation abroad and ability to raise capital, he said "it certainly didn't help." Schwartz, for his part, said he takes no responsibility whatsoever for Faraday's move.
"I have absolutely nothing to do with the fact that the guy has no money," he said. "The guy is a fraud. And the fact that they couldn't see that — that's not my fault."
Megan Messerly contributed to this report.
Feature photo: This photo provided by Faraday Future shows the Faraday 91, the production vehicle that the company revealed in January 2017.
The Nevada Independent is raising $200,000 by Dec. 31 to support coverage of the 2024 election.
Tax-deductible donations from readers like you fund this critical work.
If you give today,your donation will be matched dollar-for-dollar.
Give + Get Matched
Featured Videos