Cortez Masto will keep delaying Department of Energy nominees until she gets written promise that no more plutonium is coming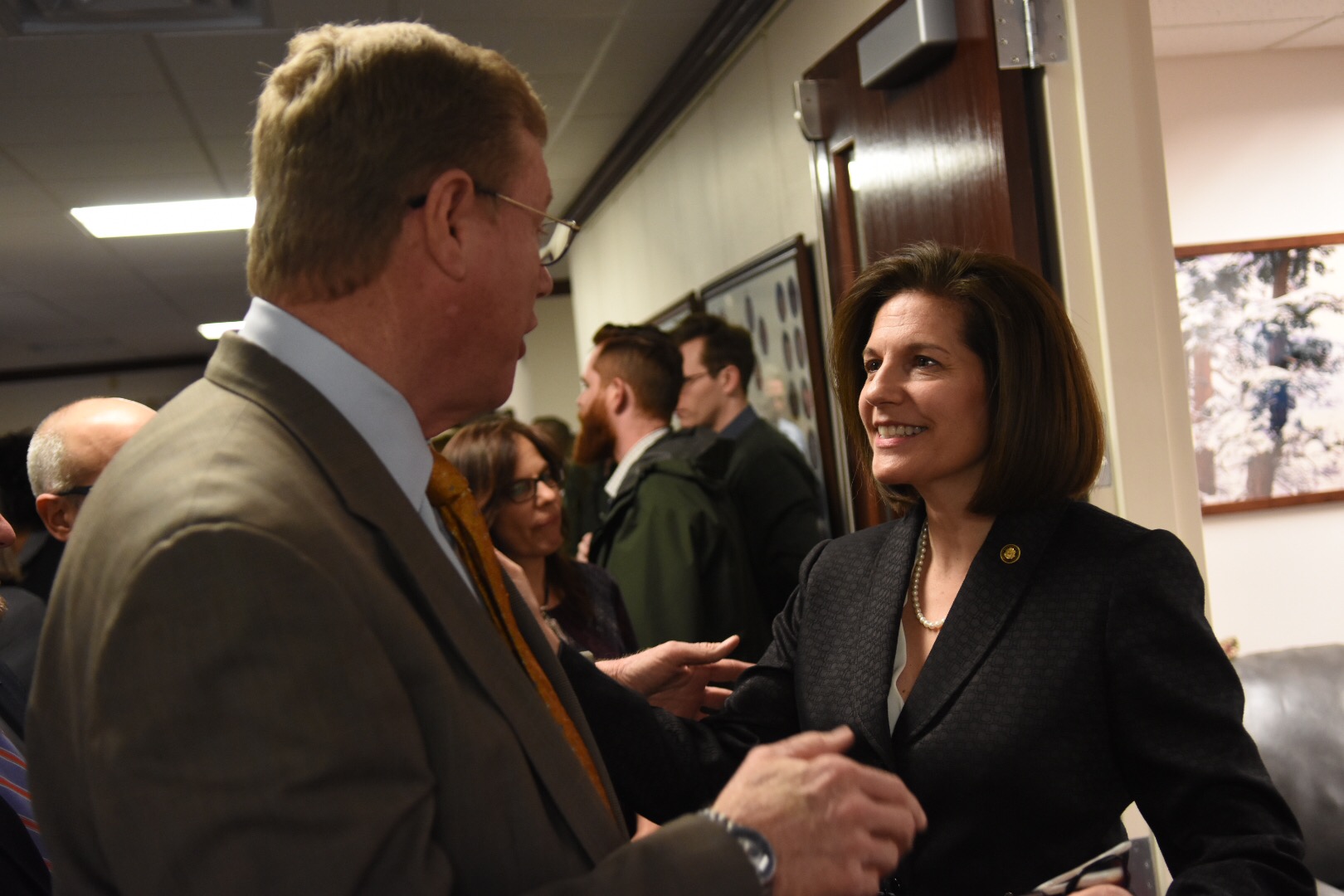 Democratic U.S. Sen. Catherine Cortez Masto said she'll continue slowing the process to confirm Department of Energy nominees until Secretary Rick Perry commits in writing to not ship any more plutonium to Nevada and to a timeline for removing a previous shipment.
Cortez Masto, speaking with reporters after an address to the Legislature Wednesday evening, said Perry called her on Friday to voice his concerns about her decision to put a "hold" on nominees, which slows down the confirmation process by requiring the Senate to take roll call votes. She said Perry told her that he felt he could give her that commitment and agreed to have members of their respective staffs work on the written letter.
"I'm not moving until I get something … I am satisfied with," Cortez Masto said. "I want it in writing that they're committed to ensuring no more plutonium comes to the state and a timeframe when that plutonium is going to leave — and it has to be a timeframe that is not 10, 20 years down the road."
Cortez Masto and other members of Nevada's congressional delegation have decried the secret shipments of plutonium from South Carolina to Nevada last year. The shipments were a result of the federal government missing deadlines to finish a mixed oxide (MOX) manufacturing plant at the Savannah River Site.
The Democratic senator said that Perry talked about "moving as quickly as possible" to get her that letter, but said the timing is "going to be based on what his needs are." She added that she doesn't know where it's going to go or under what timeframe the existing plutonium will be removed, but said that they had talked about a "three- to five-year period."
Cortez Masto also said she regretted voting to confirm Perry in 2017 and that their private conversations turned out to be different from the actions he has taken as energy secretary.
"I was looking for somebody who was willing to work with me and work with the state of Nevada and be candid," Cortez Masto said, noting the agency did not reveal to a federal court until several weeks after Nevada filed suit that the shipment had already been made. "What I saw here, just shipping this plutonium here, they weren't even candid with the federal court."
Asked about a suggestion from Rep. Dina Titus that Nevada could work with South Carolina to finish the processing plant and send the plutonium back there, she said that she doesn't foresee Congress appropriating the billions of dollars needed to finish the facility. The Trump administration shut down the costly project, which had been expected to cost an additional $48.8 billion to finish, last year.
"I don't see any money being appropriated for it," Cortez Masto said.
Immigration
Although Cortez Masto did not outright reject the 287(g) arrangement that the Las Vegas Metropolitan Police Department has with Immigration and Customs Enforcement, she did say she struggles to get straight information from the Department of Homeland Security about how it is addressing immigrant detention.
"I've been in meetings with Secretary (Kristjen) Nielsen. And I will tell you what she says in a meeting and what the actual facts are, are two different things," she said. "They've intentionally prevented access to accurate data to Congress."
She said representatives have only been able to get good information by visiting the border and directly asking people on the ground or grilling other officials during congressional hearings.
"I don't trust her and I don't trust the data that they give us," Cortez Masto continued. "They claim that they have already reunited so many families and we know now that there are too many children that are still not reunited with their parents … it's unconscionable what this administration has done for political gain on the backs of families."
Asked whether they are still a trustworthy partner for local law enforcement, she said she didn't want to speak for those local agencies, but argued that federal law enforcement officers in the trenches are good people.
"They're doing the right things, but they're … being dictated at times … at the headquarters by a secretary who is making it much more difficult," she said.
2020
Cortez Masto said she does not plan to endorse a Democratic presidential candidate before Nevada's first-in-the-West caucus in February.
The Democratic senator told reporters that she has invited the candidates, several of whom are her colleagues in the Senate, to come to Nevada. She said she told them that it is important that they oppose the construction of a nuclear waste repository at Yucca Mountain and that they respect and understand the state's public lands.
"I've told them that I'm going to participate in caucus like everyone else and I want them to come and talk to Nevadans and we'll decide through that caucus process who we're going to support," Cortez Masto said.
Green New Deal
Like her colleague U.S. Sen. Jacky Rosen, Cortez Masto declined to say how she planned to vote when Senate Majority Leader Mitch McConnell brings the Green New Deal resolution to the floor next week.
The senator called the scheduled vote a "stunt for political purposes" and called McConnell hypocritical for bringing a politically charged bill to the Senate floor that is likely to fail and designed to put Democrats in a tough spot.
"I don't support stunts. And you will watch next week as, I think in a unified way, the Democratic caucus is going to call it out for what it is, and then we're going to focus on how we are all working on addressing climate change through legislation, through policy, through committees that we are working on and through our organizations," she said. "We all believe that climate change is happening. We have to reduce our carbon footprint."
Comment Policy (updated 4/20/2021): Please keep your comments civil. We reserve the right to delete comments or ban users who engage in personal attacks, use an excess of profanity, make verifiably false statements or are otherwise nasty. Comments that contain links must be approved by admin.