Democrats expected to retain control of Legislature, remain short of supermajority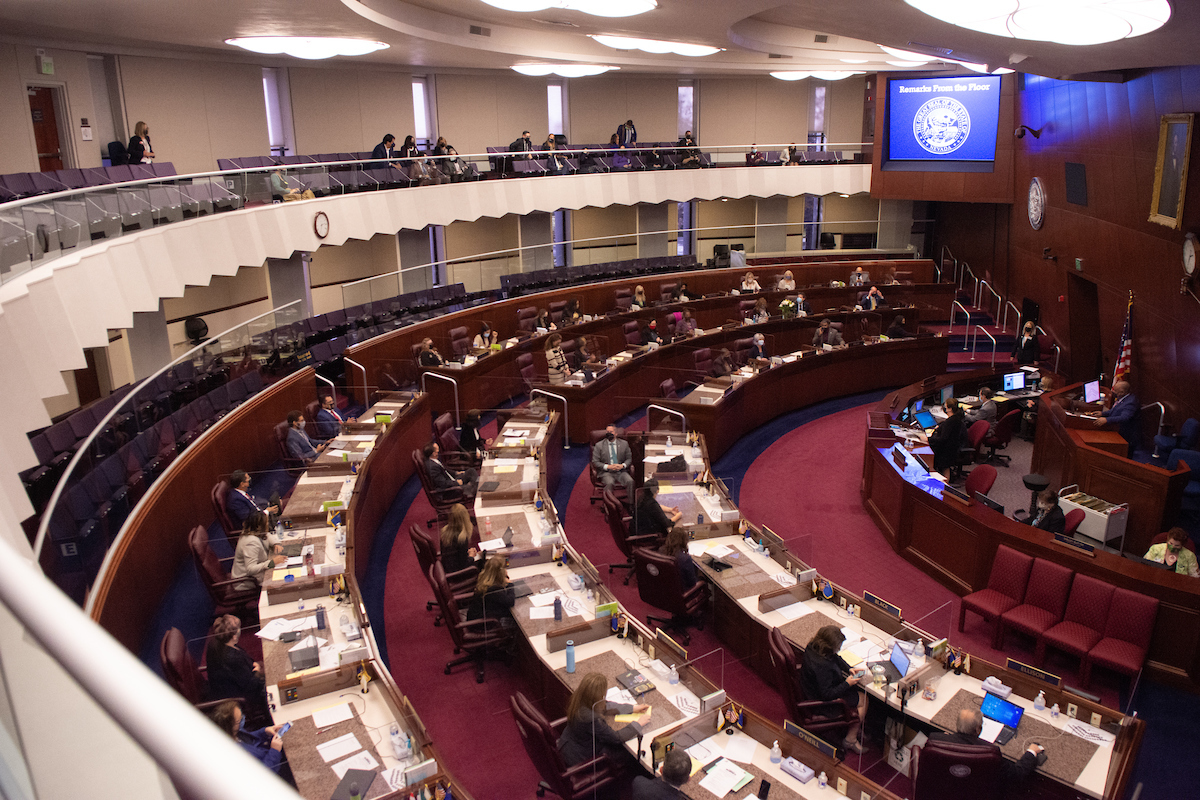 As the results for the midterm election pour in, Democrats will maintain and grow their control of the Legislature, where they won enough seats to have a supermajority in the Assembly but not in the Senate.  
Coming into the midterm elections, Democrats controlled 12 of 21 state Senate seats and 26 of 42 seats in the Assembly.
Based on projected victories, Democrats will hold at least 28 seats while Republicans hold at least 14 seats in the Assembly. On the Senate side, where some seats were not up for election, projections indicate that Democrats will hold at least 13 seats (7 of the 11 seats up for election this cycle) and Republicans will hold at least eight seats (4 of the 11 seats on the ballot).
Those elected to office will represent their districts during the 2023 legislative session, starting in February.
Senate Majority Leader Nicole Cannizzaro (D-Las Vegas), who was not up for re-election, celebrated the projection that Democrats are likely to retain and grow their majority in the Senate despite facing "steep historical odds."

"It is clear that Democrats in the Nevada Senate will retain our majority and are in a strong position to expand it," Cannizzaro said in a statement Thursday.
Though Democrats shored up their advantages in swing districts after the state's 2021 redistricting process, they fell short of the 14 seats in the Senate required for a two-thirds majority that could override vetoes from the governor's office or grease the wheels for any tax increases or procedural maneuvers requiring a supermajority vote.
However, with Democrats projected to hold a supermajority (28 seats) in the Assembly, Republicans in the Senate could be crucial to block any veto overrides or support votes Democrats hope to pass out of both houses.
Some of the closest races in the state Senate — which saw flipped seats — were Senate District 8, where incumbent Marilyn Dondero Loop narrowly defeated Republican Joey Paulos; Senate District 9, where incumbent Democrat Melanie Schieble is projected to fend off Republican Tina Brown; and Senate District 12, where Democrat Julie Pazina is projected to win against Republican Cherlyn Arrington in a race that will flip the Republican-controlled district blue.
Close races also took place in Assembly, including Assembly District 25, where Democrat Selena La Rue Hatch is projected to flip the district and win against Republican Sam Kumar; Assembly District 35, where incumbent Democrat Michelle Gorelow is projected to defeat Republican Tiffany Jones; and Assembly District 37, where Democrat Shea Backus is projected to defeat Republican Jacob Deaville.
With Republican Joe Lombardo projected to control the governor's office, it's likely there will be more tension surrounding negotiations, vetoes of legislation and less passage of progressive policies overall this upcoming legislative session than when Democrats held a trifecta of power. It all depends on how the governor and Legislature approach communications with one another.
The 2017 legislative session may provide a glimpse into what those negotiations could look like. At the time, Republican Gov. Brian Sandoval held office while Democrats controlled both houses of the Legislature. At the end of that session, fierce negotiations resulted in a compromise — funding for existing Opportunity Scholarship recipients, similar to school choice vouchers, but no expansion of the program. However, Sandoval was known for working across the aisle, and it remains to be seen if Lombardo would do the same.
Though Republicans and Democrats maintain roughly the same number of seats they held coming into the midterms, 2022 saw significant turnover in the Assembly. Fourteen incumbents, a third of the Assembly's 42 members, did not run for re-election, according to Ballotpedia, marking the highest rate of open seats since 2010. Cannizzaro is the only legislative caucus leader from 2021 returning to a top leadership position in 2023.
Assembly Speaker Pro Tempore Steve Yeager (D-Las Vegas), who is projected to defeat his Republican opponent by almost 7 points and more than 1,438 votes, is widely expected to be the next leader of the Assembly Democrats following former Speaker Jason Frierson's (D-Las Vegas) confirmation to the post of U.S. Attorney. Yeager continually topped the list of fundraisers in the Legislature this election cycle.
With most Republican caucus leaders not returning to the Assembly, eyes are turning to newer members, such as freshman Assemblywoman Heidi Kasama (R-Las Vegas), to take the reins.
Below are more details about the close Senate and Assembly races. All vote totals are current as of Tuesday afternoon and will be updated as additional results are reported:
Senate
In Las Vegas' Senate District 8, where almost 29 percent of voters identify as nonpartisan, incumbent Marilyn Dondero Loop (D-Las Vegas) found herself locked in a close battle with her Republican opponent, former casino executive and entrepreneur Joey Paulos.
Dondero Loop, who was first elected in 2018, is projected to defeat Paulos by a razor-thin 1.4 point lead, or roughly 669 votes. The district encompasses portions of Summerlin, including the Peccole Ranch area.
Incumbent Sen. Melanie Scheible (D-Las Vegas) is projected to win after a tight race with Republican Tina Brown in Senate District 9. Scheible leads by almost 7 points, or 2,872 votes.
Spread over portions of Spring Valley and southwest Las Vegas,the district, which leans blue, received a notable increase in Democratic voters through the redistricting process but is vulnerable following Republican attempts to target the seat for a potential flip.
Democrats are leading in southeast Las Vegas' Senate District 12, where Democrat Julie Pazina is expected to prevail over Republican Cherlyn Arrington. Pazina leads by almost 5 points (2,414 votes).
Pazina's victory in the tossup district with a slight blue lean, will likely flip control of the district, and potentially gain one more seat for Democrats in the state Senate.
Assembly
In Northern Nevada's Assembly District 25, which covers much of southwestern Reno, teacher-union-backed educator Democrat Selena La Rue Hatch is projected to win. She is currently leading by nearly 8 points (2,525 votes) against well-funded Republican former Washoe Republican Party Chair Sam Kumar.
La Rue Hatch will flip the district formerly held by Assemblywoman Jill Tolles (R-Reno), who announced in October that she would not be running for re-election.
Following redistricting, the formerly red district carries a slight blue edge, and would mark one of the most significant Assembly seats to flip to Democrats.
Kumar was endorsed by former attorney general and Republican Senate nominee Adam Laxalt.
After a hard-fought battle in Southern Nevada's Assembly District 35, incumbent Assemblywoman Michelle Gorelow (D-Las Vegas) is projected to defeat Republican Tiffany Jones, leading by more than 1 point and 363 votes.
A medical device company executive and former owner of a specialty bakery, Jones ran unsuccessfully for Assembly District 35 in 2016 and for state Senate District 9 in 2018. Libertarian candidate Mindy Robinson has gained about 909 votes, potentially taking votes away from Jones.
Though Republican Jacob Deaville outraised his Democratic opponent, Shea Backus, in the most recent quarter, Backus is projected to win with a slim nearly 3 point lead (801 votes) in Southern Nevada's Assembly District 37.
Backus was first elected to the seat in 2018. She held it for one term before losing it in 2020 to Republican Andy Matthews, who is running for state controller.
Here are the projected winners, so far, in the Legislature (for percentages and details, visit our election results page, here):
Assembly
AD1 - Monroe-Moreno (D)
AD2 - Kasama (R)
AD3 - Torres (D)
AD4 - McArthur (R)
AD5 - Miller (D)
AD6 - Summers-Armstrong (D)
AD7 - Miller (D)
AD8 - Nguyen (D)
AD9 - Yeager (D)
AD10 - Nguyen (D)
AD11 - Duran (D)
AD12 - Carter (D)
AD13 - Hibbetts (R)
AD14 - Mosca (D)
AD15 - Watts (D)
AD16 - Gonzalez
AD17 - Thomas (D)
AD18 - Considine (D)
AD19 - Yurek (R)
AD20 - Orentlicher (D)
AD21 - Marzola (D)
AD22 - Hardy (R)
AD23 - Gallant (R)
AD24 - Peters (D)
AD25 - La Rue Hatch (D)
AD26 - Delong (R)
AD27 - Taylor (D)
AD28 - D'Silva (D)
AD29 - Cohen (D)
AD30 - Anderson (D)
AD31 - Dickman(R)
AD32 - Hansen (R)
AD33 - Gurr (R)
AD34 - Bilbray-Axelrod (D)
AD35 - Gorelow (D)
AD36 - Hafen (R)
AD37 - Backus (D)
AD38 - Koenig (R)
AD39 - Gray (R)
AD40 - O'Neill (R)
AD41 - Jauregui (D)
AD42 - Brown-May (D)
State Senate:
SD2 - Flores (D)
SD8 - Dondero Loop (D)
SD9 - Scheible (D)
SD10 - Donate (D)
SD12 - Pazina (D)
SD13 - Daly (D)
SD14 - Hansen (R)
SD16 - Krasner (R)
SD17 - Titus (R)
SD20 - Stone (R)
SD21 - Ohrenschall (D)
This story was updated at 7:35 p.m. and at 8:03 p.m. on Thursday, Nov. 10, 2022, and at 7:23 p.m. on Friday, Nov. 10, 2022, to reflect new election results reported out of Clark and Washoe Counties. It was again updated on Tuesday, Nov. 15, at 10:55 a.m. to include the latest race totals.
Featured Videos
Comment Policy (updated 4/20/2021): Please keep your comments civil. We reserve the right to delete comments or ban users who engage in personal attacks, use an excess of profanity, make verifiably false statements or are otherwise nasty. Comments that contain links must be approved by admin.