Despite opposition, lawmakers revive and advance MGM-backed bill banning guns in casinos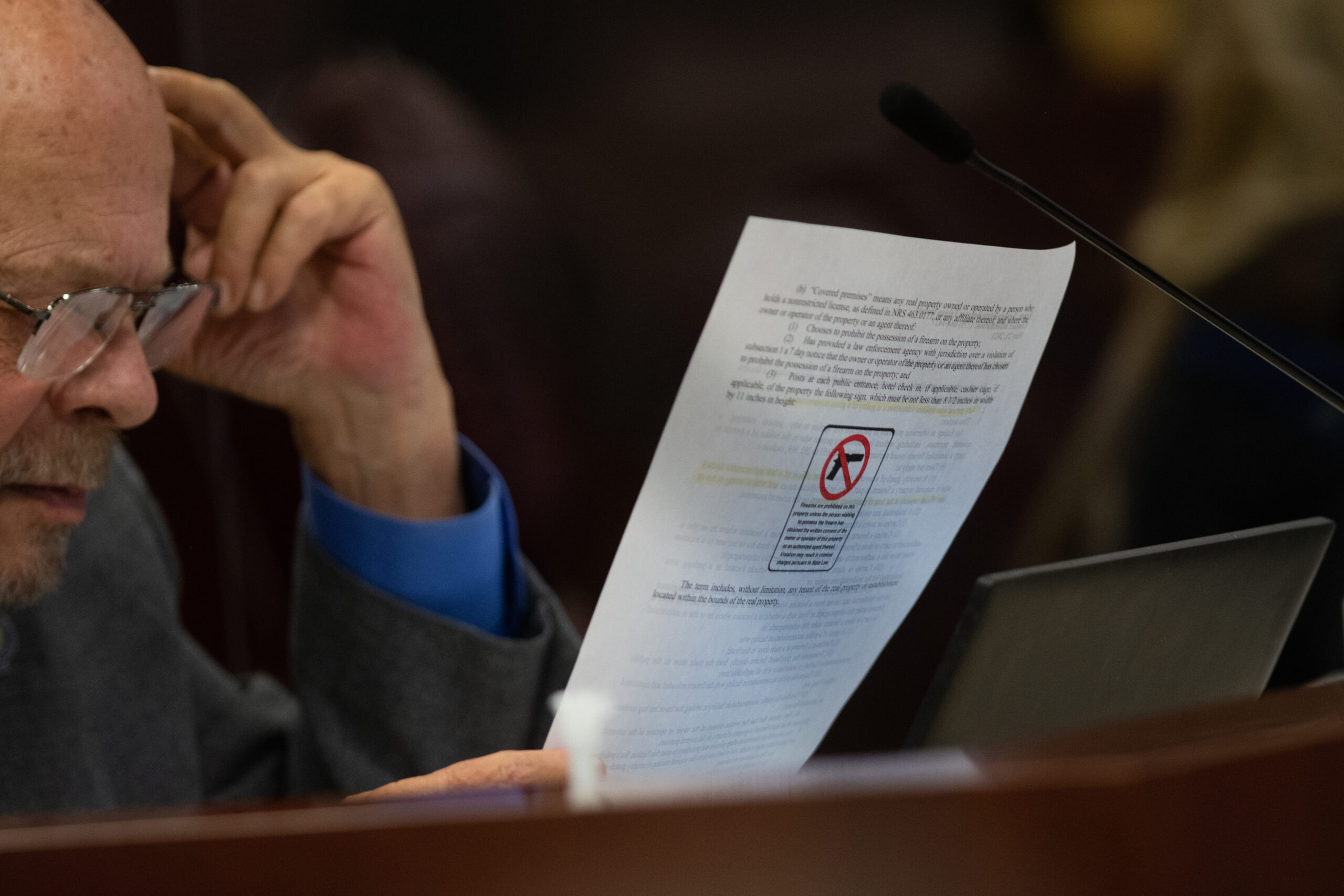 A revived, last-minute bill aimed at giving casino resorts a greater ability to ban firearms on their premises supported by MGM Resorts drew staunch opposition from an unusual group of opponents — Republicans, gun right advocates and criminal justice reform groups.
During a joint meeting of Assembly and Senate judiciary committees on Saturday, lawmakers spent a rainy Carson City morning digging into the details of SB452 — an emergency bill sponsored by Senate Majority Leader Nicole Cannizzaro (D-Las Vegas) and introduced last week that revives jettisoned portions of the other major gun bill of the session. Senators opted to vote the bill out of committee after the hearing on a 4-3, party-line vote.
Cannizzaro, who presented the bill alongside Sen. Fabian Doñate (D-Las Vegas), Assemblywoman Sandra Jauregui (D-Las Vegas) and MGM Resorts representative Ayesha Molino, characterized the bill as another step that lawmakers could take to protect workers on the Las Vegas Strip.
"We are again looking to adapt our state's legal tools to better protect our hospitality workers and our visitors and guests that traveled to Las Vegas from around the world, this time by ensuring that we can appropriately prevent instances where physical violence may otherwise be a factor," Cannizzaro said.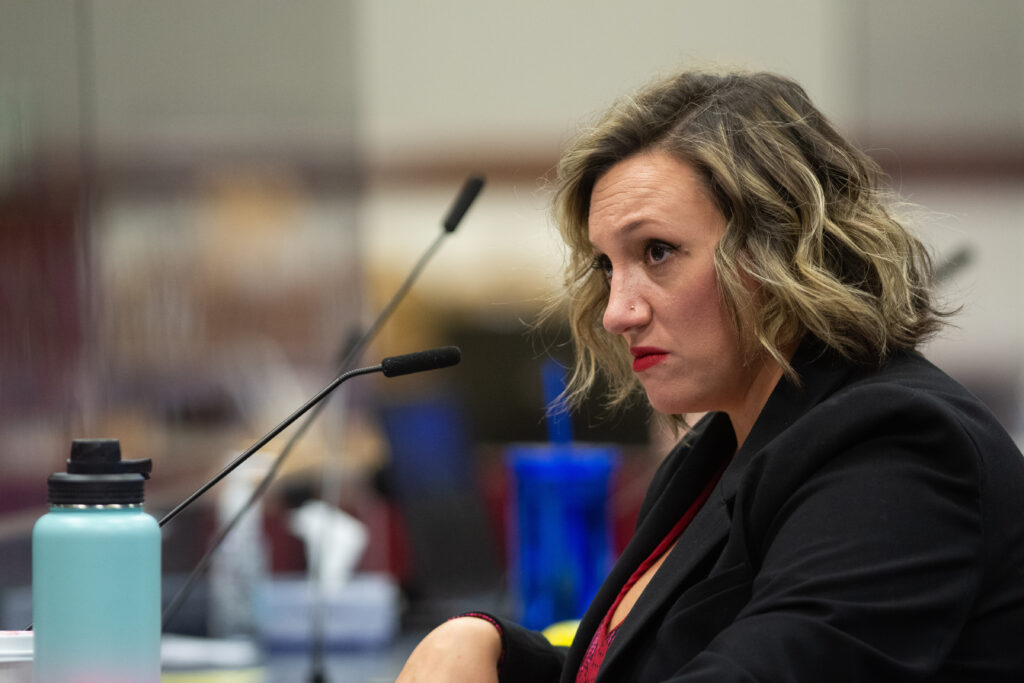 This isn't the first time that lawmakers have heard details on the concept of expanding "gun-free zones" — similar language was initially included in Jauregui's AB286, legislation that also bans firearm assembly kits without serial numbers and so-called "ghost guns." The concept is strongly supported by MGM Resorts, which helped present both the Assembly and Senate bills and has sought enhanced limits on firearms since the 2017 Las Vegas mass shooting that took place on the company's properties.
That bill saw amendments narrowing and finally eliminating the language on limiting firearm possession on private property — in part over concerns from progressive lawmakers and criminal justice reform advocates that the provisions would lead to more harassment and targeting of minority communities.
Despite another amendment presented Saturday, the bill drew many of the same complaints and concerns from not just gun rights advocates, but police unions, trial attorneys, progressive groups, public defenders and even several Democratic lawmakers, who said they feared the bill would lead to targeting of minority communities.
"We are going to have situations where Black folks and brown folks are going to be the ones who are going to be not asked to leave, but who are going to be the ones that the police are called on," said Assemblywoman Shondra Summers-Armstrong (D-Las Vegas). "I'm very concerned about that, because I have a commitment to my community that I do everything that I can to try and keep them safe. We know that every single time there is an interaction with police for Black and brown people, the opportunity for it to go sideways is great."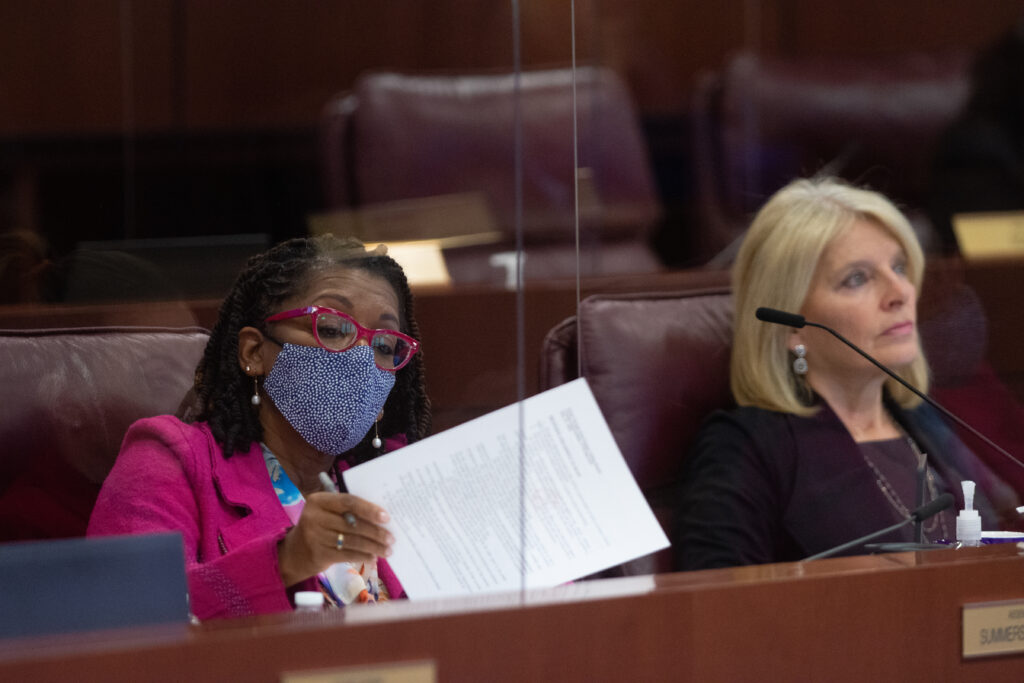 SB452 (plus an amendment) allows for non-restricted gaming license holders (defined as more than 15 slot machines on property) to opt in to the provisions of the bill, which generally prohibits individuals from bringing firearms onto casino property with certain exemptions. Businesses would be required to post signage at every public entrance and give law enforcement a seven-day notice before opting in to the bill's provisions.
A person who is carrying a concealed firearm would have to be given a verbal warning prior to any involvement by law enforcement, with no verbal warning given to someone openly carrying a firearm, before the person with a gun is opened up to criminal liability or a police response. If a person refuses to leave the premises or surrender the firearm, the bill would set an initial misdemeanor penalty.
Exemptions in the bill would cover security guards or police while on duty, owners of residential units within the casino property, guests who purchase a firearm at a trade show, or anyone who obtains the written consent of the property to bring a firearm there. The amendment to the bill would require any casino property that opts in to the bill to adopt policies and procedures that include training for security guards on de-escalation techniques, cultural diversity competency and implicit bias.
After the hearing, the bill was processed with another amendment that sought to address concerns raised by opponents, including:
Requiring an establishment's firearm policies be provided on their website, and for all signs to cite the controlling portion of state law
Require police that arrive in response to a call from the establishment to identify themselves and provide the person an opportunity to comply with the policy
Narrow the definition of "premises" to exclude any adjacent properties owned by the licensee
Revise the law enforcement exemption to mirror language in existing law on a similar exemption in the state prohibition on firearms on school campuses
Supporters stressed that private businesses already have the right to prohibit firearms on their premises, but that the bill would give them an ability to better enforce their property rights — Cannizzaro said it's "something that they may already do, and we are trying to make sure that that is something that they can properly enforce."
"This language simply enhances the business community's toolkit to notify patrons of this prohibition and to call upon law enforcement to assist and address situations before they escalate and become dangerous," she said.
The bill attracted support from Everytown for Gun Safety and the Culinary union — lobbyist Jim Sullivan cited the 2017 mass shooting and said thousands of union members "saw firsthand the effects of gun violence" and wanted to ensure that "no hospitality worker ever has to experience that trauma again."
But much of the testimony on the bill was in opposition — ACLU of Nevada Executive Director Athar Haseebullah noted that the legislation drew opponents from across the ideological spectrum and called the bill "half-baked at best."
"This simply isn't a bad bill that has good intentions, this is a deadly bill, with good intentions," he said. "No amendment to this bill, no matter how well intended, can fix its potential outcomes. This bill is inherently unredeemable, and is a pretense for dangerous and racist stop-and-frisk policies that have plagued our country and our state."
National Rifle Association lobbyist Dan Reid said the bill would create "a lot of uncertainty" for gun owners, saying the exemption for residential unit owners in casino resorts may not cover family members or guests.
"We think this bill is wholly unnecessary, and it really could implicate a lot of good people," he said.
Though Republican lawmakers and gun rights advocates vigorously opposed the bill, the measure could run into difficulty in the Assembly, where many Democratic lawmakers expressed hesitancy and skepticism over the bill. Assemblywoman Cecelia González (D-Las Vegas) questioned whether the implicit bias training requirements in the legislation would be the same across the board at different properties, and said the circumstances described by proponents in which the bill would apply appeared uncommon at best.
"Just to be clear, we are seeking to address an issue that may or may not happen," she said. "We don't know."
Still, supporters stressed that the bill would largely mirror prohibitions on firearm possession at schools and libraries, and said that lawmakers should take similar steps to ensure the safety of the state's main economic driver — the Las Vegas Strip.
"As we've all noticed, the tourism economy is the lifeblood of our Nevada economy and so we should be paying special attention to the resorts and the casinos and the hotels, and all of the places that people come from all over the world to ensure that they can be safe while they are there," Senate Judiciary Chair Melanie Scheible (D-Las Vegas) said shortly before the committee vote. "And we should be able to allow those facilities to have this increased and improved amount of safety on their properties."
The Nevada Independent is raising $200,000 by Dec. 31 to support coverage of the 2024 election.
Tax-deductible donations from readers like you fund this critical work.
If you give today,your donation will be matched dollar-for-dollar.
Give + Get Matched
Featured Videos